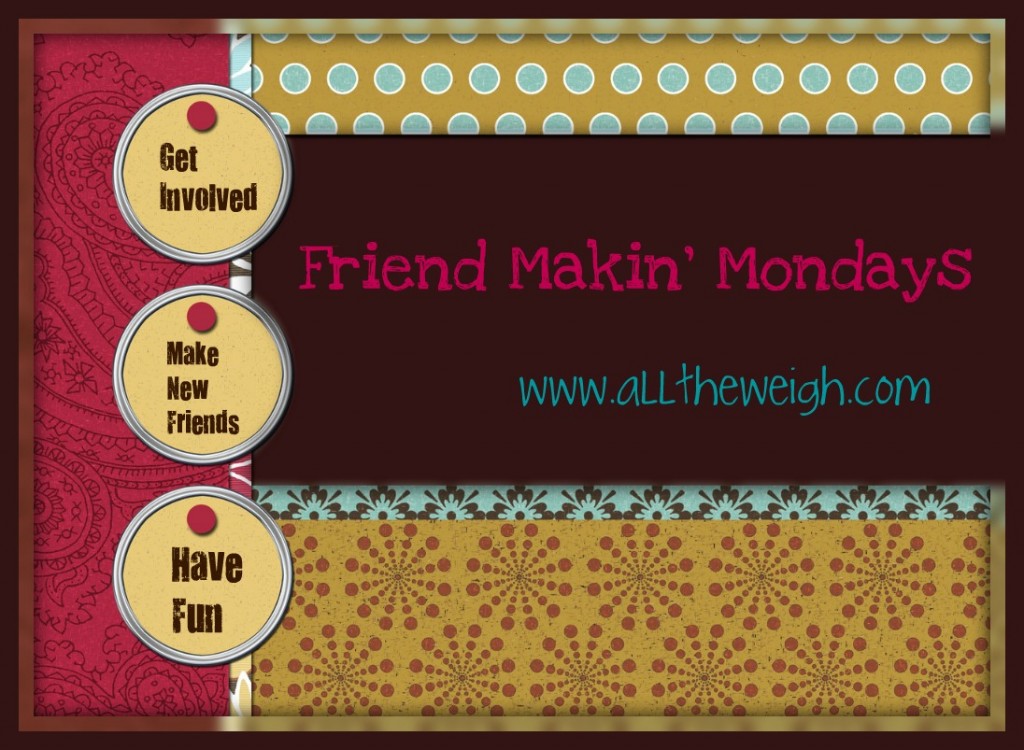 As you know Every Monday My Girl Kenlie posts a FMM – this is meant to interact with other bloggers, link up and get to know each other a bit better.
If you've previously taken part you know the rules. If you don't know how it works, please take a moment to answer this week's question on your own blog and then add your link the comments section here or at Kenlie's Blog so we can all see your FMM questions and answers. Please invite your blog readers to add their links as well so everyone has the opportunity to be seen. The idea is to connect with other awesome bloggers so take a moment to post your own FMM blog post and comment on a couple of other posts. Now it's time for this week's topic!
I realise I haven't done this for a while but this one I really wanted to participate in:
Christmas Questions
1. How will you celebrate the holidays this year? Generally just with my little family since I'm away from "home" (well, this is my home, but I don't have any other family here than Dutch hubs and two kids) – we try to bake cookies on Christmas eve but because I have to work we are doing this on the 23rd instead. I am not certain if we'll do any dinner or not. We will most likely go to a Christmas Market in Germany on the 22nd. Christmas is always a little bit odd for me since being here I always feel a little bit out of sorts. The kids go home on Christmas day and then it's just the hubs and I on the 26th (we are free on Christmas and "2nd" Christmas day)
2. What's the weather currently like where you live? Cold and we already had quite some snow. "They" are predicting a white Christmas this year (like they always do)
3. Do you decorate your home for the holidays? If so, share a picture please! Yep, we have our Ikea tree and ornaments from my own collection and some new ones that the kids made and picked out themselves. We let them decorate the tree. They love it! We have a pretty small flat but we do the best with what we have.
(sorry for the blurriness)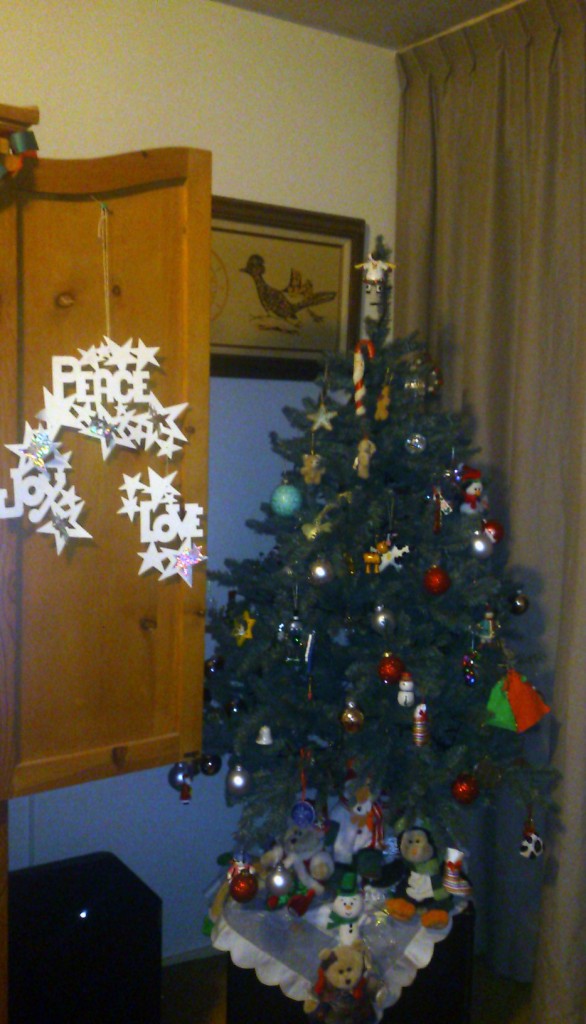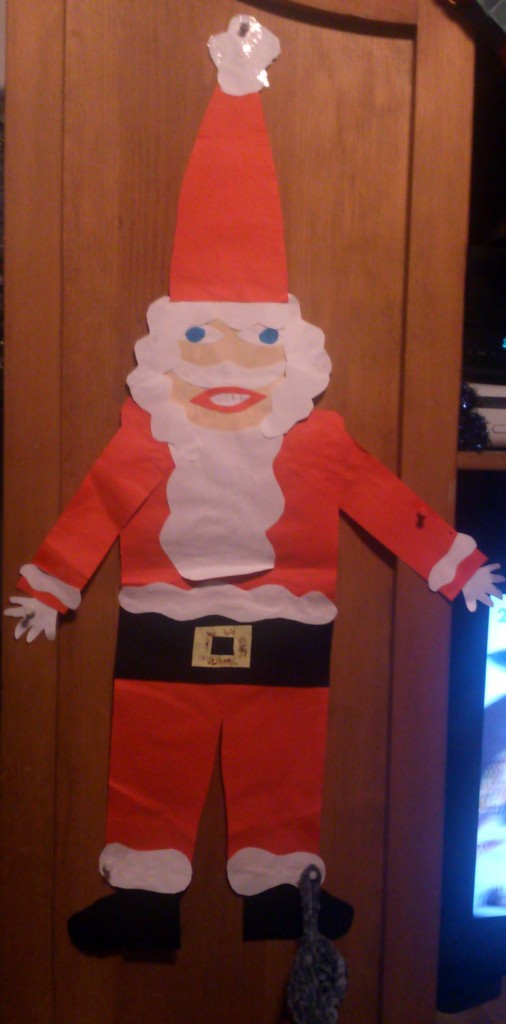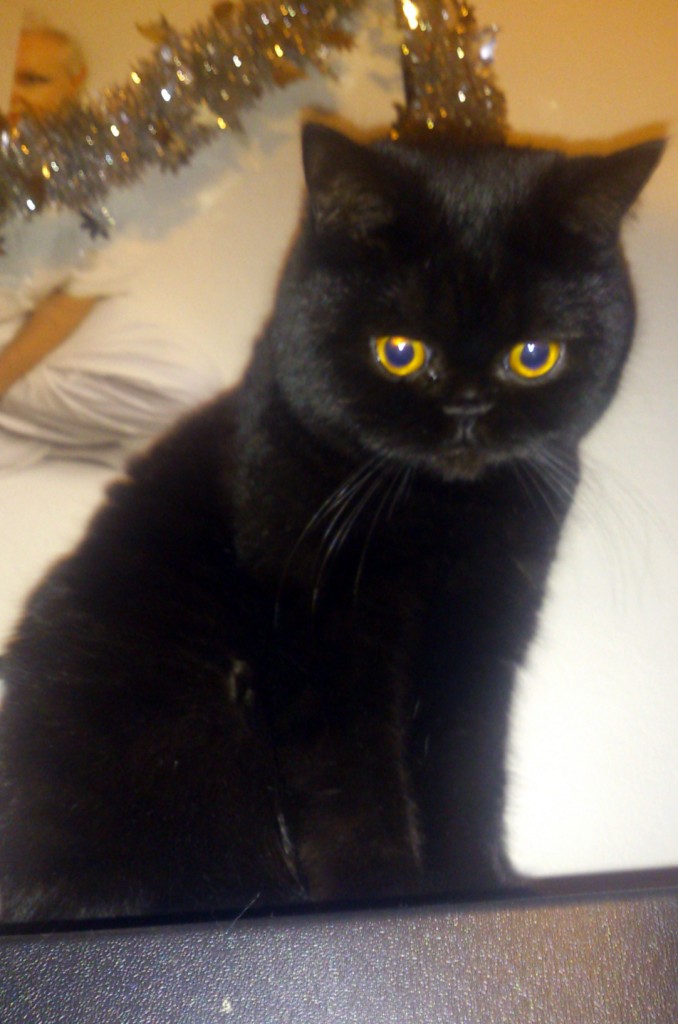 4. What is your favorite Christmas movie? The Year without a Santa Claus and Christmas Vacation
5. What is your favorite Christmas song? Anything by Boney M :)
6. Do you have an advent calendar? My mom usually sends the kids an advent calendar but generally no, we don't have one.
7. Do you prefer color lights or white lights? Coloured lights but only one colour. We have blue ones.
8. What is your favorite food to eat over the holidays? Well, here's the thing. My favourite stuff for the holidays is nothing I can get here. It would be biscochitos and homemade posole with cornbread. Once I tried to make posole for the Dutchies… it did NOT go over very well at all.
9. Do you display a live tree, or do you prefer fake trees? We live in a flat with 4 cats so it's got to be fake. One day, when we have a house, we'll have a live tree. We currently have a little tree growing on our balcony as well.
10. What would you need to make your holiday perfect this year? Well, I'm actually feeling a bit sad about the holidays this year (in fact I feel this way almost every year) – I wish I could be home to be with family for just a short period and have someone around me really "get" what I'm missing. I miss the smell of juniper and pinon burning in people's fireplaces, I miss the snow capped mountains, I miss the luminarias.
Now it's your turn to answer this week's questions! Don't forget to come back and link up in the comments! Happy Monday!!!!!