We made it through the first week!
Here's a little recap of week 1. I had great intentions. It wasn't as I envisioned. As I am the only one responsible for my actions I can only learn from each week. So anyhoo, here we go:
On the 1st of January here in Arnhem I took part in the Nieuwjaarsduik (Polar Bear Plunge) and, while I did participate 2 years ago, I only dipped my foot in the water and did not go in. I wasn't prepared then, I was only affected with FOMO and so it made sense I didn't go in the water – it would not have been responsible to do so anyway. I already knew I would go in this time; the Nieuwjaarsduik is something I've wanted to do for a long, long time. Even though it's completely nuts, I just wanted to know what it felt like (I also would love to know what it feels like to jump out of a plane, but not sure I'll ever do that). This time I was prepared. I had my bathing suit, towel, change of clothes, Uggs (which by the way I use only inside the house) and bathrobe with me. Before the plunge I had a warm cup of gluhwein. Hey, it was necessary! We arrived about 20 minutes before the start, found tons of friends (Runiversity and SocialMile now run the event) and then it was time. I undressed to my bathing suit and stood with the rest of the pack on the "beach" at Rijkerswoerdseplassen. The countdown happened and we all ran towards the lake. And it was indeed VERY COLD. But there was something incredibly invigorating about it! I went in and dipped up to my neck and ran back out as fast as I could. Afterwards I dried off, got dressed again and had Pea Soup and a Hot Dog as it's tradition!! I wasn't the only nutbag out there either, there were around 100 of us. No, my husband did not do it. He's cool enough.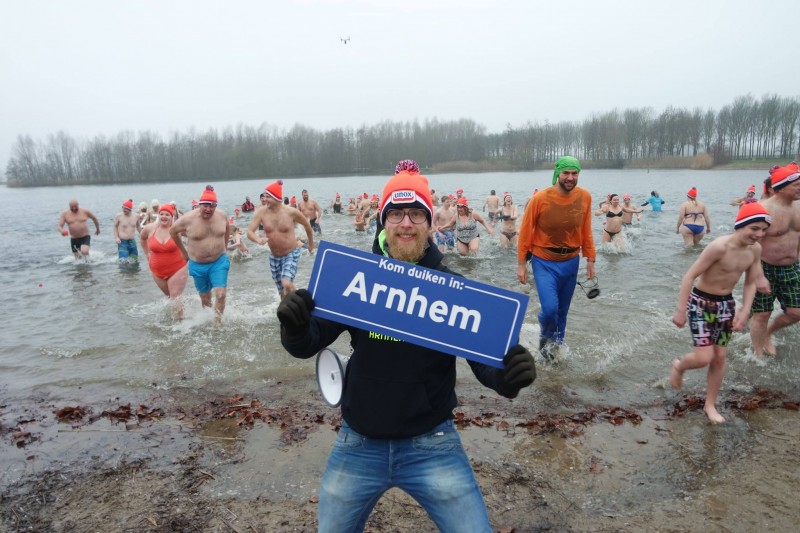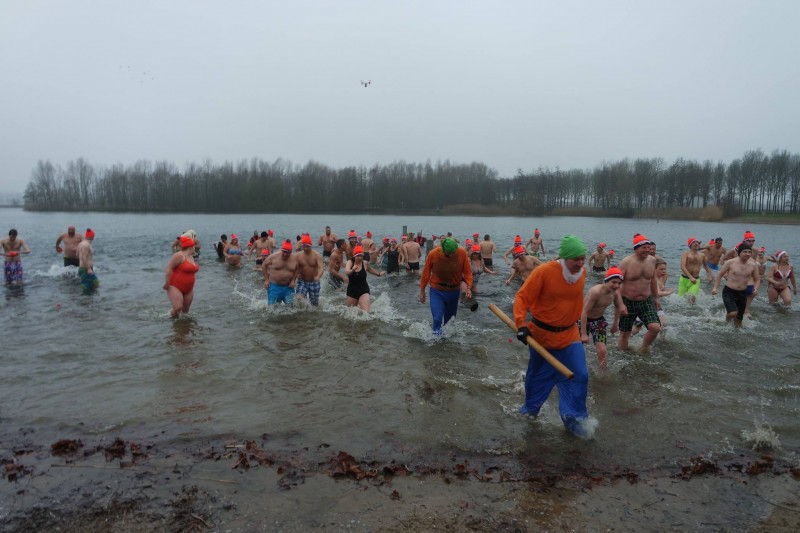 After the dip, we went back home, had a normal lunch and hung out for a bit. Then it was time to get our run on! I finished December off with a 31 day run streak and as you know from my previous post I decided to keep up the streak for at least the month of January. I thought I'd go about 5KM but Ron wanted to go with me and said "I won't get dressed for less than 8KM". Well, then!!! It was actually a good solid run for me and he stuck with me the whole time (hard for a fast guy to run that "slow" but loved having him with me). In the end he "got dressed" for a mere 7.5KM.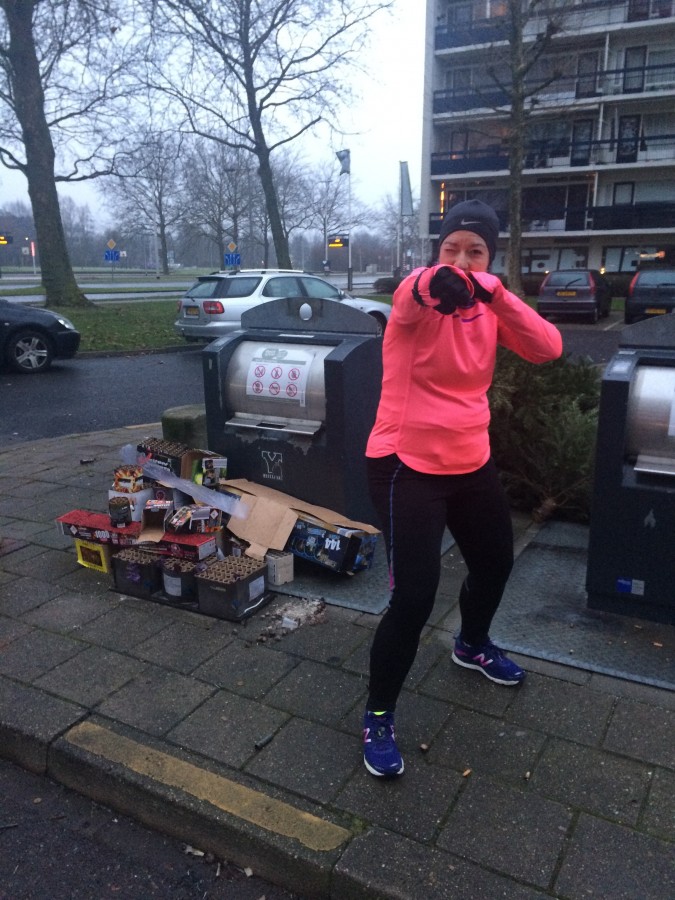 The Work Week Begins
Monday, back at work and fully prepped for the day food-wise. Also decided I would be taking the stairs (when I remember – still is not a habit) instead of the lift. So, if I enter the building from the ground floor ("the tower") then I have to walk up 5 flights of 26 steps each. I timed it a few times for fun, takes me almost 3 minutes on a slow day and 2 when I've got a spring in my step (usually after lunch it's faster and first thing in the morning slower). If I'm downstairs in the "White Villa" then I have to go up another set of stairs to the first floor, across the "bridge" to the tower and take 4 flights of the stairs to my floor. In addition to stairs I've prepped food throughout the day, making sure that I have something handy if I get hungry. Like, for example a little bag of veggies to munch on. Unfortunately I already know this will get old very fast so I need to start thinking and planning variation or I will sabotage myself.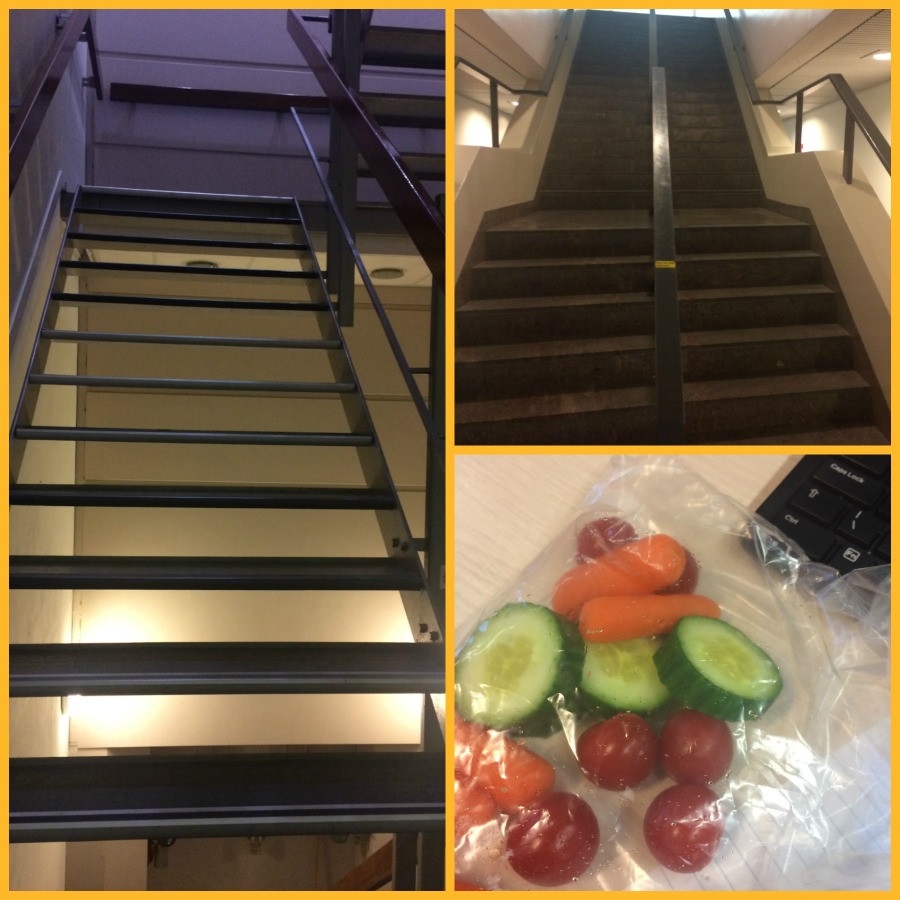 Monday night was my Cooper Test at Runiversity! I wasn't looking forward to the Cooper Test since I've done it before and know that it basically sucks. 12 minutes running as fast and far as you can? Yeah. Great fun.
Also? I know I'm not very fast and I didn't *really* want to have it validated in front of the whole group (go ahead and say it guys "GET OVER YOURSELF, PINKY!!!") that I am indeed the slowest of the training group. However… guess what? I wasn't the slowest (and we all know IT DOESN'T MATTER ANYWAY!) and I actually scored very well! 2.171KM in 12 minutes. (and remember, I'm 48!)
I logged everything into MyFitnesspal and had a calorie deficit, so we're off to a good start.
Tuesday – Repeat monday with food prep. Actually packed my bag to go to the gym after work (oh and that getting out of bed when the alarm goes of thing? So far so good!) and got to work on time. Hit up the stairs on the way to my floor. Resisted birthday cakes at the office and did not deviate from my food plan. Got to the gym and EVERYTHING CHANGED. Like, all the machines were new, and everything was in different spots. So it took me an extra half hour just searching for stuff. Did my run on the treadmill, 2.5KM. Was really hard though. I don't know, I just don't like the treadmill anymore, my legs feel so heavy on them!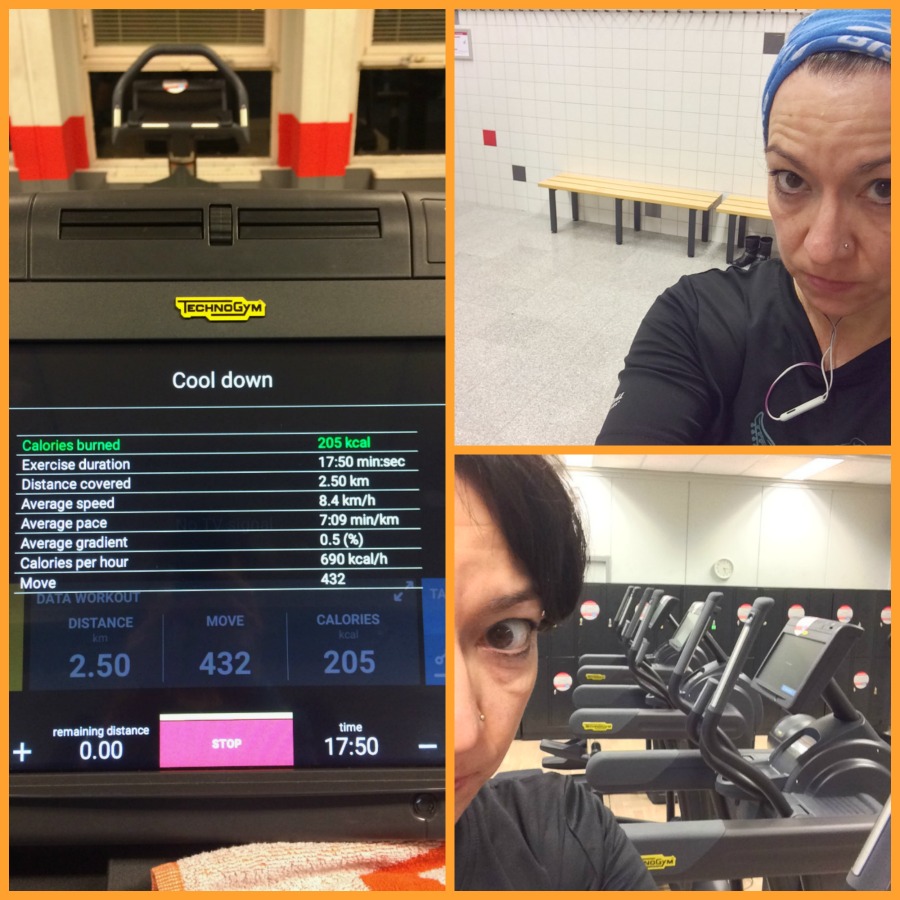 Another day that I also logged everything into Myfitnesspal and had a calorie deficit. YAY!
Wednesday – Another repeat. We're on a roll. Food, check. Work on time, check. Stairs, check. Getting really hungry, check. Went to run at SocialMile since I am running every day anyway and a friend of mine (Hi, M-J!!) who I met long, long, long ago through a book club decided she was finally going to join for a run, so I definitely wanted to be there! My back wasn't feeling that great (I think I'll definitely skip a few exercises at the gym, like the leg press – puts too much compression on the vertebrae) but I put a hot water bottle on it for about 20 min beforehand and took some ibuprofen (I know… I know…) and headed over to the meeting point. Super nice run but there were some hills which is kind of killing my back right now. We did almost 8KM. Nice chat and a hot tea afterwards, resisted all snacks and had a huge calorie deficit for the day.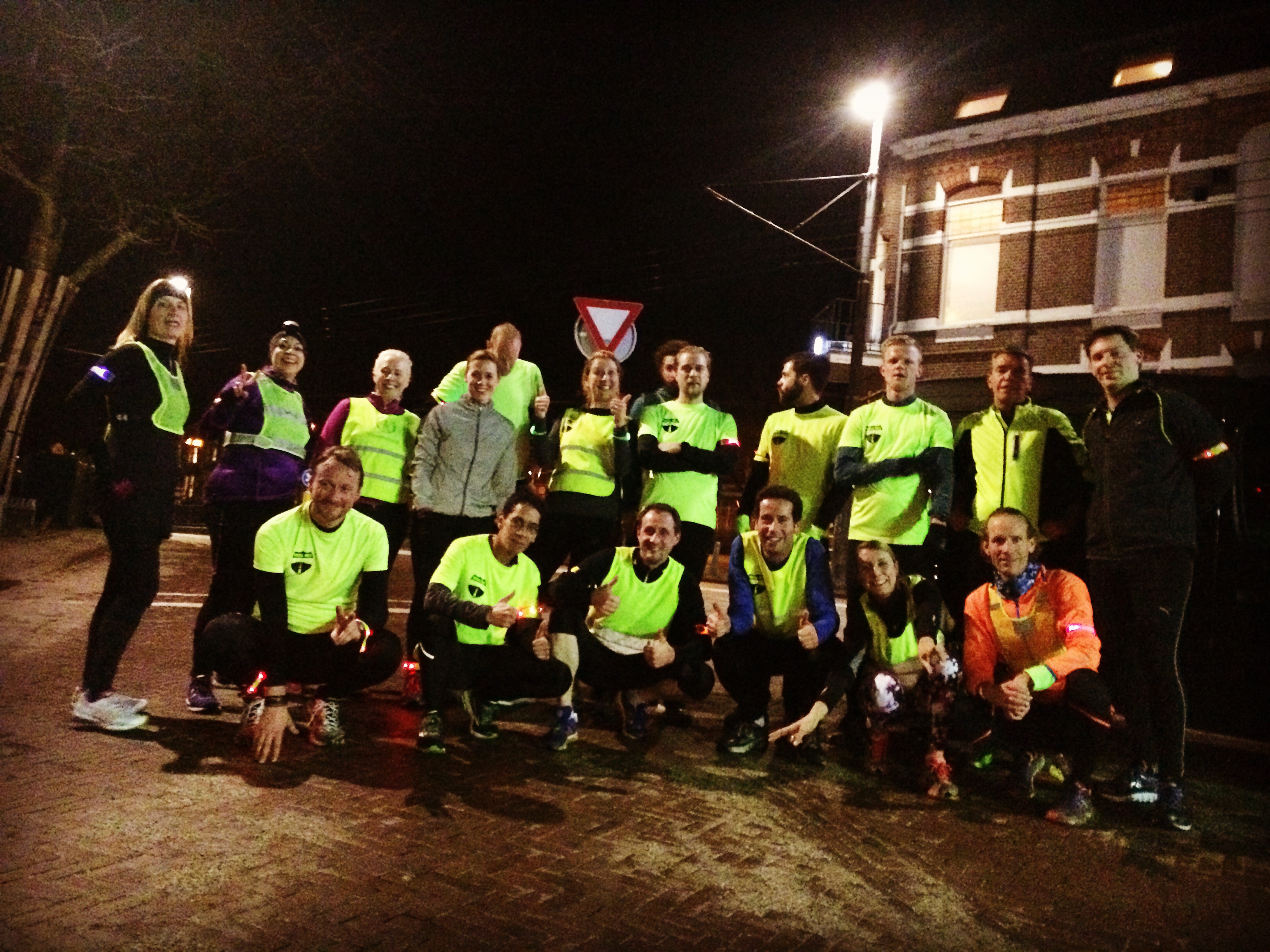 Thursday – Here's where it goes downhill. Food prepped but was so busy at work did not get a chance to eat everything. Was my last day before my long weekend away to Berlin. So I had a lot going on. Then, in the afternoon, I heard from Ron that my mother-in-law was not doing well at all. She's been sick on and off for quite some time but this time it's been prolonged and apparently she started hallucinating a bit. We briefly discussed it and decided there was no way we could go to Berlin. Not this time. There have been times she's been ill and we went on holiday anyway and she recovered. But I could hear it in his voice. This time was different. This time was worse. I wrapped everything up at work, called the apartment I'd reserved and they were very understanding (I only had to pay the first night), set my out of office, packed up my stuff and rushed to the train station (by bike) to get a bus to get out to her. Stayed a while and finally decided to go home. Once I got home I went for a little run, not only for the streak but I felt I really needed it at that point.
Food logging = ZERO. Pretty sure not on target for the day. Face after Run = relief.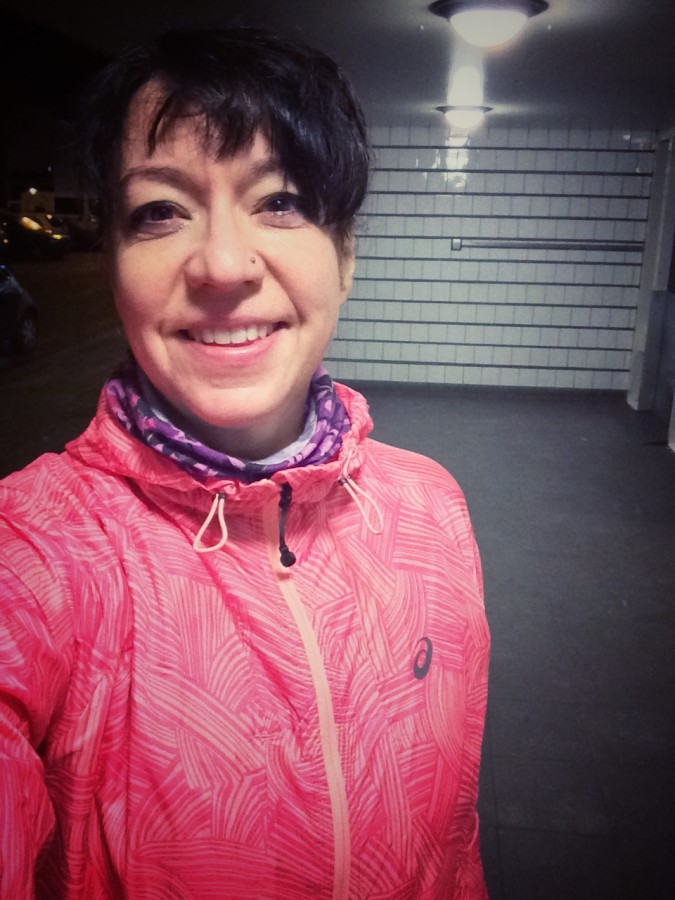 Friday – Still had the day off despite not going to Berlin. Went out to see my mother-in-law, slight improvement but nothing to write home about. Afterwards for some reason we decided to torture ourselves by going to IKEA. Ron's been trying to find a chair he can sit it that is more supportive (think dining table chair) than what we have now. Of course no one goes to Ikea and comes home empty handed. So, two chairs and a few other items later (and EUR 70 lighter) we arrived home. Then I went for my run. 5KM for the win. Food logging at about 35%.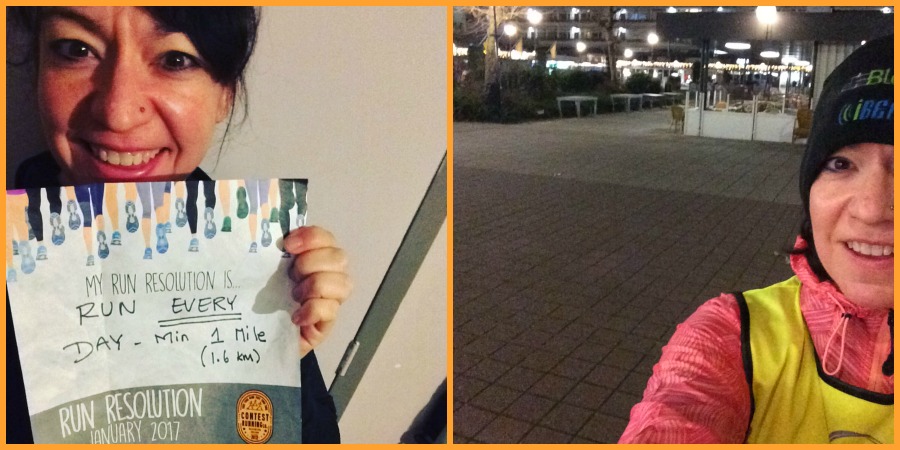 Saturday – well… crap! It snowed overnight and the roads are a mess. That means not only did we not make it out to my mother-in-laws', but running was going to be challenging. I really wanted to get 7KM in today, since it was DAY 7 of RunResolution! I waited a while to see if the roads would clear up a bit and finally headed out around 13:30. I figured it would be safe(r) to run in the business park area where I often run and I was mostly right. In the end I *did* manage 7KM but it was tricky (icy) in bits. Cold and crisp, I actually enjoyed it. Man was I happy to get back though and have a cup of hot cocoa!!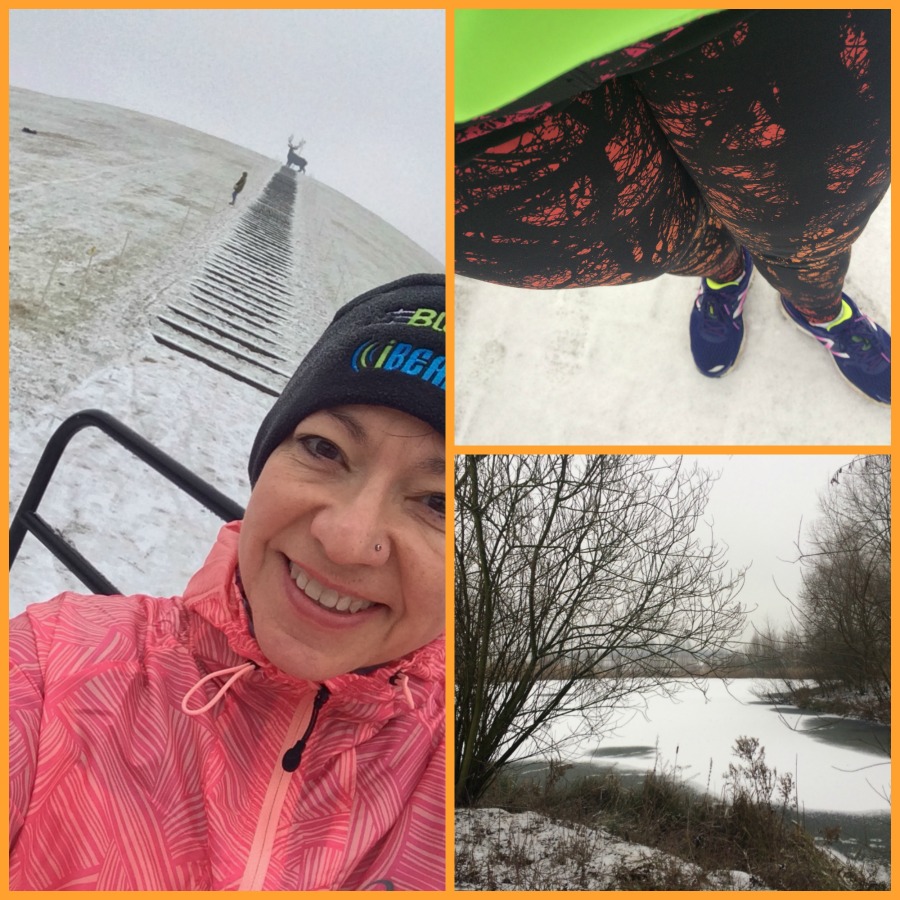 There was definitely no chance we were getting in the car to see my MIL, so we decided to go by bus into town later for dinner. Had a lovely meal at a new Noodles place in town but called it an early-ish night because…
(oh yeah, food logging = NO)
Sunday – decided since there was the change of plans anyway to run the Nijmeegse Nieuwjaarsloop in the morning and then head over to MIL's in the afternoon. One of my Runiversity training mates couldn't go and she offered her place to anyone who wanted it. So I took it over. She's now run the slowest 10K race in her entire life! Hahaha!
Ron also decided to run it as well. Conditions weren't great – pretty icy in some parts of the woods. Plus I knew it would be a very small race and I would likely be last (it's fine, not ideal but sometimes you can't avoid it). However, there were several SocialMilers there so it was just nice to take part. I was indeed (almost) last, but at the beginning there was another older gentleman who was running my pace and we pretty much kept each other going. I'm fairly certain it was also my slowest 10K ever, however, it can only get better from here! To be honest, it was a great run, just slow. Everything felt good about it, only occasionally were my legs a bit heavy from having to run a wee bit differently in icy/snowy woods.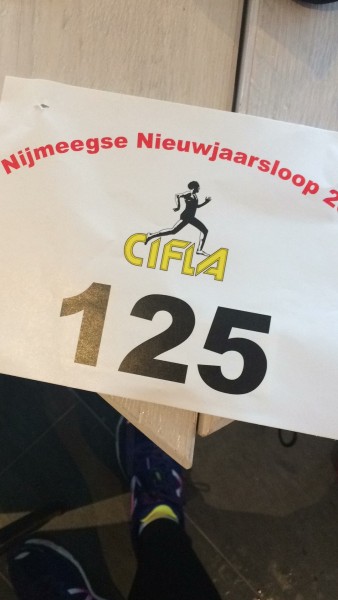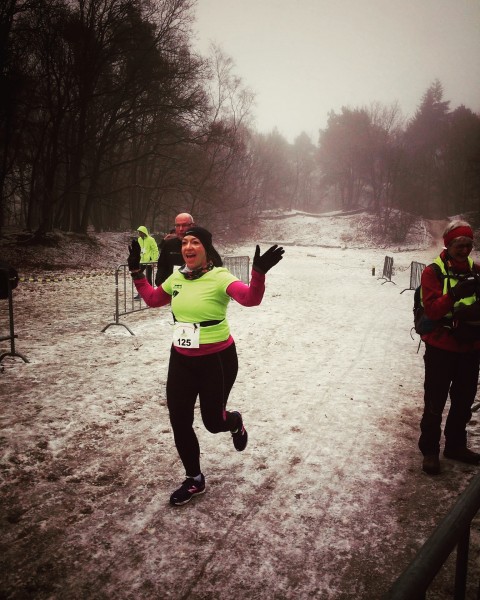 Afterwards, we went to my MIL's. She was sleeping but looked a little bit better. We didn't stay long as she kept drifting into sleep so, whilst worrying that she's so tired, we decided to let her get some rest. We went home, had a late lunch and chllled out for a bit. Ron made a nice dinner for us and then we decided to go to a late movie as if we were still "celebrating" our weekend away.
So, to wrap up:
Food logging could be better. Only managed 3/7 days. I still have an all or nothing attitude and that doesn't really work so I need to find a balance. I wish losing weight weren't so hard. I know, boo frickin hoo. Choose your hard. All that.
Running: 39KM total wrapped up on Day 39 of my run streak. Felt pretty good this week except for on the treadmill. Cooper test went well, SocialMile was fun and I did a race. All in the first week.
Rock'n'Blog: got my RnB box! YAY! I love being a part of the Rocknblog team, even though 2016 was pretty tough to coordinate school, work, life, races and blogging. My discount is still valid by the way for several races: AZ, NOLA, DC, MXC and a few others. SO… if you want to run in a Rock'n'Roll series race, let me know! You can use the code RNRWITHPINKY and still get a discount until the new team is determined!!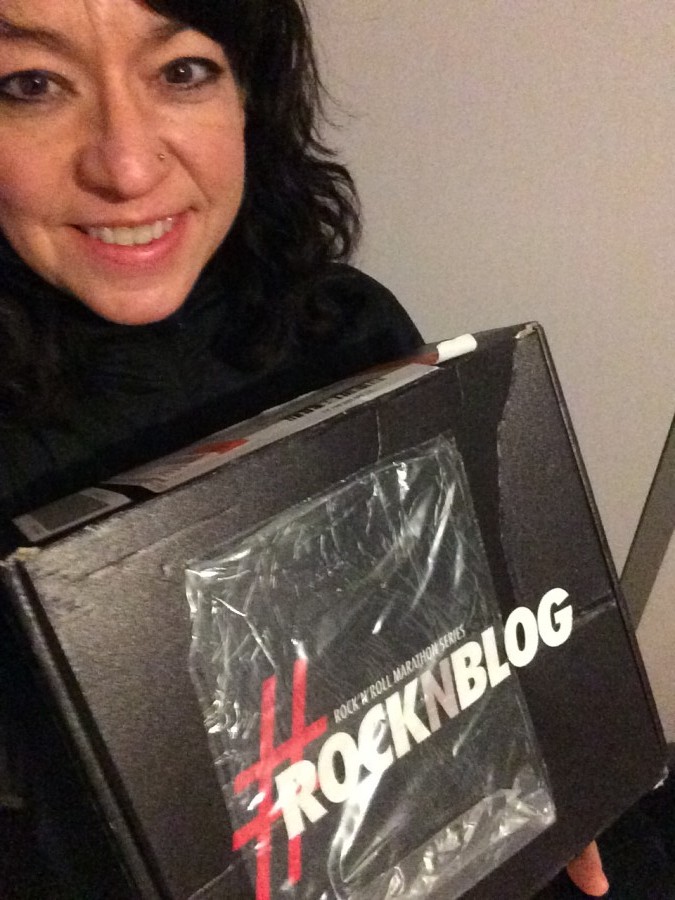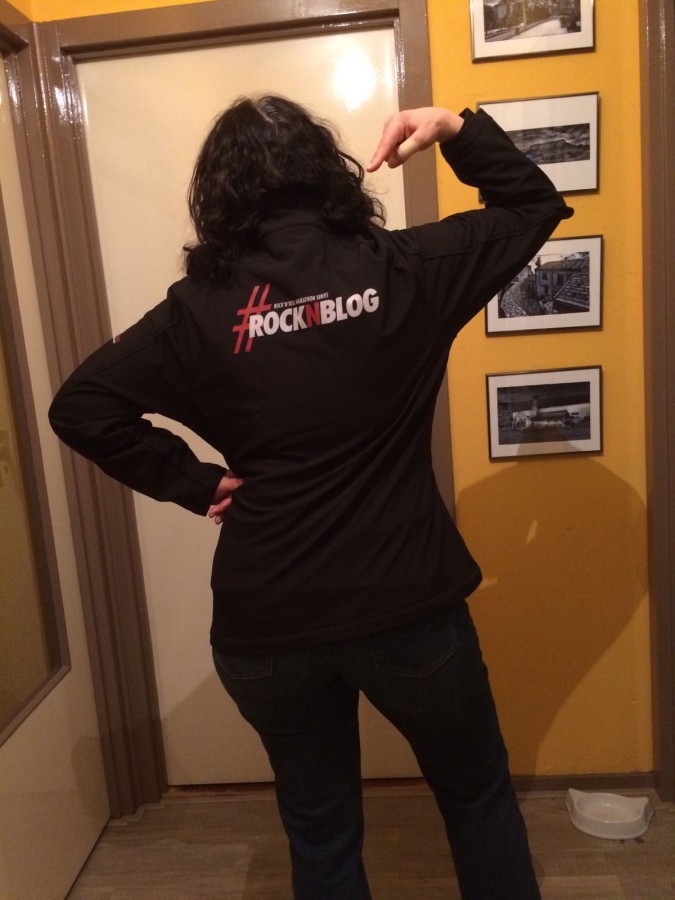 Week two is up next – more food, running, stairs and hopefully and improved health mother-in-law.
How was your first week of 2017???