A Lot of Snow
There was unfortunately a lot of indoor time this week due to the snow. Usually we get a dusting of snow, maybe one or two days in the winter, but it's been years since we had this much.
I believe we had somewhere in the neighbourhood of 10 inches of snow (here it was around 20cm but in some places it was up to 30cm). Since we are not used to it, the roads and the paths aren't cleared for at least a couple of days (if at all) so it's not really something I want to go out and run in – too risky for the knee right now.
It's been quite fun and smile-inducing to see so many people, of all ages, having so much fun in the snow! It's well known that The Netherlands is a flat country in general, but we do have a few hills here in the East, and specifically in Sonsbeek Park (where I walk and do my notparkrun).
Finally around Friday the natural waterways, canals and ponds started freezing and everyone has been out ice skating (which is nice but it's also been crowded and that to me is a bit disappointing. – we always seem to forget there is a pandemic when something "fun" comes along).
Check out the instagram account @ingelderland for more amazing landscape shots of the province I live in!
Time for the Weekly Run Down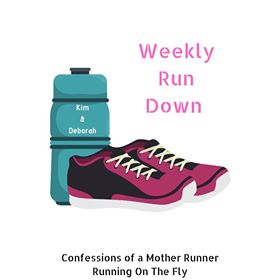 Deborah and Kim are the amazing hosts for the Weekly Run Down! Feel free to join in as well to wrap up your week in fitness!
WEEK 31
Plan vs. Actual
Monday – 3.25KM walk, GLI gym 1 hr intake – no workout (appt w/different PT), 3.5KM biking
Tuesday – 3KM walk (office day) to and from train station
Wednesday – 3KM walk, W6R1 run, 6KM, GLI 1 hour, gym 55 min
Thursday – 2.22KM walk, gym
Friday – 2.75KM walk, W6R2 run , gym 55 min
Saturday – 2.5KM walk, parkrun in Alkmaar 5KM, 17/17 Dutch parkruns done!
Sunday – 2KM walk, long run W6R3, 1.4KM w/u walk, 10KM run (!!!)
Week 6 In Review
Monday – 3KM Walk
Tuesday – RPM 79
Wednesday – 6KM Treadmill Run
Thursday – 30 Min Shovelling Snow
Friday – 9.65KM Walk (outside!! Finally!!)
Saturday – 3.3KM Walk, RPM 80, 40 min "cool down" zoom bike ride
Sunday – 7.65KM Walk
Running
Not a lot going on in the running department. I struggled with the 6KM this week on the treadmill and would have preferred to run outdoors. This weekend was the NNRunningDay Valentine's Edition and I was signed up for the 10K (what was I thinking??). Due to the conditions outside, I have decided to DNS this virtual race. On to the next!
Walking
It felt like I walked less this week and got less steps in general; While I decided to not worry about the 10K steps per day, I dropped my average a bit this week. After Monday's really slow walk I just didn't venture outside again until Thursday when I had to dig the car out to take one of our cats to the vet. Friday was beautiful out – sunshine and blue skies – so I once again combined my errands with a nice long walk. I'd already decided there would be no notparkrun on Saturday, so I had a walk that morning to get some fresh air, grab a coffee and pick up a few items for dinner.
By the time Sunday rolled around, it had definitely warmed up a bit and the paths were a wee bit clearer. I thought I might manage 10KM but about half of this walk was still a bit icier and slower than my normal walking speed. At 5KM I was feeling a bit "done" so I made sure to take the shortest route home from there. I certainly did appreciate the sunshine though, that's for sure!
Strength and Spin
Did RPM twice this week and joined the Blogger Bikers after Saturday's session, so about 40 min "cool down". with Kim H, Kim G, Debbie, Coco, and Michelle. I didn't actually record the time, mileage or calories burned of the cool down and I live to tell the tale!
A
No strength training this week, but I did do a fitness assessment to start a strength training program next week! I had to do (and film) several "basic" exercises so that my coach could see how well I did. Windmills, some lunges, a plank and more. More on this subject in the coming weeks…
Home Improvement
Mostly worked on the downstairs room this week – basically it's "done' now except for a few touchups here and there. Our floor guy needs to come back to finish the laminate and baseboards and we need to now start unpacking the rest of the boxes to put things in their place (and likely give more things away). So, yes, we finished the room but NOW we have other work to do…
We also bought and finally hung matching lamps in the living and dining room! It took me 15 years to make decisions about the lamps in the previous apartment and I didn't want to drag my feet with this house! So when I saw these lamps I knew we had to just go for it. Originally I was thinking to get only one for the living room and a different for the dining, but Wendy (of Wendy and Vincent) convinced me that it would be better to have the same. I'm glad I listened!
I bought these from a local shop (Spyk71) where I actually saw them hanging and then was able to order online! The owner delivered them herself!
We also decided this week to get rid of our living room table because it's just too massive for this space. So we decided on this:
We bought this from MADE which carries furniture and home accessories that are created by independent, established and also up-and-coming designers. So this beauty won't actually be with us until June…
This will however make it so much easier for me to just pick up the table, move it to the side and do my strength training in the living room. The table we have now is probably 2.5 times heavier. We are getting rid of it (either selling or giving away) as soon as possible.
Stats this week:
Walking 23,61KM
Running 6KM
Bodypump 0
Spin bike 2x RPM, 40 min ride with the Biker Babes
Total steps: 63,634 (avg daily 9,090)
That's a wrap!
How was your week? Any challenges getting your walks or runs in this week due to weather? Have you ever skated on natural ice? Do you find it hard to make decorating decisions in your house? How old is your current coffee table?