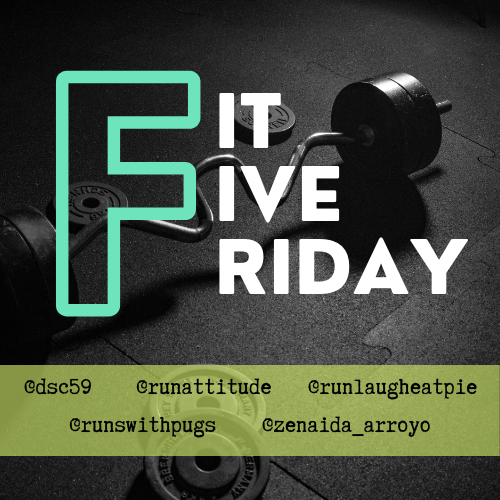 It's that time of week again! Thanks for joining us! We have FIVE amazing hosts – me, My First 5K and More, Running With Attitude, Runs with Pugs, Zenaida !
Cryotherapy – what is it and why should you try it?
Before we start, let me just disclaimer this: I am not a doctor, nor do I play one on TV and I don't advise anyone to do anything without first consulting with a specialist. There are contraindications for pretty much every therapy and cryotherapy is NOT for everyone.
To really simplify it, cryotherapy is cold therapy. If you've ever sprained an ankle and applied an ice pack, well, you have used cryotherapy in a way to help you recover from your injury. Cryotherapy is also used in certain medical procedures, like freezing warts or in some cases cryosurgery is used to remove abnormal cells or tissue. So it's not a "new" thing in any case.
Whole Body Cryotherapy
You've probably heard of cool sculpting as an alternative to surgery to help with stubborn fat that you can't seem to shift with diet and exercise. I'm not going to touch on cool sculpting, because I only tried it once before corona and had a few sessions booked but they were all cancelled and the salon sadly went out of business.
Whole Body Cryotherapy is literally that – you go into a cryo chamber or a cryo cabin anywhere from 3 to 5 minutes per session.
Five Reasons to REALLY try cryotherapy
The reason I say REALLY try is because this is not something you can do a few times and reasonably expect some sort of amazing result. Sometimes it's marketed that way, but there is no real scientific proof that you will suddenly " be better" after only a few sessions. So it's kind of a commitment.
*To reduce inflammation
If you think about it, athletes have been using cold therapies for a long time, especially ice baths! But how uncomfortable is an ice bath?? I mean, I haven't even tried it (I don't have a bath tub) but, first of all, where would I even get that much ice?? And then you need to actually get your whole body in there!
Cryotherapy puts you directly into a chamber or cabin, you don't ease your way in like in the bath and you only need to get in there for 3 minutes. Sure, it's cold (Where I go is -110C), but you are over and done in 3 minutes.
When you have had an intense workout, ran a hard race or are in a heavy training cycle, the faster you reduce inflammation of your muscles, the better.
*to prepare for working out or to recover afterwards
A lot of athletes swear by first going to cryotherapy and then hitting the CrossFit box or gym. And after a hard workout it's again another way to faster recovery. What athlete doesn't love a quick recovery?
I know some of y'all get real serious cases of DOMS… regular cryotherapy sessions can actually reduce or even eliminate DOMS if timed right.
I guess it makes sense then that in the last week I've not seen 1 but 2 of my former Bodypump instructors at Dr Freeze.
*relief from joint pain
The jury is still out on this one, but it's been said many times that for those of us with joint pain, arthritis, and even rheumatoid arthritis, whole body therapy, when done for a longer period of time, can really help reduce pain. It's often thought that when it's cold our joints hurt more, but that may have something to do with the amount of moisture and humidity involved as well. The cryo chamber or cabin is controlled by a computer so there is generally no humidity whatsoever.
*to help with recovery after surgery and scarring
Cryotherapy can actually accelerate the body's natural healing process after surgery. It helps with pain relief, swelling and bruising, The sooner you can start cryotherapy after surgery, the better (but no open wounds). But again, consistency is key. You won't "see" results immediately, you need to make a commitment to it.
So how do you know if it's helping you or not? To be honest it's hard to tell. You can't compare it to healing without cryotherapy because you only go through healing once (hopefully). For me, it's a complete leap of faith that I'm willing to take.
*boost your mood and your energy
Again I cannot really give you scientific evidence here, but I know when I come out of the cryo cabin and back into normal room temperature I get a sort of rush of energy. Apparently cryotherapy stimulates and increases endorphins in the body. Kind of like exercise; am I right?
BONUS REASON: "they" say it improves your metabolism
I want it to be clear I am not doing cryotherapy to burn calories or lose weight. To be frank with you, I don't really like that it's marketed as a sort of weight loss tool. I suppose you are burning calories in the 3 minutes that you are in -110 degrees celsius, but that you could actually lose weight this way? I don't believe that hype. Maybe it does improve your metabolism over time. But again that is something you would really need to commit to, to give it time to know if it really helps or not. Obviously if you want to lose weight, 80% of it is going to be diet related. But I'm sure I'm preaching to the choir here.
Have you ever had an ice bath? Have you tried cryotherapy? What were your reasons to try it?
Unfortunately if you are pregnant, have hypertension, certain heart issues, Raynaud's, impaired circulation, certain types of neuropathy or open wounds you should NOT try cryotherapy. If you want to try, then first consult your GP.
Here are the guidelines:
Your link should center around some kind of fitness (exercise, wellness, mental health, nutrition… the possibilities are endless!)
Please link back to your hosts! It's the right thing to do! 
Share the link-up love by visiting and commenting on your hosts and at least two other Fit Five Friday bloggers!
Feel free to share about Fit Five Friday on your social media! Tag #FitFiveFriday to get the word out!