Are you surprised yet that I haven't blogged again for a little while? No?
So the latest and greatest:
My brother-in-law got married last Friday to his longterm girlfriend. Yay for weddings! The hubs and kids and I had the day off to go to Hubs' home town for the event. It was a lovely, small ceremony and as if some miracle from the universe it was sunny and mild rather than the rain and blah we'd been having. Like a little wedding gift to them! We had the ceremony, drinks and eats, photos, and later dinner. It was an all day event. Very happy for the Newlyweds!
I'd been preparing my outfit for sometime and have to say I'm super-proud of not only how cute I am (I can say that, it's my blog and damn it we should all say that about ourselves occasionally!) but just how inexpensive I was able to arrange everything.

-dress C&A €20
-cardigan H&M €10
-shoes from some local shoe store €60
-flower clip for my hair €1.50
-hair straightened €27 (yeah I really can't do it myself)
-panyyhose €18 (because I bought two pairs in case I ripped one which of course I did)
-cute birdie retro purse €10
-nail polish €2.50
Seriously this is the cheapest I've done for any wedding but strangely the cutest and most confident I've felt. Mind you the last wedding I was at was my own and we know what I looked like then as well… or do we?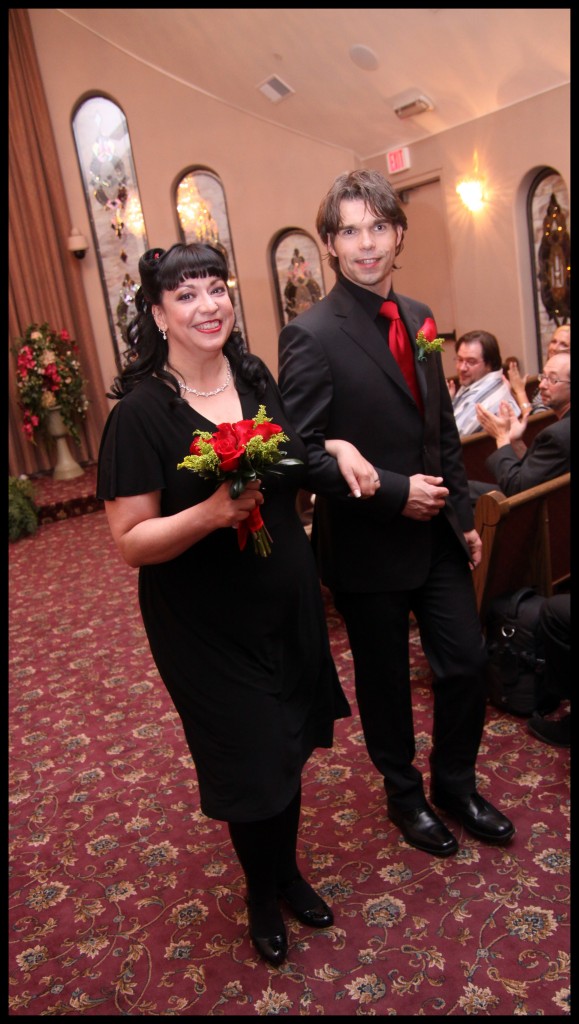 well it's not always about the looks, of course, but I don't see any reason why a girl can't feel good about her looks from time to time!! Sure most the time I ask myself, "do I feel good? healthy? fit? strong?" These are good daily questions. I'm going to admit though, I like to feel like I look good too.
Anyway, M, if you are reading, thank you so much for all your help pulling this look together for me! My super-supportive, super-cool friend M is always there when I need a shopping helping hand.
Onto the Trip:
When The BIL and SIL planned their wedding they of course did not ask us if the date was OK (it's their day after all) and somehow it didn't register that we were actually supposed to be going to Munich the same day for our weekend away/ first DM concert of the Tour! Original plan was to fly out Friday and and fly home Sunday, but, we needed to make an change to that plan! After discussing with M (who was gracing us with her hilarity and charm) we made the decision to drive there instead. DRIVE.
That's 730 Kilometers people. 450 miles on the road. In Germany mostly. On the Autobahn (Insert Kraftwerk music here).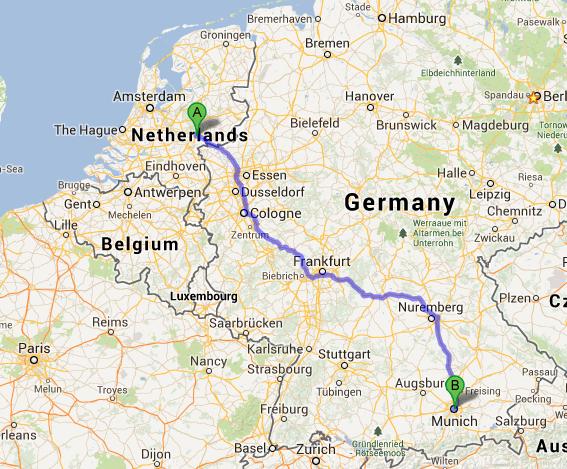 It's ok to drive, I just prefer flying where possible but we didn't have any time for that anymore, no, we needed to leave Saturday morning and arrive at a decent hour Saturday afternoon (goal was 3 and we made it at 3!) because the Depeche Mode show was at the Olympic Stadium at 8pm. The ride was fun, funny, we had to stop every hour to pee (well I did), we found a chocolate factory at a rest stop of all places and it rained pretty much the entire time we were on the road. After arriving and a rest, we met up with a friend who actually comes from the Netherlands, lived in Munich for a while and now lives somewhere else in Germany with her very nice boyfriend, we went to dinner and the we drove to the stadium… NO PARKING! ACK! Tried several options, ended up parking 2KM away and taking the metro and missing the opening act and the first two songs. Worst part was that I clearly bought the wrong tickets and we were in the standing section pretty much for all the misfits who were too cheap to buy a regular ticket and our section was completely filled. After a tiny outburst (I did cry) a kind, large German man allowed us to go up against the fence so we could see the screens at least (by large I mean he was tall; we could see nothing but his back otherwise).
It was a fine show, after I got over the €70 ticket price, the shitty standing situation and the fact that we drove 730 KM's for that whole thing. Miraculously we found our friends almost immediately after the show, M got herself a tee shirt and we started walking back to the car (there we a gazillion people at the U-Bahn station). I should note at this point it started raining again… all day it had been raining, stopped for the gig (thank you again Universe) and started when it was over.
And the rain never stopped.
Since we decided to drive, we also decided to stay until Monday. No one wanted to immediately get up the next day and drive back so we thought, hey, why not see some of Munich while we are there! Great idea right? Well. It was misery guts out there. We also didn't realise that shops weren't open so there were no shops to go to. We struggled just to find a place to sell us an umbrella!
High points however were:
– eating all of the things at an Irish pub (and super friendly there, my God what amazing service!)
– drinking pretty amazing coffee at CoffeeFellows (yes I know, a competitor, it's fine)
– laughing a lot with Hubs and M
– the bus tour we finally succumbed to due to the rain
The low points were:
-my favourite shoes in the entire world pretty much crapping out on me
-finding out my ex Father in law died (this puts the shoes and the rain in perspective)
I have zero photos of Munich or I would share them with you. Oh, well that's a lie, here's my concert outfit (that no one saw due to the rain); my Dutch girlfriend told us to wear all black in case we'd go to their favourite goth club after the show (no comments about how ungoth I look, thankyouverymuch) – we didn't go, we were too cold and too wet by then: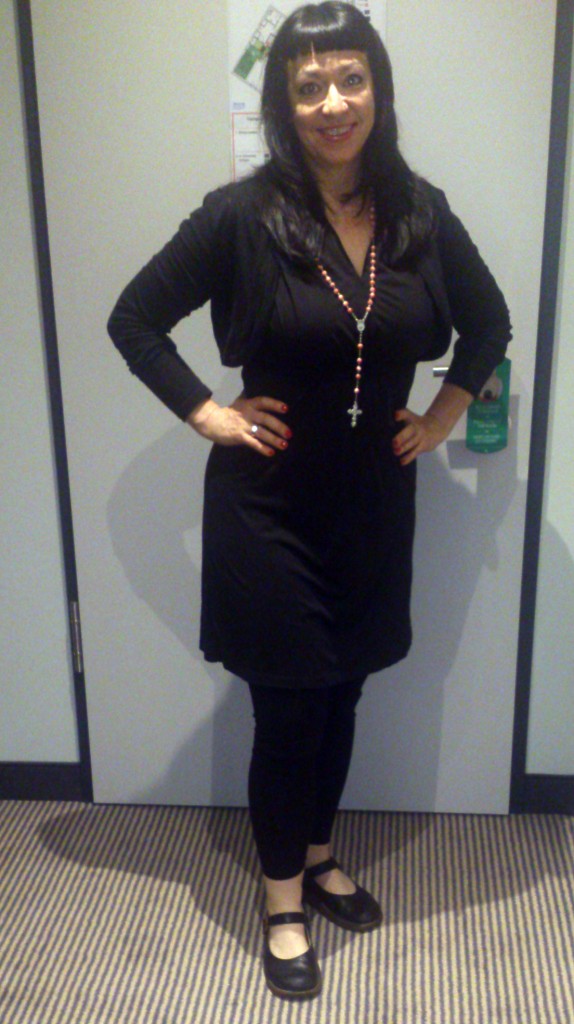 Monday we had a good breakfast and made out way out of town. It rained a bit on the way back but slowly got better. We went and bought chocolate from the factory. The ride was again a good ride (I was accused of being a speed demon and having a lead foot but you know… when in Rome and all that!). We dropped off M, arrived at our house, did some shopping, had a little dinner and then…
The Sickness:
about half hour after I ate I started feeling a bit odd, so I told hubs I was going to lay down early. I would just get up earlier to prep my food and my stuff for the next day at work. About an hour later it hit. I must have been praying to the porcelain god at least 10 times over half of those times there wasn't anything even left anymore. It was awful. I don't get sick so this hit me out of nowhere. Anyway I'll spare you the details because we all know what usually follows the throwing up right? Yeah, well that happened too. I was an absolute wreck Tuesday and Wednesday, but am feeling about 90% today. Still some pins and needles in my belly, but ok. How lucky though that the sickness hit me AFTER I got home, right???
You can imagine in all of that I haven't run or gone to the gym. It will happen. Sometimes you just need to get better first. I haven't been super well in a long time. My friends remind me to be careful, I've been to a malaria country recently. It's ok to just rest now.
When was the last time you went on a road trip? Did anything crazy happen?