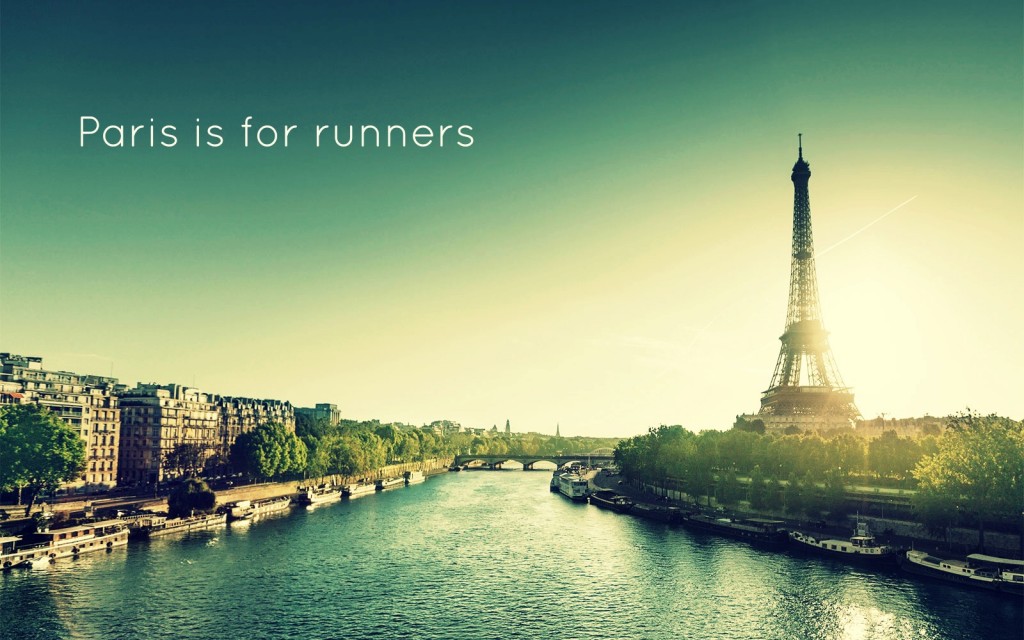 ah Paris! It never really stops being an amazing and beautiful city. I have mentioned it many, many times before – Paris holds a very special place in my heart. The first several times I went there I was, in fact, disappointed in how "cold" and "rude" I interpreted people to be, but slowly I adapted to my new life in Europe and found it much more pleasant and bearable. I do think that things have also changed a lot in Paris in the last 20 years – the younger generation speaks more English and are also not afraid to do so. Customer service has improved and it's just nicer to be there in general now.
Being back in Paris was fabulous and it felt like only yesterday I was there. In fact I was there only one year ago and since time really flies so quickly these days, it really was almost "only yesterday". However the trip was a little bit different this time.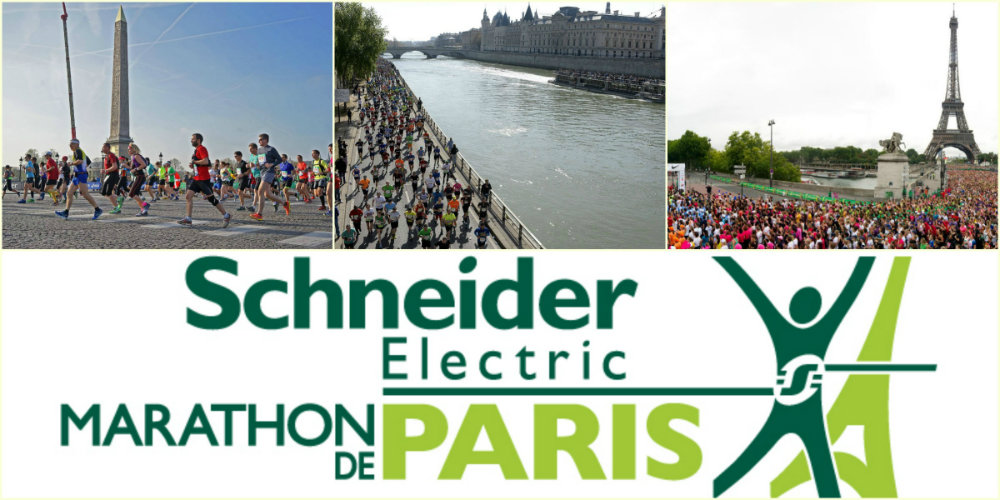 Friday
The Hubs and I were on our own this trip. Last year of course there were 8 of us in total, all from SocialMile (6 runners, 2 supporters), we rented a van and had a couple of small apartments all in the same building. We cooked for each other, we hung out with each other, we did the Breakfast Run together and basically it was a totally different dynamic than when the hubs and I are on our own.
We actually went by train this year which was SUPER easy. We were on a train at 8am and in Paris before 1pm! The hubs actually knew someone from another running group in our area who was not only running Paris but was also on the same train as us (and they had approximately the same tempo and time goal) so once we arrived we actually met each other in person on the platform at Gare du Nord.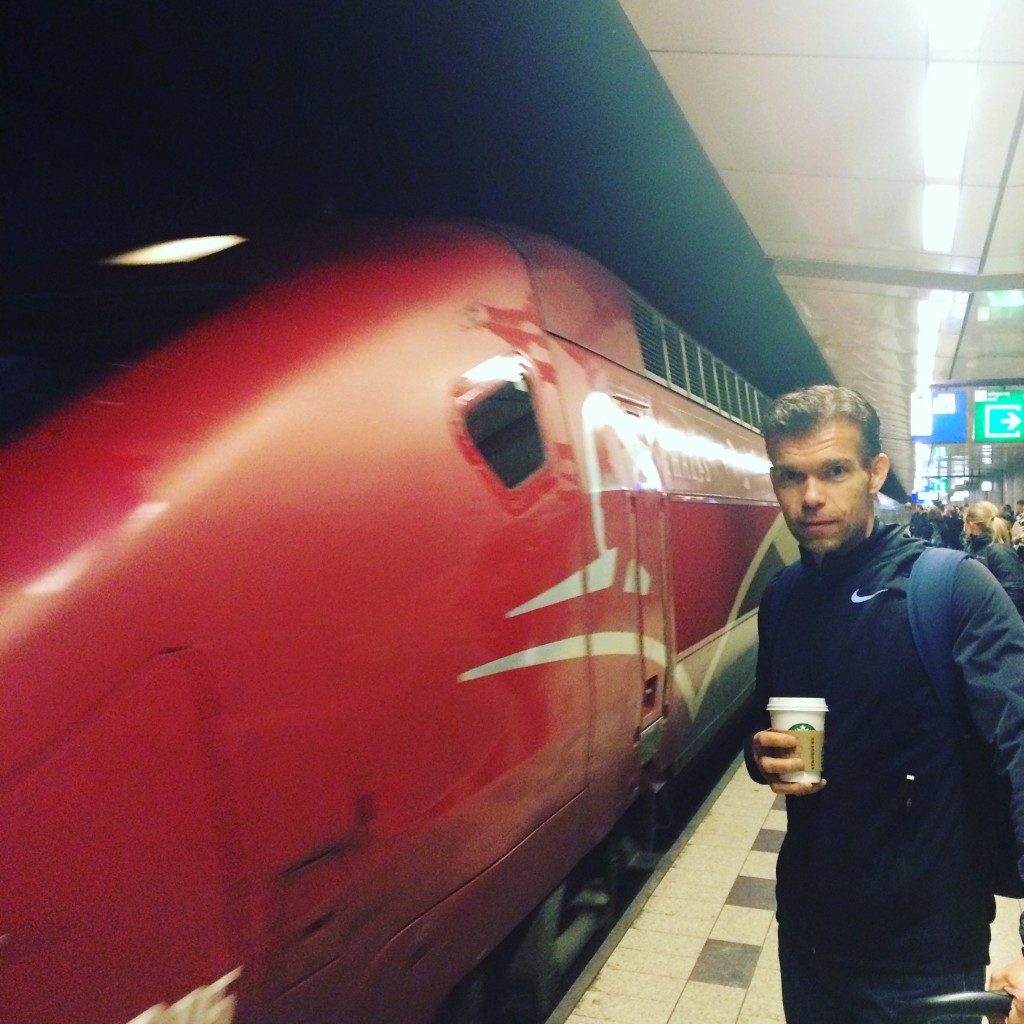 First thing we did was buy tickets for the metro and head over to our hotel. It was actually so easy! Then again, having been to Paris many, many times, you just know what to do and how to get around. We left our bags at the hotel reception (we were too early to check in) and immediately headed over to the expo.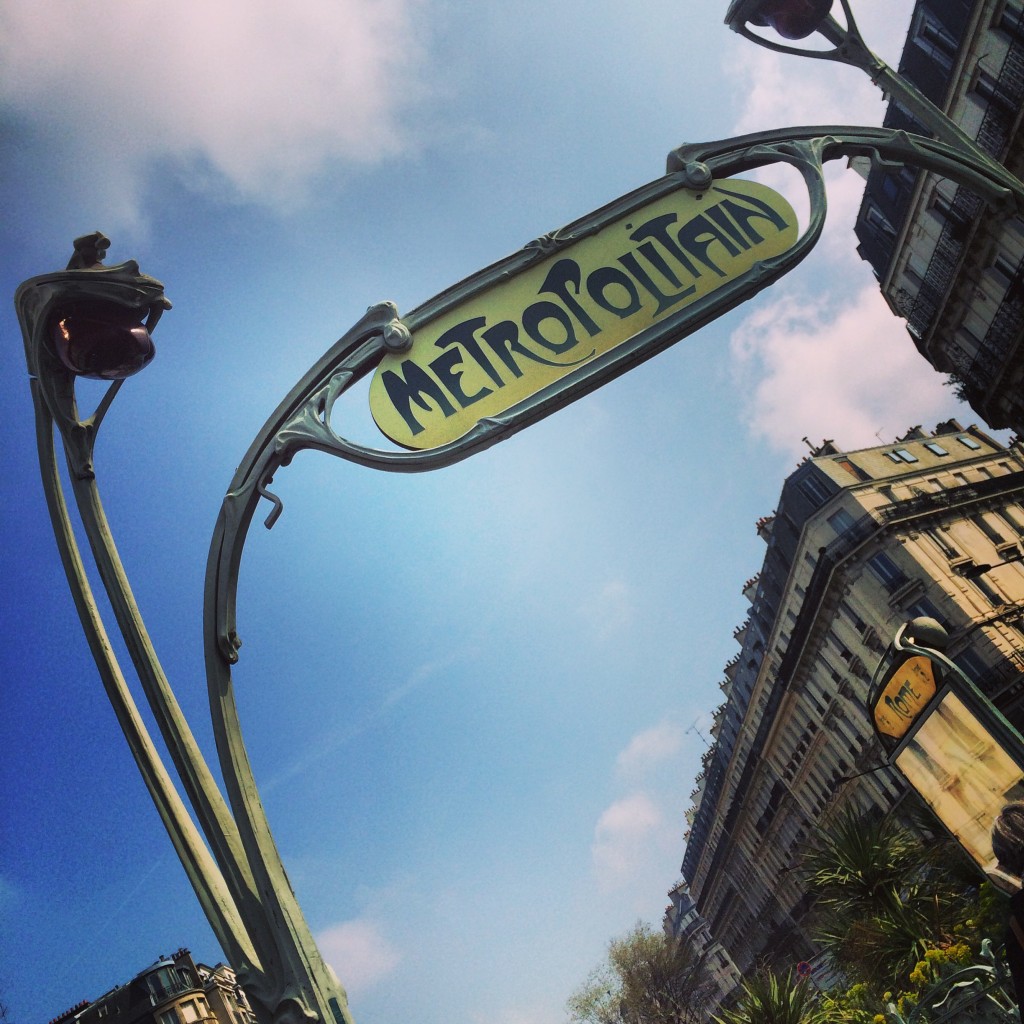 Last year it was SUPER exciting going to the Expo – for most of us it was the first marathon and there was the whole "will my medical certificate be accepted?" stress; this year was different – still exciting but more subdued. We met the Other Guy at the expo and I felt a little bit like I would hold the guys up if I were looking around at stuff. So we picked up our packets, our breakfast run stuff and took a few photos. Oh and I bought a FlipBelt finally and some PowerBar stuff but I totally forgot to check the wall for my name, for example, and I wanted to look around more at the expo in general, but it's just as well because we were absolutely STARVING by the time we did leave so it was just as well.
We did say goodbye to the Other Guy with plans to eat dinner together the next day and the hubs and I went and had a nice drink and some food close to the location of the expo. So far so good, nice and relaxed!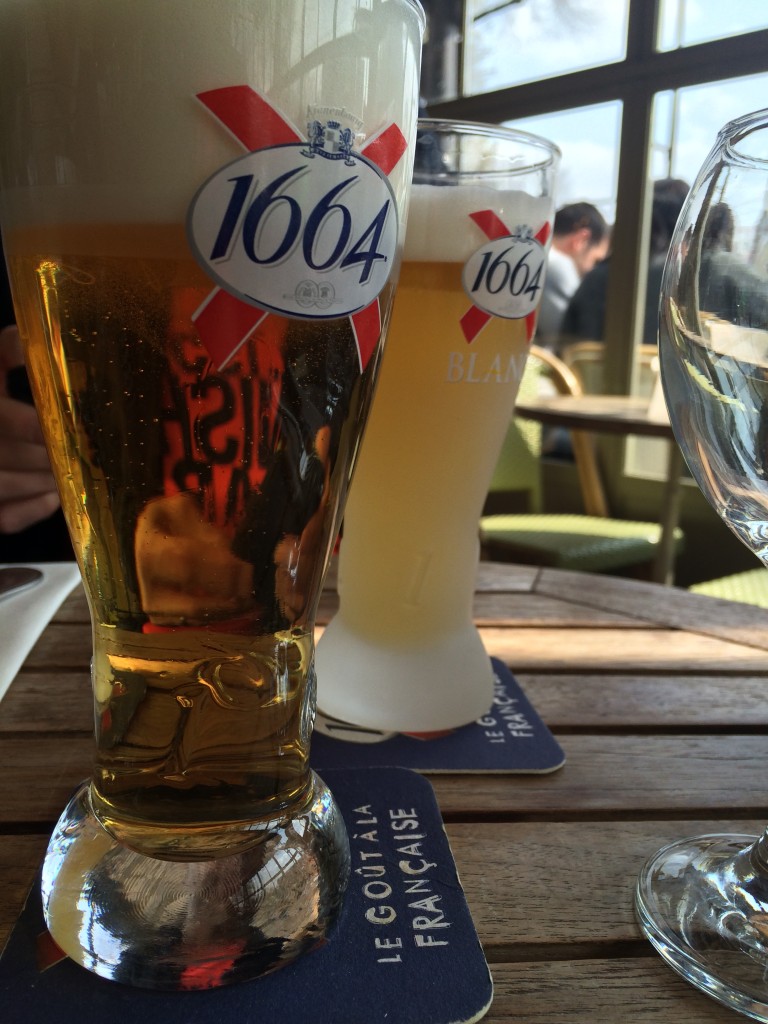 We were finally able to check in officially to Cervantes Hotel, which, even though there were a few tiiiinnnny snafus, I would totally reccommend. I mean location was fabulous, staff were great, easy access to Metro, supermarket, restaurants, cafes, etc. We hung out for a bit and found an Italian restaurant that we thought we'd try out – on the way actually we saw several other Italian restaurants and decided AGAINST first choice – a very large group of people had just arrived there and it was a small place. So we walked back towards the hotel and stopped at La Puttanesca to check out the pasta. In typical semi-dramatic French fashion, they were "busy" and rushing around being busy, but friendly enough and the food was good so we were happy.
After dinner we pretty much spent a couple of hours relaxing and watching the only English language channel on Television (which happened to be showing an NCIS marathon of some sorts). Since we were "running" in the morning we also hit the sack fairly early. Rock'n'Roll lifestyle right over here, folks!!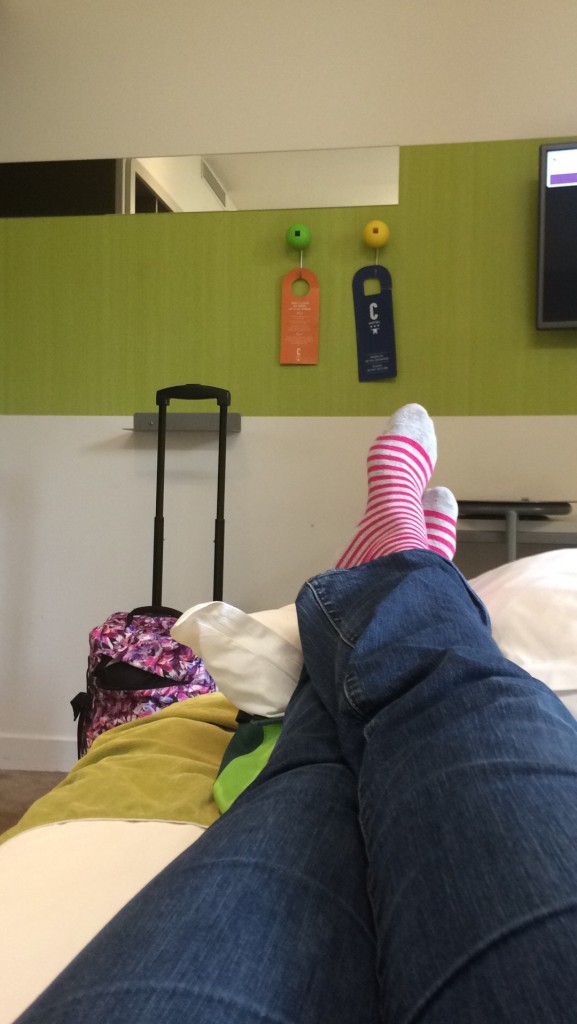 Saturday
Breakfast Run Day!
After a pretty decent night's sleep we were up and at 'em before the birds were awake to make sure we had a good breakfast prior to meeting up with a few others for the breakfast run. Unfortunately the hotel breakfast was not as what we expected (and we had one other issue at the hotel that weekend, but they totally redeemed themselves) but we weren't super concerned since food and coffee would be available after the run.
Around 8:30 we met some running friends from a Facebook group (including Susie and Graham who I met last year at Paris and again in Dublin!) under the Arc du Triomphe and at 9 am we were running towards the Eiffel Tower! Finally I got to meet Laurent, who happens to live very near to Paris; last year we totally missed each other so we were determined to meet up this year. And that we did! We ran together and did the required "us-ie" at Trocadero and after the run we went and had a warm beverage (and stopped off at Decathlon because Miss Control Freak forgot to pack her training pants!) and a lovely chat.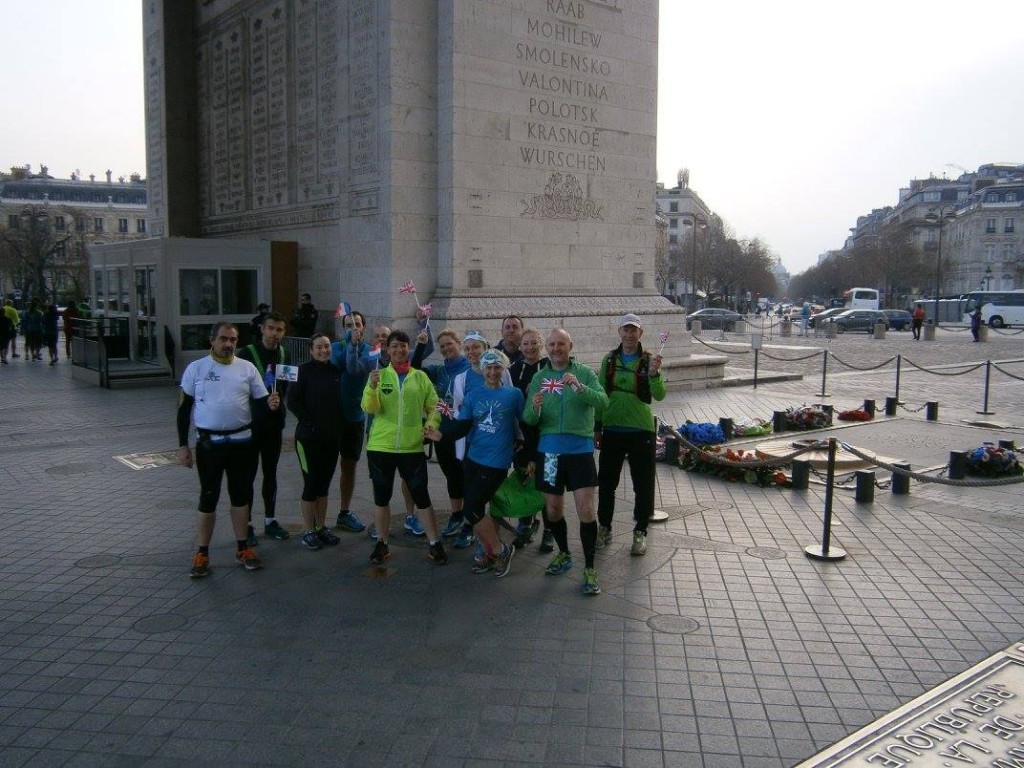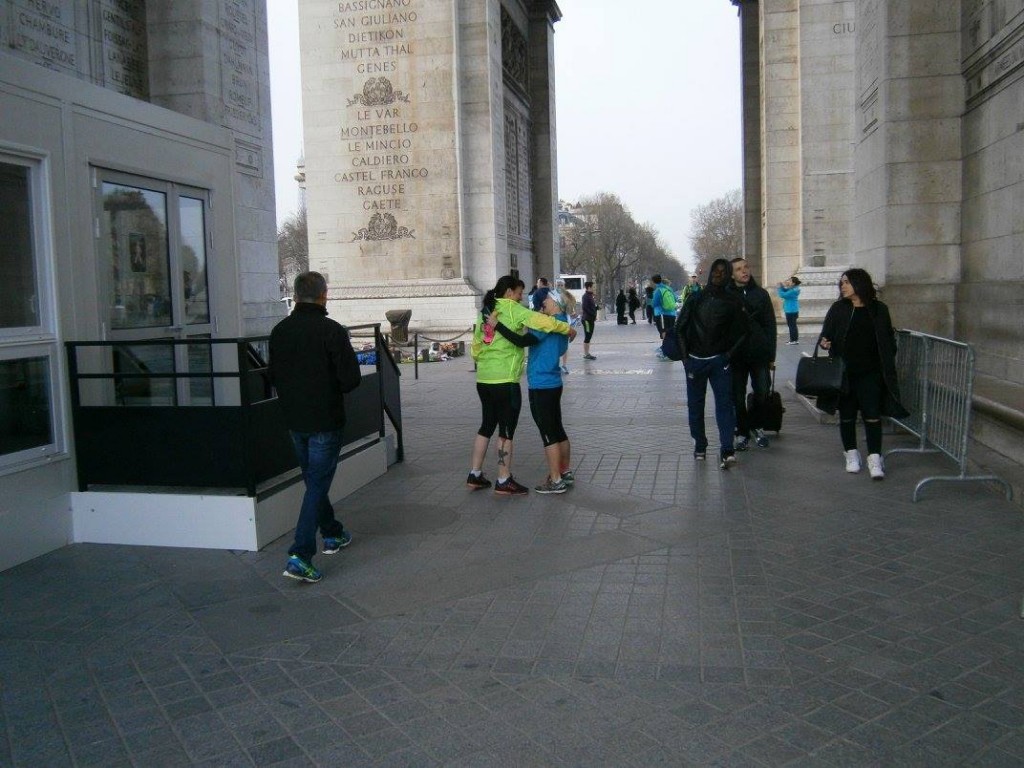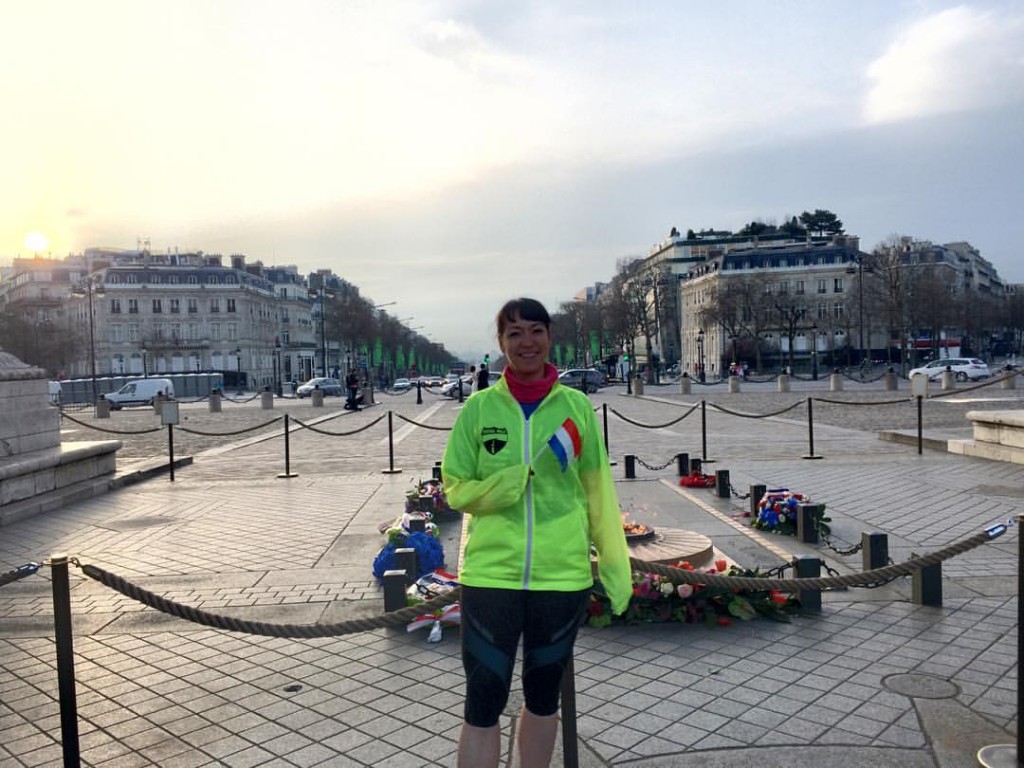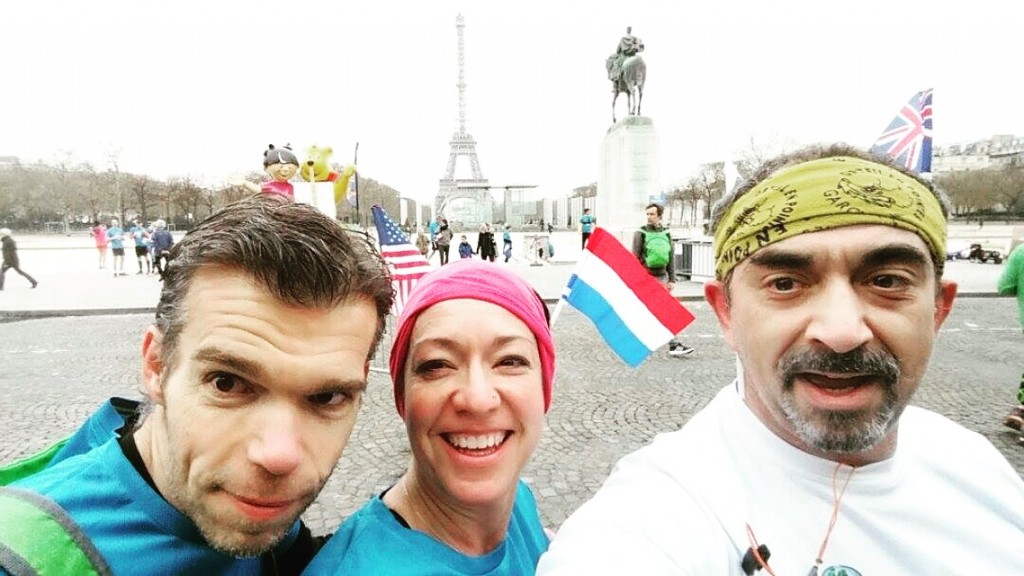 In the afternoon we pretty much had lunch, drank coffee and lounged around. Since we felt confident with the Italian we'd been to the night before, we arranged to meet with the Hubs' running mate for pasta and discussing the logistics of meeting up the next day. The reality of the marathon was upon us!
After dinner was the normal ritual of preparing our Flat Selves, making sure all the gels were on the gel belt, bag prepped for drop off, extra fuel prepared and ready to go. Once again the rock'n'roll lifestyle kicked in and I'm fairly certain we were in bed, sleeping, at 10:30pm.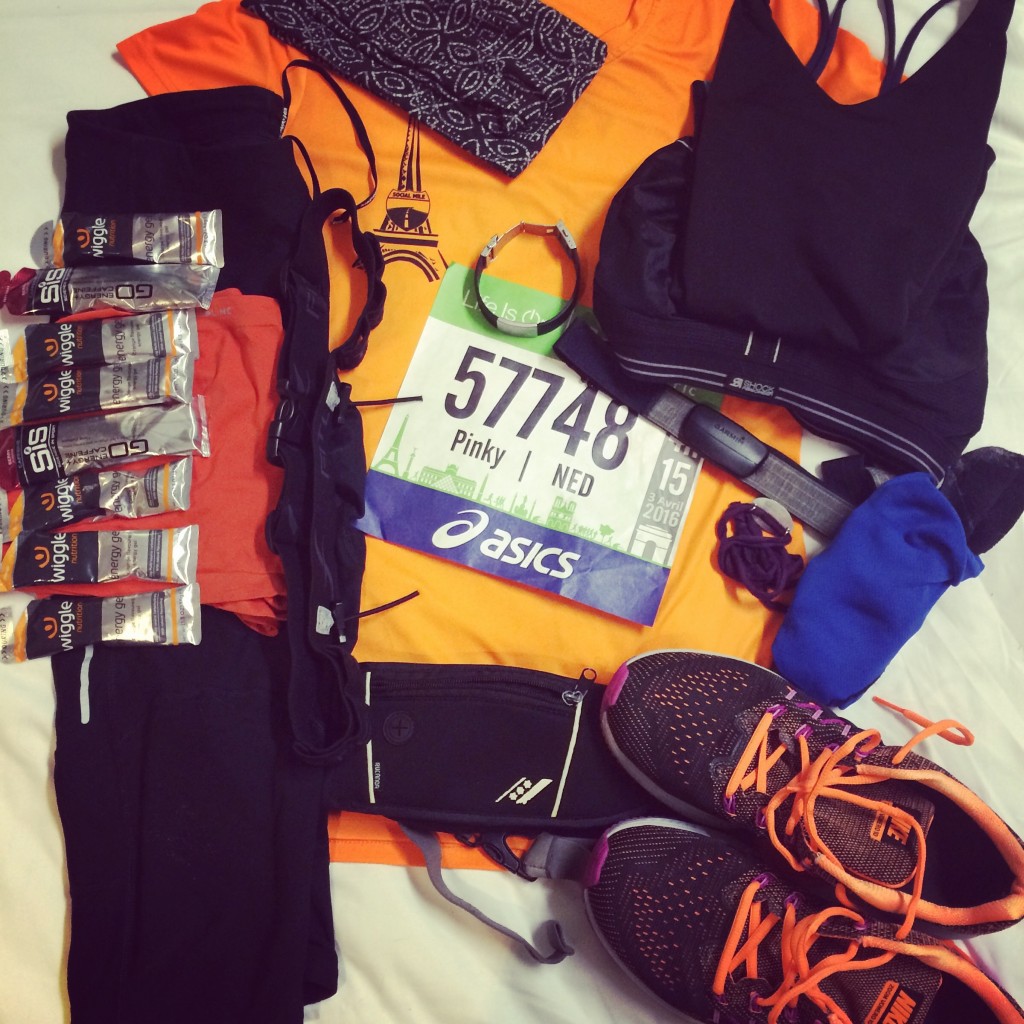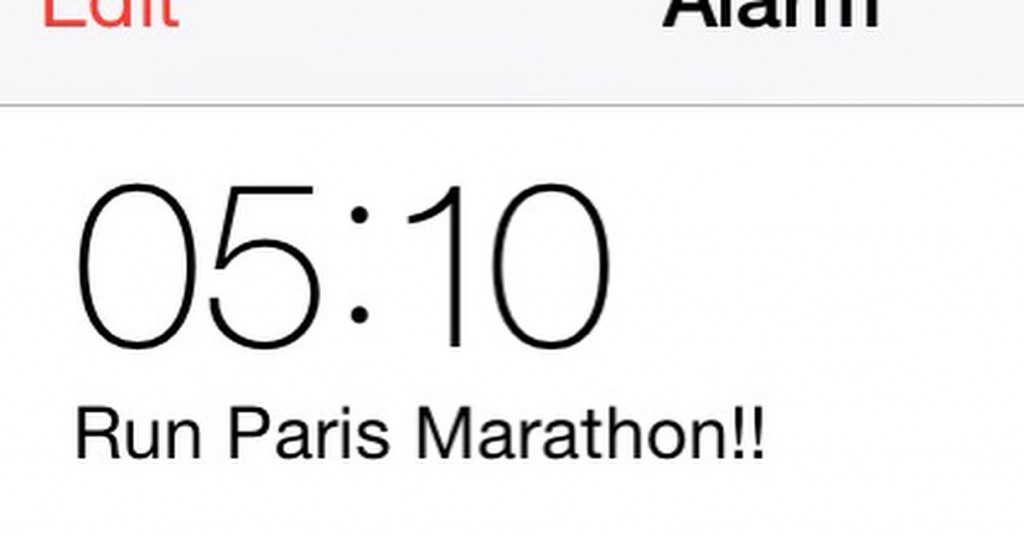 Marathon Day
Woke up and immediately felt nervous. Like, for some reason more nervous than normal. When this happens of course it's harder to eat breakfast and, when I was in Cologne I had the same issue, didn't eat properly and definitely hit the wall at KM 30, so I pretty much forced myself to eat. We had a plan to meet the Hubs' friend near the Metro at Arc du Triomphe. I also arranged to meet my newfound running friend Sam and her friend at the same place. Sam and I chatted on Twitter and had similar goals so we decided to run together as long as possible. We said goodbye to her friend who was starting in an earlier corral and basically hung out and chatted, ate more food, went to the loo a thousand times, before we met Louisa who was on her own and also had similar time goals! This is how it works, you guys! You are never alone! There will always be someone there for you during your journey!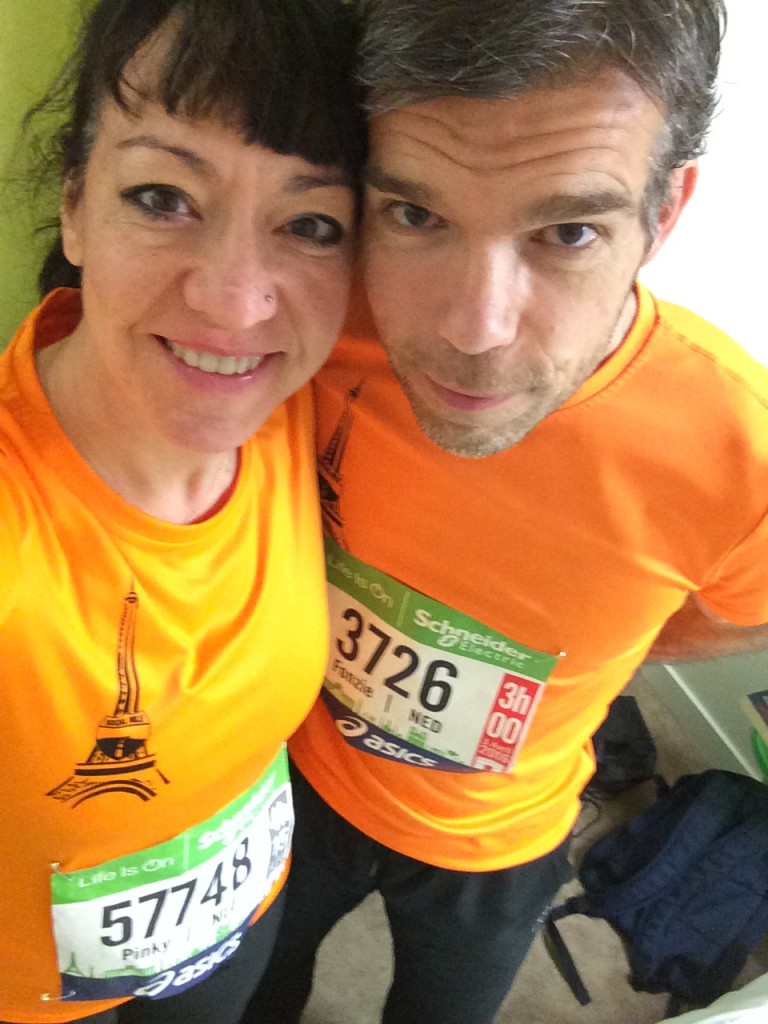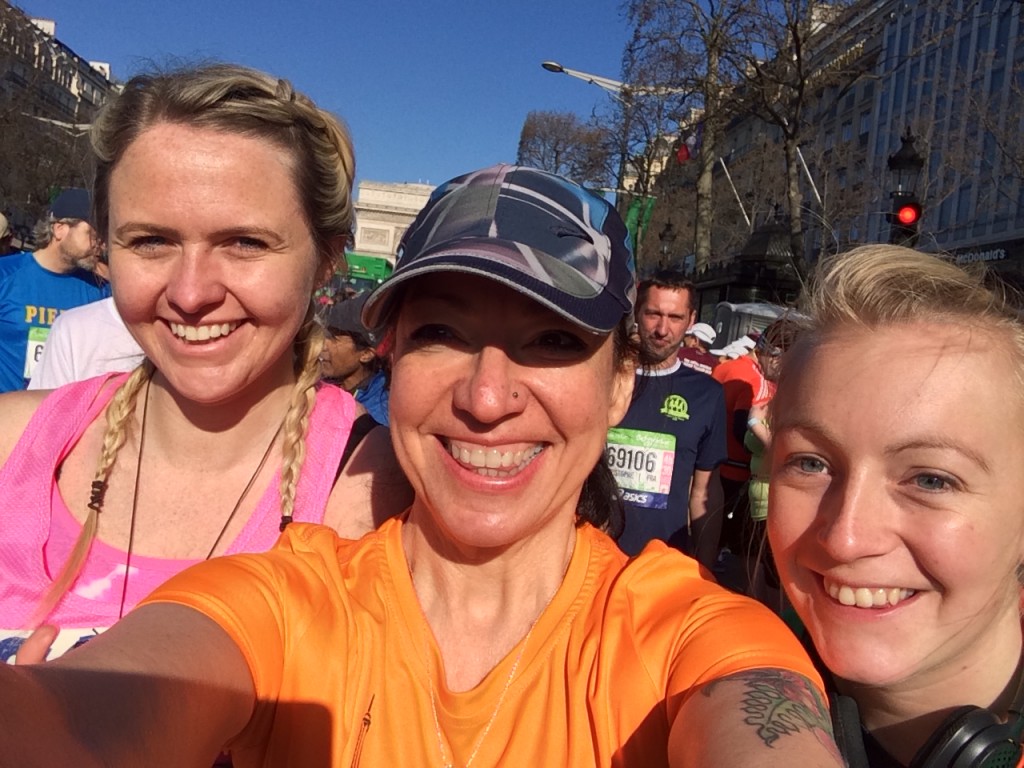 When it was finally time to drop the bags we did so and headed off to the corral. We all nervously wondered if we had to pee again (it's a real thing!) and if it was going to be too warm – the sun was blazing! Suddenly our corral was moving forward! It was time to go!
I made a decision a while ago to try to actually remember more details about the run this year as last year was a bit of a blur. It was, in fact, already warm, we were all sweating by KM 3. But it was a gorgeous day. The first few kilometers felt nice, almost too good to be true, I felt like we could all get each other through this until the end. It's pretty incredible, in fact, to run down the Champs Elysées, past the Tuileries and the Louvre and then Hôtel de Ville and actually recognize it and know just how amazing it is to be participating in this event. If I remember correctly this time, after we ran past Bastille, we ran through a little zoo-park and headed over to Vincennes. I remembered Vincennes from last year (KM 12) and smiled to myself because I was still feeling pretty good. Sam was struggling a bit from the heat and Louisa and I lost her around KM 18. And then… it all happened. My foot started hurting a LOT and I regretted not going to the loo again before we started. I was going to have to stop and pee and stretch out my toes. I fell back a bit and my legs were also feeling very heavy. I warned Louisa that I was going to stop off at the next loo and that she should carry on as I did not want to hold her back. This was around KM 24 – 25. Once I had to stop it was kind of all over for me, it was VERY difficult to pick up any pace again.
However, I carried on. Even though my watch completely froze up at KM 28 I carried on. Another Dutch guy saw me before we hit the Eiffel Tower (KM 29) and started chatting with me a bit to help me pick up my pace again. We "good lucked" each other and carried on. One of my favorite bits was right before KM 30 there was a big banner for Chicago runners – this almost made me cry (weird, I know). Then the "Wall" – running past the fake wall they have built also made me smile again. 12 KM to go. OMG this was so hard. Now the thoughts come… "what the hell?" "how the hell am I going to finish this?" "damn, it's hot" "why is my freaking watch stuck at 28?" "oh look, there's Sucre-Gorge, if he can do that in that flamigo suit, surely I can do this!" and so on. And actually it was fine. It was painful but fine. I can't explain how amazing it feels, at that moment, to be alive, to be participating in such an event, to have your 47-year-old body that you have abused in the past doing what you are asking it to do. I'm so grateful that I have this opportunity and the ability, therefore I keep going.
I was on the lookout for the wine and cheese in the Bois du Bologne – last year I completely missed it, somewhere around KM 38, and this year I was DETERMINED to be wined and cheesed before I hit the finish. No such luck though, it just wasn't there. What a let down! Guess I'll just have to run Medoc at some point!
Finally it was time to cross the finish line! I was exhausted! Once again, as I tried to catch my breath I found myself smiling to myself. I did it again! I ran another marathon. I ran PARIS again. The reality washed over me – the whole thing… the people, how good it felt in the beginning to be running, the drum bands, THE FIREMEN, and then the struggle. The pain in my foot, my legs, wondering how I was going to get through and then remembering that I have done this before and I could do it again. And all of this within a few minutes after finishing! How lovely to have the first person to greet me be Laurent! Huge hug and congrats. Hobble over to pick up medal. Had a little cry that I made it again. Now to find my husband! Poor man had to wait forever for me (well, if he weren't so speedy!!!)! Once we located each other we were off for food and BEER.
Another incredible experience in Paris!!