Friday again!  and it's a free-for-all week, that means I'm going to share something non-themed and random with you today for the Friday Five.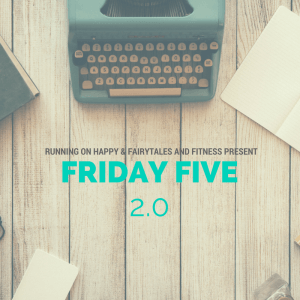 I'm linking  up with Running on Happy & Fairytales and Fitness for the Friday Five 2.0 linkup! Check out their blogs for other Friday Five Goodness.
Many runners talk about "racecations"  (a word, I'll honestly say I'm not sure I really like, but whatevs!).  it's pretty exciting to take a little break, head out to a cool destination and then run a half or a full marathon while you are there (or a 10K or whatever distance floats your boat!).  It's a completely different way to experience a city.  There are pros and cons to running a race in another city or country.  And of course it generally costs you more than if you would just jump on a train or in the car and travel an hour to where you need to be.  But if you love to travel and running is your thing, I highly recommend it!
I used to travel a lot to go to concerts, making long weekends out of it to actually see where I was visiting.  After I started running races this changed.  I still have travelled a couple of times for a gig, and have added a run or race to that weekend, but now I mostly travel to run.   I have been to so many amazing places and run amazing races.    I can't think of a single place or race that I thought "ugh, I'll never do that one again"  (ok, wait.  Brussels Half or Full I have no interest in anymore because COBBLESTONE STREETS).     Last year I started a list of races I want to run, in some cases places I haven't been.  I expect this list will only grow in the near future.
With that introduction, I give you Five Races I'm Dreaming About:
(in order of Month of race)
I have so many more races on my list, I just keep writing them down in order of month and at some point in my life I hope to cross them all off.    What is better than traveling and running the world??
Do you have a dream race?  Where in the world would you love to run if money and time were no issue?