Usually there's a lot about chatter about Blue Monday – traditionally the saddest day of the year, due to a combination of dark, cold days and nights, possibly being broke from the holidays, and – for many people – a time when resolutions made already feel like resolutions failed.
This year I not only completely forgot about it, I also didn't hear anything about it. Then I realised that's because I am also working from home, and at home I don't listen to the radio (where I mostly heard about it). Another positive outcome of corona virus and lockdown, perhaps?
In any case, if one was a teenager/young adult in the 80's, then one might possibly be triggered immediately to listen to this song when someone mentions "Blue Monday":
Shall we get on with the Weekly Run Down?
Deborah and Kim are the amazing hosts for the Weekly Run Down! Feel free to join in as well to wrap up your week in fitness!
WEEK 31
Plan vs. Actual
Monday – 3.25KM walk, GLI gym 1 hr intake – no workout (appt w/different PT), 3.5KM biking
Tuesday – 3KM walk (office day) to and from train station
Wednesday – 3KM walk, W6R1 run, 6KM, GLI 1 hour, gym 55 min
Thursday – 2.22KM walk, gym
Friday – 2.75KM walk, W6R2 run , gym 55 min
Saturday – 2.5KM walk, parkrun in Alkmaar 5KM, 17/17 Dutch parkruns done!
Sunday – 2KM walk, long run W6R3, 1.4KM w/u walk, 10KM run (!!!)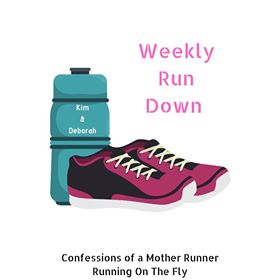 Week 3 in Review
Another busy week for me work wise. It didn't start out that way so I thought it would be less stressful. Wrong.
Monday – Walk 9.3KM, 20 min body weight workout at lunch
Gerrit asked if I wanted to walk again after work, so I decided to do Marcia's Butts and Guts video at lunch:
Definitely recommend checking Marcia's YouTube channel for exercise videos that anyone can do and easily during a lunch break (or even a start or end of work day). Just 20 min on this video, but I was sweating and felt the effects of the workout for a couple of days afterwards.
Tuesday – Walk 5.78KM
Today at lunch I met up with someone I met via a friend of mine in Rotterdam who happens to live right down the street from me. She's also American! I don't meet a lot of Americans here in Arnhem so it was fun to finally meet up. The rain however was crazy and the wind was so bad there was no point in using an umbrella! Nonetheless it was great to meet her and discover how much we have in common.
It's so tough to make new connections these days; being able to get outside with others is such a saving grace at the moment!
Wednesday – Walk 4KM Outside, 2KM Treadmill to hit step goal
I planned on my bodypump session today, but my lovely friend M-J asked if I had time to walk with her at lunch as she needed a friend to talk to. Of course I said yes; my workout is important but relationships are especially important right now, so I joined her. It was dry at least, no gale force winds and we even stopped for hot chocolate.
2KM on the treadmill to make up my steps for the day.
Thursday – 3.78KM, Treadmill Run (intervals Week 7 Run 2) 6KM
Back in the park again! Last week Chantor (my former running trainer) asked me if I wanted to join him and his toddler for a walk in the park. I couldn't then so we planned on this week. And Kim (his wife, my hairdresser and friend) was suddenly free so she joined us. It was great to see them (and their toddler son) and Kim and I planned on doing notparkrun together on Saturday!
After a stressful afternoon at work I decided to do my run on the treadmill instead of bodypump. It went well, but I was able to distract from the time ( 15 min x 2 with 1 min rest in between) by watching Gilmore Girls on Netflix (confession: I never watched this show 20 years ago so I'm just seeing it now. I'm not really sure I like it that much – Lorelei is slightly annoying…)
Friday Walk 6.15 KM
My normal day off; did some practical things in the house; mostly figuring out the contents of a few boxes, getting rid of some stuff, hanging up artwork (still not done), laundry, that sort of thing. Did get out just before 2pm for a walk.
I did want to do bodypump, even though it could have an effect on Saturday's run, but now my toe is really bothering again, I'm certain brought on by the fall. I moved the table and then started getting the materials out of the exercise room, struggled over a bunch of other crap and gave up. Too much pain in my foot and too much hassle.
Saturday –Run 5kM with Kim for notparkrun
Thursday we said we'd meet up "somewhere around 9" to run together in the park; Kim hasn't run for quite a while and wanted to start up again. A standing appointment with me would give her the sort of motivation she needs to at least go once a week. Of course we didn't talk about it again and I forgot to ask her if we were still meeting at 9… I did set my alarm to be up on time but just didn't get out of bed!
At 8:55 I finally got out, looked at my phone and saw I had a message from Kim that she was on the way! i don't think I've ever gotten dressed so fast! A quick ponytail and my teeth brushed, I only made her wait about 5 min. I even had my watch, gloves, sunglasses, everything. Helped that I actually did set my clothes ready the night before.
We had a lovely run and it was quiet and beautiful out. So nice to have someone else to run with (Ron runs with me but not "with" me)!
More house stuff the rest of the day and a homeowner's meeting/ virtual drink with the other couple in our building. We planned on actually meeting in person but our rules changed again recently and we aren't allowed more than 1 person from outside our home inside. Also we now have a curfew from 9pm to 4:30am until at least Feb 9th. So, virtual it was.
Sunday – Walk 6.4KM
Today was mostly more practical stuff. We measured the front and back garden areas and made wish lists for what we'd like to see happen in both. We are definitely going to have someone help us design the garden and possibly even set up a project to have it done. Neither one of us know anything about gardening and we want to make the investment not only for the value of the house in general but for ourselves to be able to enjoy our space to the fullest. Stay tuned!
We also worked on the exercise space again – more meaningful medals are up, marathon posters, a few photos; things to help inspire. Still have some organizing to do, but it's coming together. Too bad it's much smaller than we thought, but thankfully it fits two major pieces of equipment and Ron's created tons of storage space for us.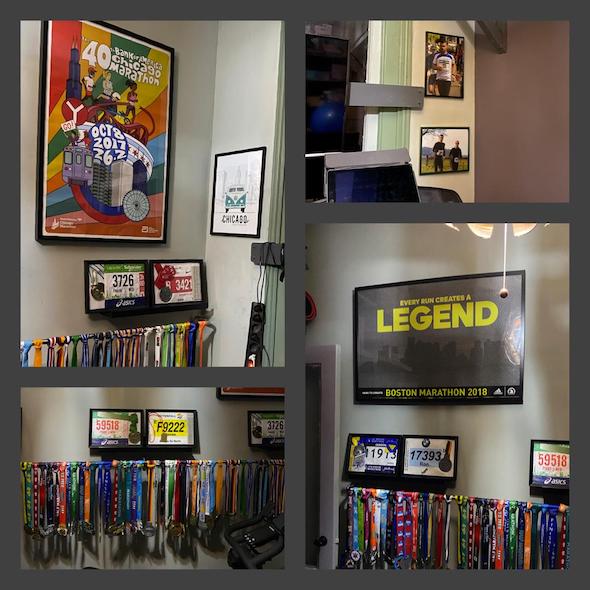 I walked today whilst chatting to my Dutch bestie, Yvonne. Wish we could walk together but she lives too far away and we are asked not to travel anywhere right now – even within the country – if it's really not necessary. Thank goodness for modern technology right?
Stats this week:
Walking 37.4KM
Running 11KM
Bodypump none
Spin bike none
Total steps: 85,753 (avg 12.250 per day)
Coming up Next Week
Sort of plan for next week
Walking +/- 30KM
Running 2x min 5KM, at least 1 x 30 min no walk break
Bodypump
A Marcia Workout on YouTube
A Judy Yoga Video (or two)
And of course the idea is to hit my 10K steps per day with all that walking and running
How was your week? Did you manage to hit your goals? Do you have a nice yard you can enjoy when it's nice weather, and do you have a green thumb? Did you ever watch Gilmore Girls and are you a fan? Did you watch the inauguration? I was still on work calls so I missed most of it. *sad*