I had great intentions.  Really.
I started logging my food on Thursday, with full intention of sending the information out to the universe the same day.  It was just one of those days.
It's always the way when you have a day that is really out of the ordinary, and that is truly what Thursday was.   It started off already that I got to sleep in a wee bit and that I stopped off in Amsterdam instead of going all the way to Sloterdijk to go to the office.  On the train I had a sandwich and coffee and had other food with me for my snacks.
But at Amsterdam I was to do something different for work.  I, along with several others, participated in a bit of a promotion at work, which consisted of walking through the trains with a Mercury Man on one of our back's and the others talking about our new store which was opening the next day.  I'd done this for our Utrecht opening and it was loads of fun so I was glad to have the opportunity to do it again.
We did that from 9 – 11 am, then went back to the office, where I had lunch almost right away.  I was pretty hungry after just having a sandwich that morning.  Normally I have something between breakfast and lunch so I was totally famished.
After lunch I then started preparing for a special coffee tasting for some partners who were at the office for a cultural immersion. This took a bit of time but I truly enjoyed doing it. 
At around 1.30pm I finally was able to log into my computer and do some work.  I had planned on staying until around 6 or 6.30, but my arm was twisted into going for drinks wtih my colleague A, since it would be our last chance for a while and it was, in fact, the night before my surgery (alcohol is ok before surgery, right? ha!).
We left at 5.30 and headed into town, near the Rembrandtplein to one of his favourite cocktail bars.  Here's where things went wrong food-wise, not that I couldn't have known.  I had two of the most gorgeous mojitos I've ever consumed in my life and ate peanuts that were on offer even though I wasn't hungry (at lunch I had only a sandwich and soup, so around 4.30pm I ate my "dinner" which was an Albert Heijn "maaltijdsalade").  We had a great chat and quite a few giggles until it was time to leave to go back to Amsterdam Centraal Station to attend the pre-opening party at the store.  I had the pleasure of meeting Amanda and Texaantje, two other expats chicks here in NL; I'd invited Amanda through Twitter and was more than happy for her to invite people that she thought would also enjoy the opening.  There I had only one beverage (my usual) and a few samples.  I stayed until 8.30pm and then took the train home.  I ate my yoghurt and fruit on the way home, again, wasn't totally hungry, but figured I had to stop eating and drinking around 10pm, I may as well get the last bits in.
My surgery was changed from 7.30am on Friday to 9am, so I got up around 7.30, and could have nothing to eat or drink.  We were at the hospital around 8.45 and I pretty much went in straight away to get prepared for the operation.  I think it was probably around noon when I finally got to eat something – bread and cheese; hey, this is Holland, remember! I had some tea as well.  I got to go home around 4pm.  My guy made one of my favourites, spaghetti with meatballs, for dinner.  I pretty much parked my butt on the couch from the moment I got home until the moment I went to bed.
Saturday I spent most of the day in bed what with the pain meds keeping me a bit sleepy.  Food wise I didn't have much – coffee, water, toast and cheese – during the day and in the evening we had my favourite indian (a chicken madras with lentil sauce). 
And here we are at Sunday.  The man made me french toast (2) for breakfast/lunch, I had some leftover spaghetti for lunch/late snack and now we've had a vegetarian indian meal that was mostly potatoes and spinach.
Tomorrow I'm going to try to head back towards the more balanced aspect of my diet, get some fruits in, have a salad at lunch, etc.  I need to be sensible here, because I can't really exercise at the moment so being careful of my input is really important.   No idea how long it will take to heal, but I hope soon, so I can get moving again.
Sorry for those with a weak stomach, but here's the foot (the man holding a battery next to it to show the size)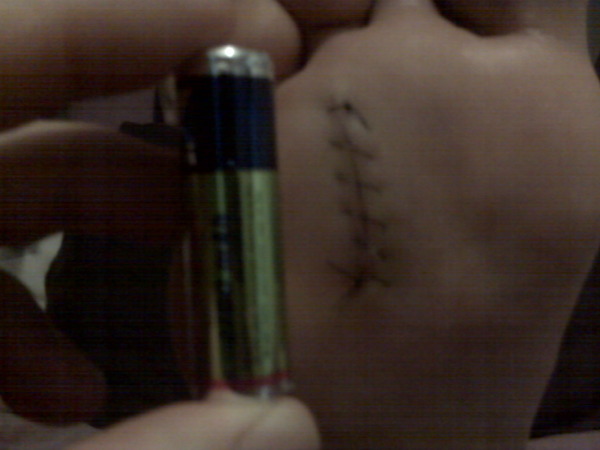 One more thing… I weighed on Thursday as it would be the last chance in a while – 83.6 KG  which is definitely the right direction.