I swear this is completely coincidental.
I've been thinking of trying compression garments (that sounds so "old-lady", right?) for quite a while. In fact I believe it was Suzi Storm who turned me on to Tommie Copper on twitter (we were talking about the benefits in general of these products).
Because of my little knee thing I've got going on, I asked the physio the last time I saw him if I should try something like a brace or compression garments. He said "no". In fact I was pretty amazed he just came out and said no. So why do people rave about them all the time? Surely there was a good reason!
So yesterday I decided I was just going to take the chance. The thing is Tommie Copper not only ship internationally, they also allow returns or exchanges within 30 days of order. Assuming my order is not on a slow boat to China, I figured, it doesn't work out, the most I'm out is the money to ship them back. So I ordered two (yes two, because I like pairs) knee compression sleeves in black (what else). At the end of my order form there was a space for a note or comments about the order. I mentioned there that I had heard good things and was hoping that I'd gotten my measurement right to place the order correctly.
Now normally companies have these things available to fill in, but really… do they ever really answer? Well Cassandra Badini answered it RIGHT AWAY:
Hi Renee,

Thanks for your message, we hope you enjoy your Tommie Copper Knee Sleeves. Please feel free to give us any feedback after you've worn them! Hopefully the large fits, but if you would like a different size, we would be happy to issue you an exchange as long as it is returned within 30 days from today. Just include the original packing slip with your return and instructions on whether you are returning or exchanging your purchase.

Please feel free to contact me if you have questions or need any assistance. Our Customer Service Team is available every day from 8:00am – 6:00pm at 1-855-692-8291.

Hope you have a wonderful holiday!

Sincerely,
Cassie
This was one hour after I placed my order! Can I already say I love this company? I'm so very impressed with customer service these days – and if the product is the right size and works I am going to be THRILLED.
So…
Imagine my surprise when I see that Ali over at Running w/Spatulas is having a TOMMIE COPPER GIVEAWAY!!! I saw the tweet and quickly checked if it was open to residents outside of North America, held my breath and got my answer: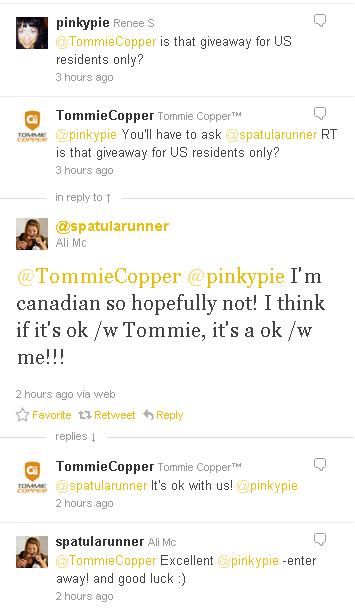 Damn straight I'm entering this contest!! I would love to win the compression tee – I think it would help my back pain at work especially when I know I'm going to have a long day, plus I think it would support whilst travelling. But if I don't win… I'll probably buy it anyway!
Check out the Tommie Copper Website here
and Ali's review here
Feel free to enter but I really feel with this coincidence… VICTORY WILL BE MINE!!!