Wow, I can't beleive it's already been a week ago that I was able to participate in the 10th annual Marikenloop in Nijmegen! This is a Ladies Only race and has really grown in participant numbers over the last several years. The first year they had a little less than 1500 ladies running through park Brakkenstein. The course has changed over the years but there's always the opportunity to do a 5 or 10K at this race.
This year there were over 12,000 participants! It's an extremely popular race in the Netherlands for the ladies. I loved being able to participate this year, since it's in Nijmegen, which is only about 20KM from where I live (to compare with where I do many races, somewhere around 100 – 130 KM from home). I was also extremely happy that one of my friends was also participating. I don't know Niki that well, but what I do know I like, so it was great that she had also signed up.
The race itself is a charity event, sponsoring PLAN: Girls First; in a nutshell PLAN is helping girls in developing countries have a better life and better opportunities.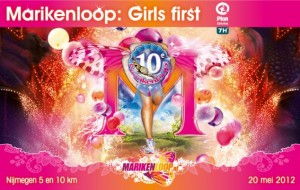 The Netherlands finally started having "normal" spring weather some time last week. That meant that the chances of it being warm on Sunday were high. Well, I would definitely say it was WARM on Sunday. Like, very. Even when I woke up in the morning it was already warm, no jackets or sweatshirts were needed. I debated wearing a short sleeve shirt or a no sleeve, then regretted choosing the short sleeve (but hey, it matched my nails!) later.
I woke up after a good 8 hours of sleep, had my breakfast and got ready. Most of my stuff was already prepped from the night before, so no rushing around searching for things like I do in some cases. We left on time (hubby came to support), in fact early because I like to be early… got the train and arrived at Nijmegen to find a bazillion people waiting to go to one stop further, so we ended up missing one train and waiting 20 minutes for the next.
As I said, it was warm. QUITE warm. We must have arrived around 12:45 and I went to pick up my shirt to wear AFTER the race (never wear a race shirt before I've run it!), we walked around, I ate my (paleo) snacks and had my picture taken as if I were on the cover of Runner's World Magazine :)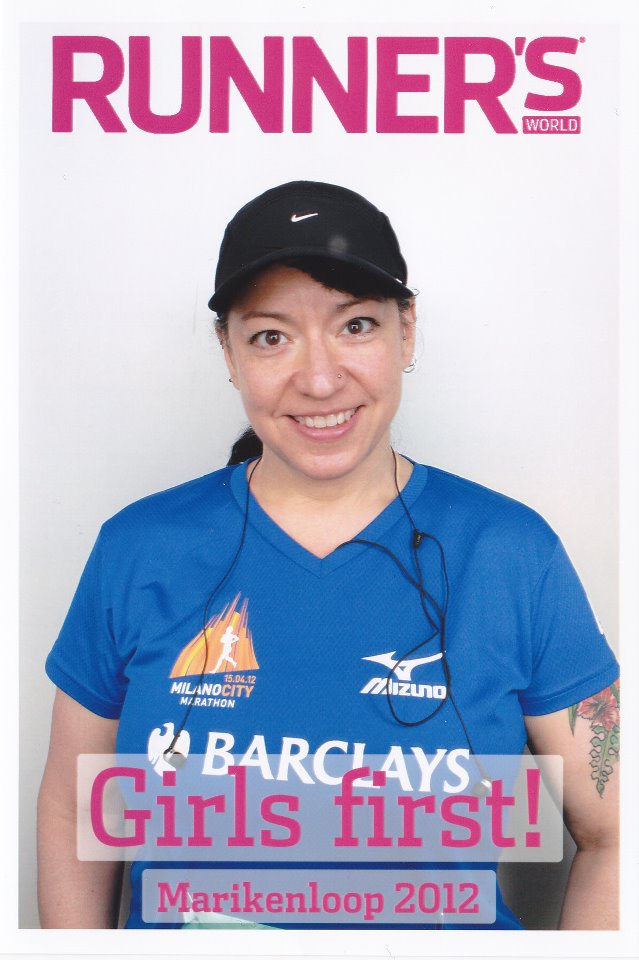 Around 1:30pm Niki texted me that she had arrived with her posse and we were able to find each other pretty easily in the crowd. Niki's ankle is a bit messed up and she had been taped just prior by her physical therapist who actually joined her at the race. Around 2pm we went to our starting area to do the warm up and then eventually get in the queue to start.
Well we must have been in the "slowest of the whole bunch" group because the race officially started at 2:15 yet we were unable to even reach the starting line until 2:40! Niki and I both decided we were just going to keep at each other's pace and see how her ankle held up. Sadly, just after 3KM Niki signaled to me to go on, that she needed to stop. I felt bad leaving her behind but was hoping she just needed to slow down a bit and would catch up later.
I ran up until about 5K and then decided to walk a bit. It was now officially HOT. I needed to slow down my heart rate some and I was incredibly thirsty. Not only that, but because I was hydrating before the race, and did the necessary couple of trips to the ladies' I still at this point needed to "go" because of the delay with the start. At 43 you don't challenge your bladder as much as a 23 year old would, if you know what I mean. Anyway, I hit the drinks station just before 6K and there was a little scouting hut there so I went around to see if there was a loo I could use. YES! There was! I did my thing, then went and splashed cold water on my face, went back out to the drinks station, had another sports drink, took a deep breath and carried on. I lost about 5 minutes during this whole process.
I think I may have walked about 350 meters again around the 8K mark and after that just decided it was time to run through. Most of the run was through the woods, but at 9K we were out on the city streets again. As I was running up to the finish I saw only Niki's fiance, but my Hubs was next to him apparently (I have bad eyes), so I waved, sped up and crossed the line.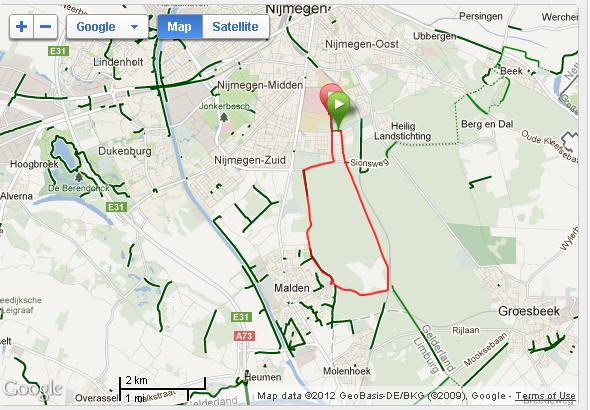 Finish: 1:14:39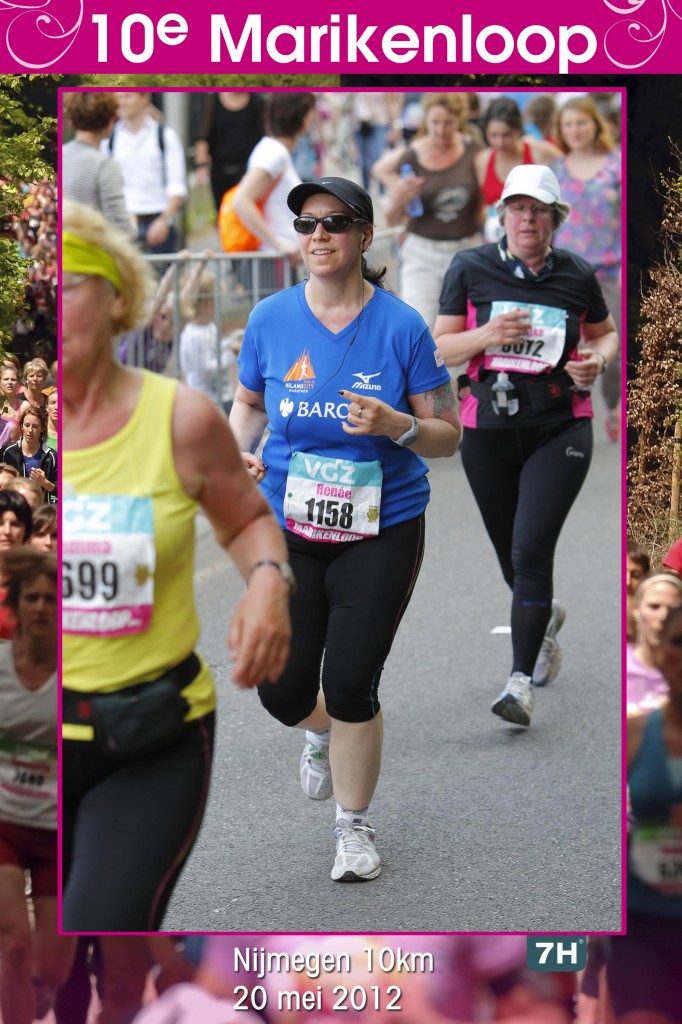 Not my fastest 10K, I take 5 min off for my break at the scouting hut, which would leave me around 1:09. Not bad considering the heat and the walking. Poor Niki never made it. She had to be medically escorted back.
My friend Alli also came to have an ICE COLD BEER (ahhhhhh… carbs I will make exception for, especially after a race!), so once Niki's crew headed off to meet her where she was, hubs, Alli and I had a couple of cold ones before we had to head back. Getting back was a slight challenge since there were so many people, but eventually we made it. Once back in Arnhem neither one of us felt like cooking anything so we had something to eat in town.
It was a nice race, a beautiful course and a great day. Some not so nice things happened, namely that I didn't get to finish with Niki, not even close, even though we were kind of hoping to do that together(ish), I didn't like that I started 25 min after the actual start time, and the heat was a bit much. I would definitely do this race again, and hopefully I'll have a chance next year to have a better time as well.