Was Fabulous :)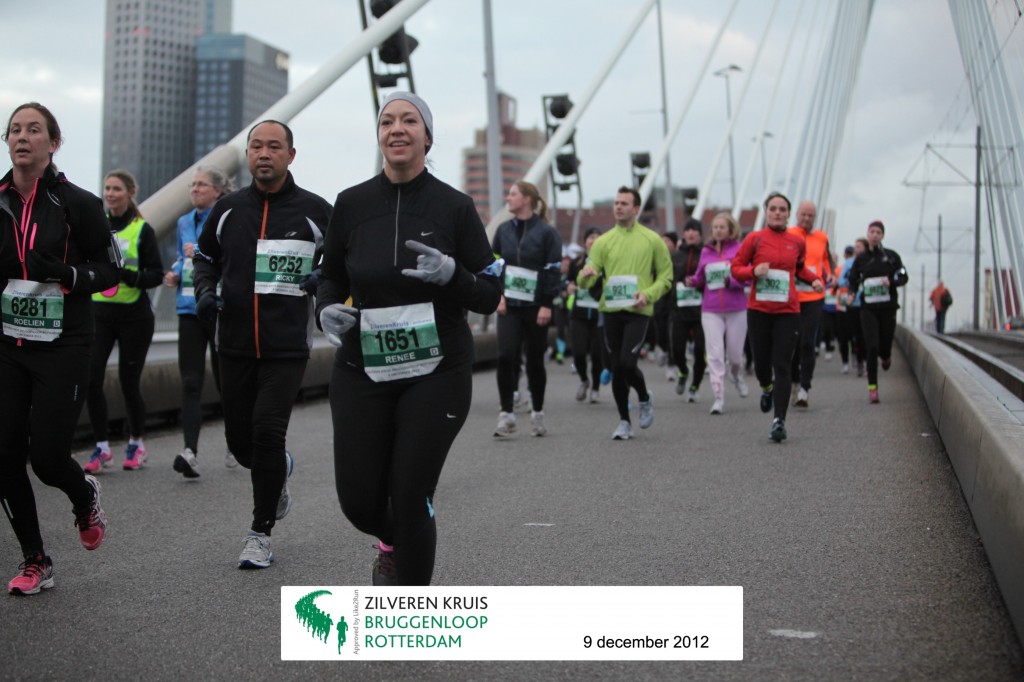 Seriously I thought it was going to very cold or very rainy or very icy but it wasn't so bad at all.
Unfortunately my family was not able this time to come out to Rotterdam due to the timing of the race. It was a kind of sad revelation on the Friday evening beforehand that I was going alone. On Sunday morning, I got myself up, fed and dressed and hubs took me to the train station to head out. It was raining at the time and I had on plenty of layers, plus I had my brand new camelbak that I bought not only in case I needed to carry my belongings (there were lockers but I wasn't sure I would get one as it was limited), but also for my up and coming Half Marathon training, so I figured I might get wet but I would be ok. I ended up putting my valuables in a locker and carrying nothing but my telephone.
I tried to do the warm up but it seemed like a bit of a clusterfuck, so I just did some warming up on the sidelines where others were jumping and skipping. Soon it was time to get in my starting corral – the last one as per usual – and with only 7000 runners we were off only 7 minutes after the official starting time (not like the 7HL which was almost 1 hour after our own starting time!).
I ran naked. That is… I forgot my iPod! I used to think that I could never run without music, certainly not a distance like 15KM! It would be excruciating! I would never finish! In reality, it was fine. I run more and more often these days without music – if it's dark and I'm alone I don't use it, if I'm just running 5K or so I don't use it, if I'm with the hubs or someone else I don't use it. It's getting easier to run without it. And, you know what I noticed? I run faster without it!
On this particular Sunday it was no different. I felt good, I was very ok without the music, I was in one of my favourite cities in the Netherlands how could it go wrong? My favourite bridge in NL is the Erasmus bridge, hence why you see me smiling in the above photo running across it.
Before the bridge though, would you know it, I ran into Joanna! We wanted to meet before the race but alas, it was not meant to be. Being that she is a small Filipina woman with a long black ponytail I knew I couldn't be wrong (in a sea of tall blond Dutch people!) so when I ran up next to her I just said her name and she shouted and smiled and gave me a hug! We were determined to keep our paces though so one short encounter gave enough energy to keep going.
One thing I noticed about this race – no one was stopping. Every time I thought "I'll just walk 100 meters" I noticed that no one around me was stopping. This was really good motivation to keep going.
Though we had 5 bridges in total, the van Brienenoord was the big one.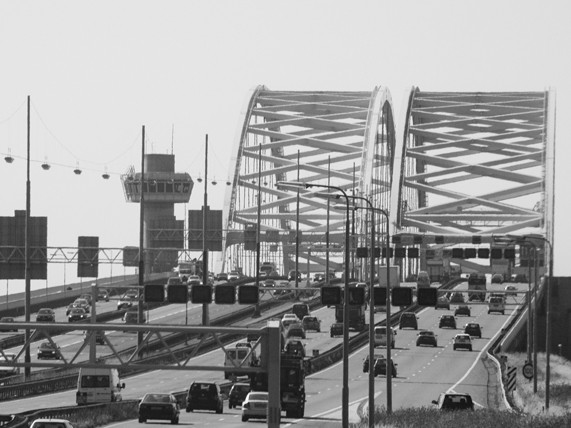 The Van Brienenoordbrug is one of the longest bridges in the Netherlands (though I couldn't find the distance quickly online) – and I have to say I'm really glad I ran over the Sacharov here in Arnhem a few times because that was probably the hardest part of the race, and that with still 5KM to go.
I loved running in Rotterdam and I knew based on my time that I was going to come in earlier than my planned 1:40 time. Very happy to report in that my arrival was at 1:37:05. 2 minutes and 15 seconds faster than the 7HL in November!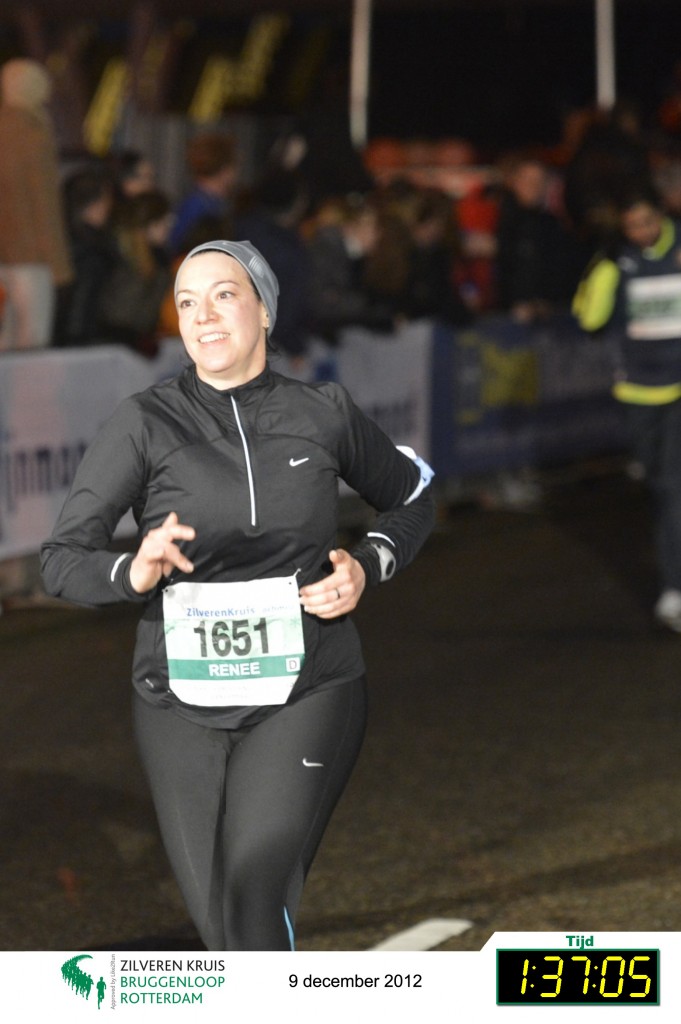 Best of all, cutest race bling EVER.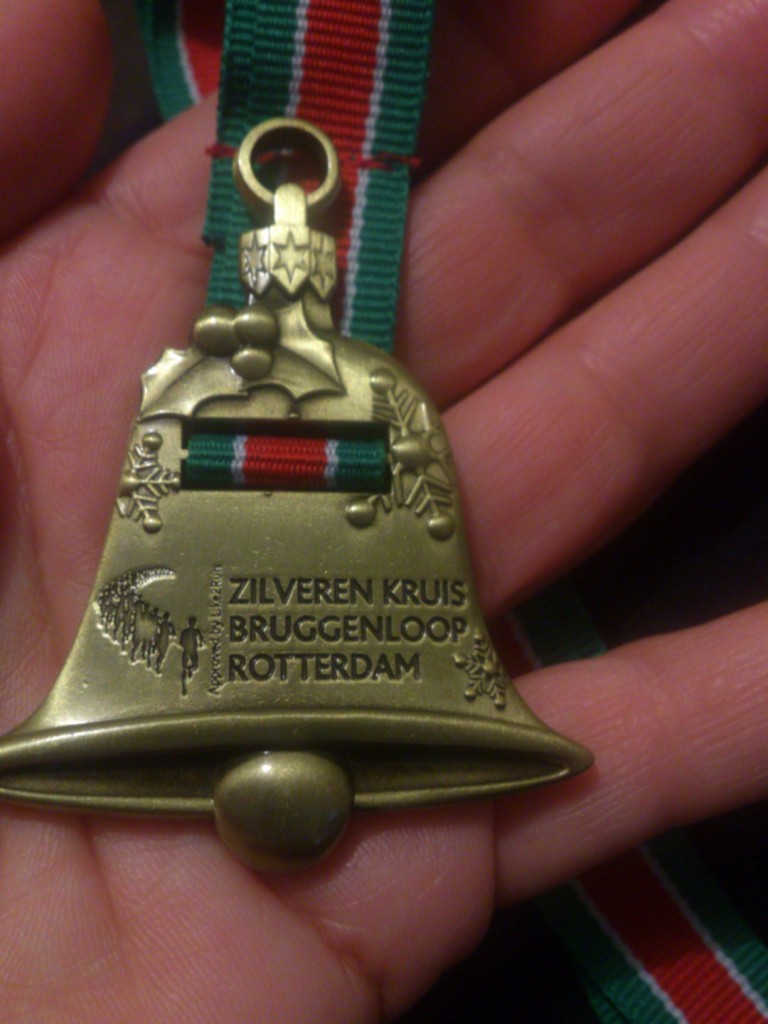 So, SO happy my dear friend Yvonne was able to come and see me finish and have a drink and bite with me afterwards!!
It's been a GREAT running year, I'm so grateful I was able to start running again in January. I have no idea what 2013 will be like, but I do know that the possibilities are endless. Can't wait to share my training and plans with you all soon!