What a week!
What a weekend!
Where do I even start? Everything about my life seems like such a blur at times. I know. It's getting boring. I'm saying the same things over and over.
So I'm still off and feeling a bit discombobulated. I'm not eating well (still) but I'm not eating completely off the rails either.
What I wanted to do was start over again, fresh. Be more aware of my diet and do my best to stay within those so-called calorie guidelines. I made a HUGE effort. For three days. Three. Well, it seemed huge at the time.
So last year I was fighting my way to get under 80KG and I did it, I lost a couple of kilos and thought "never again" – but I've said those words before (when I lost 30 KG a long time ago and gained it all back anyway) and here I am, weighing in again at 81.6KG (Tuesday's weight).
I want to say something right here, right now though… the number on the scale is such a tiny factor in my life now. I'm happy about that. Yes I would like to lose weight but it's just not as important as everything else.
Anyway.
So Tuesday, Wednesday and Thursday were in line with calorie goals and I even went to the gym twice. I logged everything. But yeah, I wouldn't be honest with you if I were to not tell you that I'm simply bored with all of that calorie counting stuff. I'm not saying one shouldn't count calories. I'm not saying that one shouldn't use a program like Weight Watchers to help them along. What I am saying, for ME, MY opinion, MY life, I'm just bored, bored, bored. Paleo. Not Paleo. Carbs. No Carbs. How many calories? How many did I burn? How many steps did I take? Oh bloody hell enough already. This is what people who don't worry about their weight , who don't care who aren't obsessed about their weight think when they hear all of us unfortunates rambling on and on about weight loss, calories in and out, etc. Enough already.
Don't get me wrong. What I'm just trying to say is, there must be some point where we just stop this madness, right? Where it's just natural? Where we just grab a bowl of yoghurt and cereal and it's not 7x the normal portion for both, that it's just "right"? That stopping when full is just what you do? I am at that point. I want to just "be", naturally.
And maybe I'm just supposed to be somewhere hovering around 80KG and who gives a flying backend of a rat if the charts tell me I'm overweight?
The fact is, I'm a very healthy and fit Forty-four year old. I'm probably fitter than I was when I was Thirty-four. Or maybe not. But it doesn't matter. I'm ok. I'm good even.
All right. Let me show you something. This means more to me than the scale number: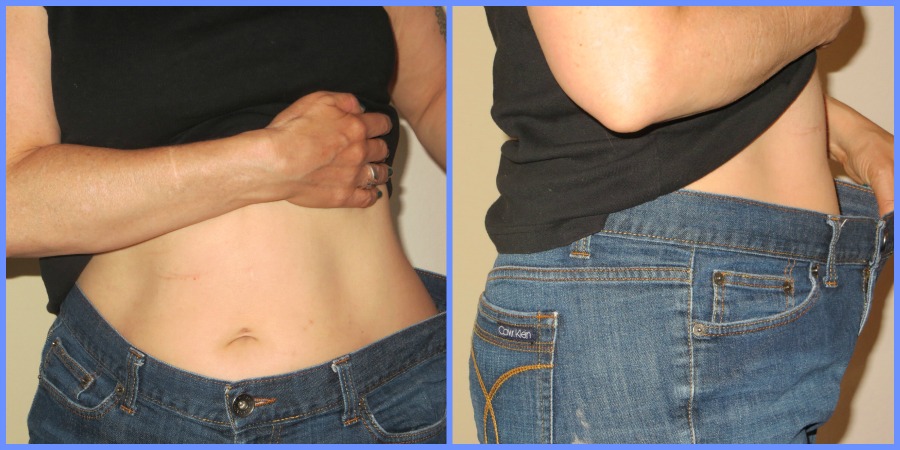 About 6 years ago we painted our apartment for the last time, that is until last week when we redid the hallways. I went to put on my painting clothes but there was no way I was going to paint in these pants! In fact, they didn't even stay up longer than about 5 minutes. I had to wear an older pair of sweat pants instead.
And these jeans were also already smaller than my biggest jeans ever (a size up – these are 18W's for reference). Clearly I was still in an ok place as far as my weight goes.
Unfortunately I have to remain cognizant of my choices and remember that eating crunchy veggies and fruit is always going to be a better choice than crisps or sticking my head in the candy jar at work, but isn't that logical anyway?
Moving on
This weekend was fabulous. Saturday I was in Rotterdam for a surprise birthday party for my friend Tammy which in and of itself was amazing. On top of that I also got to see friends I haven't seen in person for so long and it was just truly wonderful to be surrounded by that friendship. She's been going through a really rough time with infertility so I hope that we lifted her spirits enough to keep her going for a little while longer while she and her husband continue treatments.
Yesterday I was in Amsterdam for the Nike Ladies We Own the Night 10K, originally planned with my friend Patricia, who is my running partner these days (next weekend as well on the Colour Run)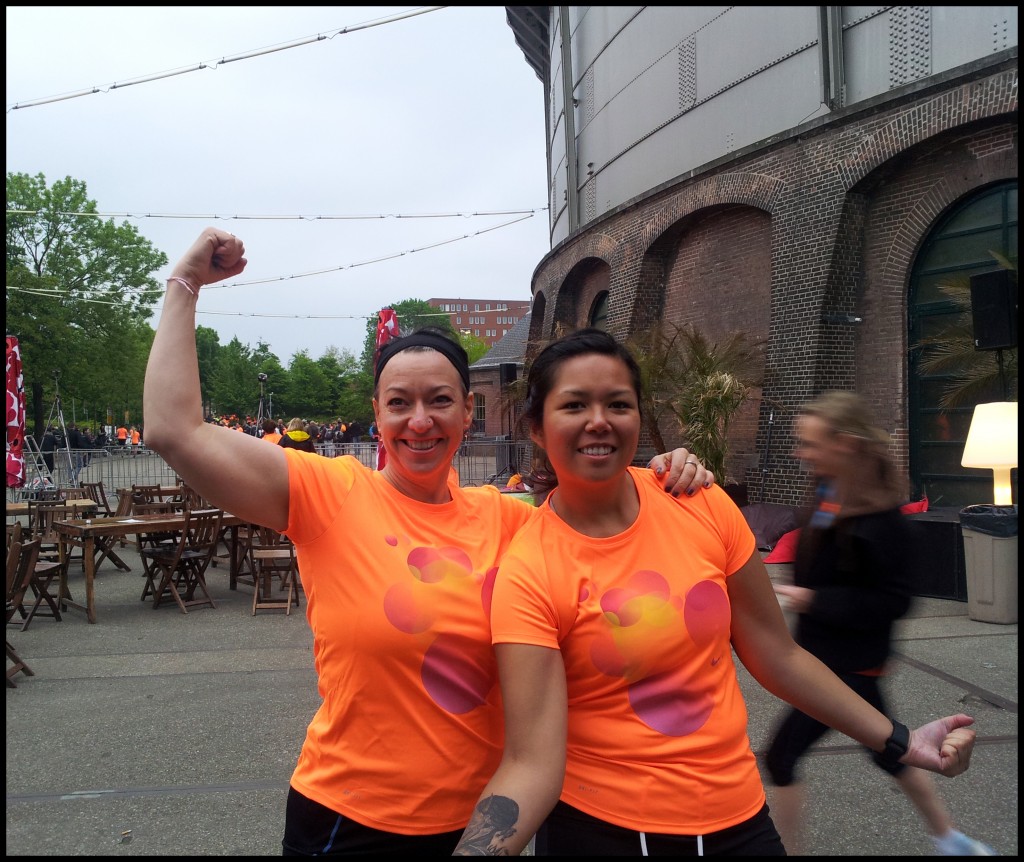 and ended up that my friend Lisa was also running and her very first 10K!! She's been working very hard at weight loss and recently picked up running so this was an amazing experience for her! Joanna was also there and as usual we only managed to meet up somewhere around 3K on the course! For once we also caught each other afterwards as well!
I liked the course a lot but I have three complaints to the organisation:
1) No real food and drink available for the supporters – hubs and P's boyfriend basically had no dinner because there was nothing available once we got started. even the bar shut down at 9pm.
2) The catwalk into the Westergasfabriek was a great idea but not executed well. As many of us came speeding around the corner to the finish we had to stop abruptly once entering the building. This isn't a good way to run. There was a total bottle neck and took an additional 10-15 minutes to get down to the stage to receive our "bling"
3) speaking of "bling" – really Nike? A string? a string bracelet in the packet and then another at the end? Surely you could do better than that (seriously, folks, not even worth photographing)
I did the race for fun, and my Garmin told me it was 9.83KM and not 10KM but here's the official results:

Afterwards it took forever but we finally had the beloved beer and fries afterwards and made it home around 2am. Yawn. Thank dog we didn't work today!
We also went to visit friends today – he is also a runner and was originally supposed to run with Hubs today (apparently he messed up his back and Hubs is in pain still from his accidental Half Marathon last week… brought to him by a terrible sense of direction) and she is a fellow expat whom I met through Tammy. It was night to just hang out and chat and drink coffee.
Reality is upon me. It's 9pm and there are dishes to be done and laundry to be put away. As per usual I'm putting off the inevitable by writing a blog post instead. I still have no plan for next week. No food ideas (fresh out). Well, guess it's another 5am start then to whip up some healthy meals for tomorrow at least!
Are you burnt on on calorie counting? fresh out of food ideas? struggling for a real training plan? Please tell me I'm not alone!!