Update: I'm sorry (too) that this post comes up so high in the search engine. I wrote this post in 2013. This was the first Colour Run in the Netherlands. I'm sure you'll have a great time at YOUR Colour Run, whichever one you choose to do. You don't need to take my experience to heart, it's simply MY experience. As it's also MY blog I reserve the right to have a not-so-popular opinion about this event. I'm closing the comments because I think that people are getting their panties in a bunch because I wrote about it and I didn't like it. Read further if you must.
Before you want to slam me with your opinion, maybe read this:
No really, it was fun, but it's not for me.
I think the color run is a great idea to get people doing something together, for fun, for your health and fitness, maybe even for a first race. My stepdaughter has been running for a few months now and we thought it would be a great idea to do this together, along with my running buddy Patricia.
I was very excited for my stepdaughter, for sure. Yesterday we finally bought her running shoes so she doesn't have to wear my old shoes anymore. In fact, she shouldn't be running on my old shoes because I have the pronation correction and she doesn't need that. Which means, she gets to wear the cooler shoes (if you need correction, the shoes just aren't as cool, let's face it). Not to totally deviate from the subject but I got a new pair as well. I'm that person now. The one with more than one pair of shoes for training and races. Ahem.
It wasn't too early that we had to head out to Amsterdam, so around noonish we were on the way. Nothing too exciting about a(nother) trip to the West.
We arrived at Patricia's to park the car, collected her, arranged our bibs, did the necessary runs to the toilet and we were on our way. Luckily P lives only about a 10 minute walk to the park where the run was being held.
The thing with the Color Run is, the festival area is off limits to anyone not participating. So if you go with someone who is just supporting you, they can't hang out with you on the event grounds. My husband and stepson were just out of luck.
At the risk of sounding incredibly uptight, I present to you my list:
10 Reasons I won't do the Color Run again
1) I'm *that* runner. Meaning, yes, I like to run, I like to run for fun, but seriously no one was there to be serious at all. People were drinking beer and smoking. Sorry, but no. I enjoy a beer AFTER running. Not several before. I saw people helping their friends staying upright at 3KM. Not cool.
2) The start was at 3pm and we had to go in "waves". Every 5 minutes they let a group of runners go and in between it was like a drunken trance party. We were fairly close to the front, yet we didn't even start until almost 3:40.
3) I couldn't run. There were just too many people randomly walking, jumping, screaming, going on each others backs, etc.
4) It's not timed. Now I know why.
5) I expected big color bomb explosions. It was more like people with bottles of colored powder smashing this stuff in our faces. (ok maybe not mine because when I saw what happened to Patricia I covered my face pretty well). It was too random. People were just stopping and letting the color people put the powder on them.
6) Did I mention the random walking, running, yelling? Oh. Well I'm trying to fill up 10 reasons.
7) At the finish that was it. Nothing, no explosions. We didn't walk all the way to the festival grounds though, maybe something happened there.
8) Frankly I'm just tired of going to Amsterdam now. (that's not the color run's fault)
9) it's 5K. I don't want to run 5K's. There is nothing, ABSOLUTELY nothing wrong with a 5K! I encourage everyone to do it! But it's not my distance. I want to do 10K or more.
10) For me it wasn't the Happiest 5K on the Planet or whatever they call it. I was happy to be with my stepdaugher and friend, but I can do that without all the ridiculousness.
Honestly I can see why some people love it. But I love running. I love the freedom of going my pace, through a track, listening to some good tunes and being around others who know and understand why I appreciate that THAT'S what makes me happy. I assure you I'm far from uptight and I love to have fun and have a good laugh, but the Color Run just isn't my cup of tea.
Anyway, the obligatory Before, During and After shots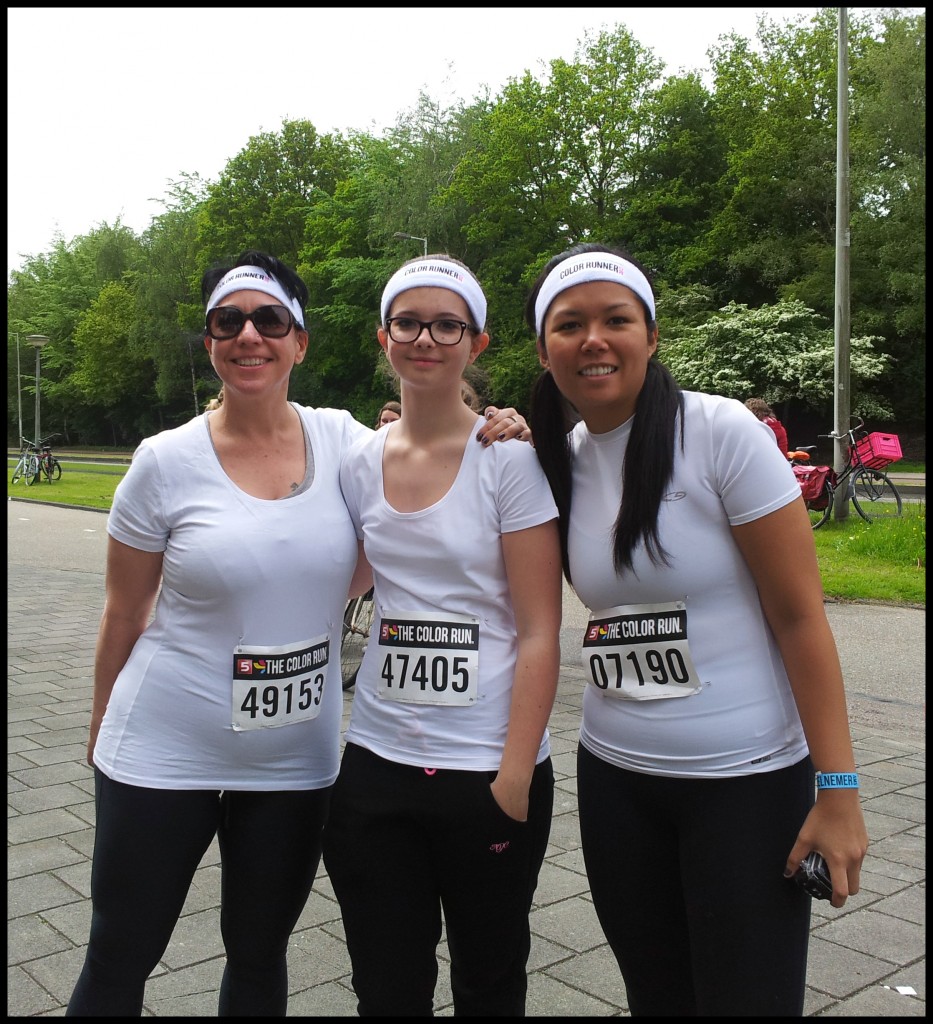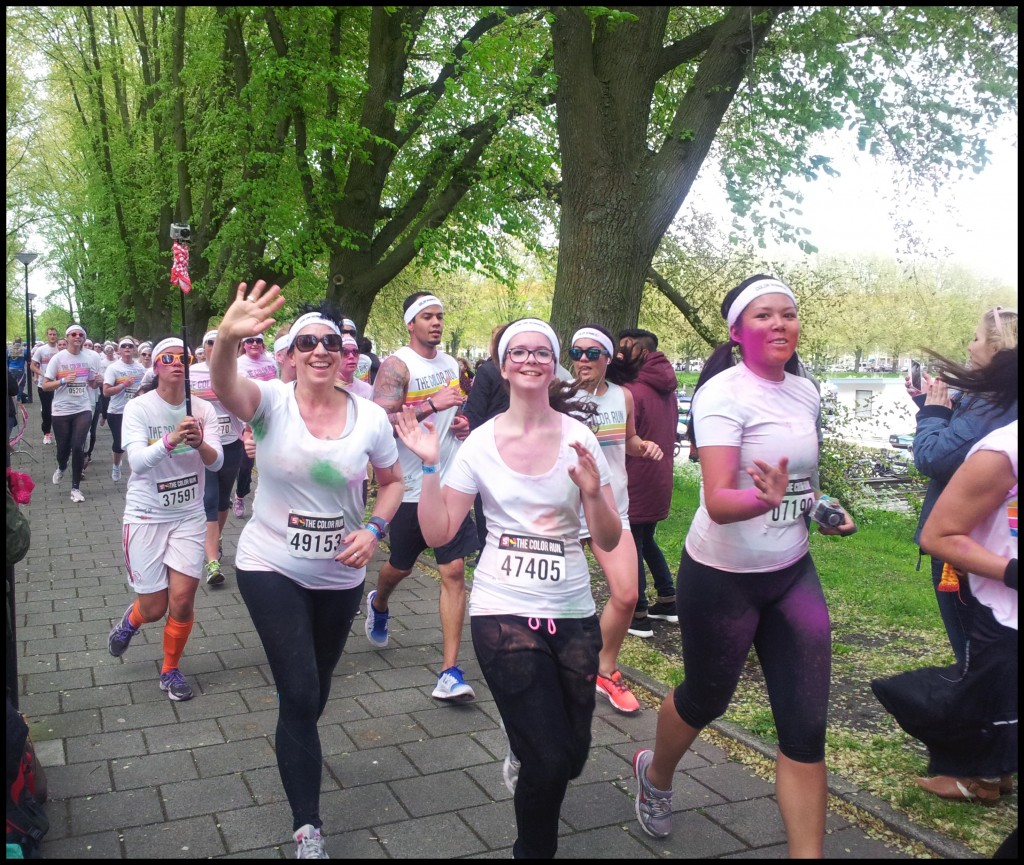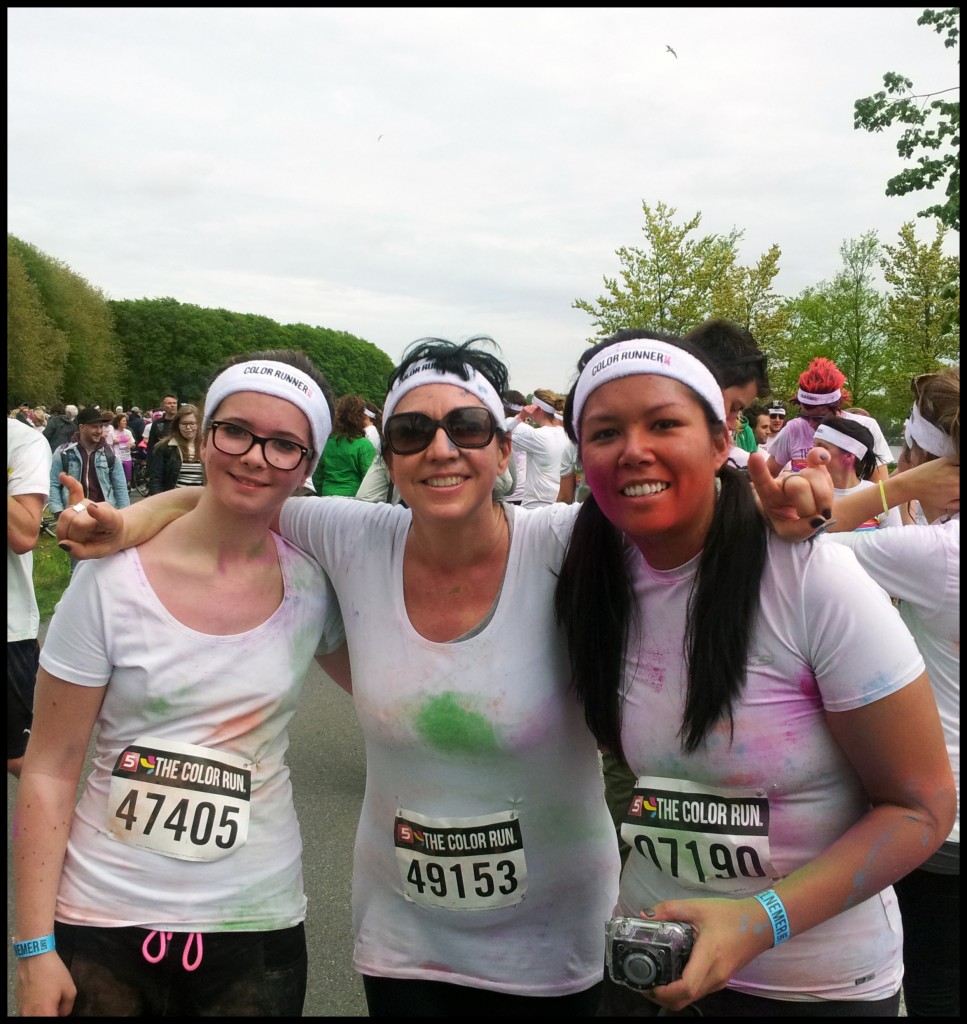 Next Runs:
Westervoort Midsommerrun 10K – 23 June
Arnhem Bridge to Bridge 10 EM 8 September
If I can, I'm going to also go to London for the London Pride 10K in August and run with a team of Dashing Divas! I just have to hear back from the Organisation on how I can register from out of the country.
Have you done the Color Run? Did you like it/ hate it / not bothered? Do you want to do a Color Run?