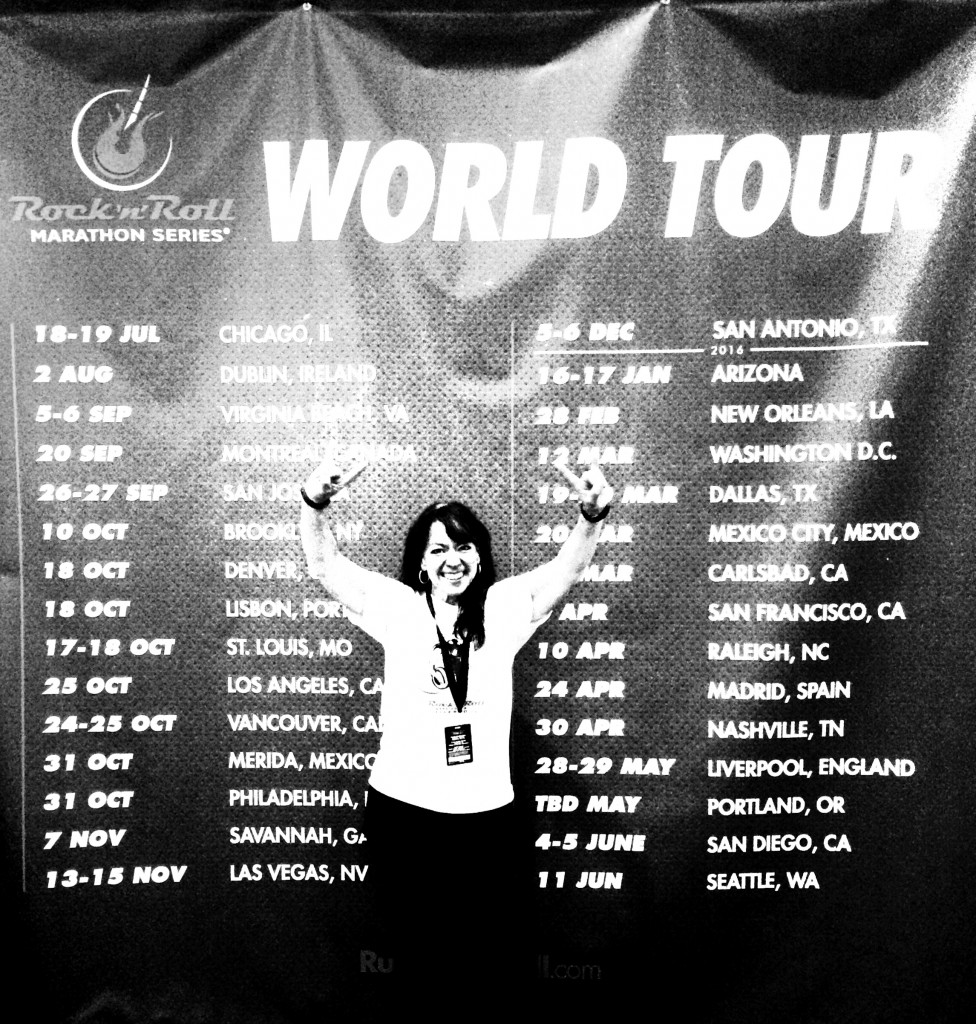 Before I start off with what a FANTABULOUS weekend the Hubs and I had, I want to add this little, yet important, full disclosure: As part of the Rock 'N' Blog 2015 team I and the Hubs received free race entries & VIP experience. However all opinions regarding my experience are entirely my own.
Phew. We got that straight out into the open!
After I ran Paris I was still riding high with emotions and pretty much decided immediately to change my race entry from the Half to the Full. I had the feeling I could have done it just a tad better, a tad faster, and thought, "what the heck"! I had the km's in my legs and I continued with several long runs so that my body wouldn't go into complete and utter shock at running 42 kilometers again after only 6 weeks. If I could do it all again, I would NOT run a marathon only 6 weeks after a marathon… yet I say that now and pretty much I will be doing back to back marathons in October… but I digress… *don't be a dope like me, let your body recover!!
Anywhoo! Liverpool Weekend!! A week before we were meant to go to Liverpool I got a wee bit of bad news regarding my job and so I wasn't sleeping very well (still not) but I did my best to stay positive. After all I wasn't in trouble financially and the weekend was already pretty much planned so on the Friday Morning after my bad news we headed to the airport for our weekend of fun!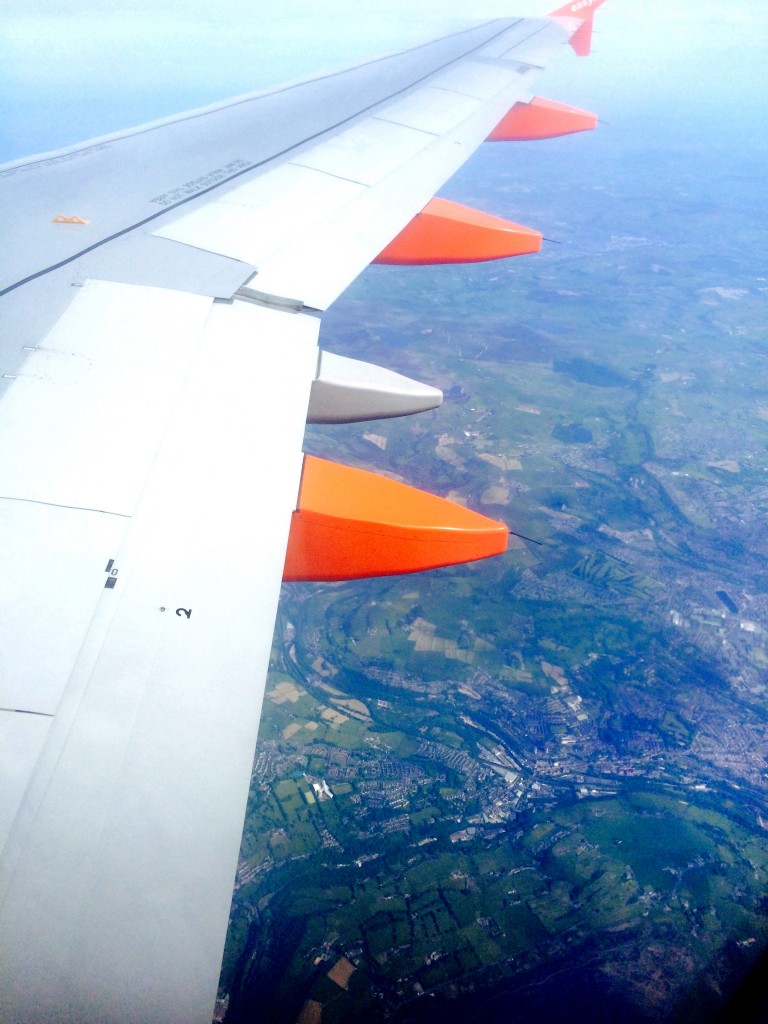 Since we arrived too early to check into the hotel, we dropped our bags and then walked to the expo! I love going to Race Expos and had no idea that they weren't much of a thing in England! I expected it to be HUGE, after all it was held at the ECHO arena!
We were wanting to not only pick up our 5K race packets, but also our marathon packets and hopefully our VIP passes. My understanding was also that we would be provided with a bag that we could use for both races for our after-race clothing. I also wanted to try and find George Melichar since he is our badass Rock n Roll Marathon Series Ambassador and just happened to be running Liverpool as well! Little did I know the Expo would be so tiny! We didn't get a bag and we didn't bring one, but we were sorted out with the guys from RunGeek who were selling official RnR Liverpool merchandise. It was super easy to find George since you really can't miss the guy with the green mohawk and the VIP passes were in my marathon envelope so we were pretty much sorted within 10 minutes. We did get our finisher's shirts already, and at first I was confused because I thought that was to be collected after the race!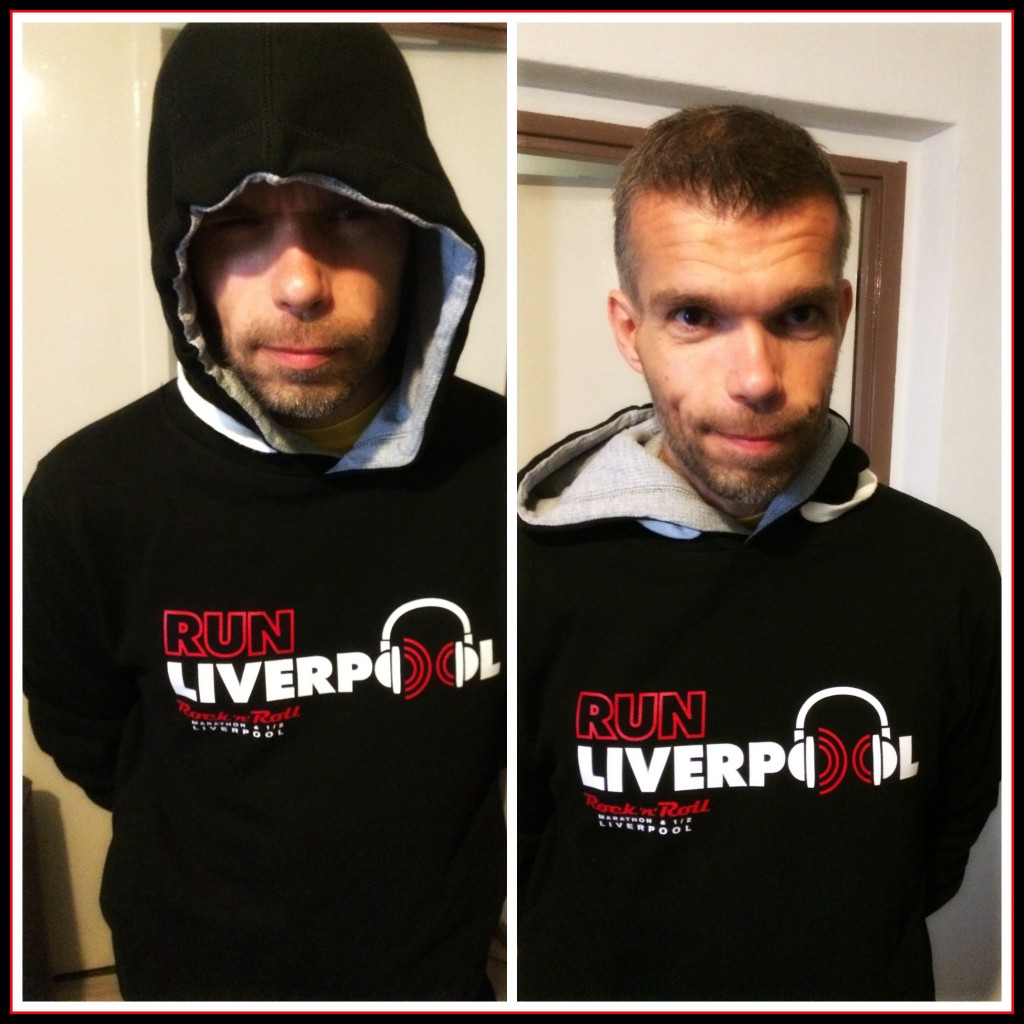 We did have a look at the stands that were present and we spent time (and money) at the High5 Nutrition booth where I fell in friendship-love with Julian (we shared a love of the same flavour sports bar and the music of Marc Almond). After an hour or so, however, we were just really done, there was nothing more to see or do. As an expo lover, this was kind of a bummer, but I understand it's just not a thing in England, so I'm ok with it.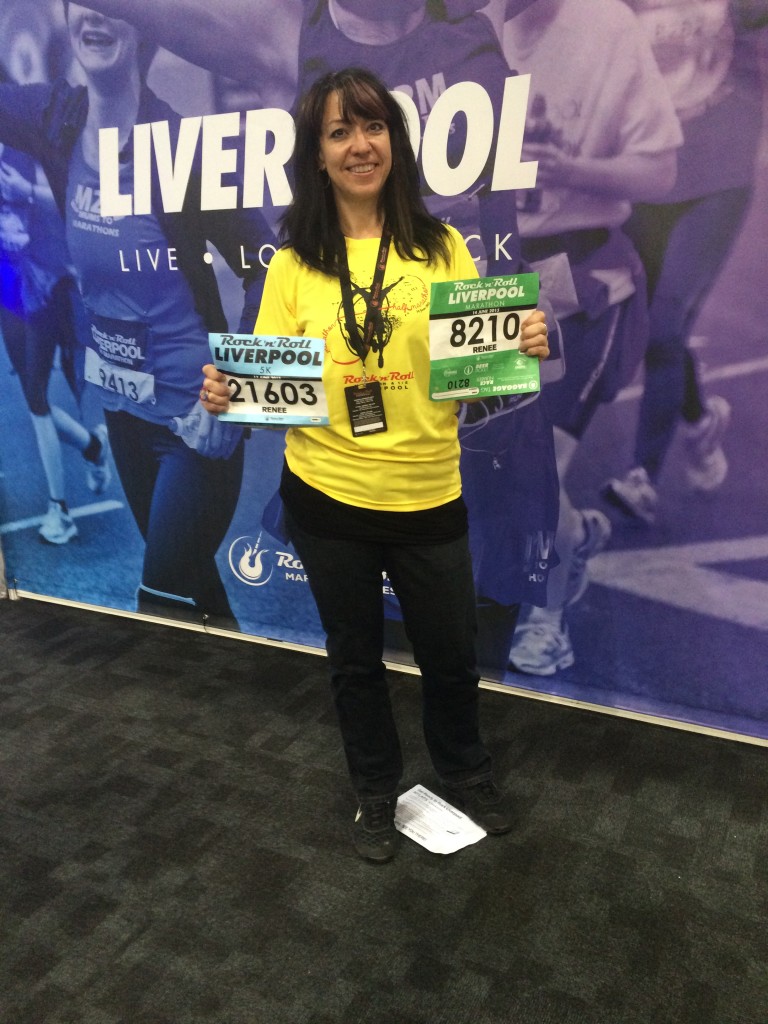 We made our way back to our hotel via LiverpoolONE shopping center (tip: don't walk miles and miles before you are running a race, you will regret it later!!), both put on our shirts for fun and headed off for a beer and a burger for dinner.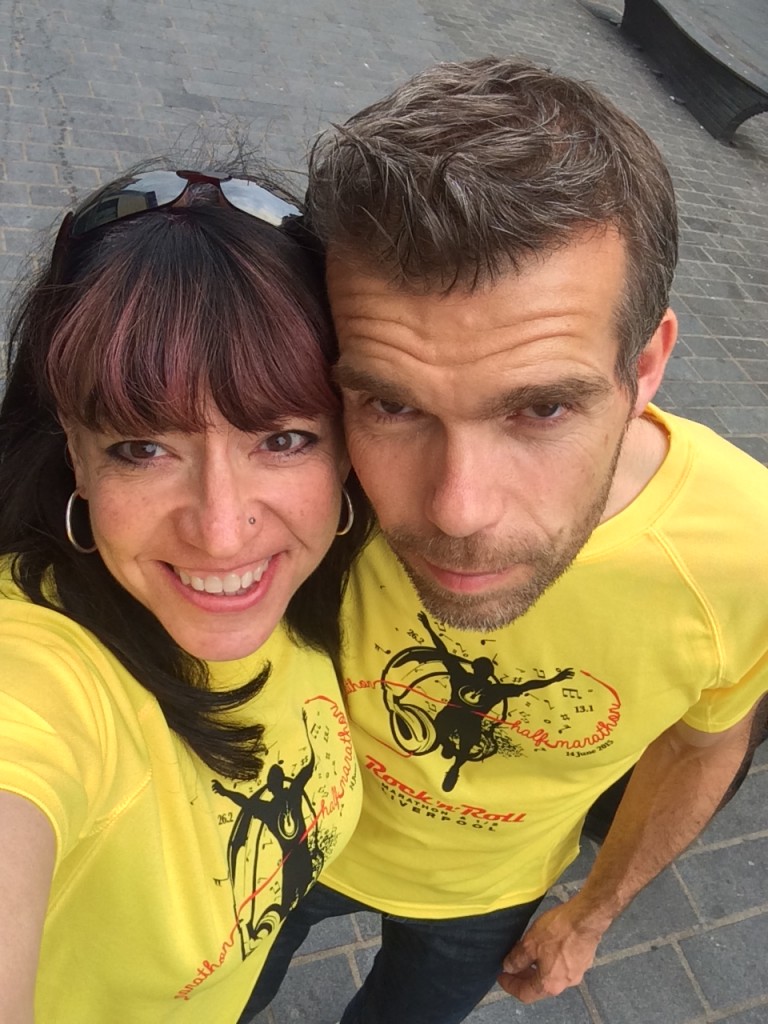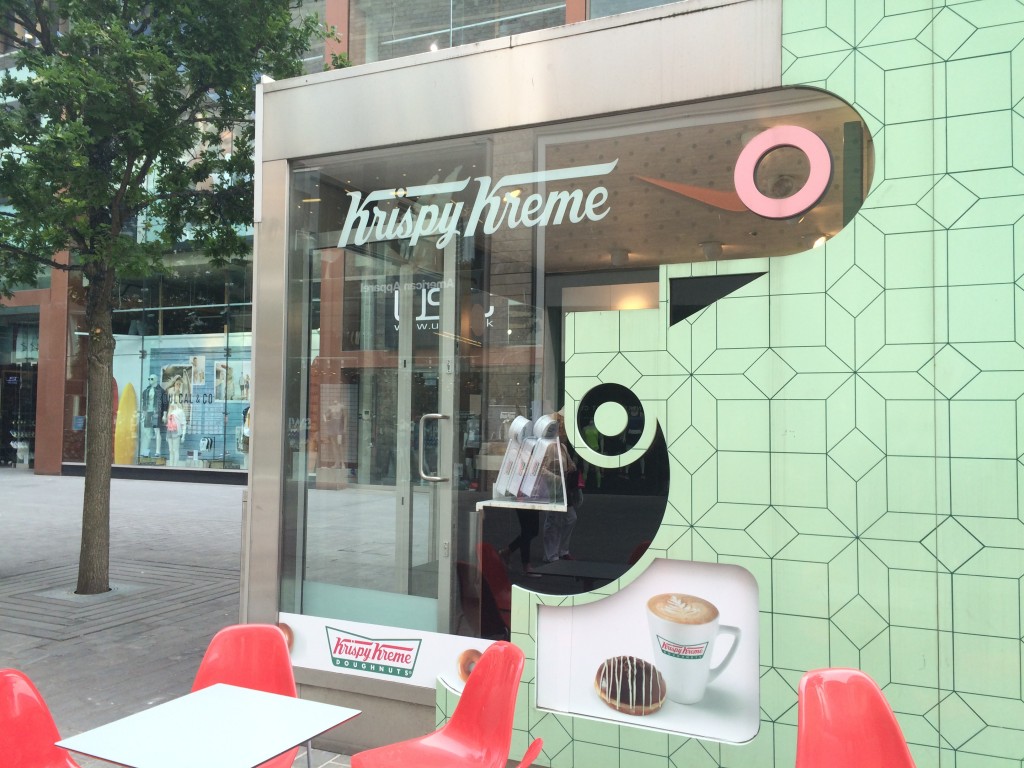 *Fun Fact – The Hubs has never had a KrispyKreme donut until our trip to Liverpool of all places. He agreed it was a good thing we don't have KrispyKreme here in the NL since it's like the cake-donut form of crack.
We didn't want to be out late, so after dinner we headed back to the hotel and got flat Pinky and flat Fonzie ready for the 5K the next morning. There were some VIP events happening on the Friday night but we chose not to go so that we would be fresh in the morning.
Saturday Morning
Breakfast was at 7am and the race started at 9:30 so we wanted to be sure that we ate on time (no one wants to run even a 5K with a full belly). We arrived somewhere around 8:30 and ran into George almost right away (after of course a spectacular intro on the stage and a mohawk giveaway). I like to be at a race at least an hour early but I think we could have been a bit later in this case as it was a fairly small event. Hopefully this race will only grow in size because it was simply AWESOME!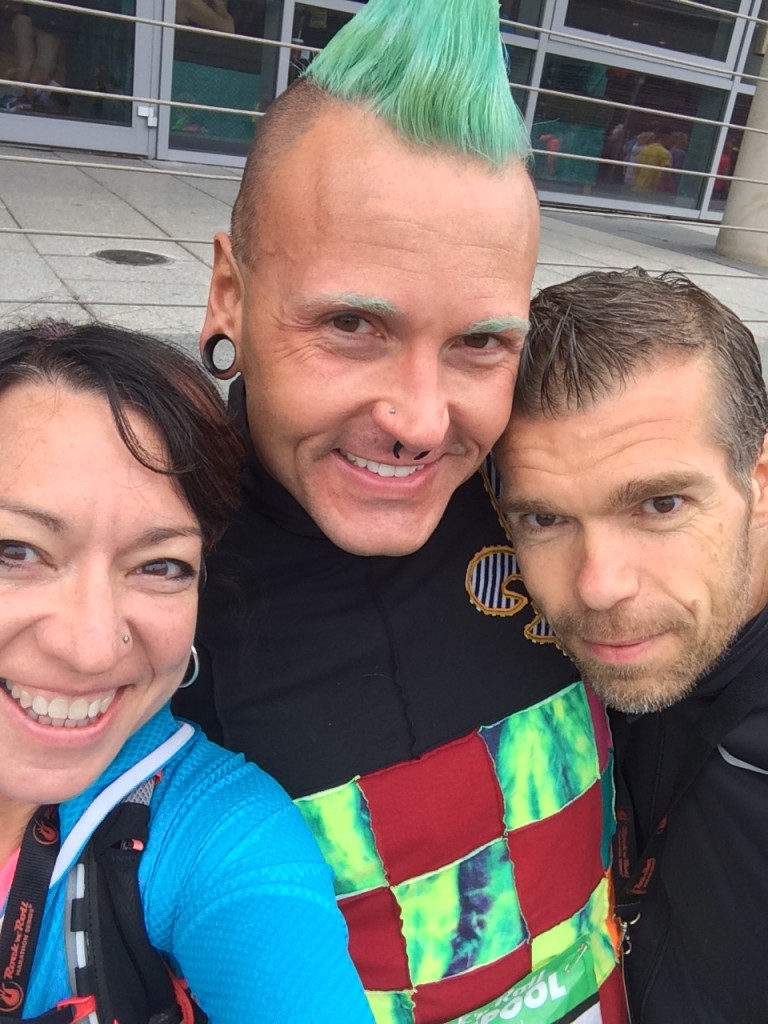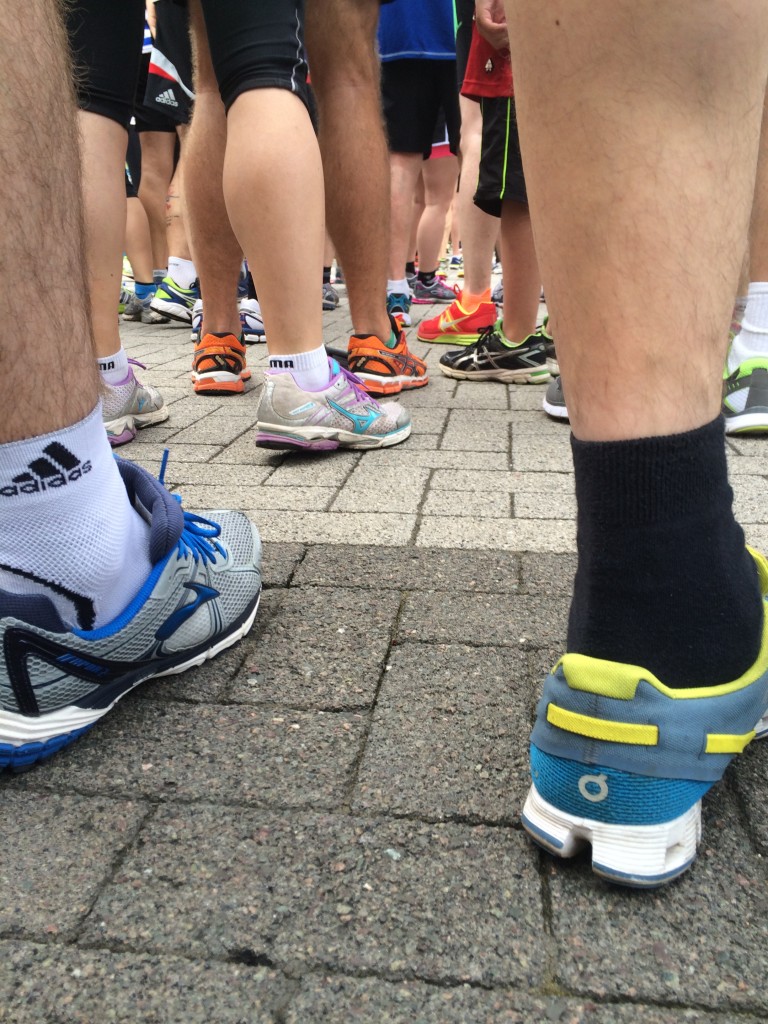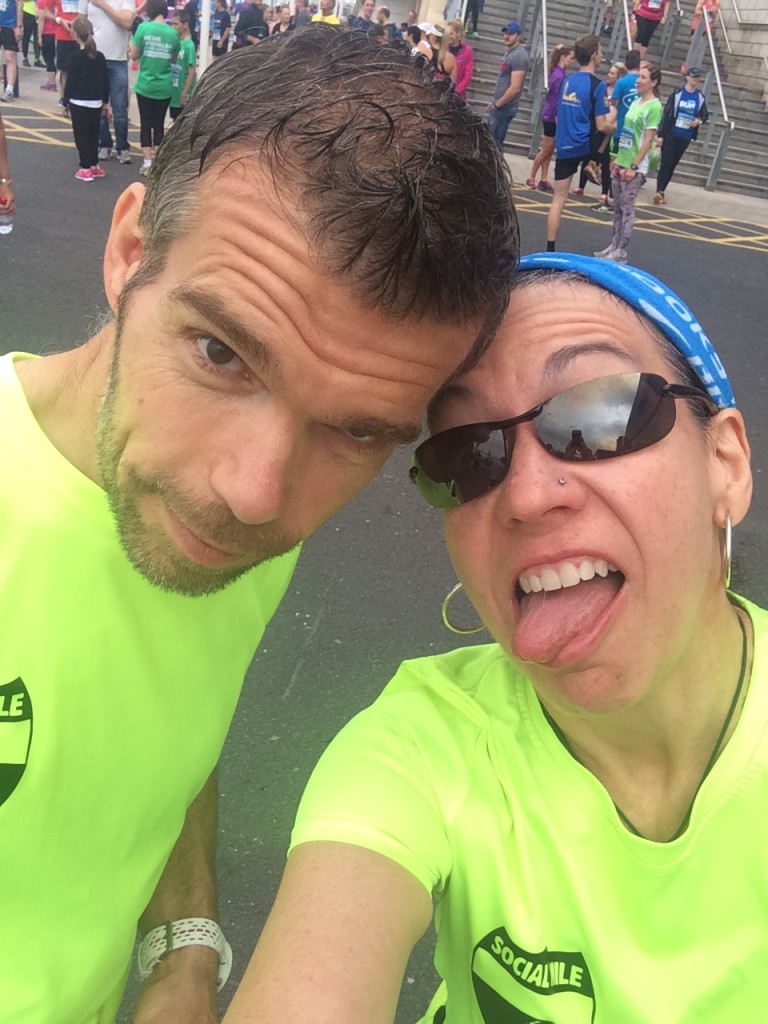 I did not plan on "racing" this 5K, but I realised on Friday that it would be my very first OFFICIAL 5K! In all this time I've never run a proper 5K race, so I thought, hey, if I could get it at 30 min or less that would be pretty cool. In the end I ran it in 30:48, which is totally great by me! The 5K went pretty much around the docks and was a fun and easy run thanks to the participants and the crowds!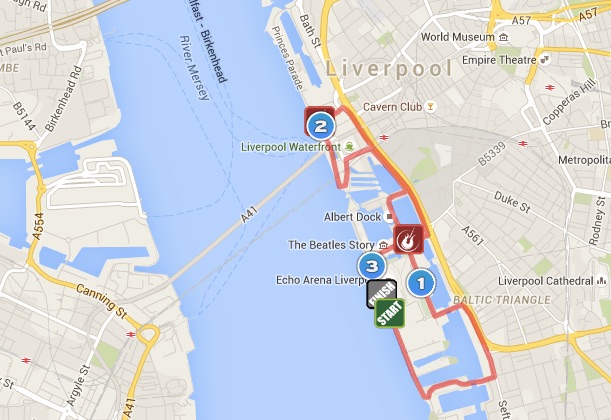 With the 5K there was already a bit of music, which was a pleasant surprise, and quite some cheering going on. The weather was very fine and it wasn't crowded at all. For a first time running in the UK I was just very happy overall with the experience. Maybe I'm imagining it but it just seems to be a more laid-back and friendly group of people than what I had expected. The funnest part? The 5K finished INSIDE the Echo Arena!! That was super cool, like running into a concert and you are the rock star everyone is waiting for!
After the 5K we were treated to VIP brunch which turned out to be quite a small affair; me, the Hubs, a few people from the organisation (Hi Jessica!) and a few friends from Running the World (a Facebook group). And, the lovely George as well!
After brunch, lots of coffee and chit chat we walked back to the hotel, showered and changed and then walked BACK to the Expo (I think we've now seen the Expo and the docks at least 10,000 times) to officially meet some of the Running The World group under the wheel for a meet and greet. After some photos and more chatting, we said "so long" and headed back to the hotel, but this time via the shopping center and shopping street. We had a reservation for dinner at 6pm, so we wanted to just take it easy, rest up and bit and then go for our carb load session and Jamie's Italian.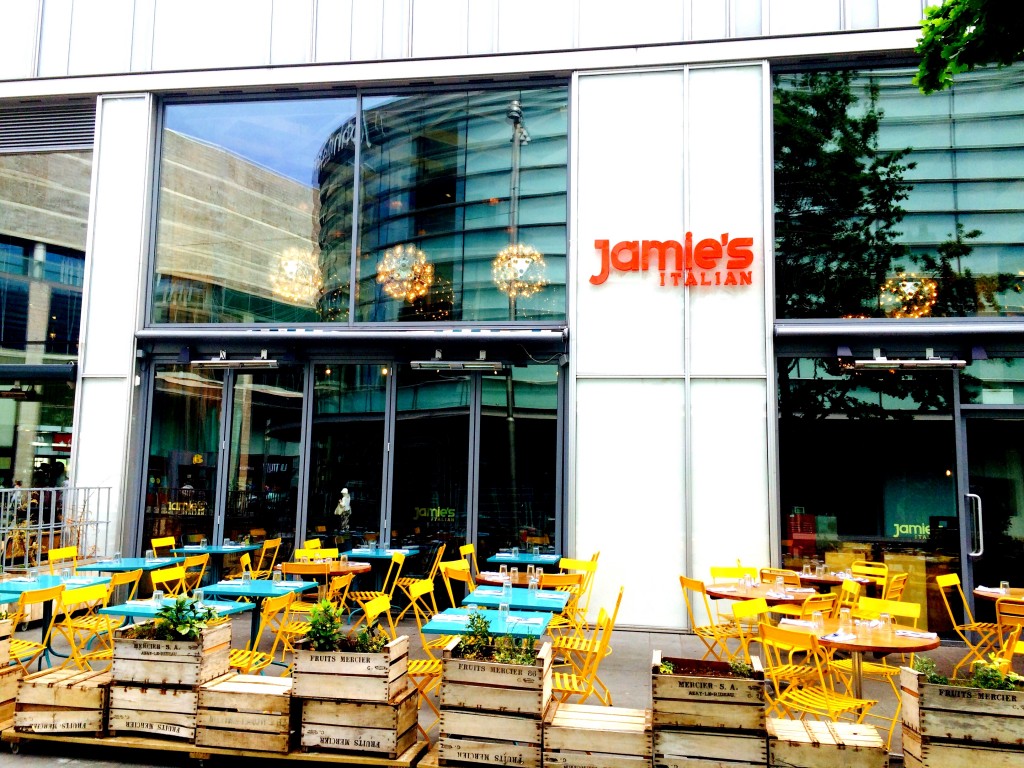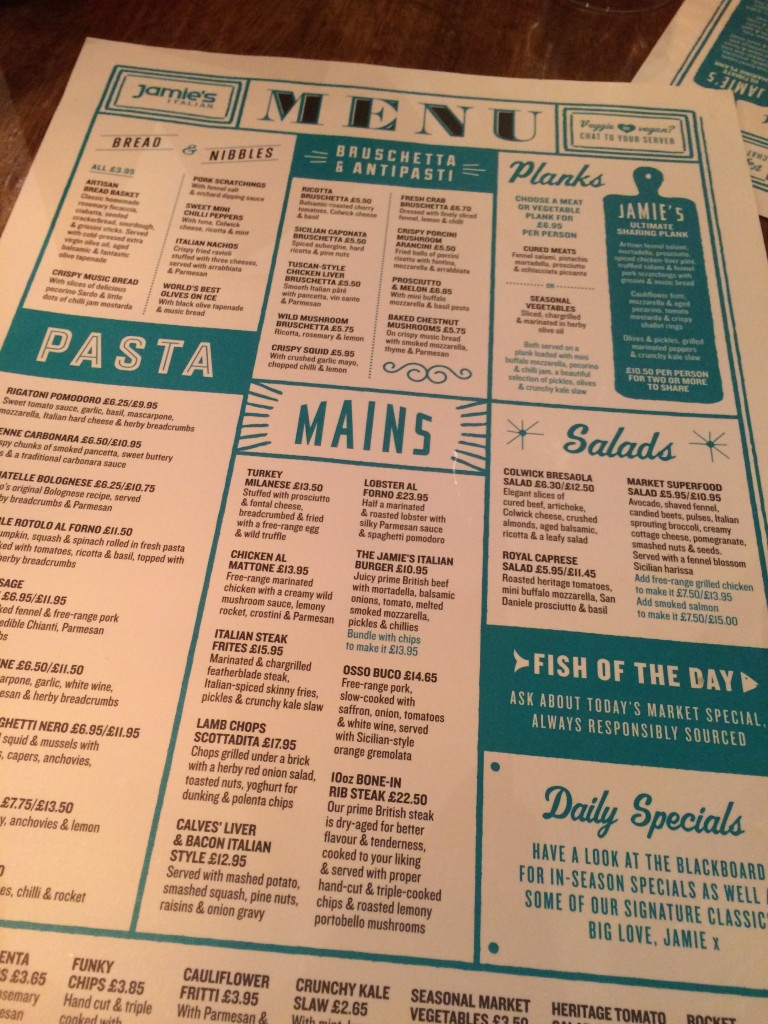 OMG, dinner was SO good. Honestly, I was not at all surprised, only surprised I didn't know there WAS a Jamie's in Liverpool. I didn't really do much Liverpool homework before we went though.
We ate, arranged a few items we needed (water mostly) and went back to the hotel to get our stuff ready for the next day. The hotel luckily had enough requests to do a (mostly) cold breakfast bar so at least we could eat there since we weren't super sure what the VIP breakfast would be like. If I could do it all again, I would do something like a self-catering place so that I could truly eat properly before the marathon, like I did in Paris. But, ok, we learn stuff with each endeavour, right?
Liverpool – Marathon Day coming right up!