So. Crazy times you guys.  I think I just totally failed my blog since I haven't had time to post.
Let me just tell you about September:
Gym:
I've been going to the gym! whoo hoo! So far it's not been more than one time a week but I'll get there soon. It's difficult with my schedule to go more than 1 time. At least that's my story right now.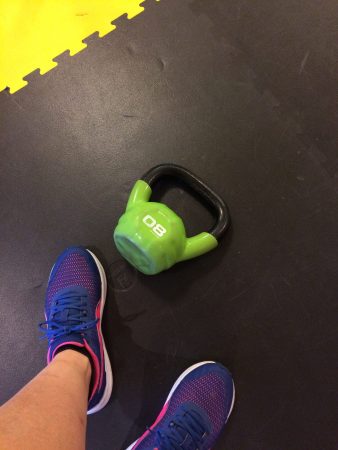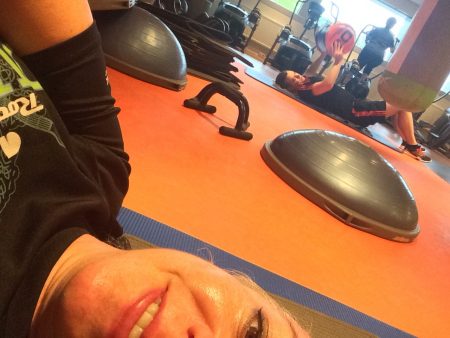 Two Saturdays ago I even tried RPM (spinning)! I have been saying for years I want to try and I never do. It's just a thing I have about trying new things. But last week I thought "screw this" and I went. And you know what, I LOVED IT. So I went again this Saturday and was able to even make it a bit more challenging for myself with the resistance and I sweated up a storm! I am definitely going to keep going to this class, I seriously think it's amazing!
Running:
I once again got new shoes. With my foot again irritating me (I am certain I had two neuromas, they only removed the huge one) I was on the lookout for shoes that could help people with foot issues, people who may have neuromas. And I found them. I went to Utrecht and I tried on several pairs and I got the Altra Torin 1.5. And they are a dream! A gift from above! I am so happy to run now because I DON'T FEEL A THING whilst running!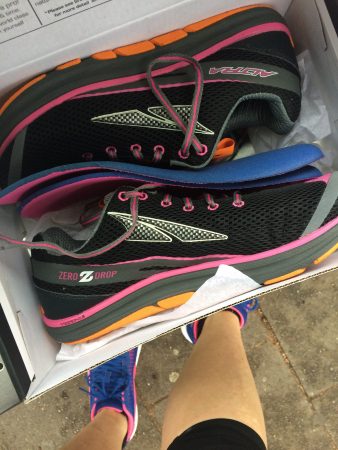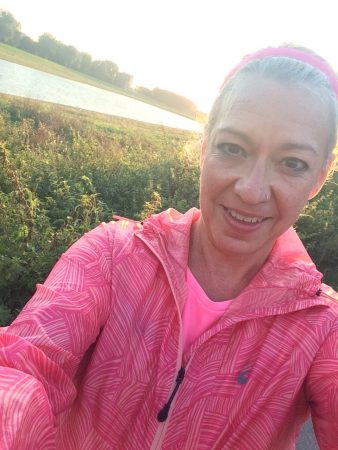 I've done a few runs here and there and also ran with SocialMile again twice, not a ton of kilometers, but… a couple weekends ago I ran a Half Marathon in Cologne! I wasn't sure at all if I should drop out of this race or not but I finally decided I would just start it and see how far I got – it was 3 rounds of 7km and I figured if I wanted to drop out after 14, it would be very ok. We actually went to Cologne to see Susanne Sundfor do an acoustic show (which was AMAZING) on the Saturday and the run was on Sunday.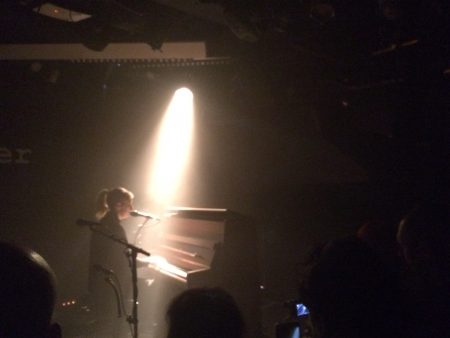 This meant that we had to pack an overnight bag.  For once I wasn't writing out lists for my weekend, I was simply just throwing things in my bag I thought I needed and I forgot to bring my "regular"  running shoes so I didn't do a Half on my new Altras.    But… as it turned out the Altras actually helped me so much I ended up able to run the entire half marathon with no walking breaks.  It's been a LONG time since that happened!   Let's not talk about the calf pain I had for 4 days afterwards (since they are zero drop!)…  So very happy with the result – gives me hope that my running can finally improve and I can run a marathon again!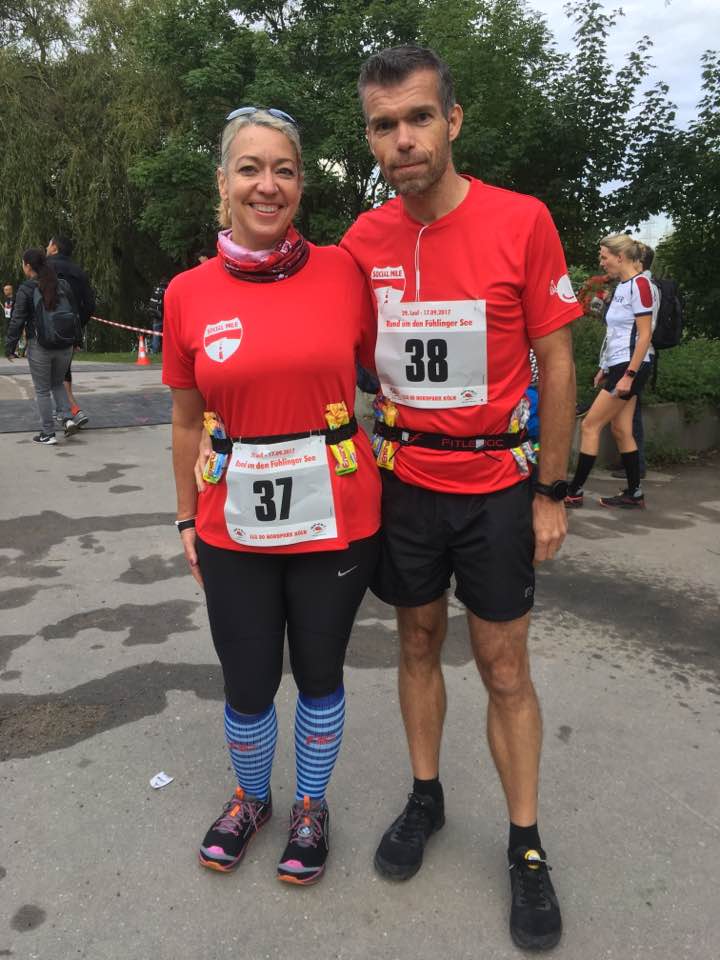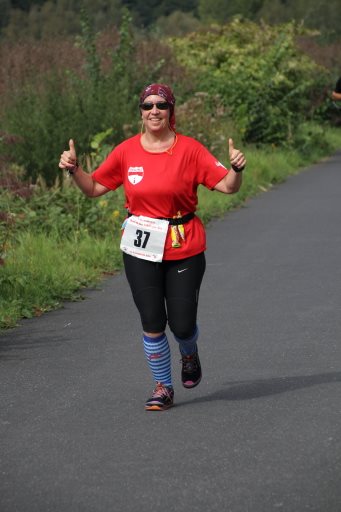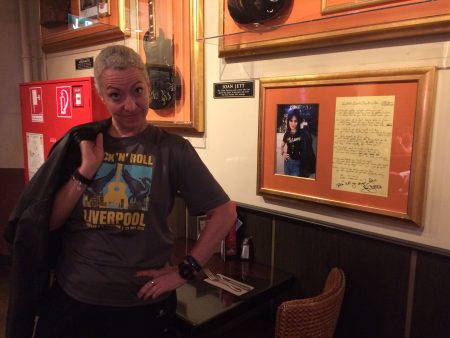 But let's talk about Ron for a minute…
We went to Mūnster the week prior to Cologne so that the man could run the marathon there and hopefully with a Boston qualifying time.  We also went the night before and stayed in a village close to Mūnster – had an awesome (and super cheap!) italian dinner for carb loading festivities.   The hotel was also amazing!  We had to leave early, however, so we weren't able to eat breakfast there (we had stuff with us, since Ron of course wanted to be sure to have the exact marathon prescription before the race) but they came up and gave us coffee and a hot water kettle so we could at least have coffee before we left (normally the room we were in did not have coffee facilities).
The day was absolutely amazing.  The weather was insanely perfect.  Blue skies, cool but not cold temps.  It was the ideal marathon morning situation.  We arrived on time and Ron was able to warm up and then eventually he was in his starting corral and the start gun went off!  My plan was to go to km 5, then 15, then 40 to see him on the route   However he was going too fast for me to get to the 5km point (which was only a 20 min walk for me)!   So I simply made my way to 15 and waited.  By the time he came around (after the elites and a few fast runners) he looked SO good!  And he had the road to himself it seemed!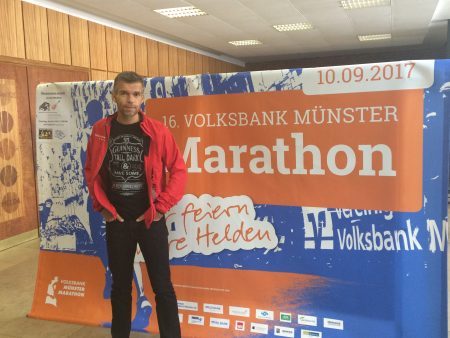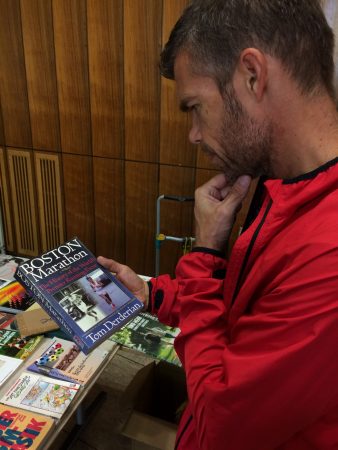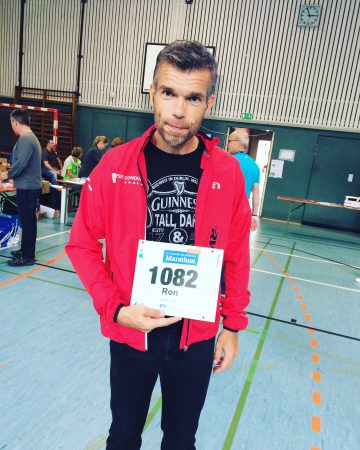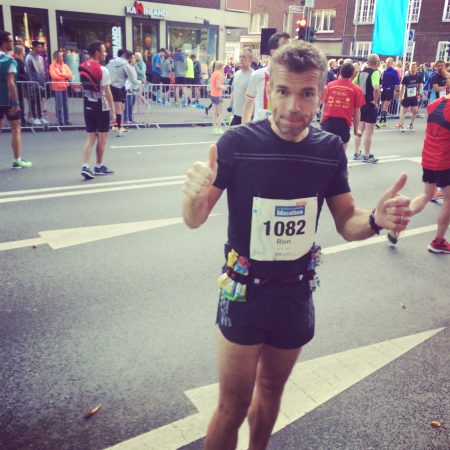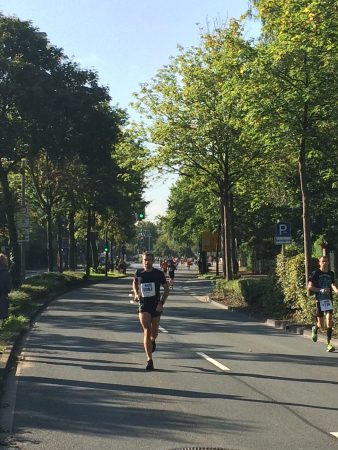 Between 15 and 40 I had some time so I stopped off at a cafe near the 40km point and had some breakfast and coffee.  I then walked over to 40 and waited.   But I was worried about how fast he was running – there was NO WAY I would make it from 40 to the finish before he actually finished!    Finally he came around and while he looked like he was finished with running I just shouted that he just needed to push through and reach that finish line!    I then started walking and jogging myself towards the finish.   And as I suspected, he got there before me!  We found each other and he told me his time:   3:20:54.  He needed under 3:30 so HE QUALIFIED!  Ah he was so happy!  Happy he ran the whole way, happy he was almost pain free, happy that everything he had been doing to fix his issues (back, hamstrings) was working!  I am so very proud of him.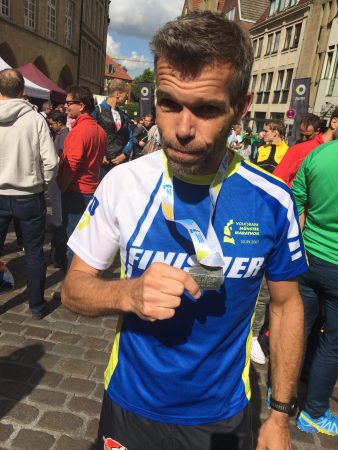 And since he qualified, he then signed up on the date that he could sign up and we got the notice this week that he's in!  So…  we are going to Boston!!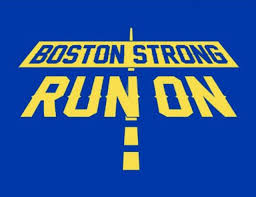 Massage:
This month has been a lot busier on the massage front.  I have a few new clients and they have been repeat clients as well which is GREAT.   Quite often I get a client that has been referred by the physio and then they don't return.  I don't take it personally – I know that massage can be expensive and here in the Netherlands a lot of things are covered by insurance that the physio does, but massage is not one of them (a lot of clients find this out later and don't want to bear the cost themselves, plus WE are not physiotherapists).  However, I personally find that when you have an issue, it's generally not solved with only one appointment.
In any case, I'm really happy to have a few more clients, I feel like I'm more confident and I'm enjoying it a lot, even though it's hard work.  I'm very grateful to my own sports massage therapist, Eva at e-body for giving me this opportunity to work for her.
Food:
I am still on my no/less meat quest, I'd say mostly ovo- lacto- vegetarian and sometimes vegan.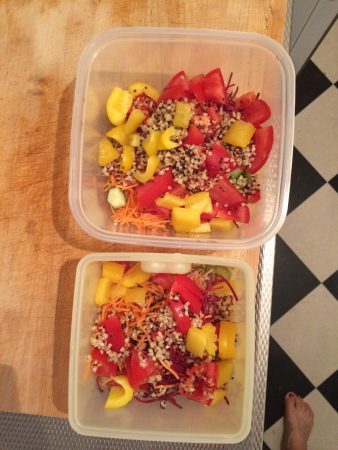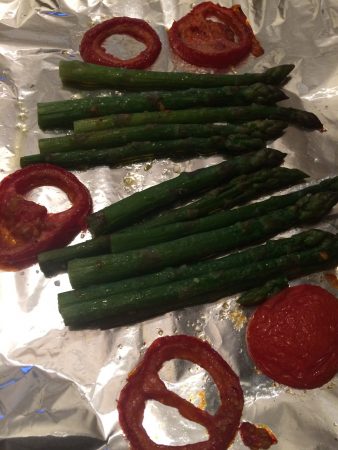 I have had meat a couple of times – I think twice I had a burger and maybe twice I had chicken.  What I find is that I'm not getting enough protein, even though I'm trying to bulk up on protein rich vegetables and beans, etc.   Also there is no change in my weight.  But there could be other reasons for that because…
Body:
Because I am still having issues sleeping, due to my restless legs and tingling foot (which IS less but still is bothering me enough to wake me up at night) I desperately went to my doctor and asked her to give me something to help with the nerve issue and the restless legs.  So she gave me Lyrica.  I didn't start it for a few days because I was scared of all the side effects.  I'm really not a prescription medicine person but I've tried a lot of alternatives prior to asking her.  Magnesium citrate, CBD oil / capsules, melatonin, stretching, showers at night, electric sheet under my regular sheet, no coffee/ caffeine after lunchtime, meditation podcasts – these are just a few.  But it doesn't help and I still wake up 10 times in the night and end up exhausted when I have to get out in the morning.  So after thinking about it for a few days I finally started taking the Lyrica (I asked for Gabapentin, but she said this was "friendlier" …).  One of the side effects is that you can gain weight or retain water.  So now I'm really tracking what I'm eating and trying to stay within my daily calorie budget.  At least if I gain weight, no one can say that I am the one who did it to myself and not the medication.   And so far, no real side effects.  I have slept better since I started taking it – but is that in my head or is it really working?
Other:
Welp. I did it again. I've coloured my hair (again the non-permanent vegan colour) and this time fully in purple and dark pink.  The comments at work have been interesting.  I'm glad I don't really care what people think!   Basically I feel like life is too short to worry about age rules (I'm apparently too old according to some to do this to my hair);  Colour your hair, buy the shoes, travel the world and run the marathon is my current life motto.  Seriously, who made up these rules anyway?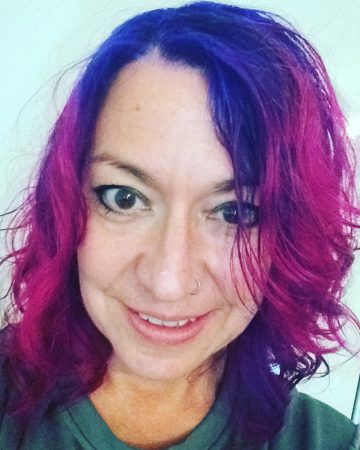 October is going to be a whirlwind as well.  We are off Wednesday for the Windy City.  The Fonz is nervous as heck for the marathon and I totally get it – it's the marathon in the US we both said we wanted to run more than any other.  The fact that I lived more than half my life in the suburbs of and later in the city of Chicago itself is a big factor.   So he has his dream marathon and I will be living vicariously through him AND cheering him on from the sidelines at the same time.   After Chicago he will have completed two of the Six World Majors.   Boston of course will be number three.  London, Tokyo and New York will be harder but at least he can probably qualify for NYC.
So, tell me:
Have you ever done a spinning class?  Did you like it or hate it?
Have you heard of zero drop shoes?
Have you ever had a Boston Qualification or have you run the Boston marathon for charity?
Do you go for sports massage?  Do you feel it helps you during your training cycles?
Are you a vegetarian?  Do you struggle with getting enough protein?
What do you think about age rules?  Do YOU think I'm too old (49) to colour my hair in crazy colours?
Have you run Chicago marathon?  What did you think about it?