Admittedly I didn't track as much this week.  I find it very hard when I'm not at home and not eating my own planned out home-cooked meals.  The Weight Watchers app, for example, doesn't tell you how many points a pizza at Jamie Oliver's Pizzeria is… (and let's be honest, I am not going to eat a half a pizza or just a slice #truth).  However I had a TON (and I mean a TON) of activity points.   I tried to track as much as I could.  The regular food I'm eating I now have an idea of how much it "costs"  so that's keeping things in check.  And… in some cases I made alternative choices that what I normally would have done.
The new week starts on Wednesdays and this will be another challenging week for tracking since we are off to Liverpool on Friday until Tuesday next week.  So… I need to keep my alcohol in check for sure and try to be sensible the days before and after the Half Marathon.  I don't drink a lot, but it's a serious party this weekend with loads of friends and a favorite bar with amazing G&T's so…
Without further ado, this week's result: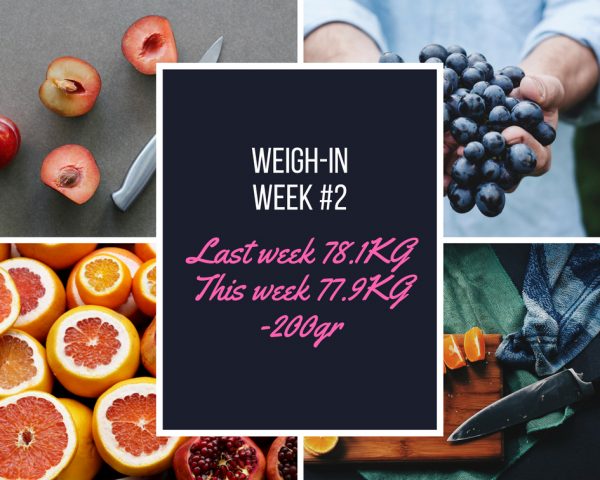 So, it's not a great result if I'm honest but it's still a loss and that means 1.1KG in total.  It's the right direction.  I think what I had to eat last night at a work function may have had influence this morning on the scale since a few days ago I peeked at the scale and I was down 400 grams.  But in any case I need to track because without tracking I can't really go back to see how I can improve things.
So tell me:
What are your best tips for staying on track while a few days away from home? What sort of snacks do you recommend I have on hand so that I don't get too hungry while out and about?