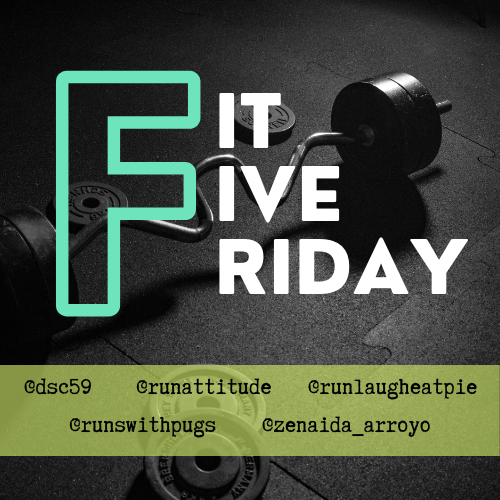 It's that time of week again! Hopefully you've been enjoying this new link up with your FIVE amazing hosts – me, My First 5K and More, Running With Attitude, Runs with Pugs, Zenaida ! Feel free to join in on the fun!
Neuromuscular Training for Runners
Say what?
I started running only at the age of 40 and can honestly say I knew nothing (and still have so much to learn) about biomechanics and fitness specifically for runners. And when I say "runners" I mean even just your average Sheila or Mary or Joanne who started running to get some activity in their life.
Running is fairly easy (ok, in the grand sense of it all – we know it's not always easy!) but how do you get BETTER? How do you get more EFFICIENT? How do you get FASTER or at least improve your endurance? I don't want to compare myself to others but it's hard not to see the clear difference between a runner like me and a runner who clearly uses neuromuscular training to help improve their abilities.
For some of us, it's fine, in fact it's GREAT to just be able to get outside and run! We don't have aspirations to be fast or win races or even age group awards. For some of us, we are in between; that is to say, it's fine right now but it sure would be great to get a PR occasionally. And for others (you know who you are!) it's a competition. It a competition with yourself and with others. And PR's and AG awards are definitely part of the goal.
5 types of exercises you can do to improve as a runner
Sprints, including hill sprints
We are all familiar with it; sprint training exercises given by a coach or training program that have us run about 80 – 90% of our max pace, with an active jog-rest in between. And there is nothing really wrong with this. However, if you were to go at 100% of your max, for about 10-12 seconds and take a long rest instead of a short active rest, this can help you not only gain speed, but also strength.

Don't do these kinds of workouts though after the long run! You want to run these on fresh legs to get the max out of your training. Have you ever tried hill sprints on long-run-the-day-before legs??
Plyometrics
By now you probably have heard all about plyometrics. Basically speed + force = more muscle power! We all know the basics; push-ups, throwing, jumping, kicking, etc. There are other exercises to add into the mix that can really help you as a runner.
Box Jumps are a great one, but if you are anything like me, you find it very challenging to do these. I have a lot of fear that I'm going to do it wrong and hurt myself. There are a lot of great how-to's online. So just dare to try and then you'll find yourself mastering it (now to follow my own advise).
Lateral Skater Jumps are also a good one to incorporate into your workout
Add Squat Jumps in and you've covered two birds with one stone.
Squats – heavy load, less reps
I always knew squats were great for runners, but, especially after the first time I had a knee injury, several years ago my physio had me do loaded barbell squats and I couldn't for the life of me figure out why! I mean, why so heavy?
Apparently, loading the bar and doing less reps with a long rest in between is better* than a lot of reps and lighter weight. If you don't like that rest in between (I've read recently that a lot of athletes struggle with longer-than-1-minute rest) then you can do something upper body related in between like push-ups.
Lunges – heavy load, less reps
Again, loading a barbell and doing less reps with a long rest in between will give you more strength and efficiency in the long run (pun intended) of your endurance running.
Hinge exercises
Anything "hinge" related will help you strengthen especially your hips and hamstrings. Think Romanian Dead Lift (RDL) or kettlebell swings. Anything to strengthen the posterior chain. Obviously you want to learn how to do these properly to get the most out of the exercises AND not injure yourself.
Start with movements you know you can easily incorporate into your routine. No one is suggesting we go straight into olympic lifting, but adding kettlebell swings never hurt anyone (unless of course they dropped the kettlebell on their foot).
Neuromuscular Training
Neuromuscular Training doesn't have to be difficult. And you don't have to have grand ambitions or be competitive to strength train in a way that will help you down the line with running. I, personally, don't need to be fast or win anything, but there are days where I wish it would just "feel" faster or somewhat effortless. Incorporating just a few exercises in the right way a couple of times a week can really help.
What about you? Do you strength train to improve as a runner? Or for other reasons? Are you guilty of not taking the appropriate rest between sets? Do you load your sets heavy or are you a more-reps-less weight type of athlete? Or are you ok with just going out there and running (which is fine, for the record!)?
I'm no expert, not by any means, but I think it's important to learn a bit about the body and it's mechanics and to do simple things to improve our health and fitness for our running endurance and for longevity of life in general. There's no guarantee we will live to reach 103, but we can sure try to live as long and as healthy as possible, right?
*I was inspired to write this blog post after listening to this podcast. I am reiterating a bit what Dr. Mike Young has talked about. I encourage you to listen in since he's the expert and has a lot of good information to inspire you to train even better. Listening is one hour well spent.
Join the Fit Five Friday Link-up!
Here are the guidelines:
Your link should center around some kind of fitness (exercise, wellness, mental health, nutrition… the possibilities are endless!)
Please link back to your hosts! It's the right thing to do!
Share the link-up love by visiting and commenting on your hosts and at least two other Fit Five Friday bloggers!
Feel free to share about Fit Five Friday on your social media! Tag #FitFiveFriday to get the word out!