***edited on October 16, 2010***
–
please also see this post
–
I know many of you are seeing this post for the first time that I wrote in January. You should know that since then I have embraced these changes but I have not really lost any weight. I have also been running more than I ever thought I would. I have struggled with hunger, serious emptiness hunger. I have even spoken to 2 dietitians and my WW leader about what exactly is going on. This post and any posts about Weight Watchers ProPoints is simply my own experience. I wouldn't take this as the be all and end all of what the program will be like for you. Remember also, I am in the Netherlands, not North America! Even the bread products section is different in NL than it is in Germany for example! So please do NOT take this as the official ProPoints program. If you are changing to this program soon, all I can say is, have an open mind about it. Have a look at my blogger friend Karen's blog as well – she's been very successful with PP over the last several months (she is in Germany). Results may vary and are not typical!
Read more –
OK, let me be straight up.   I don't actually LOVE changes.
–
I'm not totally against them either and I tend to embrace change once my brain has adjusted.
–
But honestly?  I'm struggling a bit with the new WW Program here in Benelux, ProPoints.  I can't figure out exactly why, but I think it's a combination of things:
–
1) I used to know point values out of my head and found it quite easy to plan my food for the day and stick to the plan, whilst staying reaching my daily point goal. If I went over my point goal, I most likely exercised and earned a few points and used those up that day. What I didn't use was saved (only during that particular week). So let's say I shot for 22 points per day, but had 24, I could use 2 activity points that I had in my bank.
–
2) Things cost more points now. So rice was 4 points for an unlimited (but satiated) portion, but now it's 7. Salmon was 6 points for 150g and now it's 9. OK, I get more points per day (29) but still. This feels "bad" (mental – something I can change)
–
3) I feel guilty using my 49 "vrijepoints" – these are meant to be used but somehow I feel like a failure when I continuously go over 29 points a day
–
4) I'm hungry. I seem to be using less quantity of certain items because of the mental block and the extra points values and I am really grumbling hungry. I don't particularly like being hungry, though I liked what Bitch Cakes wrote in this blog post – I'm not going to die if I'm hungry for more than 5 minutes. But I need to work on that mentality change.
–
Something else that bugs me a bit about the new program.  There are foods which are "green" which means they have the most nutritional value for what you can choose.  Things that I used to eat that I thought were really nutritionally sound (just me rationalising in my head,  didn't really have scientific back up), are somehow NOT the best choice I could possibly make.  I mean, I pride myself on the good choices I make, yet now, somehow, they don't seem so good anymore!
–
A few examples: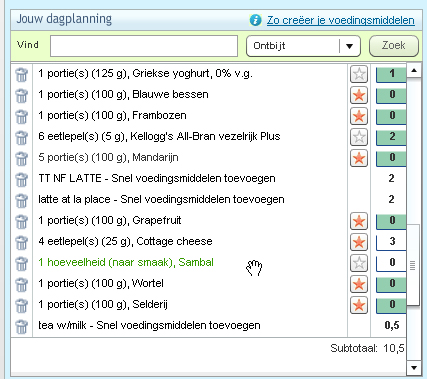 I mean, since WHEN is Cottage Cheese not nutritionally sound???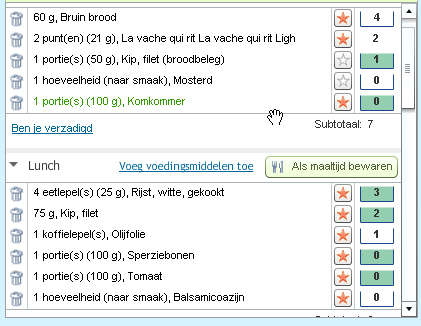 And here, bread and olive oil are not "green" foods.  The bread I eat is only wheat (not multi-grain, never corn or white), and extra virgin olive oil????  I thought that was a good fat!  I can see how the laughing cow wedges *maybe* aren't super-packed with nutrition, but it's better than full fat cheese right?  I have the impression that some of my choices are not really the best choices out there.
–
I have been on so many different WW programs. Especially if you consider the first time I even joined WW was in 1992. I'm sure we were doing some sort of exchange program back then based on the food pyramid. In 1999, the Benelux program was a sort of stoplight – Green was Fruit and Veg, Yellow was your dairy and proteins and Red was fats, alcohol, sugar, etc. I loved that program. Chicken was 2 yellows and a tsp of olive oil was 1 red. Greens were easy and unlimited. A beer cost me 4 reds, bread was 1 yellow. I found that really easy and it showed. I think I lost a kilo a week for the first 10 weeks. 10 Kilos down in 10 weeks!
–
Then we changed and changed again and changed again. Honestly, FlexPoints has been going on for years now and I was happy with it. I could do this in my sleep (mind you, I didn't). So, this change is, well, kind of hard to completely accept.
–
I DO accept it though, I just need to get my head around it and get some of these points values to memory. I need to plan ahead, something I've only been doing hit or miss lately.
–
So. I have at the very least prepared the plan for the next two days worth of food, except for Tuesday, which is Hubs' birthday and we are going out to eat. Mexican. Pretty much doomed there!!! Trust me when I tell you, in this country, it's not like it is in the US where you can specifically request how they make your food. Here you order, you get it. I already try to get away with changes when we go to this particular Mexican restaurant and I always get the "Die and Burn in Hell, Lady" look. Probably why this place is generally on my black list. But I'm rambling now.
–
I have already prepared quite a lot of food for the next two days as tomorrow evening I want to go to Zumba, at the gym I just joined.    Having a pretty tight schedule (home at 7pm, eat dinner, change, leave for class at 8.30) I thought it would be a good idea to prepare two lunches, some fruit and a whole container of carrots and celery.  This way I will only need to spend maybe 15 minutes in the morning getting the other stuff ready.  On Tuesday morning though, I may already prepare the lunch for Wednesday (or a different lunch and eat the 2nd lunch I made on Wednesday, if that makes any sense!).  The veggies I can split between 3 or 4 days.  The fruit/yoghurt/cereal thing is fairly quick.  Basically I'm going to have a pretty unvaried diet this week because there is just too much going on (Tuesday out with Hubs, Wednesday to the movies, Thursday a Tweetup – yes, a Tweetup! Friday preparing for the Birthday party Saturday… I didn't plan any time in there to breathe yet!!).  The challenges are still trying to adapt to the new program, getting myself to the gym and exercising even when not at the gym AND having a packed schedule.
–
I am going to take my WW shopping guide with me in the train this week to seek out more "green" foods and then make the rest of the week plans while I'm travelling.  At least I can use the time I commute for something good – ME!