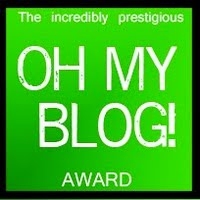 Recently had the honor of being presented this lovely Blog Award from Shrinkingirl.  So to properly receive this gift, I present to you my first (and last?) video log.  I must say, I may sound and look stoned, I assure you I am not, regardless of the fact that I spent the day in Amsterdam today (I just look old and weird and sound like I smoke a lot – and only 2 of those 3 are true).
[youtube=http://www.youtube.com/watch?v=lRt80cvxXXY]
Oh and I now see that I left out one other option, but still I would have chosen to do the vlog.
I hope you enjoy, or at least get a giggle, or finally decide to take me off your reader once and for all, if that's what this video drives you to do.
Thanks Shrinkingirl !!
These are the official rules:
1. Get really excited that you got the coolest award EVER!
2. Choose ONE of the following options of accepting the OMB award:
(a) Get really drunk and blog for 15 minutes straight, or for as long as you can focus.
(b) Write about your most embarrassing moment.
(c) Write a "Soundtrack of your childhood" post.
(d) Make your next blog a 'vlog'/video blog. Basically, you're talking to the camera about whatever.
(e) Take a picture of yourself first thing in the morning, before you do anything else (hair, makeup, etc) and post it.
3. Pass this award onto at least 3, but preferably more, awesome bloggers as yourself. Don't forget to tell them.
I choose: