Right before I went on my holiday, the Amazing Trina, at Me So Hongry, presented me with the ever-so-awesome Sugar Doll Blogger Award: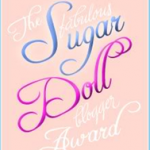 As a newly appointed Sugar Doll, I must do the following:
– Thank the recipient…check (wait, does that mean I thank myself? No. Thanks Trina!)
– Link back to the giver…check.
– Reveal 10 things about me
Whoah.
OK. 10 Things you don't know about me already. Hmmmm.
1- When I was little I wanted to be either a Doctor or a Waitress. True Story.
2- I can imitate accents and some singers quite well. I have an "ear" for these things which is why I do pretty OK in languages and Karaoke Contests.
3- I wore bifocals as a very small child for several years. I had those "coke-bottle bottom" glasses and was picked on quite badly. When I was just about to go into the 7th Grade I told my mother I *had* to have contact lenses or I would kill myself.
4- I should have been an actress. See above dramatics.
5- I did actually do some music theatre. My biggest role? Poopsie in the Pajama Game. Rock on Alamogordo Music Theatre!
6- I once won a week's admission free at the Looney Tunes Film Festival in Portland, Oregon. I had to imitate my favourite cartoon character. I did the "Bugs Bunny" Dance on stage.
7- I have eaten frog legs, nails, rattlesnake and even "calf fries" (if you don't know, you may not want to know) and I liked all of them. Don't give me brussel sprouts though, please, or I will chuck up on the table.
8- I once sported the Sinead O'Connor bald head look. It actually looked ok on me. Hey. It was 1991, don't laugh.
9- I used to bite my nails. I still have issues occassionally under severe stress that I pick at my cuticles. It's a nasty habit that everyone notices.
10- I have a younger brother I am not close with at all. I have always wished I had a sister or at least that my brother and I had a good relationship. Because of this I often feel alone, or like an only-child might feel.
And now, a few people I would like to pass this award on to are:
Brooke – Not on a Diet
The Incredible Shrinking Girl
Fat Girl Slim
Half of Jess
comfy*cozy*crazy
See Glam Diet
Thanks again Trina, I think you are also an amazing Sugar Doll!