But can be boring. I've got to really think hard and come up with some ideas for next week. I did what I set out to do (for the work week) as far as food goes. But by lunch time today I really thought "roasted veggies, again. whoop-dee-do". Sure it's not important to be excited about food all the time because food is sustenance and what you need to fuel and take care of your body. But damn I was EXCITED on Monday! Today, meh, not so much.
Breakfasts:
Oatmeal (Steel Cut Oats, Peanut Butter (lite), 1/2 a banana, cinnamon, 1 day I had 10g of Neal's Yard Omega Seed Mix)
I already started with oatmeal a couple weeks ago. I think I like the Seven Grain Hot Cereal more, or maybe I just like that it takes less time to make it in the morning: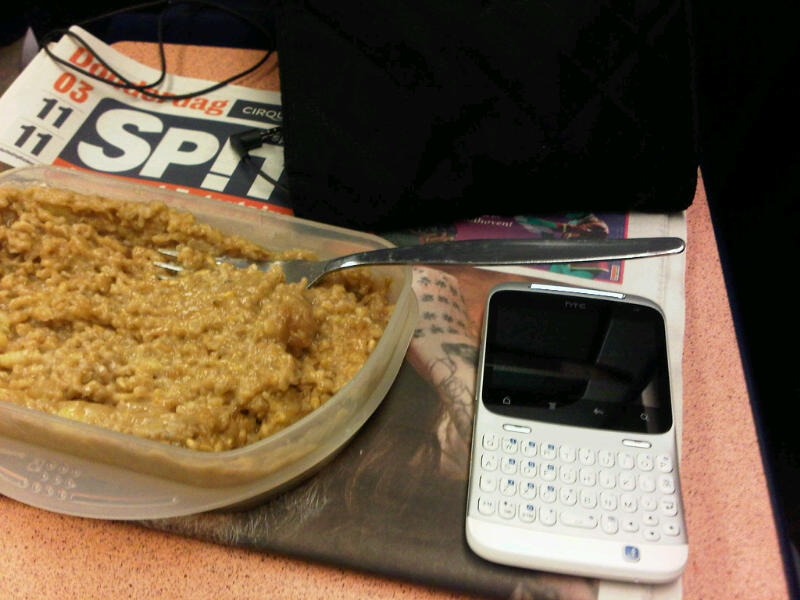 eggs with vegetables (bulky, filling)
Monday and Wednesday I had eggs with spinach and mini-mushrooms (2 eggs, 2 egg whites, 150g spinach and 100g mushrooms + Pam cooking spray)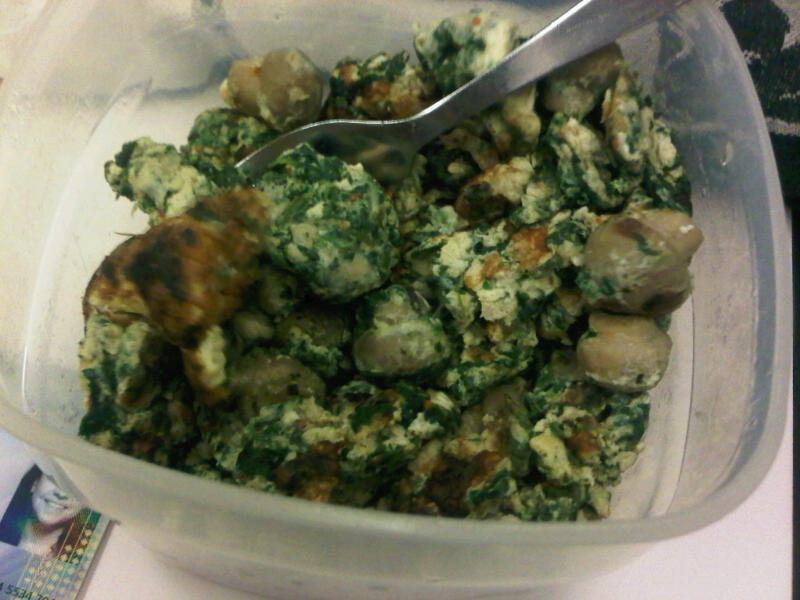 Thursday I had the 2+2 with Kamut and black beans (OMG how delicious was that????)
Today I had it with asparagus, courgette (zucchini) and the rest of the mushrooms: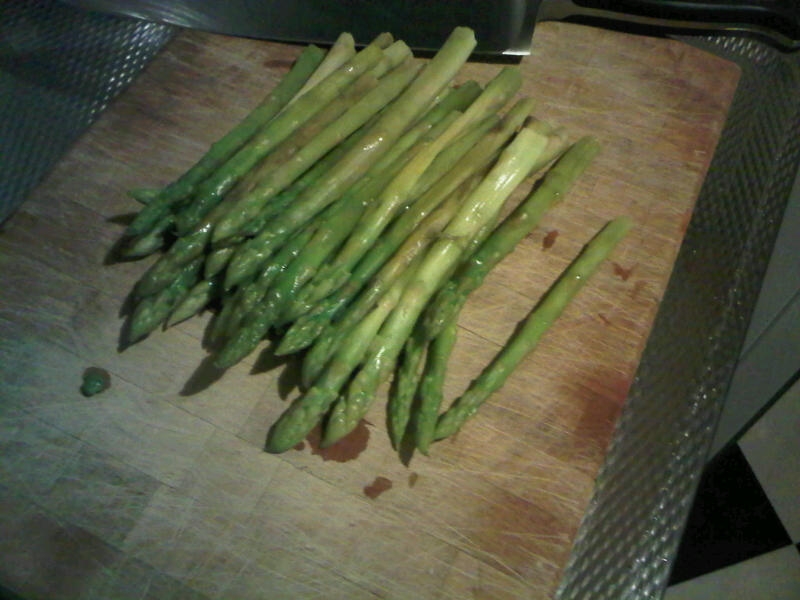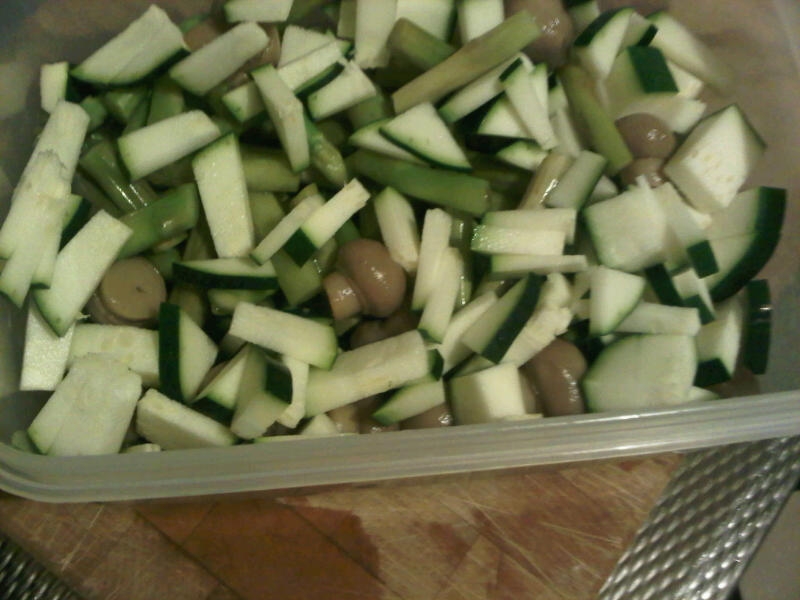 I have no problem eating just about anything in the morning. Seriously. But today it was a little bit difficult. Maybe it was just too much (I ate ALL in that photo). It was like 325grams of veg. But let me tell you I had no hunger issues WHAT SO EVER.
Lunch Monday, Weds and Friday was the roasted vegetables I mentioned last Sunday, plus the Kamut (100g each meal) that I cooked up and the 100 g chicken breasts I buy from the freezer section already cooked (so all I have to do is thaw and then "cook" in the morning with my own seasonings). In principle a great meal, maybe just not 3 times in a week. I meant to take a photo after I'd warmed it up at work but kept forgetting so you get a photo of it in it's box ready to go to work with me.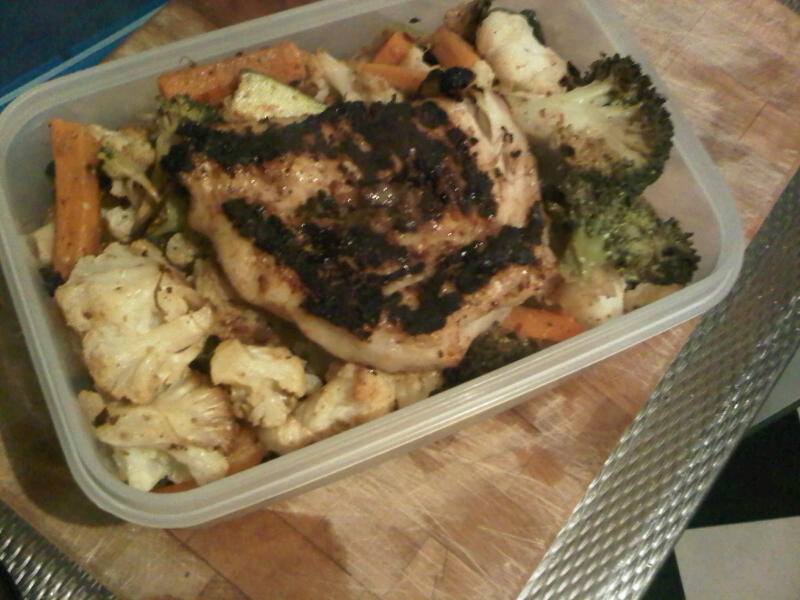 Thursday I worked from home and whipped up this beauty from my freezer: shrimp, frozen veg (what a shock, cauliflower, broccoli and carrots…) and some noodles I had in the cupboard. A little bit of olive oil, some salt, pepper and Moroccan spices and voila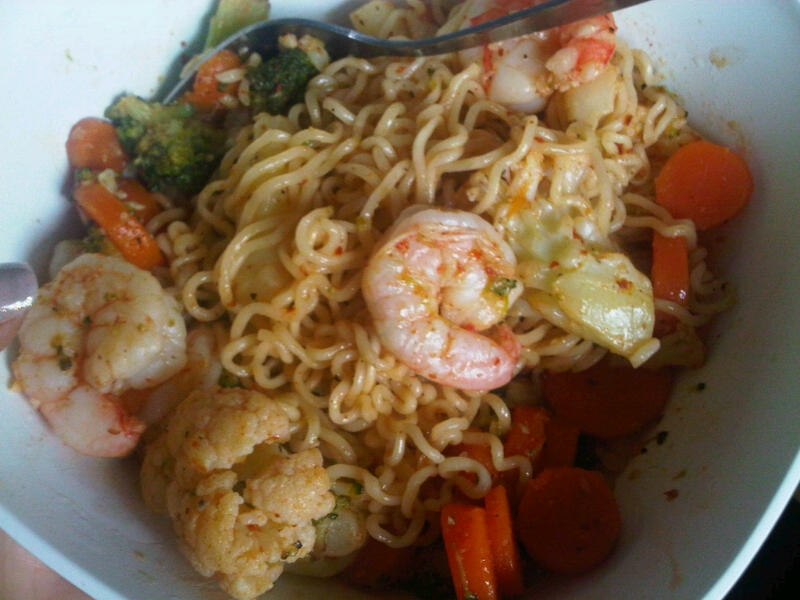 Dinner this week was not all that exciting. Twice I had soup and a sandwich. Once I had a Salad from the supermarket (to go – had it in the train). Once I had the pasta salad I tried last week and really liked (chicken, pesto, sundried tomatoes and peas):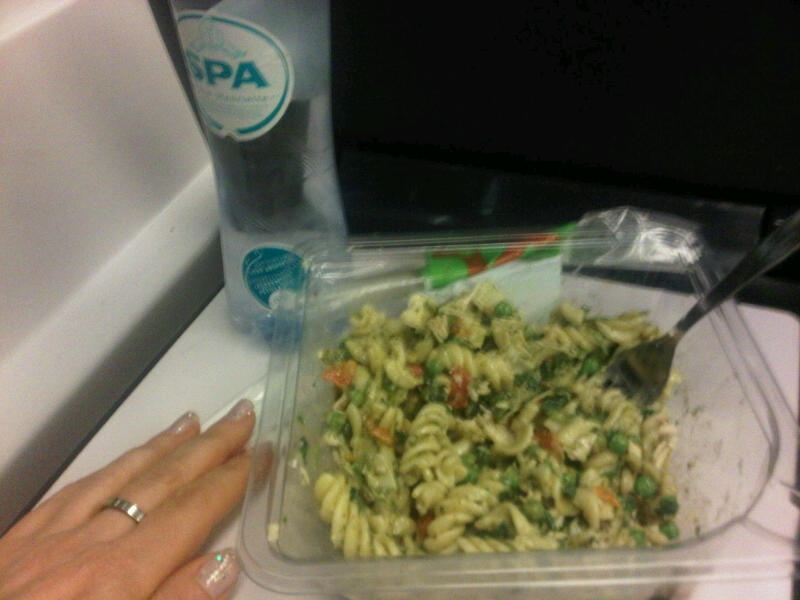 I did that so that the hubs and I could run when I arrived home. The night I had the salad I had been out with a friend and again had my dinner in the train. A lot of train meals this week.
So. Hmmmm. What am I going to eat next week!!