Our long weekend started like any other running weekend away, only this time we had Vincent and Wendy with us. We headed out early for the airport, and it was pretty much smooth sailing all the way to Warsaw. Once we arrived we caught the bus to Central Station and, because it was still fairly early (we couldn't check in to our apartment until 4pm) we stopped off for leisurely lunch before we uber'd over to get our keys (we uber'd a lot this weekend – it cost less than getting bus tickets for the whole weekend).
We settled into our apartment eventually, got some groceries and had an easy dinner at our digs for the coming days.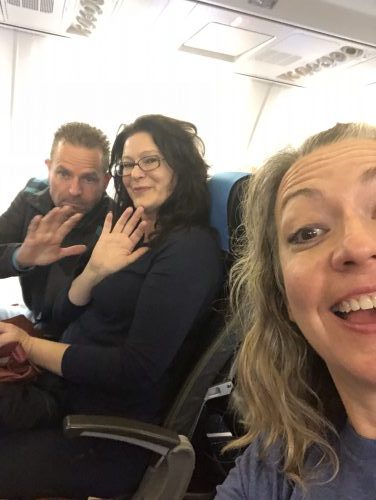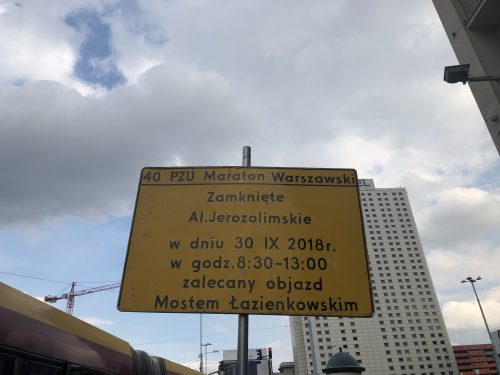 Park Run Saturday
We had already decided that we'd do ParkRun in Warsaw, that this would be our "shake out" run and afterwards we would head over to the Expo.
ParkRun was great! Everyone was so friendly and welcoming and we were definitely not the only non-polish people there! The sun was shining even though it was a bit chilly and I ran an exact 30:00:00 5K.  This never happens!  I felt so good though I just trucked along and went for it (It helped that I had a corticosteroid shot on the Wednesday before we left).  This gave me such a good feeling about the marathon.
The Expo was fun too – we easily found where we needed to pick up our packets and the expo itself was really good!  I had expected it to be small and maybe not so many vendors but it was so well organized!  Ron got a new Adidas jacket and I picked up some Honey Stinger chews and a few other gels to try out (not in the race, mind you!).  There was even a stand where you could print out some photos for free so we took advantage of that as well. Afterwards large coffees were in order so we stopped off at Caffe Nero to rest our dogs and get caffeinated.
We didn't do much else the rest of the day. Ron cooked our standard pasta dinner and we prepared for RACE DAY!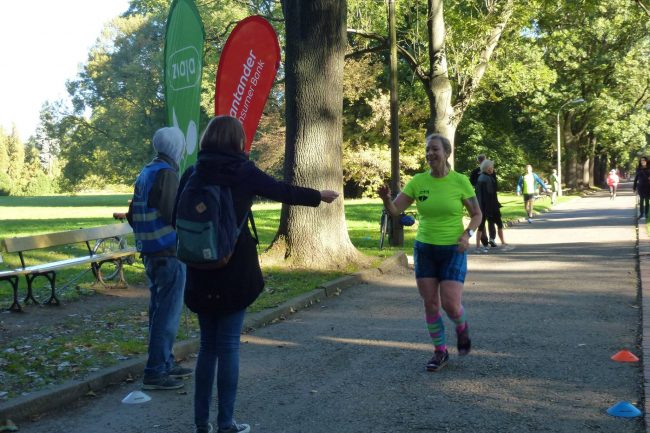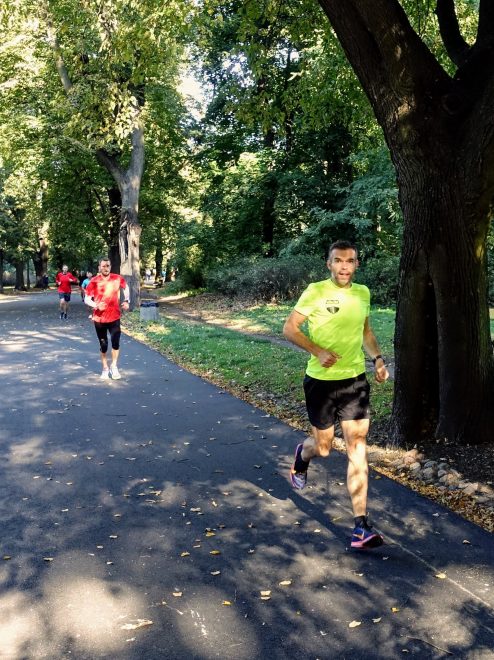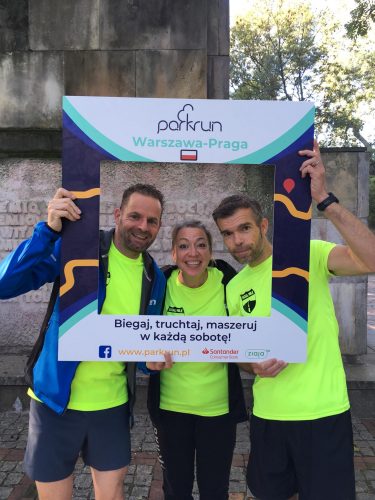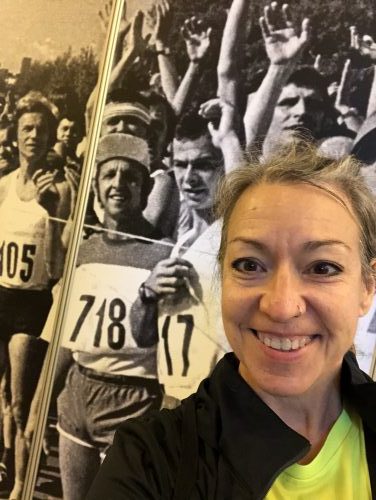 The Marathon
I didn't sleep that great but I didn't feel too bad.  As in, there was no indication that things would turn out the way they did. We were up early, had our race breakfasts, got dressed and got our bags ready.  We then uber'd to the start line and were there in plenty of time for porta-potty queues and locating our friend Natalie (from Berlin).  It was quite chilly but I had on my long PC socks, arm warmers and a thicker running shirt with shorts.  My hands were so cold.  I had to wait a bit longer than the guys because I was in the slow group (as per usual ,but no big deal!).  At this point I already wished I had brought a buff or an ear-warmer headband and I'd forgotten the "emergency blanket" (foil wrap) at the apartment.  DUMB.  Oh well.  Finally we started and the sun was shining despite the temperature and I felt pretty good, at least my foot and my legs felt fine!  Unfortunately around 7KM I had to stop to have a wee and while I was in the porta-potty I started sweating insanely!  I was still a little cold on the race course and wasn't sweating that much before the stop so this was surprising.  It was like a waterfall from the top of my forehead!   I got back out and started running again.  Not even a kilometer further my heart was racing but I didn't have my HR band to check on my heartrate.  In any case it did NOT feel good.  I took a gel and some (AWFUL tasting) water at the water stop.   I walked to calm down a bit.  I started running again and again this crazy feeling in my chest.  By the time I'd had another gel (around 14KM) my stomach was all over the place.  I couldn't fathom having more sickly sweet gels.  I took a cookie that some military guys were handing out around 18KM.  It was dry and AWFUL.  I could hardly choke it down.  More awful tasting water.  After that I didn't want any more water or gels.  I was walking a lot.  This was not going well at all.  Around 3 hours after the start I finally hit the halfway mark.  I didn't feel like I could do another 3 hours!  But I kept going.  More walking.  More jogging.   At just after 24 KM I thought, this is it, I have to stop, I won't make it like this.
It was an awful decision to have to make. I was sick.  I was freezing. I couldn't eat or drink anything.  I asked the volunteer and the policeman at that point to call medical for me (interesting that 1) they had no emergency medical supplies, not even a foil wrap and 2) they spoke zero English.  Um.  OK, I know I'm in Poland but if you want international participants, it could be handy to put at least one person on your stations who speaks even rough English).  The sweet volunteer got his jacket for me as he saw how cold I was.  Eventually the medics came and they checked me out (they spoke English).  Low blood pressure.  Low blood sugar.  No wonder.  I probably used everything I had in those first 7km to warm up (which never really happened).  They wanted to take me to the hospital!  I was freaking out.  How would I get to my husband and friends?  What about my bag?  What would happen?  I told them I did not want to go, to please just get me to my people and I would be fine.  They made me sign a waiver and had the sweep bus pick me up.
I felt really, really sad. This was supposed to be my come back.   Celebrating Vincent's 16+ minute PR and Ron's race (he paced Vincent) was bittersweet.  I wanted to be happy for them.  And I was, but I was really, really sad for me.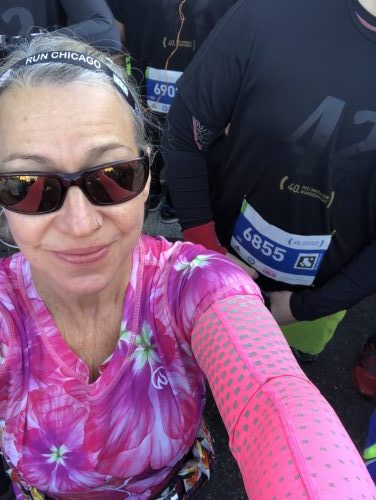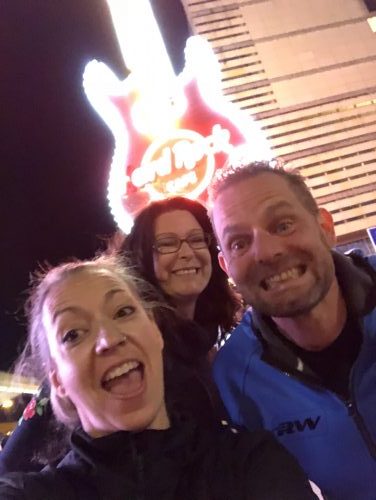 The Day After and Travelling Back Home
Monday was great. We slept in and spent some time being tourists.  I didn't feel too bad physically, just a lingering headache.  On Tuesday it was time to go home.  I'd already had to explain on social media what happened.  The thought of facing everyone and talking about it again just made me feel sad again.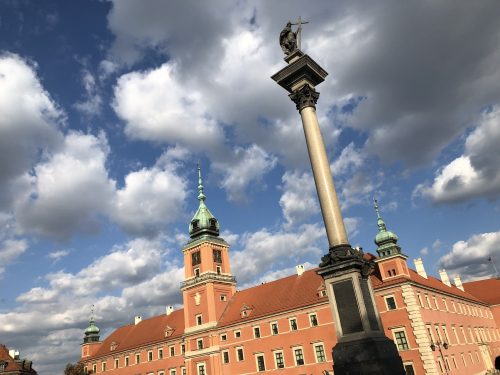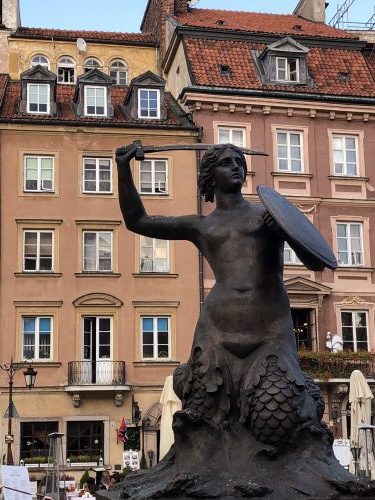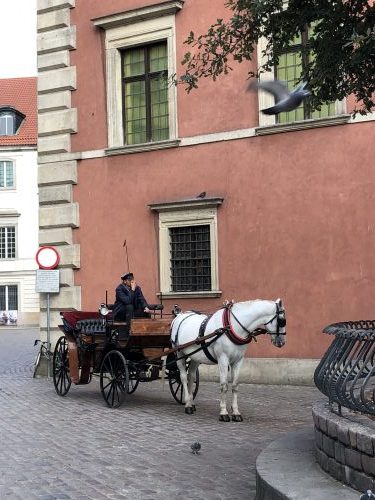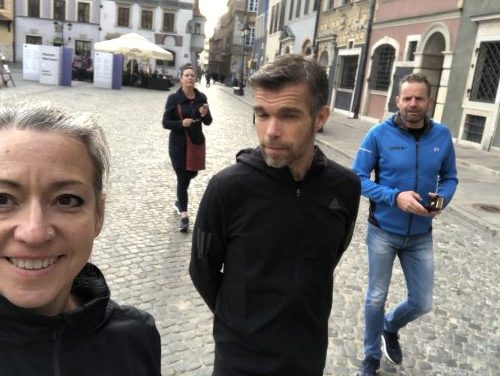 What I learned about my DNF
It's ok to feel sad. And angry.
It happens to others, you aren't alone
It's not the end of the world
It doesn't mean you are a loser or a quitter
Moving on as soon as possible is the best thing to do
Plan a new race as soon as possible and keep training (I'm not injured)
A week after the DNF. Ron and I went to run a Half Marathon event fairly close to home. It was cold and sunny again.  I felt nervous.  And, not gonna lie, I cried again before we arrived.  It comes in waves now.  The disappointment and the sadness.  And I was mad at myself – how dare I quit!  How dare I throw all that training away!  But I know in my heart of hearts I did the right thing.  I don't want to be the person collapsing on the course due to her own stubbornness.  Anyway, I finished that half.  And I'm moving on, discussing with my coach my next moves.
Have you ever had a DNF? Did you go through all the feelings?  Did you find another race to achieve your goal?