Happy New Year Everyone! It's the first weekend of the month so I'm linking this with Deborah and Coco for the Ultimate Coffee Date.    I actually forgot it was the monthly date (thought it was tomorrow…) but grab a cup of coffee anyway, or tea, or whatever you like and let's have a chat.
2019, People!  WE MADE IT!!  
If we were having coffee I would exclaim that the older I get the more time seems to fly by – is that a "thing"?  Anyone else experience that?
If we were having coffee I would tell you that I've been thinking about new goals for weeks – some I'd already decided, probably end of November, beginning December.  My foot and ALL the appointments I had and all the specialists I've seen for it last year were probably the biggest downer and I working really hard on acceptance and moving on (if you have been with me a while, you've maybe noticed I've not really complained about it much since around October) and while I still have to see a few more professionals on exactly HOW to move on, that will be done likely in the next month (I have a 2nd opinion ortho appt next week, the physio and the podiatrist also coming up).
If we were having coffee I'd tell you how excited I am to talk about my fitness goals for 2019 so not just running, but running is of course the Main Act.
Big Goal #1 – Break through ALL my race PR's (all achieved in 2015, same year as my first marathon)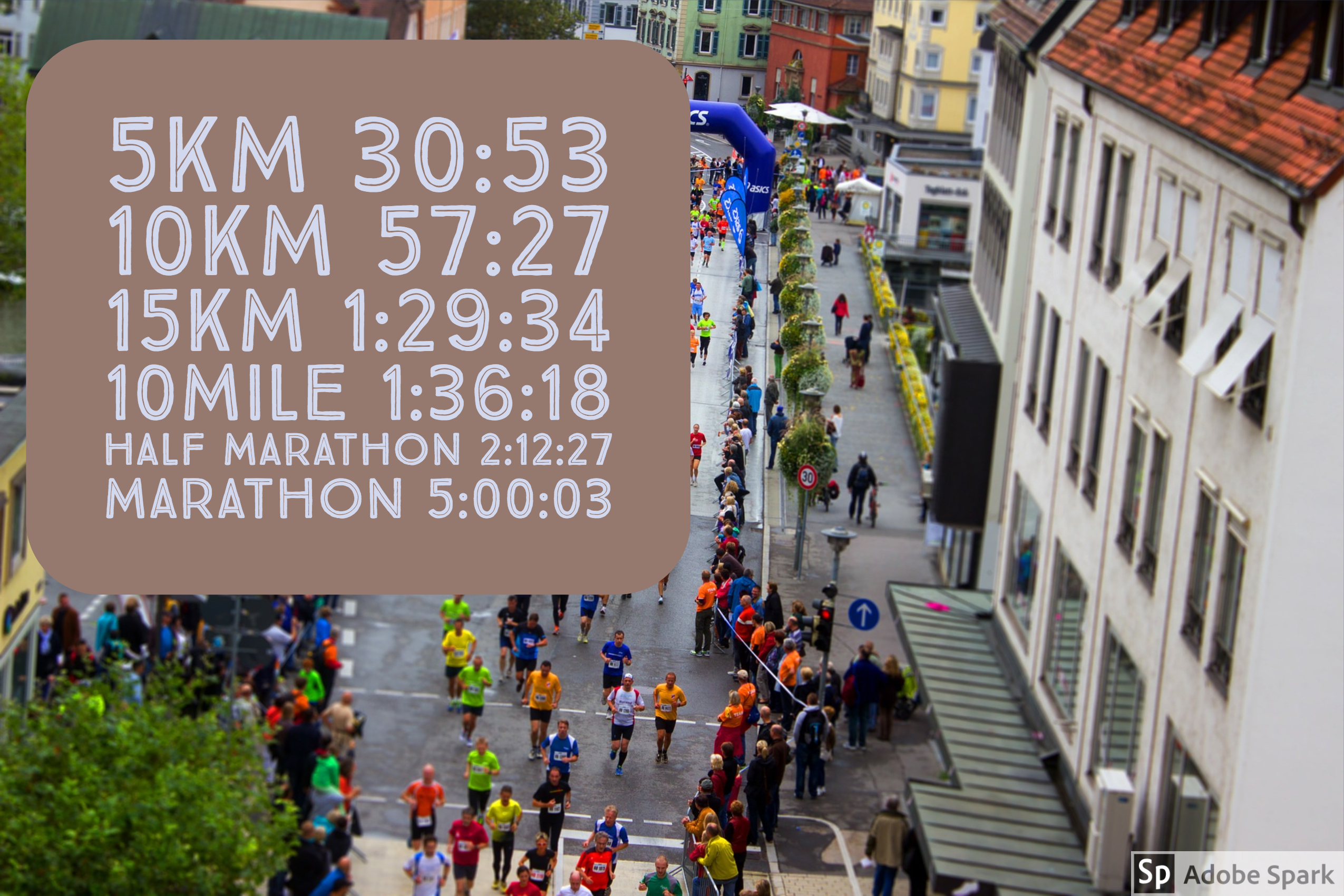 If we were having coffee  I'd ask you "Is this a lofty goal?"  YES, it is, at least I think it is. I mean really, should one ever go and try to beat every single one of their PR's in one year?  Honestly, this is my Big Hairy Goal and this is what I want to go for.  (On another note, I once had a therapist who told me "the should's in life are often worse than the shits").   Anyway in 2015 I wasn't even really trying and I broke all of these PR's (the marathon one I wasn't really trying at all – I planned on only doing one marathon, I ended up doing 4…  the 2nd one, at Liverpool was my best and still not under 5 hours – those pesky 4 seconds!!!) – can you imagine if I DID try and I actually TRAINED for that??
Technically I beat my 5KM PR already with pace but the course was only 4.8KM so it's still the plan to be the full 5KM time this year.
How am I going to achieve it?  Simple – Training, training and more training.  I'm going to take my training just a bit more serious this year.   Also?  If we were having coffee I'd say see the next big goal…
Big Goal #2 – If I want to be faster I need to lose weight.  Period.  I know many who read my blog don't even focus on weight loss so I'll apologise in advance for boring you with this one, but it's important.  i need to get down to the racing weight advised by a sports physician to me after my last exertion test.  But this isn't a lose weight only quest – this is about becoming fitter and stronger.  This is about strength training and fat loss. This isn't to look good in a bikini (don't care at all about that) or having a great booty (my caboose is just fine the way it is regardless of size).   This is purely to become faster.  I have experienced it before and I will most definitely experience it again, this year.
How am I going to achieve this?  By consistently logging my food in my WW app and making choices that reflect my goals.
Other Goals I'd tell you over coffee
Try something new at the gym – there are a few things that interest me and I will be tackling my insecurity of trying something new very soon.  I generally have liked everything I've tried so it's time to pull my big girl panties up again.
Learn yoga, even some basics and practise – I have found a few you tube videos but if anyone  has any suggestions on how to start here at home, I'm all ears.
Use stairs at home – it's kind of ridiculous that we always use the lift in our building when it's only 4 floors we have to go up.
Fasted Cardio 2 x a week – Years ago I was able to get myself up early to work out, I'm inspired by Kim and want to pick this up again.
No Junk at work – No Brainer.  I have to give up the junk at work if I'm going to stay on track for my losing weight goal.
Not coincidentally, my word of the year is CHOOSE: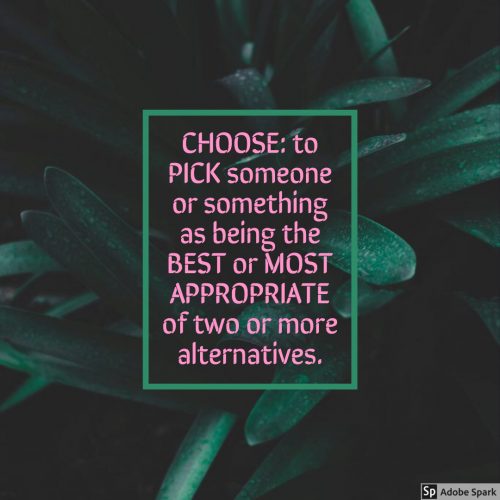 If we were having coffee I'd admit to you that most of the choices I will need to make are with food – so already by saying "no" to junk at work I'm making a choice that keeps me on the path I want to be on.  There are other reasons for struggling with weight loss and not eating the things which add value to my fitness and health – mostly this is social pressure, emotional comfort or convenience.   So, here's where I'm also going to become stronger each time I choose something else in these particular situations.
Over coffee I'd share with you that I'm using an app, by the way, called Simple Habits and being able to check off each day completed gives a great feeling – it's really the little things that help me in a big way!
The last thing I'd mention if we were having coffee  is that I have other non-weight and fitness goals for 2019 as well, just like I had for last year.  Savings and home de-cluttering continue and my 2019 race calendar is already ridiculous!  I'm definitely going to expand on that later.
So what would you tell me over coffee?  Have you started off your year by deciding your goals?   What's one Big Hairy Goal you have for this year?  Do you have a word of the year? Do you use any apps to help you achieve your daily goals? 
I'm also linking this with 
Meranda and Lacey
 for the 
Friday with Fairytales and Fitness link-up.