Things are changing rapidly for everyone at this point and it's definitely affecting my mental health. I'm not "worried" for myself, I am worried for others and also find it difficult to grasp the changes each day. As much as I want to keep up with my daily plan it's emotionally and mentally draining. That means I didn't really do much this week. I'm sure it's understandable.
As this is the weekly run down, I'm recapping the week a wee bit late. Hopefully I'm still on time for the link-up.
Deborah and Kim are the amazing hosts for the Weekly Run Down! Feel free to join in as well to wrap up your week in fitness!
WEEK 31
Plan vs. Actual
Monday – 3.25KM walk, GLI gym 1 hr intake – no workout (appt w/different PT), 3.5KM biking
Tuesday – 3KM walk (office day) to and from train station
Wednesday – 3KM walk, W6R1 run, 6KM, GLI 1 hour, gym 55 min
Thursday – 2.22KM walk, gym
Friday – 2.75KM walk, W6R2 run , gym 55 min
Saturday – 2.5KM walk, parkrun in Alkmaar 5KM, 17/17 Dutch parkruns done!
Sunday – 2KM walk, long run W6R3, 1.4KM w/u walk, 10KM run (!!!)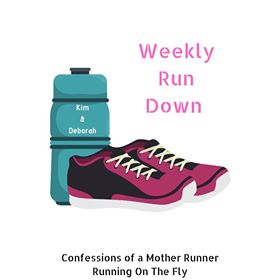 Actuals This Week
Monday – I contacted my Pilates instructor to express what I was feeling about the class. I asked her if she knew if anyone had been to the North of Italy over the past month or so. She was sure no one had. I asked if they would be turning away students who showed up sick, she assured me she would. The issues I had with going to class were 1) My instructor lives in Brabant, the hardest hit province in the Netherlands and 2) the room is quite small with 10 people participating in the lesson. Ultimately I decided to go, but was still slightly hesitant. In the end it was ok. I hope anyway. I suppose I won't fully know for another week or two…
Tuesday – I worked too late to get to the gym for RPM Sprint so I just went for the normal class. Vincent and I got the bus up there because Ron had an appointment with a personal trainer at 6pm so he was already there. There were definitely less people working out, plus there was still some construction going on. I once again witnessed people not cleaning off machines so I complained about it later. I mean, seriously, people, we are even at the beginning stage of a pandemic and you are not wiping down the machines!??
Wednesday – more late working and not in the mood for anything by the time I got home. Even when a run makes me feel better I just couldn't get up the motivation or desire to do so.
Thursday – I had a pretty crappy night of sleep so I did NOT make it out of bed to do any spin session. In the afternoon there was a press conference from the government regarding new rules we needed to adhere to in the current state of affairs, which included working from home where possible. My company still had to deliberate if this was going to be something we would do or not (ugh). The news about Spain was more and more at the forefront today as well and knowing my parents were going to be in Malaga on Friday I was really becoming concerned. Madrid, Bilbao and San Sebastian were the worst hit areas and Malaga was still "green" on the travel advisory map, but for how long? Very stressed today and not doing well mentally at all. On top of this I still had to go to my massage job. Armed with lots of hand sanitizer and disinfecting wipes I went ahead with my appointments.
Friday – Ron's company said everyone had to work remotely, my work is slightly different based on what we do and our VPN connections but we still needed to work out a schedule of who goes in and when. Luckily I was off so I could focus on my parents situation instead. I had an appointment in the afternoon with a Homeopathic doctor (more on that later) so that was at least some distraction. My parents arrived safely from their cruise into Malaga which was slowly becoming a ghost town. On the travel map they were still "green" and I figured if it stayed that way we would still go there, at least to see and be with them. The situation in NL was still evolving and I was still feeling very uneasy about everything. Even Ron didn't feel like doing anything, so both of us stayed home.
Saturday – time to do something, at least get out of the house. parkruns are cancelled nationally until at least until the end of the month and that included our test runs (so we also won't launch in april). The gym posted strict rules about hygiene and cancelled all group classes. We went to the gym in the morning as we figured it would also be pretty quiet. And it was. I was happy to burn off a bit of crazy.
Though it was all about social distancing since Thursday, we made the decision to still meet up with a few people at the Food Hall for drinks and food in the late afternoon. There were 7 of us in total with no physical contact sitting at a huge table with loads of space between us. Needless to say the conversation was a bit shouty but, you gotta do what you gotta do, right? On the one hand I felt slightly bad for being out and was afraid I'd be shamed for it. I was surprised to see how busy the Food Hall actually was.
Sunday – I had a super long lie-in. I'm just exhausted and needed the sleep. I was planning on going for a run but just didn't feel like it. I've been talking to my parents for the last couple of days as they have been scrambling to find a way to get OUT of Spain. So really my energy and focus has been on them. Eventually Ron went for a run, but I just chose to stay in.
Coming up Next Week
Well, this week really…
We're almost completely on lock-down. As of yesterday all cafes, restaurants, bars, gyms, sport clubs (and sex clubs hahaha!) are all closed until at least the 3rd of April. So my gym is shut and my pilates is shut down. I'm working in the office this week ONLY on Tuesday and Thursday and our VPN is completely overloaded so it's hard to work from home during the day. We will likely have more restrictions soon but how strict, I don't know.
We definitely also have travel restrictions and my trip to Malaga is obviously not happening now (and I'm pretty much out ALL of the money so far, which sucks, but yeah… I get it). My parents made their flight from Malaga to Barcelona and from Barcelona to Dublin by the skin of their teeth, which I'm so relieved about. I'll be happier when they are out of Europe though.
I am winging it right now as far as exercise goes. Though I know for my mental health I need to do something because this is affecting my greatly. I feel very upset about everything and I want to let go of some of that because I know much of it is out of my control. Deep breaths, right?
In any case I'm not doing any more massage work until at least the first full week of April, unless these kinds of jobs have to temporarily stop as well.
My appointment with the Homeopathic Center
Ultimately, the jury is still out on this one. I went there to get some alternative help with the menopause thing; I don't dare to even try to get an appointment with my GP right now since I'm pretty sure they are busy with other things at the moment.
Mostly my appointment was an intake. I'm not against alternative medicine but it felt pretty crunchy, plus I expected the doctor to ask me about things that were mentioned in the letter I received from them -like the list of supplements I take, medicine, results from my labs, etc. She didn't ask for any of that. After an hour she gave me several pills in a tiny baggie and told me to take 1 that day, 1 the next day and then 1 each week until our next appointment. The "medicine" is Sepia. Anyone heard of it? If nothing at all changes, I'm not going to the second appointment. As it is my insurance only covers EUR 40 (which means I"m out of pocket EUR 102) so this could be just another thing I throw money at that doesn't work. I am so frustrated.
That's a wrap!
I apologise that I haven't gotten to comments and have been off social media lately. I miss you guys! I just don't want to project too much "negative" online. It's hard. People are still so judgemental (not you guys. you know what I mean, I hope).
Have you ever tried homeopathic treatments? Heard of Sepia before? How are you feeling? Nervous?
Charlie Says "Please stay safe and exercise good judgement about socialisation. We all have to make good decisions now. We are all affected. I hope everyone stays safe and if you do get sick that you heal quickly"