2018!  We made it!! Happy New Year Everyone!
Not only is it the new year it's the FIRST Friday.  That means my new attempt to do the FRIDAY FIVE!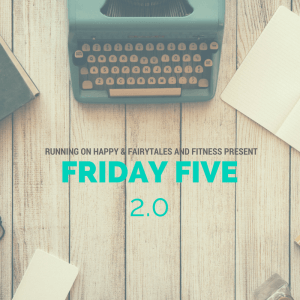 If all goes well I'll be linking up each week (uh, every other week? occasionally? we all know my track record!  but I can CHANGE, I swear!!)  with Running on Happy & Fairytales and Fitness for the Friday Five 2.0 linkup. Be sure to also visit these amazing bloggers as well for all Friday Fives and general badass inspiration.
This week my topic is  GOALS and RESOLUTIONS.
If any of you have followed me for a while you will know I'm not a huge fan of resolutions.  BUT… that said I do feel inspired at the beginning of the year to have something in mind to focus on.  My goals and resolutions are not all fitness and weight related.  And as a quasi-fitness/health blogger (with a side of sports massage, travel, moaning and expat things thrown in) I think it's important to be healthy in all areas of your life.  If you let one suffer, the others will follow. You are only as strong as your weakest link.  Or something like that.
So here are my five (uh, six) GOALS for 2018:
Really have a savings account.  Let me explain:
I HAVE savings, I usually use it for travel, extras, and the like, but lately it's been kind of on the low side. That's because a few trips last year cost more than planned so, I've been back pedaling a bit. I don't want to do this anymore. We have Boston to think about so we have re-budgeted things and have even bought saving stamps at the grocery store (EUR 49 spent gets you EUR 52 at redemption, in some cases better than savings account rates). My plan is do save my income from sports massage instead of spending it. Only spend from that should be for anything to enhance my qualifications. Also I will have less credit card spend. Has to be done. OK maybe only a few pairs of ProCompression socks this year but that's it!  If I can get it together then I may even be able to do the Rock 'n' Roll Las Vegas weekend…
De-clutter our apartment.   The Step-Daughter is now studying  and living in another city and she has a boyfriend.  That means she is not as often at our place and her room can be cleared out and used for a better purpose (she's always welcome and doesn't mind if she sleeps on the pull out couch).  The Step-Son also is here less – he does much better with a routine and coming here every other weekend wreaks a bit of havoc on his PDD-NOS brain so for now he can come when he likes but usually that won't be a whole weekend.  He's getting older (almost 17) so he's focusing on school, working and getting his own life as well.  His room also needs to be cleared out and set up for another purpose.  De-cluttering will also mean our storage unit and paperwork.  In general I want to get rid of stuff we are not using, find a new home for it or toss it (anyone want to buy a bunch of Starbucks mugs or Hard Rock Cafe Pins? No? Bummer).
This one is going to sound easy – 10K steps EVERY DAY.  No excuses.  You'd be amazed the days I don't get the steps in.  That's because I don't take a break at work or I don't take the stairs or I don't park far away from the entrance of wherever I am going.  10K steps per day will make me take that break at lunch, will keep me moving and not sitting too long at my desk or laptop or couch watching a Friends Marathon on Netflix.
No Junk At Work I'm only there 4 days a week, surely I can manage this.  The thing is, I'm a stress/emo eater and in times of stress (or boredom) I will go for the chocolate, the cake, the whatever is available and that has to stop.  A little discipline will go a long way.  I'm not saying no junk, ever.  I'm saying cut the crap at the office.  Half the time I don't even LIKE what I'm eating.  So.  I need to focus and remember that I am stronger than a brownie or a piece of cake.
Get back to 70KG.  Broken record time. I can't even with myself anymore. No junk at work will help, but mostly the discipline needs to be in place and that's what I was missing last year.

BONUS GOAL

–  try new classes at the gym.   I tried spinning (LOVE it), I've tried the circuit training (Quads are still on fire) and I want to do a few other classes that are on offer.  No need to feel like a n00b, time to stop caring about what other people think!!!
I had a revelation this morning as I was reading about the WORD that people have chosen for themselves for 2018.  Mine is definitely FOCUS.
Focus on what I really want –  a stable financial situation, less distraction, more quality, fit body and mind.
What are your goals and resolutions? Have you thought about a word for the year as well?  If you are having trouble coming up with goals check out these two posts on goal setting:
Setting Goals for the New Year
Four Tips for Creating and Achieving Running and Life Goals in 2018
Here's to a fabulous, fit and focused new year!!