I know that most everyone has now had summer holiday, kids are going back to school, everyone is getting back into routine… so now it's time for me to be on vacation!  So far I'm still at home but there are a few things going on in the next 2 weeks!  I won't be sitting around watching Netflix! (Ok maybe one or two days haha!)
On a pretty serious note I just want to mention I'm sharing this song with you this week in dedication to my friend Lucy. Four years ago she made the decision that she was done with life. She was 26 years old. I had no idea there was anything wrong, though if I think back (which I have done on more occasions than I can count) I suppose I can uncover something somewhere that was said or done, something I could have said or done, but most people who commit suicide don't do so on a whim. Likely this was with her for a long time and possibly she had already tried before. I can't blame her or be angry for leaving, but I am impacted pretty deeply by her death. She wasn't even a fan of Rihanna, but she was an exceptional person – I often think of her shining bright like a diamond in the night sky. I don't know if any of you have any experience with someone you love committing suicide – personally I find it harder to deal with than when someone is ill or dies from old age.
OK.  Death is part of life, right?
Let me tell you about  Week 33: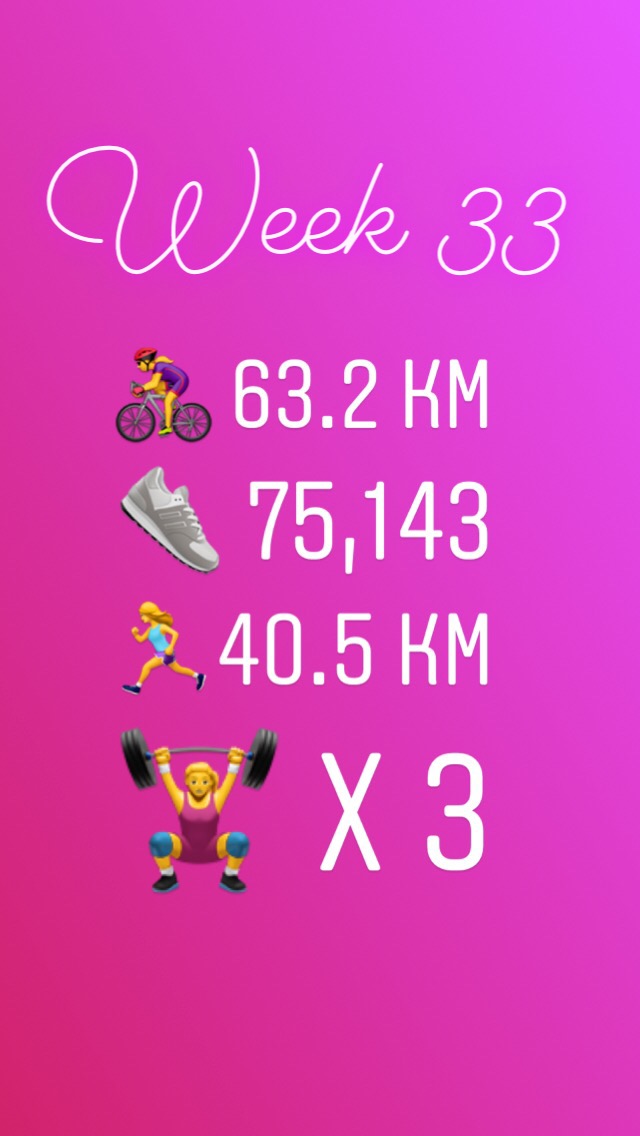 Plan vs. Actual
Monday – Rest or RPM  RPM with Vincent
Tuesday – Runiversity Training 5.45KM with Runiversity 
Wednesday – SocialMile Birthday Run 8KM with SocialMile
Thursday – Bodypump Bodypump
Friday – Massage clients + Runiversity Massage Clients, skipped Runiversity
Saturday – RPM + massage clients RPM + massage
Sunday – I *think* I have 14km on the plan 18KM was on the schedule
Basically this week was pretty much to plan, I think it's the most I ever went to the gym since I joined (have I ever been 3 times or more??  Really don't think so).  So funnily enough not a lot to report!  If my quads had an ass, RPM would be kicking it, Bodypump is killing my quads and hamstrings!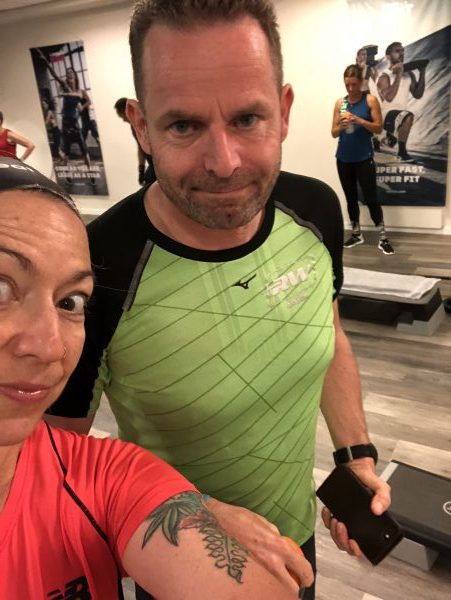 This week also was my 24 year anniversary that I've been living in the Netherlands.  I wrote a post on Facebook about it –  it's not always easy to live in another country, it's not glamorous or anything like that;  it's hard sometimes and I miss having really close friends.  I miss my best friends and I just don't have that level of friendship here.  Not that people don't care, because they do!  But it's different and very hard to explain.  it's a different culture here.  It's similar enough to adapt fairly easily, but when it comes to close friendships – it's tough.  I've even heard from other Dutch people that just moving from one side of the country to the other poses this kind of problem for them too!  Anyway I'm still glad I took the leap and came  here and then somehow found the cajones to stay!  And I was only going to stay a "few more years" – haha!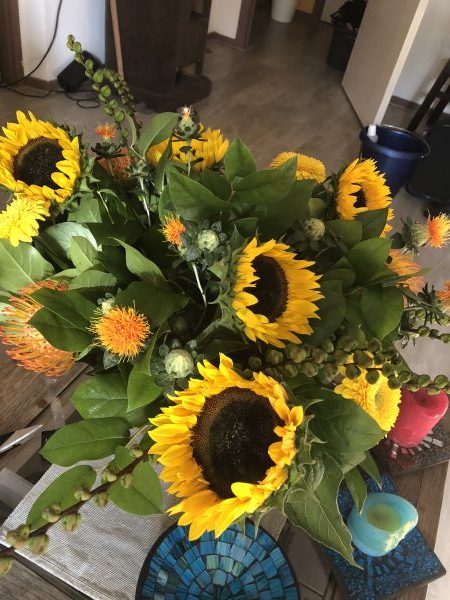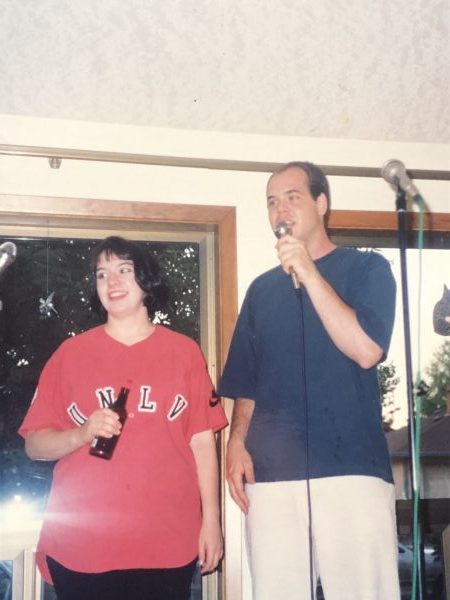 Running+Cycling
This week was pretty decent.  On Tuesday it was just Martine and myself (usually it's me, Martine, Georgette and Suzanne as the "B" group) since the others were on holiday.  Chantor (my trainer) adjusted the training for us a bit and we ended up doing 400m intervals "reactive"  – so basically not fully flat surfaces, lots of corners and a few ups and downs, but the point was to stay at the same tempo the whole way around.  It was tough and my heart rate was through the roof, but I felt pretty good about staying consistent.  Total was 5.5KM.  I biked there and back (plus to work) so that was a total of 19KM.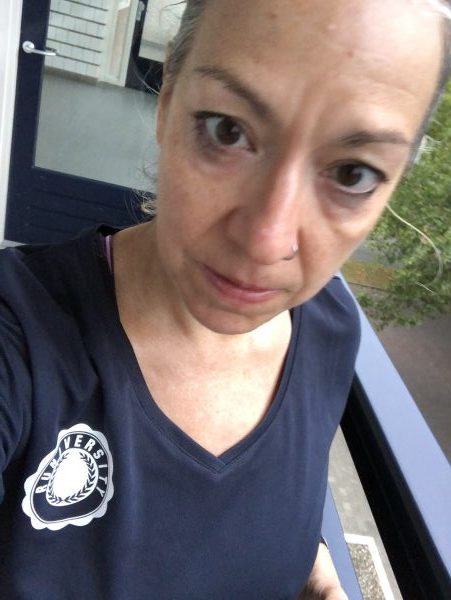 Wednesday was the 5th anniversary or my running club SocialMile!  We joined 5 months after they started up and ran every Wednesday for probably 2.5 years.  I only run occasionally with SocialMile – that happened went I started my school for Sports Massage and I couldn't fit everything in, plus I was struggling with my foot.  I ran my first marathon with SocialMile and still see many of the members regularly.  We had over 50 people come and join the run for the celebration!  CRAZY!  We pretty much ran all over town, up hills, into Sonsbeek park, even down in a part of the underground cellars in the city center!  After 8KM running we celebrated at Helder Cafe (our meeting point) with cakes and beers and yummy deep fried Dutch delicacies!  Total biking (work, to the run) 12.4KM.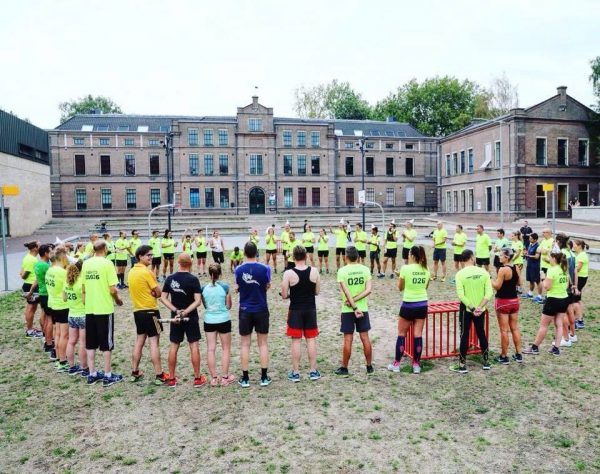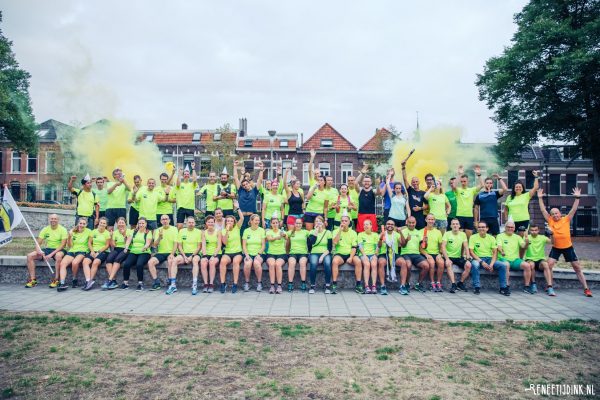 Friday I had clients all afternoon and I was kind of beat so I ended up not going to Runiversity.  Rather I did my intervals on the dike behind where I live.  I was supposed to do 8 x 800 with 200 m rest but I was really struggling.  I ended up with 6 x 800 and the last 2 I did with more than 200m in between.  I am not trying to get out of my training, in fact I really try to push myself with the shorter runs, but I just couldn't do more than I already did.  (I did BodyPump on Thursday +  Massage = pretty tight calves and hamstrings)   So I decided to stop, take a breath and just appreciate being outside while the sun was going down.  Total Run:  9KM, Total Biking 10.4KM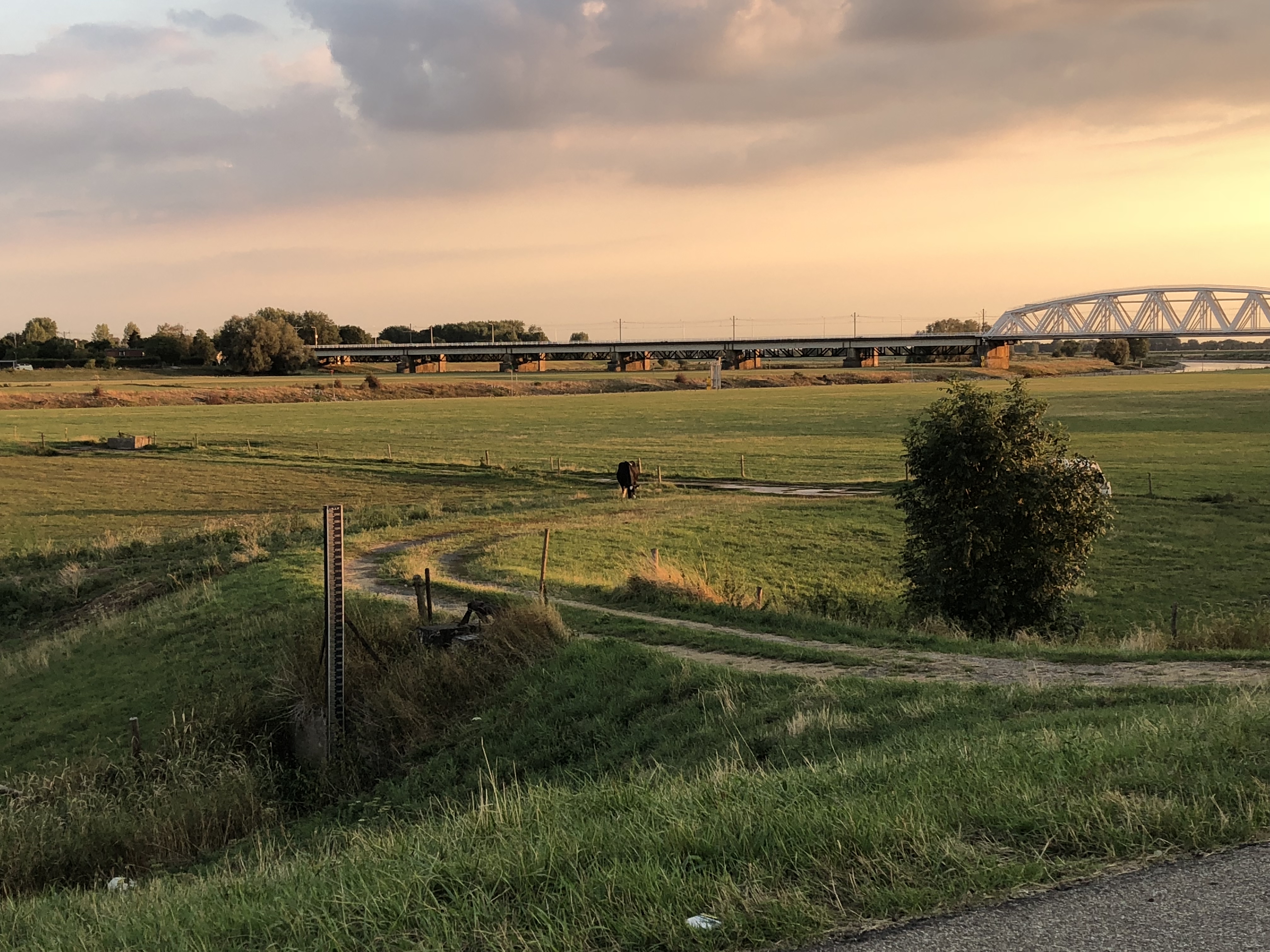 Sunday  – Ah, the long run.  It's kind of the same story.  Though I did sleep in and my foot felt pretty ok (Ron massaged my foot AND I did an epsom salt foot bath Saturday night);  I just don't think I'm fuelling enough and I DON'T KNOW HOW TO FIX IT.  Ugh.  This is the thing, try to lose weight, eat less (carbs), continue the same amount of workouts – there is just not enough energy.  So I'll continue to work on that.  I have to say I enjoyed my run though, I mean the route of course!  Kind of amazing too that I can run 18KM in my small city and not actually leave the city!  I went back into Meinerswijk – No wild horses today though! Plenty of cows though, ha! Total 18KM.   Of course we had our dinner and ice cream out Sunday night – we skipped the pizza this time and hit up our favorite Greek restaurant.  we haven't been for a while and thought it would be nice to go back. And it wouldn't be Summer Sunday without the ice cream right?  (that will be over, after marathon training…)  Total Biking:  6KM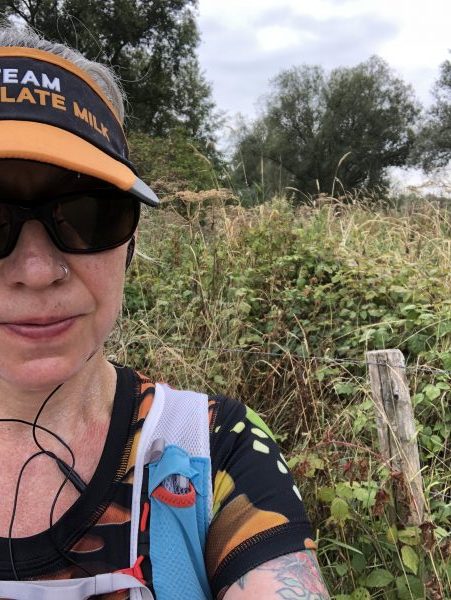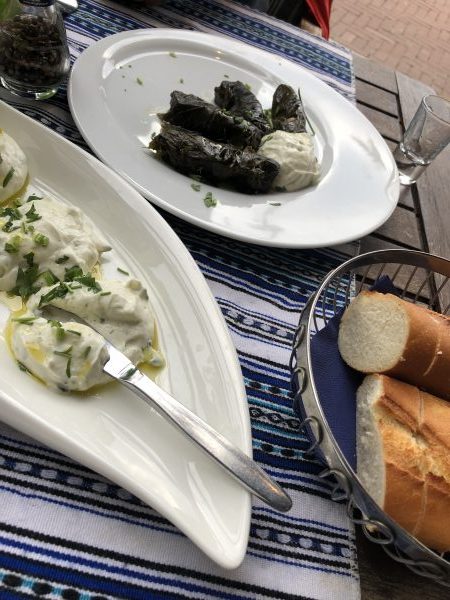 On that note:  Weight Loss this week -100g.  Still maintaining!
Totally Random
I've had my hair up all summer almost.  I just realised how long my hair is getting again!  Time for some color or something though me thinks!  What do you think? Pink? Blue? Green? Chop it off and accept I'm an old lady?  HAHA!!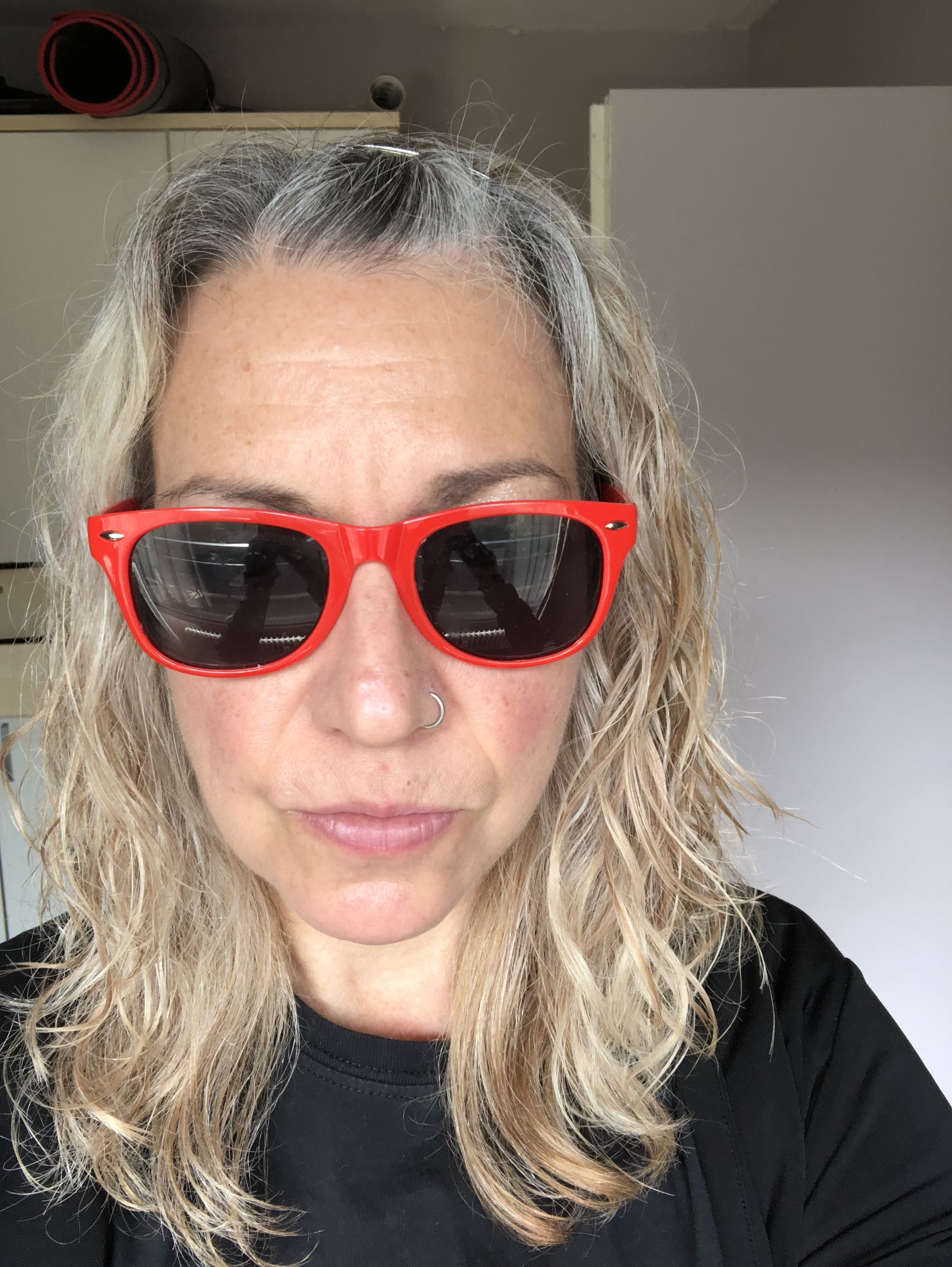 Week 34 Plan
Monday – rest or Gym
Tuesday – Runiversity
Wednesday – maybe go to the gym
Thursday – rest
Friday – travel to Hamburg
Saturday – Ragnar Relay
Sunday – Ragnar Relay
How was your week?  How are your long runs going?  Anything exciting happen last week that I missed??