Deborah and Kim are the amazing hosts for the Weekly Run Down! Feel free to join in as well to wrap up your week in fitness!
WEEK 31
Plan vs. Actual
Monday – 3.25KM walk, GLI gym 1 hr intake – no workout (appt w/different PT), 3.5KM biking
Tuesday – 3KM walk (office day) to and from train station
Wednesday – 3KM walk, W6R1 run, 6KM, GLI 1 hour, gym 55 min
Thursday – 2.22KM walk, gym
Friday – 2.75KM walk, W6R2 run , gym 55 min
Saturday – 2.5KM walk, parkrun in Alkmaar 5KM, 17/17 Dutch parkruns done!
Sunday – 2KM walk, long run W6R3, 1.4KM w/u walk, 10KM run (!!!)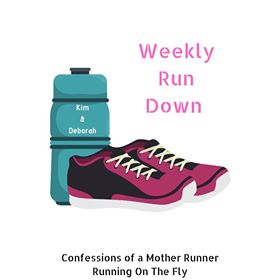 Week 8 of 16 Chicago Marathon training is a done deal. I'm halfway and I feel about a quarter ready to take on the distance. I'm not going to dwell too much on the negative that I feel, because I know it does not help me. Pushing onwards. You know how you shouldn't compare yourself to others? Well you shouldn't compare yourself to you either. I spent too much time these past couple of weeks thinking about training in 2015 and how well it went before I started this marathon distance journey. And back then i had issues with my foot (surgery was 2016) and I even had vertigo that year (from stress). I weighed less and I could run long without taking so many walk breaks. But I am not me, then, I am me, now. This new week coming up I'm going to remind myself daily, hourly if I need to that I am enough and I have the tenacity to get through this. The reward is crossing that finish line in my number one choice of US marathons. Focus on the dream and make it a reality, regardless of pace!
This Week In Fitness
Monday – 30 min recovery run, 15-20 min strength at home (may actually ride again to find a route for Sunday) NADA
Tuesday – Intervals; 3 x mile repeats (@6:00 pkm) / 300m rest ZILCH
Wednesday – 30 min easy run, Bodypump intervals from Tuesday
Thursday – Intervals; 6 x 1000's (@5:50 pkm) / 200m rest, RPM Sprint (maybe)
Friday – REST – once again NAILED IT (did do a leisurely bike ride)
Saturday – Long run 2:45 (23ish KM) – actual 21.75 (had I known I'd gone for the 22 but I need to set up my watch differently
Sunday – REST but maybe Bodypump
It rained A LOT this week. Completely threw me off guard. I know I should also take a look at the forecast a bit but I just assume if the day starts out ok, there won't be a torrential downpour later. Then I remember I live in the Netherlands…
Monday I wanted to do a long bike ride after work. However it was raining pretty hard by the time I got home. It was also another stressful week at work; we were down to the two of us in the team to manage everything with two others being on holiday. I'm so over summer vacation season. At least when I was gone three weeks, my three colleagues were still in the office! I actually had to ride home in a downpour from work, didn't even have a jacket with me (when will I learn??) and within my 10 minute commute was soaked to the bone. No run, no ride.
Tuesday – another long day at work, got home later than usual again, got dressed to go running and pretty much the minute I wanted to leave the heavens opened up again. It didn't stop until 8pm and at that point I was just in for the night.
Wednesday actually looked at the forecast and packed my bag for a lunch run. I really wanted to get my intervals done from Tuesday and pretty much nailed it! Today's run gave me hope! Well, most interval running gives me hope. I had to be at work early (around the 14th/15th we have a special morning process) anyway and was "done" with my morning stuff by 11 so I headed out to the park to do my mile repeats. The weather was perfect; a little bit cool but the sun was still shining. I did end up working late again, so no further activities after work. 8 KM done.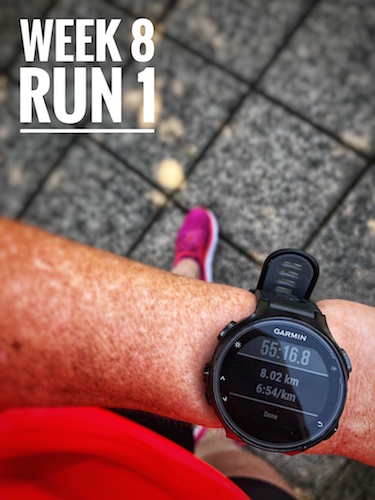 Thursday – a somewhat normal day at work; was going to run again at lunch so I could hit the gym with Marie-Jose after work but it was already raining in the morning so I benched that idea asap. Also ended up working late again. Then I had to go back out and drop off a key to one of my massage colleagues. Ugh. No wonder I'm so drained! I got home and Ron was waiting for me to do intervals. I actually was thinking of postponing until Friday and he was like 'No! I'm waiting for you and we are going to do them now!" OK COACH, SETTLE DOWN! haha! Another great session of 1000's with 200 rest. He paces me so I don't have to look at my watch to see if I hit my target. For him it's an "easy run" of course! 10KM total running, almost 6KM extra (over regular commute) biking.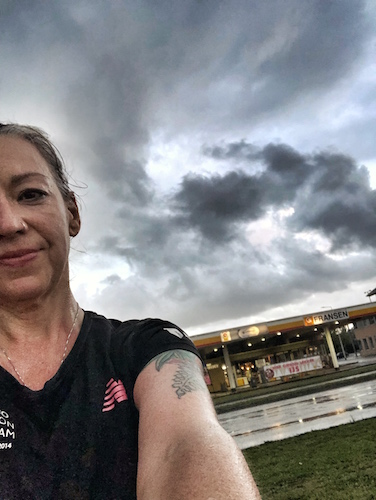 Friday – REST. Had my mammogram in the morning. It was not as bad as I had built up in my head but definitely not pleasant. Now I wait two weeks for the result. Later in the day I biked 13KM with Ron while he did his tempo run.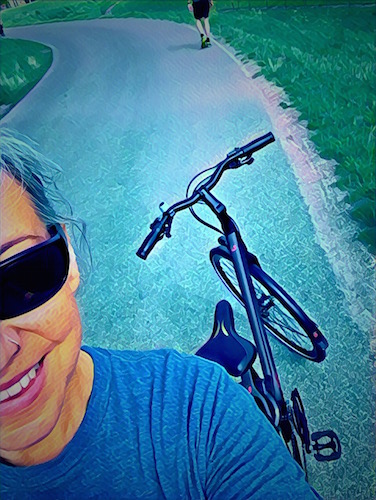 Saturday – I didn't sleep that well; I woke up at 3:30 and couldn't get back to sleep for an hour so I extended my alarm an hour. Really wanted to get out before 10am but yeah, it just wasn't meant to be. My run was for 2:45 and the rain was supposed to hit around 1pm, so I'd be just in time. Well, the rain came much earlier. And it was miserable. The first 8KM went really well. So well I thought this was finally going to be my day. With the rain and the wind (the kind of rain that just blows directly into your eyes) I just couldn't keep pressing on. You'd think that'd be an incentive to keep going! But my legs also weren't having it. Eventually we made it back and I hit 21.75KM. My watch isn't set up properly so I didn't know the total. Bonus: I thought I was at 21KM. So, there is that, haha! Got home, showered (I was also freezing at this point) and then laid in the bed for an hour (again with a cat on top of my chest). Rest of the day I pretty much did nothing.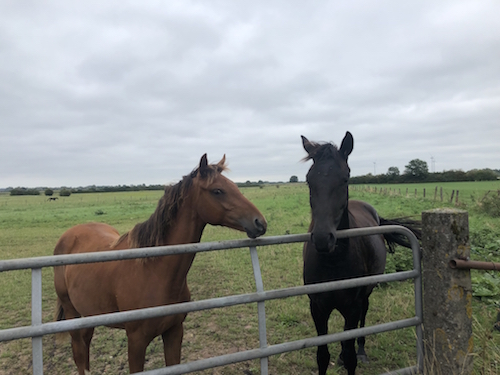 Sunday Marie-Jose did ask me to go to bodypump with her but I feel like I need the rest. Also promised my colleagues these cookies to celebrate my 25 years in the Netherlands. Going over to Gerrit & Marcel's place later for dinner. So, just a nice, relaxed rest day for me.
Fun fact: when you celebrate something in the Netherlands – birthday, anniversary, whatever – it is customary that YOU treat your friends, family, coworkers (whatever is appropriate for the celebration) to treats. My 25 years in NL isn't necessarily something I would be expected to celebrate (and I hardly conform to expectations such as birthday parties, etc) but for me it's a pretty big deal. Being that I don't have a huge friend circle that live near to me, and I don't have my own family here, my colleagues get the benefit of my celebration. Not sure they will be arguing against it haha!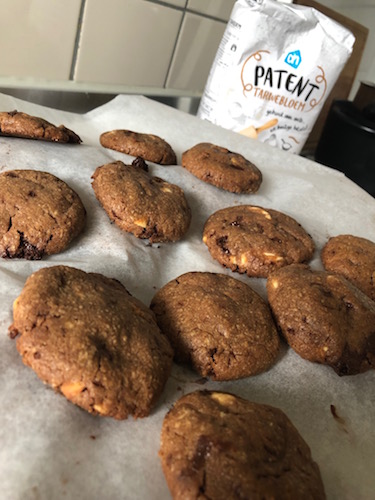 This Week In Numbers
Biking 36.5 KM (commute, 2 extra rides)*
Running 3 x total 39,75KMS
Gym didn't make it
Steps *86665 or around 12.4K steps average per day
*Sunday numbers not included
Coming up Next Week
Monday – intervals (5 x 400's)
Tuesday – Easy 5K
Wednesday – Easy 10min / Threshold 10 min / Easy 10 min
Thursday – Travel Day
Friday – REST or maybe a shake out run
Saturday – Half Marathon Helsinki
Sunday – REST
Finally our trip to Helsinki is upon us! I'm excited and look forward to the Half Marathon. It will be two loops of 10.5KM. Ron is doing the marathon (as a training) so four loops. I've already decided that I will push myself to go one full round – then I'll have at least 10+ KM without stopping. Saturday was the longest (8KM) that I ran without stopping and I really had a great pace and felt good too (I think the carb loader I drank helped with this). So that's my plan for the Half. At least one round no stopping and let's see how far I go from there. I may sound down or negative at times but I have to tell you I'm also very stubborn and very determined. The latter traits will win! Sunday after race day was supposed to be bike tour day but we had to change it to Monday (week 35) and Tuesday we fly home.
That's a wrap!
How did your week go? Do you ever not run because it's raining? Any tips on getting through the long run "easier"? How do you manage running without taking walk breaks? Do you ever use a carb-loader or other fuelling options prior to the run to feel energized? Have you been to Helsinki or Finland before? Do you have a favorite cookie recipe?