Yes, again behind on posting. Well you should know by now how it goes with me. Sometimes I can get in a few times a week, sometimes once a month. It's tough sometimes to make the time.
Anywhoo. TWO full training weeks have gone by! It's been dynamic!
Week 7
Run one was a 15KM at 70 min D1 and 30 min D2. It seems like forever ago, but I did mention it on my last post so at least I covered that one!
Run two was 6.5KM at 45 minutes as a recovery run. I did this at the gym in 42 minutes. I honestly can't believe how much I appreciate the treadmill these days.
Run three was 12.5KM at 75 minutes in D2. Ahem. Yeah. That didn't work out. It was more like 1-4 at D2, 5-7 at D1, 8 – 10 at D2, 11 and 12 were practically walking and then I sped up a bit. It was a Wednesday morning; a good indication that I was already tired from early rising. This was definitely NOT a good run at all.
There should have been another run but there was a LOT going on at work. In fact it was insane. So much to do. So many meetings. Working overtime. I did not run again until…
Week 8
Originally in the plan was a long run, but I had signed up for the Dunea 10KM (a part of the CPC Loop – which is part of the series from Like2Run; same as the Rotterdam Ladies Run and the Bruggenloop that I've participated in in the past) so it was 10KM or nothing! Luckily my friend PP (who ran the Amsterdam Half when I volunteered) signed up as well, so I had the motivation to get out to Den Haag early on a Sunday morning to do it.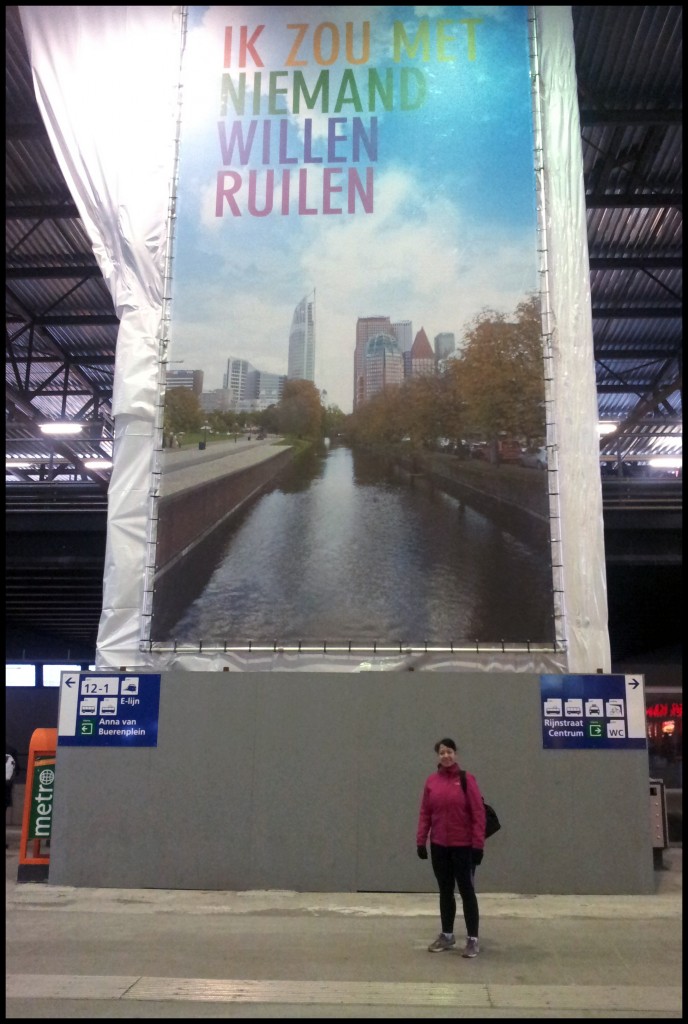 It was absolutely FREEZING cold. A huge change from the week before when we'd had really pleasant weather. Before I actually found PP I stopped off at the HipHardlopen Tent; I love these ladies so much! They sell the running skirts that I used to buy from the original company in the US, but not only that they are just like Cindy and Christy – they are runners and they know exactly what we women like and need to feel good when running! And I'll admit it, I like that they remember who I am from 2 years ago when I met them in Utrecht before the Half Marathon. I think that's a perfect way to make an impression and keep your customers coming back.
Anyway, we finally found PP and eventually it was time for us to start. We hardly did any true warming up, but at the same time we were moving and jumping around to stay warm so I suppose that did the trick.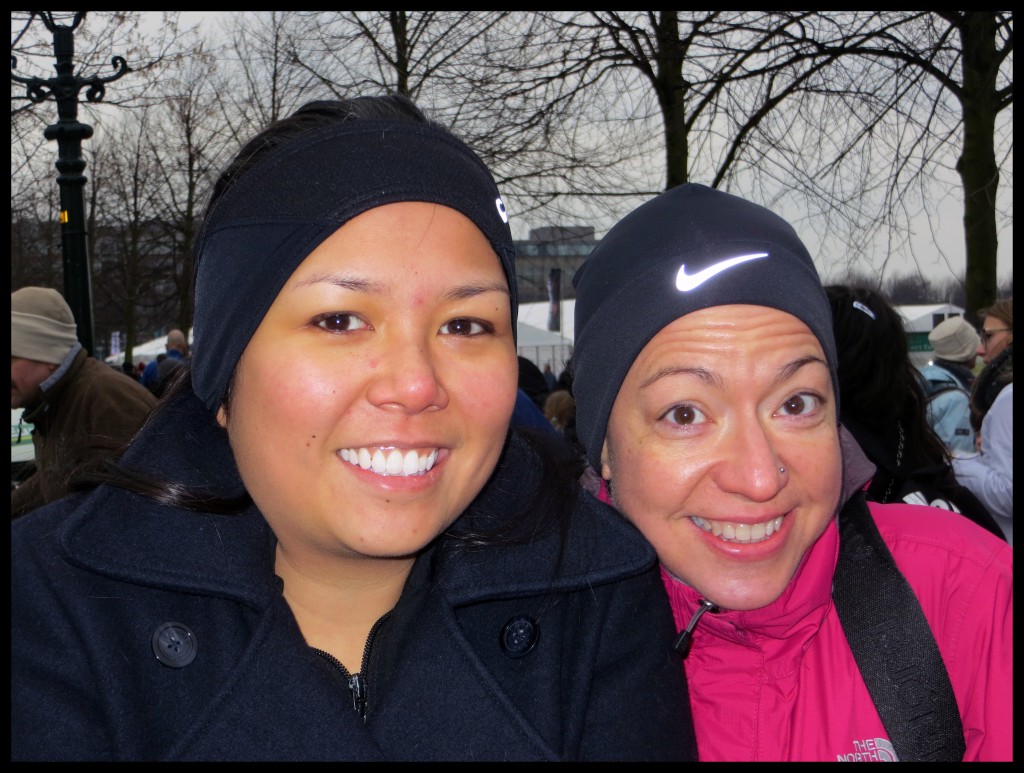 We started off with PP just in front of me, but at a certain moment I decided to cut across and move around some "slower" groups just to get a good pace. I felt good and was happy with the surroundings – I lived for 7 years in Den Haag but never really ran there (only in the woods near my old apartment) so this was a special run for sure! My pace felt pretty fast and turns out it actually was. I made the 10KM in 1:00:50. My fastest 10KM to date. This beats last summer's Westervoort Run which was 1:04:06. Honestly, I was pretty gobsmacked. After my last run the Wednesday before I thought I'd be in around 1:05 and that PP would come in before me. Gave me a very good feeling! Hubs could NOT stop talking about how impressive it was!
So that 10KM was Week 8 Run 1. Another friend met up with us and the beers afterwards were WONDERFUL…
Run two was 9.5KM, 40 min D1, 20 min D2. Thank dog for treadmills is all I can say. Pretty broken after that.
Run three was 12KM, 60 min D1, 20 min D2. Absolutely dreadful. Seriously. Not only again ruined by a dog, but two of them and one owner yelling at me that *I* was doing the wrong thing (this is not the moment for a lesson on how to handle dogs when 1) you don't really like them, 2) you are slightly afraid and 3) they are jumping on you). There were tears folks. And a lot of walking. I never actually made it into D2 and only did 10KM.
Run four (yes! I made a run four!) was incredible! 6KM at lunch with colleagues. My fastest 5KM time and my fastest 6KM in total time. Even faster than Sunday's race! 35:48. That's faster than 10KM per hour.
So, it's all over the place you guys. Good, crap, great. The whole spectrum.
Today starts Week 9. That means in three Sundays from now I will be running Berlin Half Marathon!
Today's run was scheduled as 18.5KM 110 min in D1, 15 min in D2. Seems I got those switched up a bit because I only did 10 at D2. I also walked some, so I was about 7 minutes behind on target time. But I did it. I think that's the important part. Total time 2:11:18.
Something I did for fun – on Saturday, which was a rest day, my stepdaughter asked me if I would go out in the park with her to run. She wants to see if she likes it, to better her condition, get a little bit more fit (I don't think she's unfit by the way, but apparently she's having what I had when I was in school – getting low scores on fit tests and being picked last) and already even downloaded a few apps on the phone so she could try it on her own. I feel really good, that I actually had a positive influence on this kid – she's seen me in my non-fit days and watched me progress, just like others in my family, so it's very cool she wants to do this. We did some jogging/ walking and ended up doing 4KM in a half an hour! To me that says she's already quite fit, she just needs to build up and learn some breathing techniques. I am definitely going to contribute to getting her a good pair of running shoes and have visions of us doing races together sometime!
It just made me think – my parents had zero influence on me as far as fitness was concerned. Not that they weren't supportive, but I guess the encouragement wasn't really there. I'm not blaming them, but I think now, at this age, it's just so important to get kids to understand that their health really should be a priority. We didn't have that sort of vision 30 – 40 years ago, the priorities were different. Both of my parents are different now – but when you find out you can actually control diabetes, for example, just with eating right and exercise, it changes your whole perspective.
Were you active when you were young? Did your parents encourage you?
Here's a question for the runners – what's your fastest 10KM ever?