I realise it's been FOREVER since I was in Liverpool last and I failed to share with you my experience at the 2016 Liverpool Rock'n'Roll Weekend.  Now that I'm signed up again for the 5K and the Half, I was inspired again to write about it!
Last May I had surgery on my foot to remove my 2nd neuroma (the first was in the other foot, several years before),  which unfortunately meant I was NOT going to be able to run the Liverpool Rock'n'Roll (Half) Marathon.  And certainly not the 5K either (I had signed up for both… as you do #allthebling).   So what was a RnR Marathon Series Fan to do?  Go anyway and volunteer instead!!
I was perusing my running groups online and I noticed a call for MEDAL Volunteers with a local Liverpool running team… THIS WAS MEANT FOR ME!  If you can't run, then be there for those who can and put that shiny beautiful bling around their neck as the cross the finish line!
My husband was running (of course) as well as my friends Rob (whom I met in Paris) and Adi and a WHOLE slew of other favourite people in the UK (Chris, Nicky, Marc, Steve, Joni, plus many others I knew online and would meet in real life that weekend) so I knew in any case it would not be a boring weekend for me.  Sometimes it's hard when others are running and you are not, but I was here to make the best of it all!
T-1
We arrived on the Friday, quite early, so we had breakfast (number 2, since we ate at home in the Netherlands at around 4am) and hung out a bit before we could check into our hotel.  Something about seeing the signage for the marathon that just makes things feel all the more real.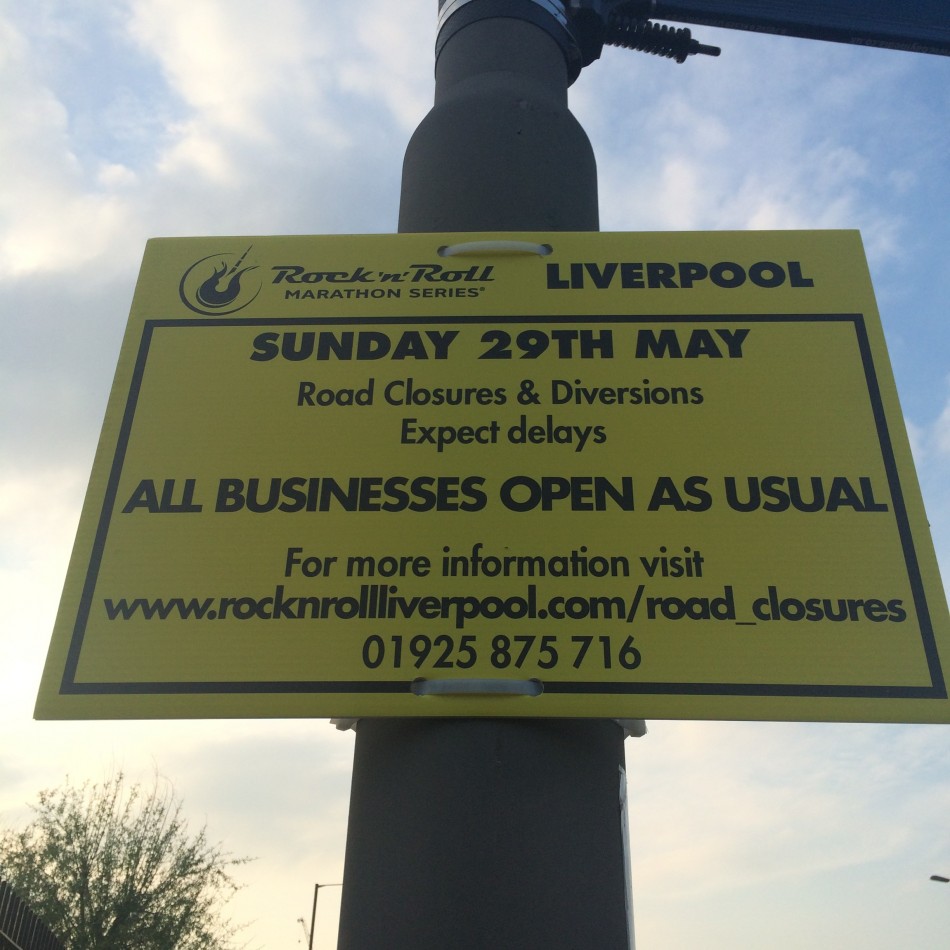 Once we could check in, we headed to the Expo.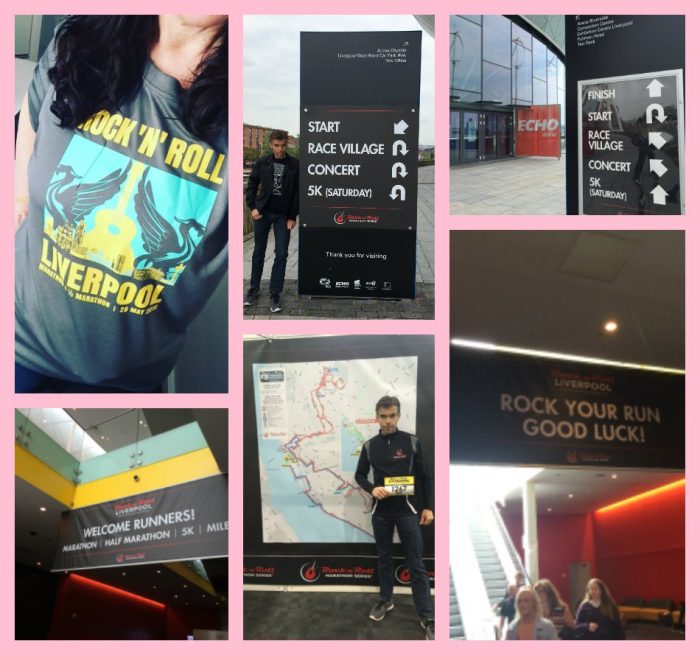 I picked up my packets anyway (though I had no use for them) and my tee shirt (very important) and then perused the expo and ran into this lovely lady: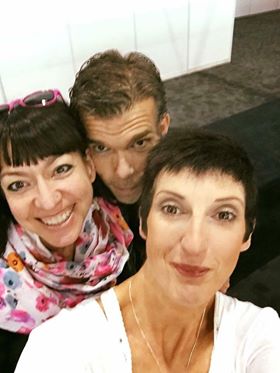 (Nicky and her partner Marc started the Facebook Group Running the World which is the reason I've been able to meet all of these great people in the first place)
As per usual after the expo we planned on taking it easy;  we took a nap and then later walked around a bit (too much) and had a tasty dinner at an Italian place nearby (as you do).
5K Day
The next morning we were up and walked the 10 minutes to the start where the Fonz of course was going to run the 5K and I was about to do my medalling gig.
I can't say enough how welcoming and kind the volunteer group is!  I was able to quickly get my shirt sorted and once we had a bit of a briefing we were ready to go!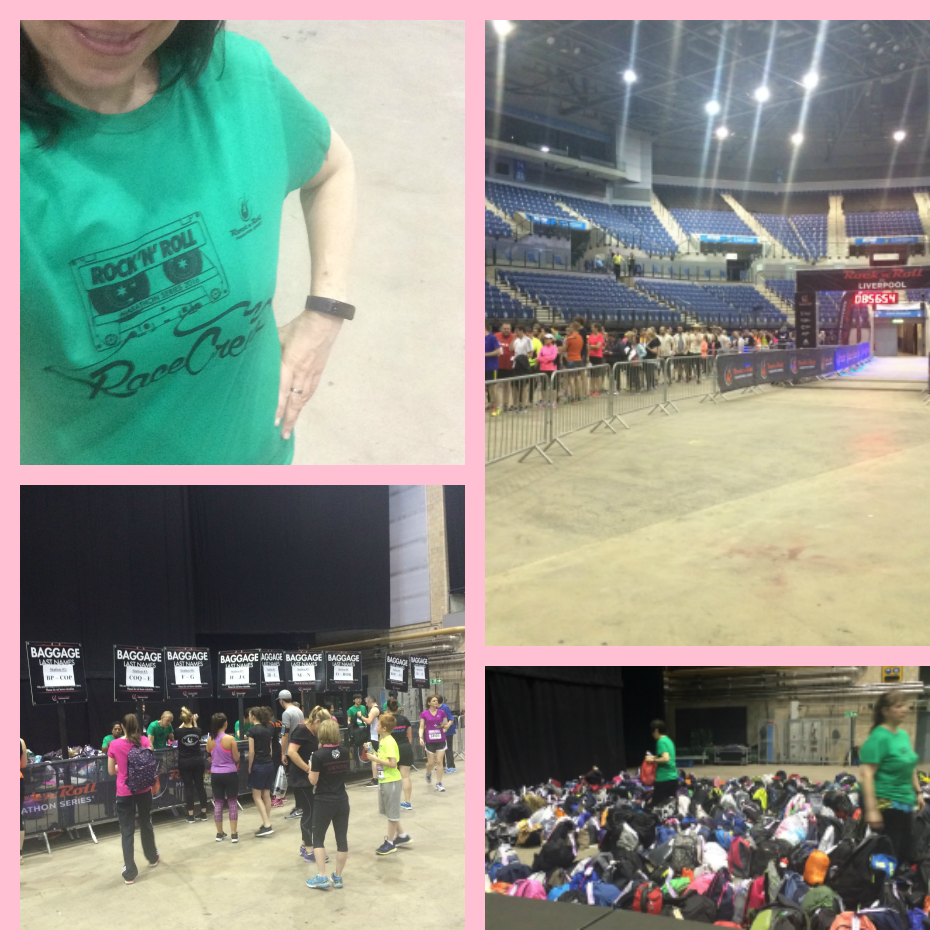 I did not see the start of the 5K because I was inside the arena but I found this video on youtube:
What happened next of course is that we were WAITING with extreme anticipation for the first runners to come through the finish and then the MEDAL MADNESS began!
Afterwards of course I connected again with Ron who proudly posed for me (ok, I forced him for the blog photo but hey, that's what we do, right?) after his "easy" warmup for the marathon the next day.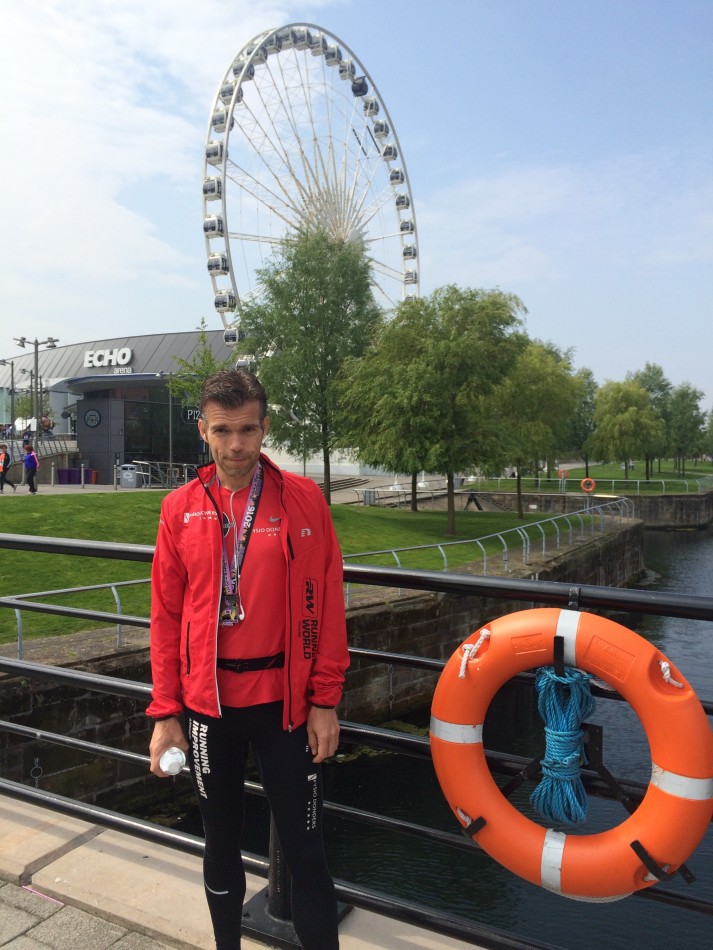 And after a day of lounging, walking and eating (at Jamie Oliver's Italian, yum!) we turned in for the night to prepare for Ron's marathon on Sunday.
Marathon Race Day
Since we were only 10 min walk from the start we at least didn't have to get up at the crack before dawn to get fueled up and get to the race on time.
The weather was AMAZING and for us maybe even too amazing!  Of course we all love a sunny day but as runners, let's face it, we don't want it to be too hot on race day.  For me, it was fine, since I was going to be out giving medals again.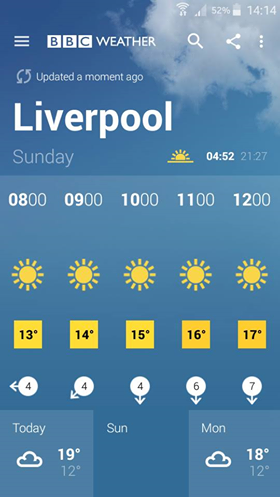 We waited for Rob and Adi, who were taking forever to arrive (haha) and at some point I had to leave the Fonz behind to check in with my volunteer crew. So I kissed him good-bye and wished him luck and headed over to our place on the finish line.
Luckily my crew said it was fine for me to go and see the start so I headed over where I finally was able to see Adi with Ron and Rob later (he was in a different starting pen).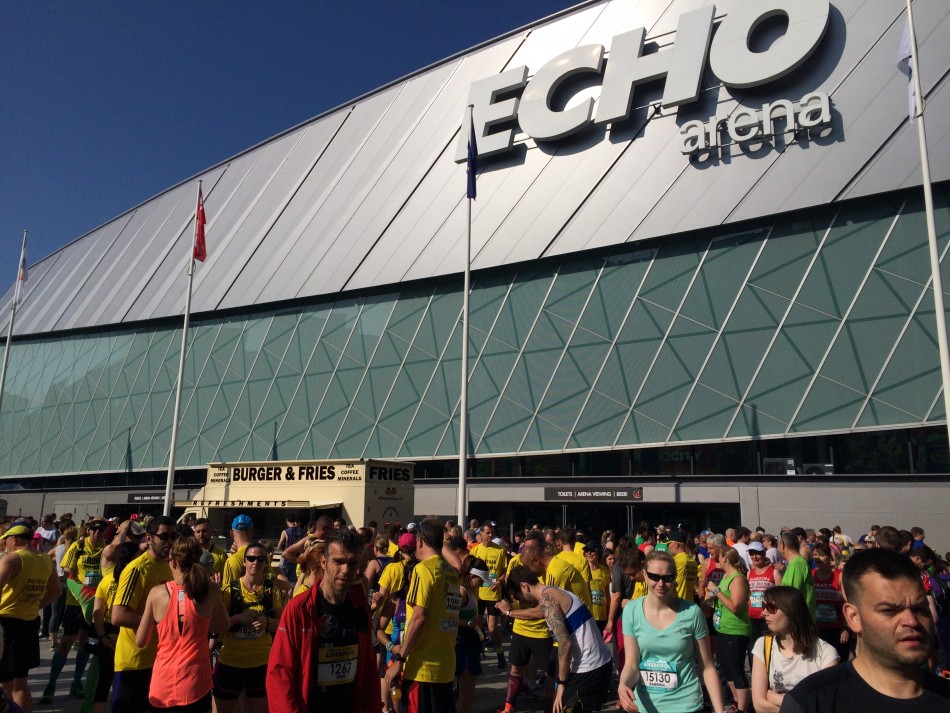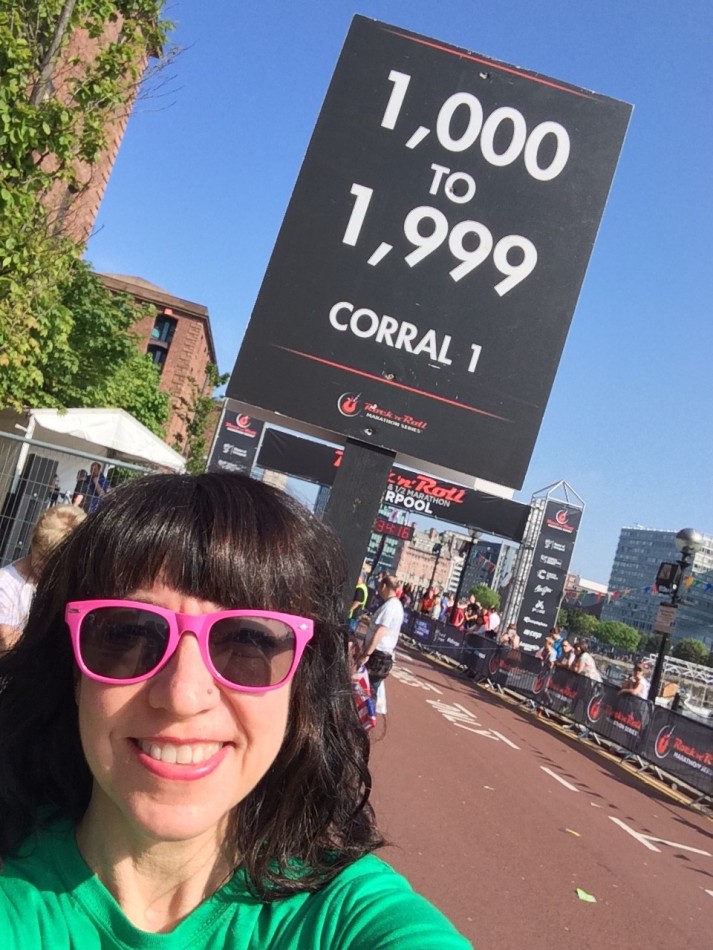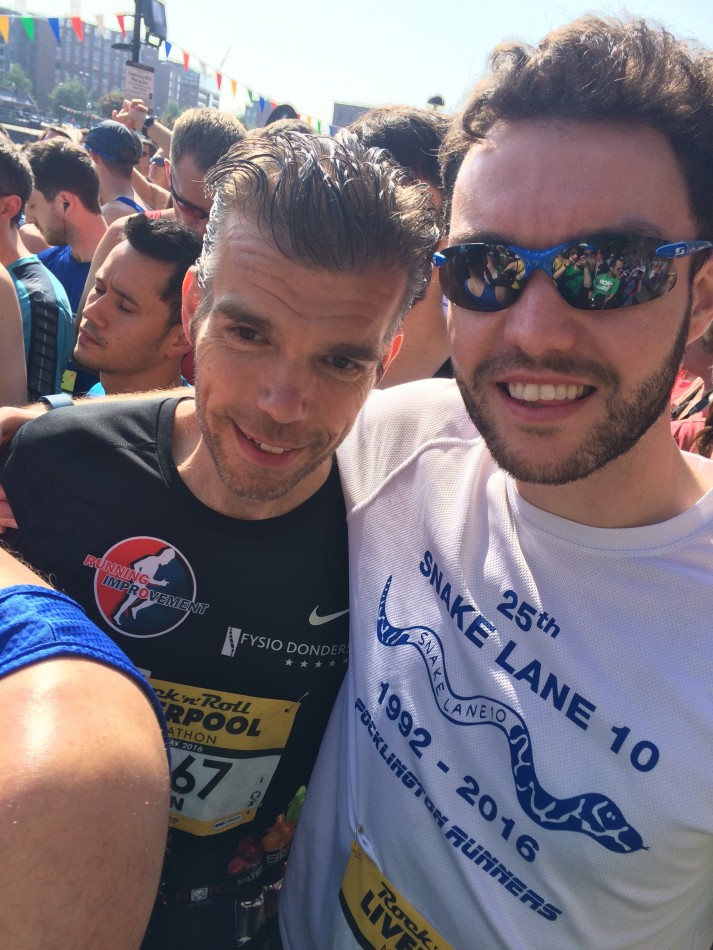 The atmosphere was again totally rocking!  This is what I love about RocknRoll races – SO MUCH ENERGY!!
While I don't have a lot of photographic evidence of the next several hours, I can tell you it was HARD WORK but also truly MAGICAL.   To see runners coming in, in all states of emotions, in tears, in pure joy, etc., and to be able to give them their hard-earned medal was an absolute honor!   Runners who ran their first half marathon or marathon, seasoned runners who were on their 10th or more, runners who had an amazing PR and those disappointed because of injury or whatever reason… to be there for them is an experience I won't forget!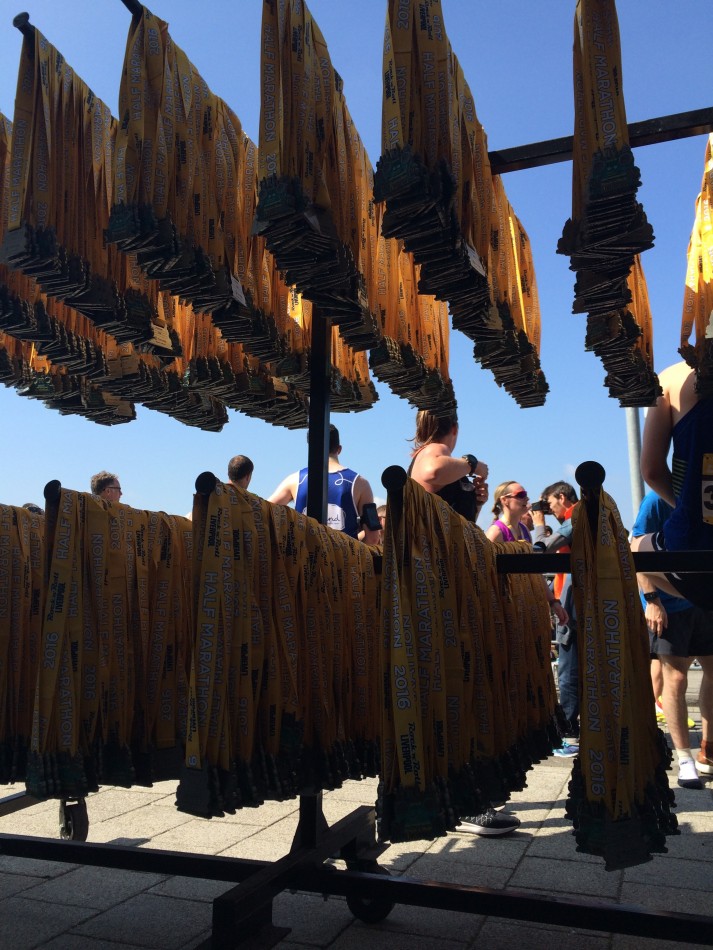 I must have stopped right before Rob came in because I was able to put the medal around Ron and Adi's neck but at some point I had to stop.  It was a very long time on my feet.
The After Party
Rob, Adi, Ron and I finally managed to come together for a beer before we headed to the After Party at Revolution .  SO MUCH FUN.  And so many friends.  And a little too much gin.  It was an early night after I realised there were four full shots in my special gin & tonic drinks…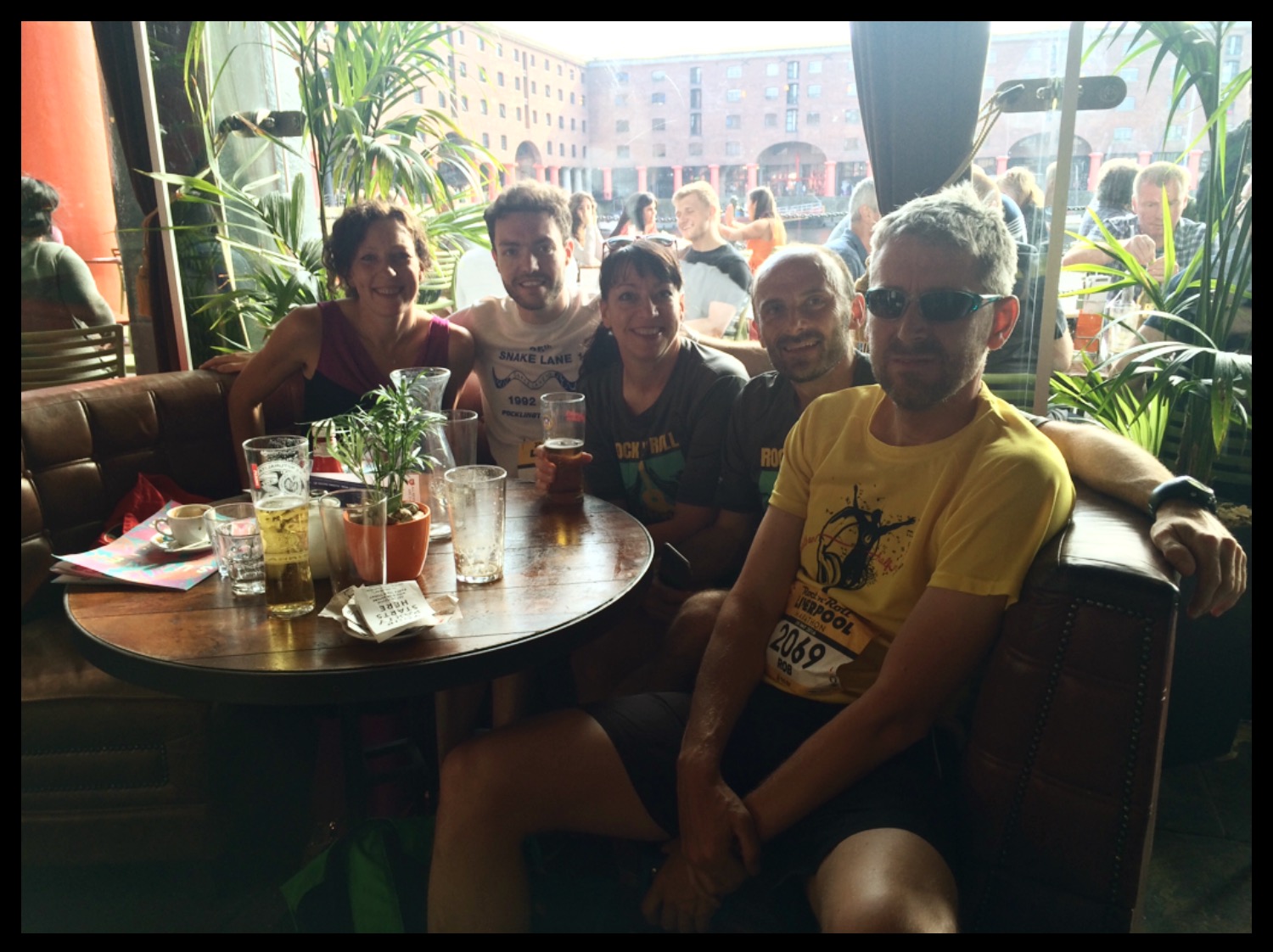 There's four of us in the above photo who actually met at the Paris Marathon in 2015!  Running Friends Rock!
So even though I did not run the 2016 Rock'n'Roll Liverpool Weekend, I still had an incredible experience.  I'm so grateful to Competitor Group and the Rock'n'Roll Marathon series for giving me the opportunity to be a Rocknblogger!  To be honest though… I would still do the races and I would still sing the praises… and if you need any other reason to run Rock'n'Roll…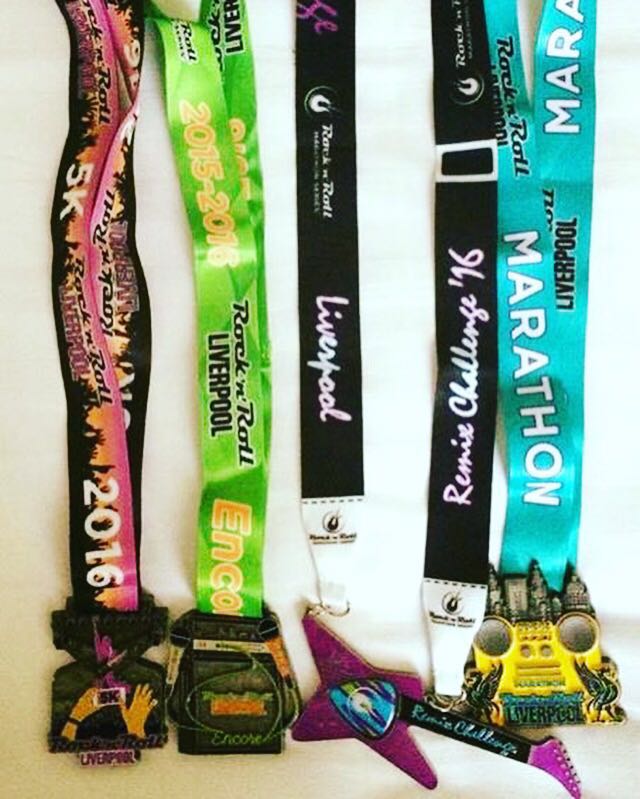 The bling is addictive!  Ron earned the 5K, the Marathon, the Encore (for coming back for the 2nd year in a row) and the remix medal.  4 medals for 1 weekend!
I can't believe it's now less than 11 weeks until we will be in Liverpool again, but this year, I'LL BE RUNNING!
Have you run a Rock'n'Roll race?  If no, would you like to?  If yes, what's been your favourite so far?
My friend Rob made this little video – maybe you recognise a few faces too!