Ladies and Gents…  while my week 13 post is still in process…  I am happy to share with you the following:
Last year, as part of my Rock'n'Blogger ambassadorship, I received a couple of books from velopress, of which one of them was the BELIEVE TRAINING JOURNAL (classic red edition).
I had every intention of using this journal, but had other things constantly taking precedence and I did not use it.  Personally, the best way to use it is to READ through it and understand how it can benefit you the most.  As I do not seem to have time to even read these days (unless it's my school materials of course) it seems like a huge waste to just be collecting dust in my bookshelf.  Also, I think it can come in most handy for those who are training for events, perhaps a Half Marathon or a Marathon or maybe even more!  This year is going to be a more quiet year for me (no marathons for sure, and only Half Marathons for enjoyment, not for a PR), it's yet another year that I won't use the journal.
So what IS the Believe journal anyway?
To quote velopress:
"The classic red edition of the Believe Training Journal is an undated year-long workbook, training log, and how-to manual by professional runners Lauren Fleshman and Roisin McGettigan-Dumas that will help anyone push harder, find the sweet spot, and use sports to make life even better.

The Believe Training Journal is packed with photographs, practical advice, inspiration, and the hard-earned secrets and street smarts that Fleshman and Ro have learned the hard way on the pro running circuit.

With a smart, functional design, the journal will guide you through your season, helping you set your goals, plan your training weeks, and record daily workouts. The Believe Training Journal will reveal what's working, keep you honest when no one's looking, and prove when you've done the work."
According to Believe I Am these are the benefits of using this method:
9 Benefits Of Using Believe Training Journal  
Increased motivation 
Inspiration to set, stick to + achieve your goals 
Learn secrets from pro runners 
Access to the latest and greatest research on training + psychology 
Increase self-awareness so you learn what works, for YOU 
Learn how to win the mental game once & for all 
Process your experiences + harness the lessons from all your effort 
Learn to LOVE your body, and be grateful for what it does for you 
Review your races and learn from them like a PRO! 
To give you an idea of just what is included: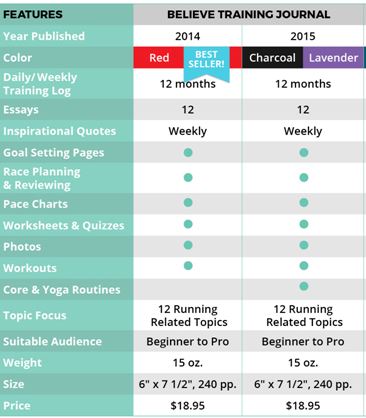 Personally I think the Believe journal is a great idea and has the potential to be super helpful to someone whose brain and activities aren't all over the place.  That's why I want to do a giveaway.  I was not asked to review or do a giveaway.  I have no further benefit from offering this to someone I know or a random stranger on the internet.  However, as there are SO many people out there that I think can make use of this, a giveaway seems like the best idea.
You can start writing in the journal at anytime, you are not bound by a calendar year.
The value of this journal is USD 18.95 from Velopress.  I will ship anywhere.
Are you interested?  Please enter below!  It's super easy!
a Rafflecopter giveaway

Good luck and spread the word!  Giveaway ends on April 20th, 12:00 Central European Time ( +6EST).