Wow.  Yeah.  it's been a while.  I'm going to try to catch up a bit in case there is anyone out there reading, but also for myself, so that I can look back and remember things.
I always find after a period of busy-ness that I simply don't know what to do with myself and I'm not really motivated 100% to do one or two particular things which means that blogging has fallen by the wayside.  And to be perfectly honest with you, there are a few things I'm going to change about blogging as well:
As much as I love the link up, and I loved having visitors and comments on the blog, without the link up it's like crickets in here.  There are some fabulous bloggers out there, absolutely.  I've really enjoyed the interaction. However, I do think blogging needs to be your main "thing"  (besides whatever you are blogging about) or you have to be super well organised and have tons of posts in the pipeline and a lot of time to do it.  The last time I linked up I went to 25 blogs on the link up to comment (previous times as well, but I remember actually taking note the last time).  And it was not really reciprocated.  The idea of the link up is reciprocation, at least that's what I understood.  Not a complaint.  Just a fact.   So I'm not going to link up anywhere anymore.  If that means my blog is only being read by me and my husband occasionally, then so be it. Don't take it wrong, those lovelies who DID come and visit me.  The appreciation is there, I promise!
I'll be visiting other blogs, reading along and commenting when I can.  I find it easier to be present for others on instagram and facebook (and somewhat on twitter),  and regardless of reciprocation there, I'll definitely be supporting!!
I probably won't post every week, but then again maybe I will.  So, if you do want to read along, maybe it's an idea to subscribe or follow my facebook page for the latest posts.
Ok.  That's all about the blogging stuff.  Next!
The RoPa Run
The first weekend of June was the RoPa run. It was really an incredible experience and I'm still sort of wavering on whether I would do it again.  In a nutshell the RoPa Run is a relay run from Paris to Rotterdam (and Hamburg to Rotterdam -which is the route we did) all in the name of raising funds for terminal cancer patients.  So not to "cure" them, but to give them a chance to spend time on vacation with their families or do something they've always wanted to do before they died.  In the end all of the teams raised over EUR 5,000,000.00.  Our team managed EUR 15,000.00 together.
We started on Friday morning, driving to Germany and setting up base camp. There were 30 of us together, 8 runners, 4 cyclists and the rest drivers, navigators, catering and support, including 3 massage therapists and 1 physio.  Saturday morning was the start and from there it all blurred together.  We stayed outside of Hamburg at base camp until very early Sunday morning (I think 1am) and then we kept moving, setting up camp, shutting down camp and moving again.  All the way back to the Netherlands.  It was exhausting and it taught me a lot about being comfortable with uncomfortable situations.  It also made me realise that my "suffering"  (being exhausted mostly – I slept about 7 hours the entire weekend) was nothing compared to those fighting for their lives.  Being one of the massage therapists gave me a real thrown-in-the-deep in type of experience and I'm so glad I did it.  It gave me some confidence as well.  I still don't know if I want to do this full time but I sure do love it more than sitting in an office all day.  Don't think it's not hard though – it's HARD WORK.  Everything hurt after this weekend.  My fingers, wrists, elbows, my calves, my feet. Massage is not easy, especially not sports massage.  We had to get in there and work out the kinks and everyone had some sort of issue being lower back, butt, hamstrings, achilles, or IT band and our job was to make it possible for them to run as pain-free as possible during the weekend.
At the end we all cycled together the last 17KM to the finish line.  This was a surreal experience, especially since I've only run in Rotterdam and never cycled this particular path.  I loved it!  And I loved how excited and passionate my team were together going over the finish!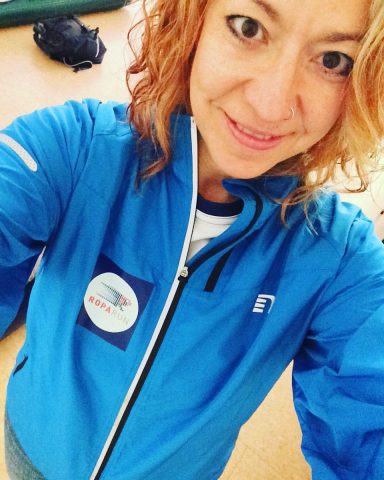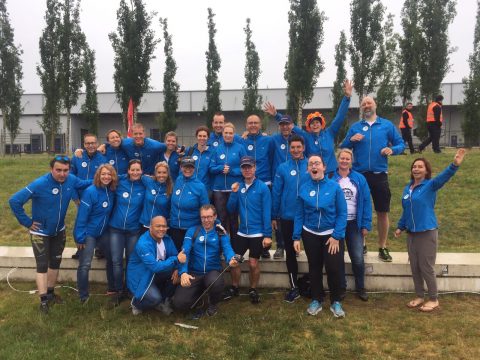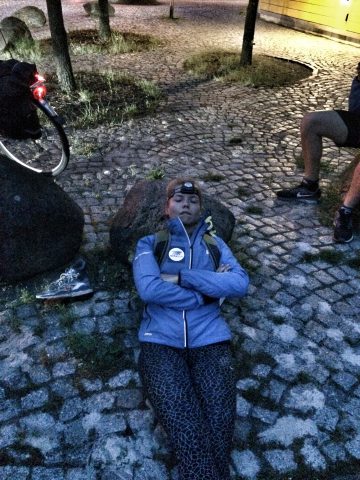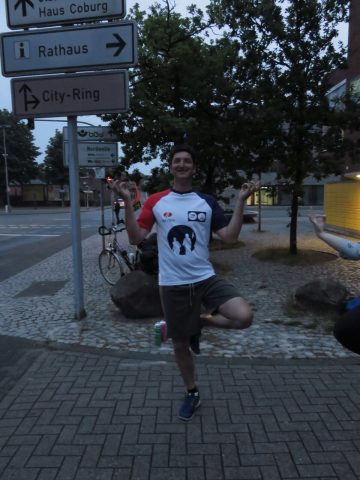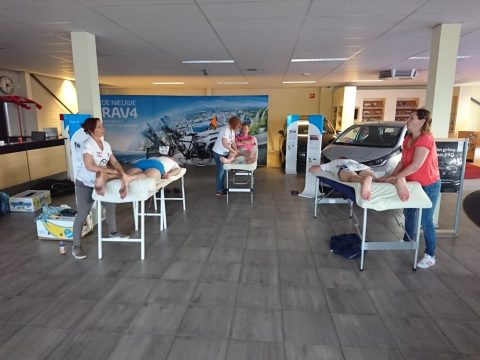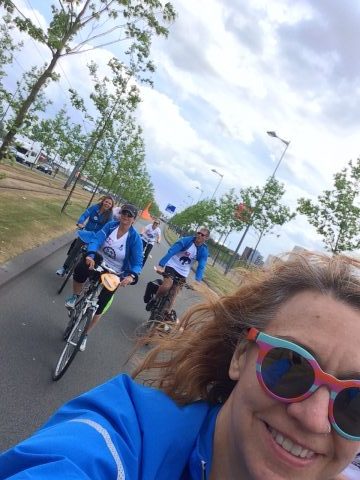 Next year it's the same weekend as Liverpool and I'm already signed up for that so I don't have to decide yet if I'll go again.  Time will tell!
Training Again
After the RoPa Run there was a week of pretty much nothing, though I was so incredibly tired I'm not sure I could have done anything anyway!
Prior to my training, I had already offered to be on the coordination team again for my company's ZuidasRun team, so I ran basically the slowest 10 miles of my entire life that day.  It was so hot, I don't think anyone had a great run that day.  I did enjoy the route, it was different than last year, but I won't do it again.  It just takes the whole day and I want to focus on quality races in my own area or running in another country.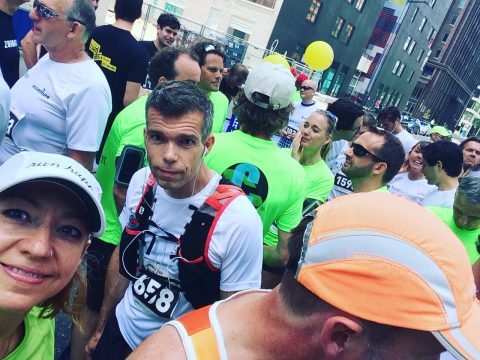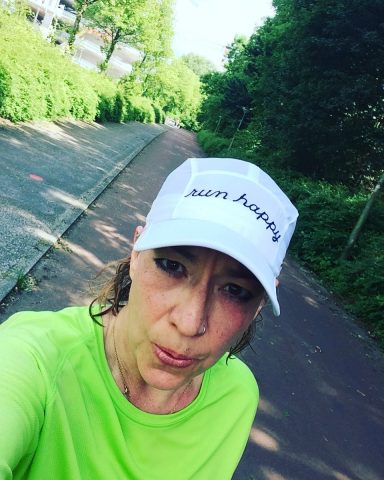 On the 12th I started officially training again, this time for the Dublin Rock'n'Roll Half Marathon (attempt #3) -training is on Mondays and Fridays like last time around and Saturday morning is sort of boot camp offered by Runiversity as well. it's good to be training again, it gives me focus, but admittedly I feel fat and sloth-like and just wish I had my fitness back.  I have to do the work myself to get it back so really I'm on the right track.  The first week I would say went fairly ok, there was no training on the Saturday due to a scheduling conflict of Kim and Chantor (they are raising money for CliniClowns and participating in the NY Marathon this year for that cause and were fundraising that day).  I biked with Ron that Saturday a little over 30KM so I still did something and the following day I had a long run that was supposed to hit around 6:38 min per km but due to the heat I only managed to hit (under) that for the first 5KM.    My goal at Dublin is actually 2:20 which is 6:38 min per km but training should be a bit faster so I can have a quicker tempo in the beginning and then survive the last 7KM in Phoenix Park and all it's glorious hills.  Mostly the goal is to run non-stop.  It's been a long time that I ran a half marathon non stop.
By the way, do you want to run the Dublin Rock'n'Roll event???  Click on the link and register!  You can use the code RNB15 to get a little discount!  Dublin is fabulous and the people even more so.  I'll be there with Babette and basically it'll be a blast!
In addition to training I'm also aiming for going to SocialMile every Wednesday. I haven't been regularly for over a year and I really miss it.  I also think that SocialMile helped my running improve as well back in the day, so it's another reason to go again and be consistent.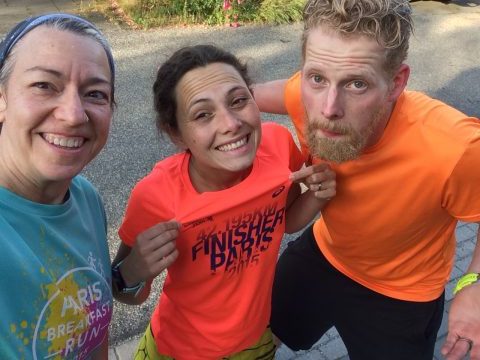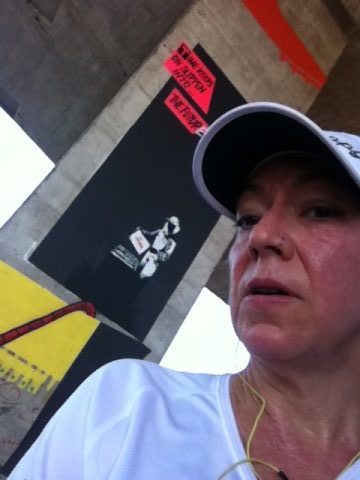 Rome
Of course I've already missed two trainings and one SocialMile session because we had already planned on going to Rome for a long weekend before I started training again!
Rome was as fabulous as it was the last time and once again we walked so much I got blisters!  And how is it I had somewhat forgotten about all those hills???  It was really, really hot as well.  I had the feeling I could have filled up a few buckets with just how much I was sweating.
We arrived Friday early evening, got settled in our hotel and had a nice dinner.  On Saturday morning we had breakfast and decided to walk the 5KM leisurely to the city center instead of taking the bus.  That way we could just stop when we wanted, take photos, get a coffee, etc.  I'm glad we did this because along the way there was a Frida Kahlo photo exhibition at an art gallery just on the edge of the old wall of the city! Frida is my absolute favourite! *swoons*  We also stopped off for a cold beverage and then later lunch.  I had a arranged a guided tour (skip the line) for the Colosseum and Roman Forum for 2:30pm so eventually we made our way down to the meeting place for the tour.  Another 3 hours walking and in the heat but it was amazing.  We skipped this the first time we went to Rome because we didn't arrange anything in advance and the lines were just so long.  Afterwards we had ice cream, walked some more and then finally had a cold brew (and Ron nipped out to buy a pair of shorts since he only had running shorts with him).  Eventually we wanted to make our way back to the hotel but I couldn't bear the thought of public transport so we took a cab and ate dinner in the vicinity of our hotel.
Sunday morning we were up EARLY (6:20) to run in less heat and humidity.  We both felt completely broken but figured at least 5KM and that was better than nothing. We ended up with 8 hot, steamy, hilly kilometers!  But we did it! YES! Once again running in Rome!  Afterwards we went back to the hotel, hit up the breakfast buffet and then got showered and dressed to go and meet a former colleague of mine (who is Italian and moved back to Italy 2 years ago from Rotterdam) and his girlfriend at Giardino degli Aranci – the view from this park was absolutely amazing.  And it was good to see Daniele again after 3 years and finally meet his (Italian but met each other in the Netherlands) girlfriend!  We hung out for a while, had some lunch together and then went our separate ways until in the evening when we met up with Daniele again (Francesca passed on the concert) for Depeche Mode!  What a night it was!!!!!
The lonnnnnng walk back with the blisters almost did me in (ok it was only 3KM but my feet were killing me and standing for 5 hours at the concert is also pretty rough) but we finally made it back, I showered all the sweat off of me, rubbed in a whole bunch of F.I.T. Balsem all over my legs and called it a night.
Monday we had to go home, so it was sleep in a bit, breakfast, checkout and head towards the city center for the obligatory Hard Rock Cafe meal and then eventually to the airport.  Time goes so quickly sometimes, doesn't it?  Just like a flash our weekend was over.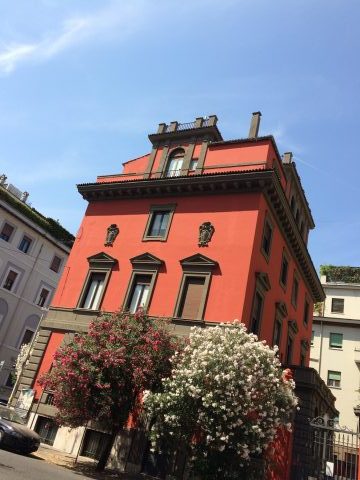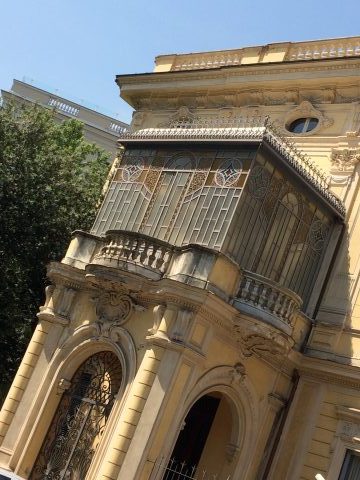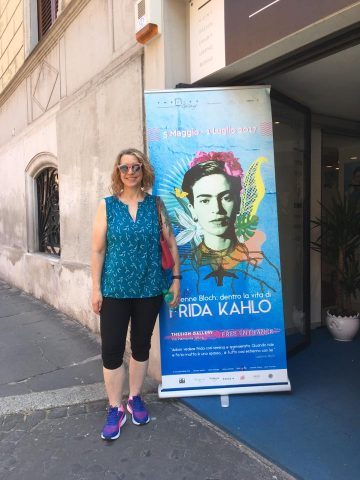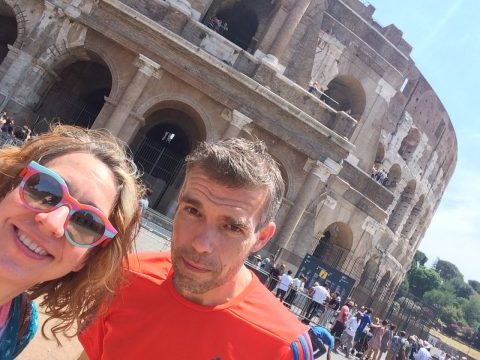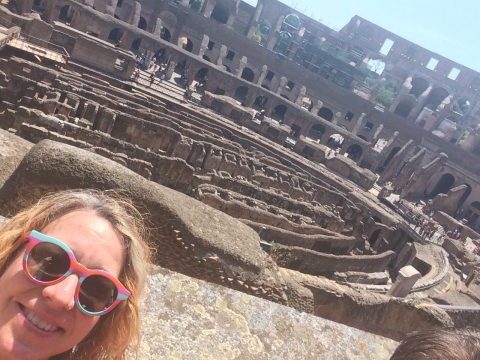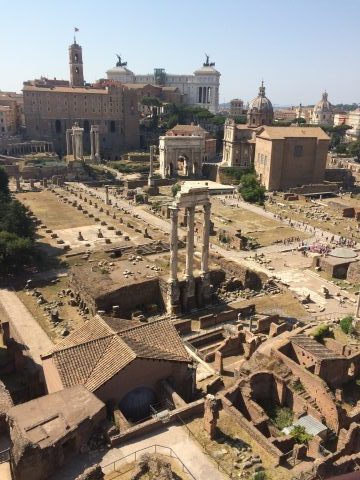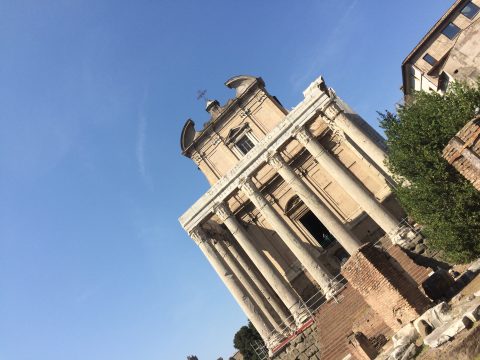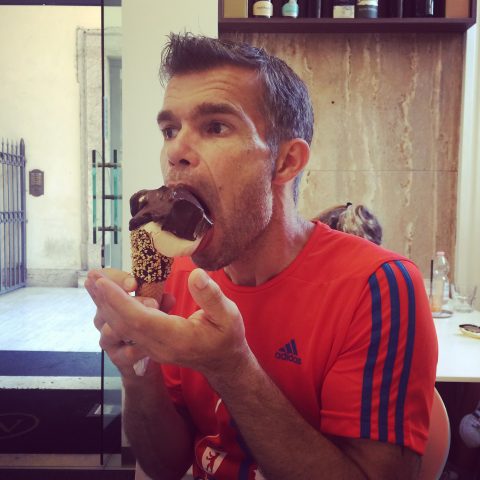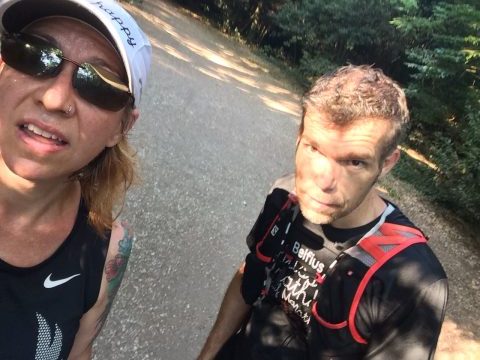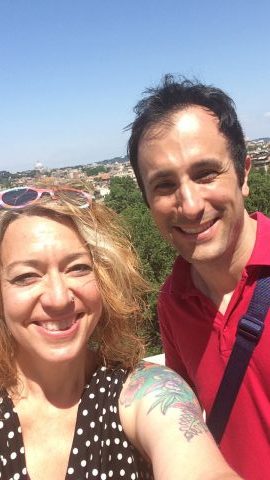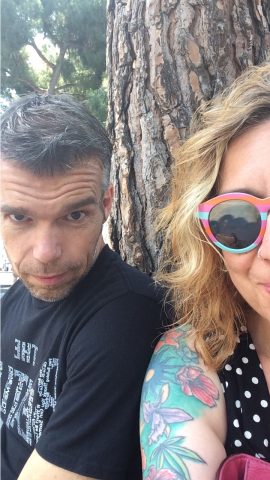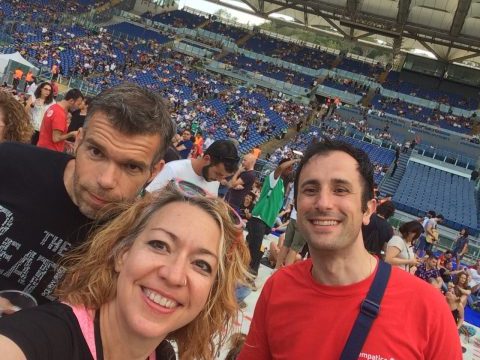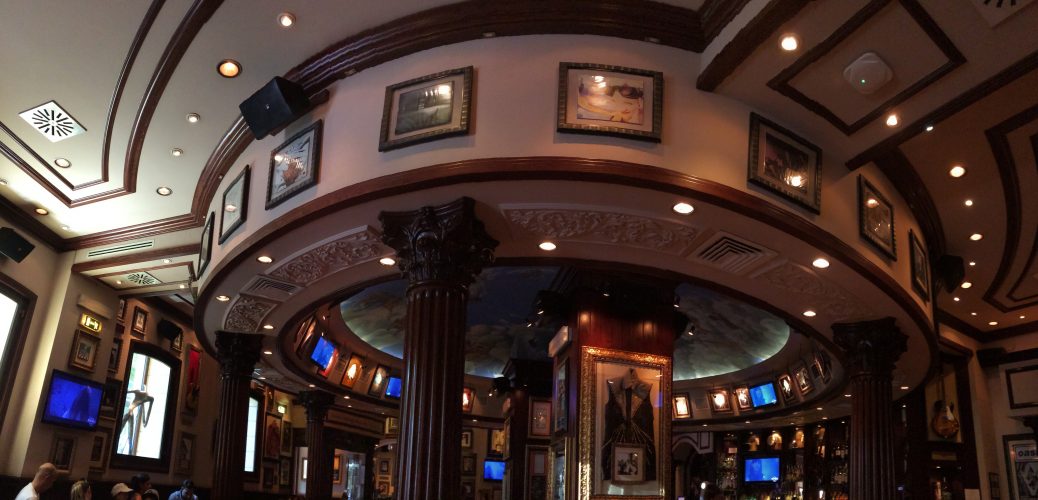 And Now?
Now we are "back to normal".  Work and training, really.  And one extra thing  –  I'm going to start working for my massage therapist, approximately 6 hours per week to get some more experience. We're going to see how it goes for 3 months and then I have to decide what to do – I may need to then register as a One Woman Show at the chamber of commerce (up to a certain amount of hours/money earned you can just add the income to your tax information, after that you need to be registered).  So, we'll see!
Oh yeah and I quit swimming lessons.  I'll be just going to do laps at the pool but on my own terms.  I have too much anxiety now at the lesson and before all this I loved swimming and never had any issues.  I'm looking forward to the laps on Friday mornings (which is when I plan on going).
So, is anyone still reading? How's your June been?  Have you been to Rome?  
Interested in the Liverpool Rock'n'Roll update?  Blogpost is in the works!