I'm back from Chicago and while I had an amazing time it's time to get back to a "normal" routine.  I've already been off a routine since the middle of August and I'm really missing it. I still can't run until January, but I can do other things; I'm just not doing much…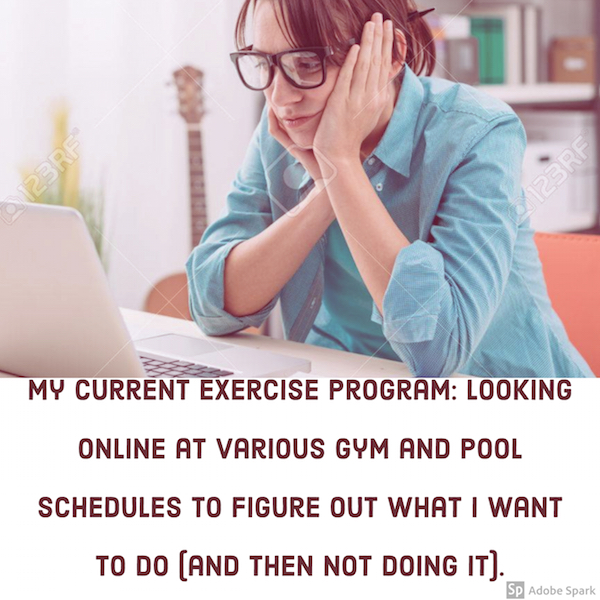 One of the things I'd like to re-focus on is my diet.  I am fairly certain I've mentioned it before, but in case I haven't, I fully admit that I am an emo-eater and while I have learned how to handle stress and emotional issues over the last several years through exercise, I am human and I do sometimes slip back into old coping habits.  I know – 100% – that eating junk and/or overeating won't actually help me in any way, except of course satisfy and immediate "need".  I've been allowing myself to have an extended pity-party but at some point enough is enough.
My plan this week to get restarted:
Gym at least 2 times
Food logging on MyFitnessPal
Get my 10K steps per day, every day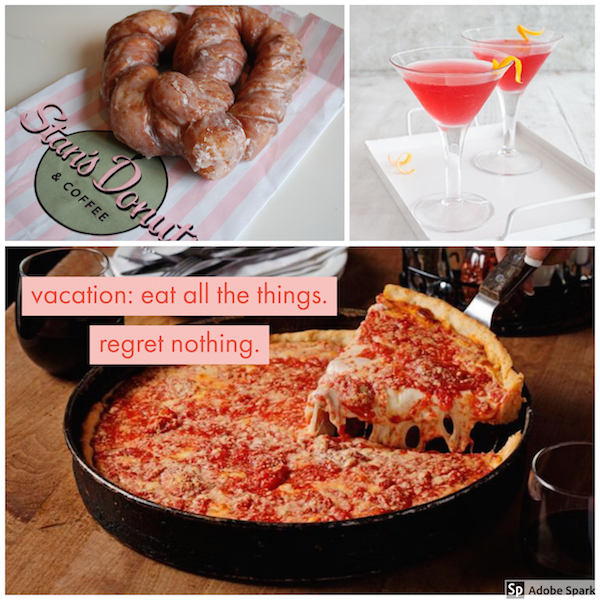 I gained 2.2 KG (almost 5 lbs) while in Chicago.  It's been worth every donut, taco, deep dish pizza and cocktail though, I can tell you!  However this means I'm creeping closer to 80KG and, for me, that's not really a weight that is conducive to running (**for me**).  I know I'm getting older, am going through menopause and have some physical issues (hello left foot and groin nerve-pain) and these are factors I accept so I don't expect to lose a lot of weight or lose weight quickly.   Really what I want is to get back to eating well and choosing wisely.  After all my whole focus this year was supposed to be about choice and choosing things that fit with my goals.
I know weight loss is a really boring topic for most, so Im not going to drone on about it too much. I just want to get back into a sort of fitness rhythm so that I can start to feel better, not only emotionally but also physically.
I know it's only October, but I'm also already thinking about goals and things I want to do next year. This year has already been quite a mess, not everything has gone to plan and, frankly, I'm just kind of done. I want to have realistic goals next year and also focus on a good marathon training plan for Chicago next year. I'm already sniffing around for different plans and asking others what sort of plans they use.
Nothing wrong with a reset now and again but I am feeling a bit like a broken record! I suppose it's all about moving forward, even if you get stuck occasionally. I hope this is the last time this year I say "onwards" – I'm so ready to move on now. Too bad I have to wait so long to run again, but hey, at least it's still an option for me. Not everyone has the option. Don't take your running or moving your body for granted, folks/ This is the only body we get!
What marathon training plan do you use? What's your favorite alternative exercise when you can't run? Do you enjoy all the things when you go on holiday?