Why is it that every single time things just get TOO TOO much, I go for sweets and junk?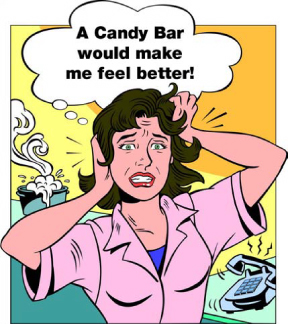 .
Seriously. You would think after SO MANY YEARS of doing this, I would get a real handle on things. Like, NEVER EVER going that route again. Why is it that I can quit smoking, and NEVER TOUCH ANOTHER CIGARETTE AGAIN but I can not keep out of the candy jar at work when things get really, really bad?
.
I had two great weeks on Weight Watchers, following ProPoints again. I had a great run on Sunday a GREAT run! Then I went back to work where it was nothing but stress all week. Working overtime, stupid trains, irritating issues, etc. I am so very tired of it! I managed to get all the way up to Thursday when I decided somehow that eating my weight in Chocolate would not only solve my problems, but quite possibly bring world peace as well. Hmmmmph.
.
Then I went out, ate a burger the size of Texas, drank 4 Mojitos and then got on a train to go home, where my loving and amazing (like I'm really, really, lucky and I tell him every day how much I appreciate him) husband picked me up at the train station at Midnight. We raced home and I was asleep by 00:30, only to get up and do it ALL over again on Friday (I went in late one hour and left one hour early as well. Take that, deadlines and people off sick!). Of course I ate like hell on Friday because I wasn't home Thursday evening to plan and prepare and was left to survive on my basics at work plus whatever they had available when the need to eat came upon me.
.
My weigh in on Saturday? Back to 81.4 KG. Yes, folks, exactly where I was when I re-started. F*ck.
.
I feel like I have to be on program ALL the time, 150% or it just doesn't work. Of course I didn't expect to lose weight, but I didn't expect to GAIN 2 kilos either! I mean, really? And I read constantly people who are NOT on plan, not even 50% it seems, who do NOT follow all the "fit formulas", who do NOT eat all their fruit and vegetables and who DO eat nutritionally empty junk quite possibly on a daily basis and they lose weight.
.


.
There is a lesson in all of this, I am willing to learn it. I just don't know anymore what it is. Maybe it's patience and acceptance, since I have been saying that all along. Maybe it's accepting who I am in the package I come in and then moving forward with that. I don't know. I'm like a little kid having a tantrum at the moment though. Have I not said it loud enough?? I DON'T WANT TO WEIGH MORE THAN 80 KILOS!! I don't even want to weigh more than 70 Kilos. Why must I stay overweight? You know I don't even care about my size (clothes) anymore, you know what bothers me the most? That I can not run faster or be stronger as long as I have this extra weight. It doesn't feel comfortable running at times. Maybe it sounds weird but the jiggling bits really do bother me. It's like I'm running and 30% of my body is lagging behind. I'm not asking for perfection. I'm not asking for thin. I just want to be a healthy, non-overweight weight and a kickass runner.
.
Sheesh.
.