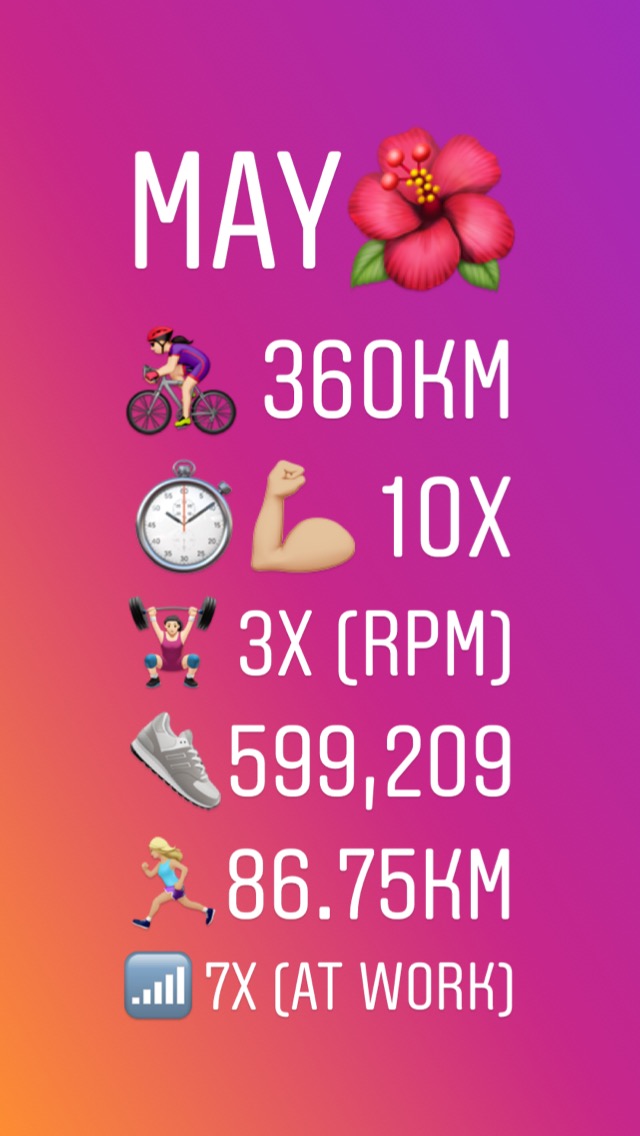 May in a nutshell
Biking – hard to make a comparison since I don't usually track every kilometre but did so for our yearly May challenge at work. It is definitely WAY higher than usual since there was a 75KM bike ride thrown in the mix.
AM Workouts – I feel like I did pretty well in this area considering I normally don't do anything in the morning! I believe I missed 4 or 5 that I planned in my bullet journal. I'm going to continue this in June.
Gym – yeah, kind of a disaster in May. Only 3x to RPM.
Steps – Higher than February, March and April. About 20K steps less than in January.
Running – less than February, March and April. More than in January.
Stairs @ work – FAIL. Have to rethink this one. I think taking stairs are important but I just can't be bothered. Maybe I'll come up with a sort of reward for this one.
Overall not unhappy with May results. Quite the opposite!
June Goals
Continue AM Workouts (schedule in bujo asap)
Continue to aim for 10K steps per day (not including runs)
Gym – 1 to 2x per week
Start marathon training (11/6)
Lose minimum 1KG
And since we are on the subject of weight-loss…  this week's weigh-in: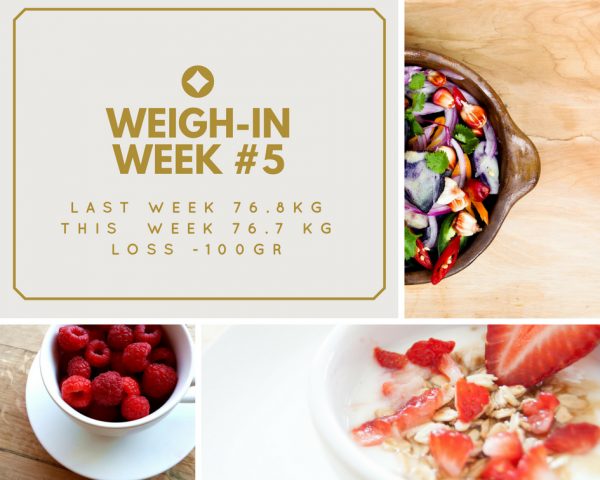 Weeks are Wednesday to Wednesday so my first few days were actually really good – I had even already hit my weekly activity target by the time Friday morning rolled around.  Then we went to Málaga… where I did try to make reasonable choices, not drink too much (Friday I had one beer, Saturday I had two, but Sunday after our epic run to Torremolinos I had a total of 3 throughout the day AND some wine at dinner.  Yeah. That's right, call the newspapers, I went all out) and when eating out I focused a lot on the recommended "free"  (obviously they are not free of calories) foods that WW suggests you focus on – chicken, fish, veg, fruit, that sort of thing.  So while we had a lot of tapas, most of mine were salmon, tuna, chicken, I had a huge salad on Sunday night (spinach, asparagus, walnuts), shrimp.  I did have other things that are not "free"  but just tried to keep it all in moderation.  I drank a TON of water, we walked a lot and, as you all know I ran 24KM in total while I was there.
So… 100 grams… it's not much.  I had the expectation of maintaining, so I'm very ok with the result.
Now the work begins.  No more trips for a while and marathon training starts next week.  I will definitely need to keep in mind that I need the fuel for running, but perhaps the carbs not so much in the beginning.  Don't get me wrong – I am not excluding carbs.  Minimizing pasta, bread, rice and potatoes on the days I do not need the fuel is actually the focus.
Are you satisfied with how May went for you?  Do you have June Goals? What's your favorite non-carby running fuel?  Does that kind of fuel even exist??