Disclaimer:  I received free entry to these races as a Rock'n'Blog Ambassador for the Rock'n'Roll Marathon Series.  All content, all opinions and all of the experience is my own and in my own words.  I received no compensation for anything except race entry (and even that wasn't fully free, because I had already signed up for the Half last year and I did not receive a refund).
Once again it was the best race weekend ever! Rock'n'Roll Liverpool weekend never disappoints!
Friday
As per usual, we were on the early flight from Amsterdam to Liverpool and with the time difference (- one hour) we arrived at the same time we departed.  Once at Liverpool John Lennon Airport we had a coffee and discussed our plan of attack.  First hotel, drop bags, brunch/ lunch and then the Expo.
The Expo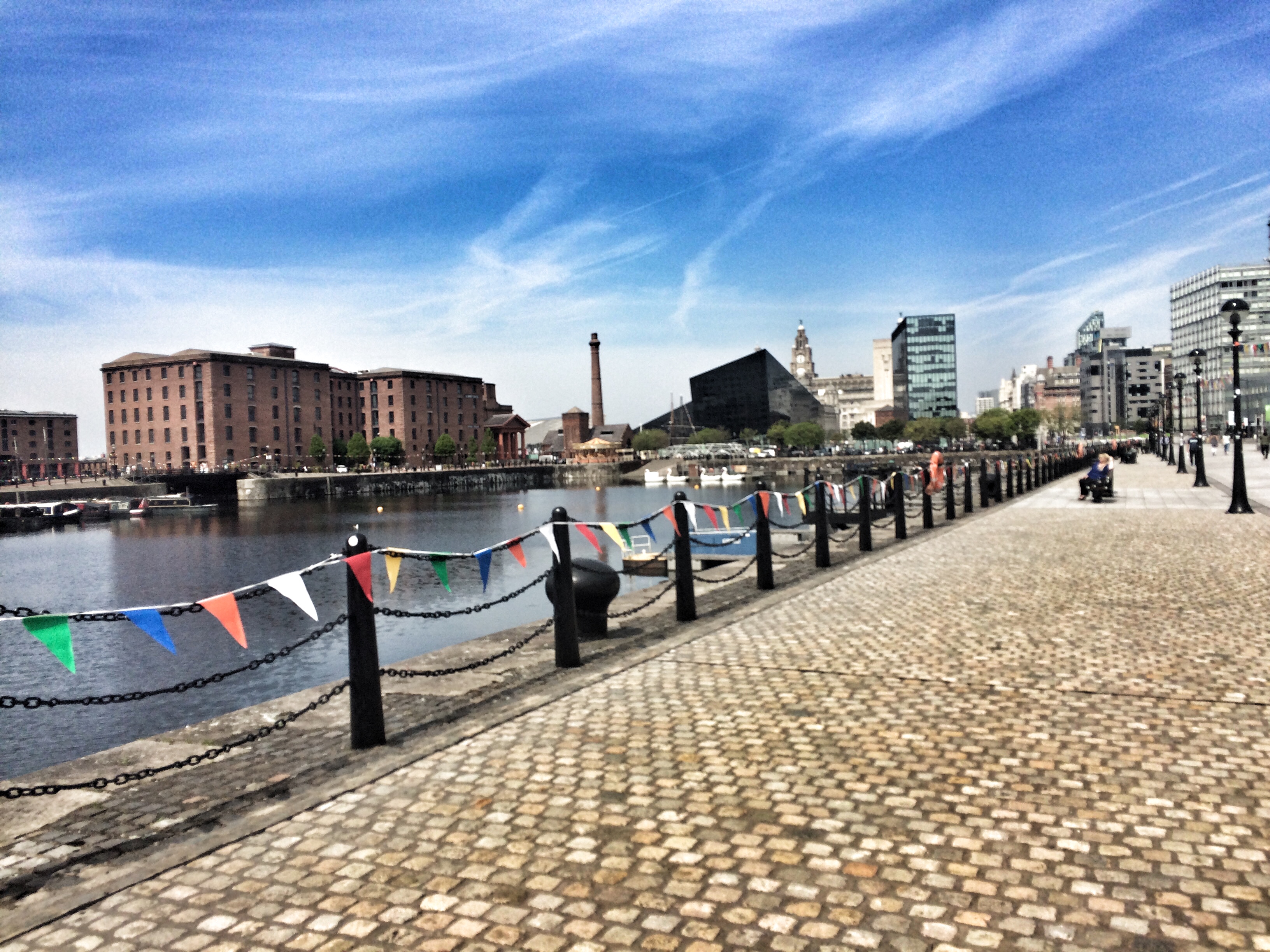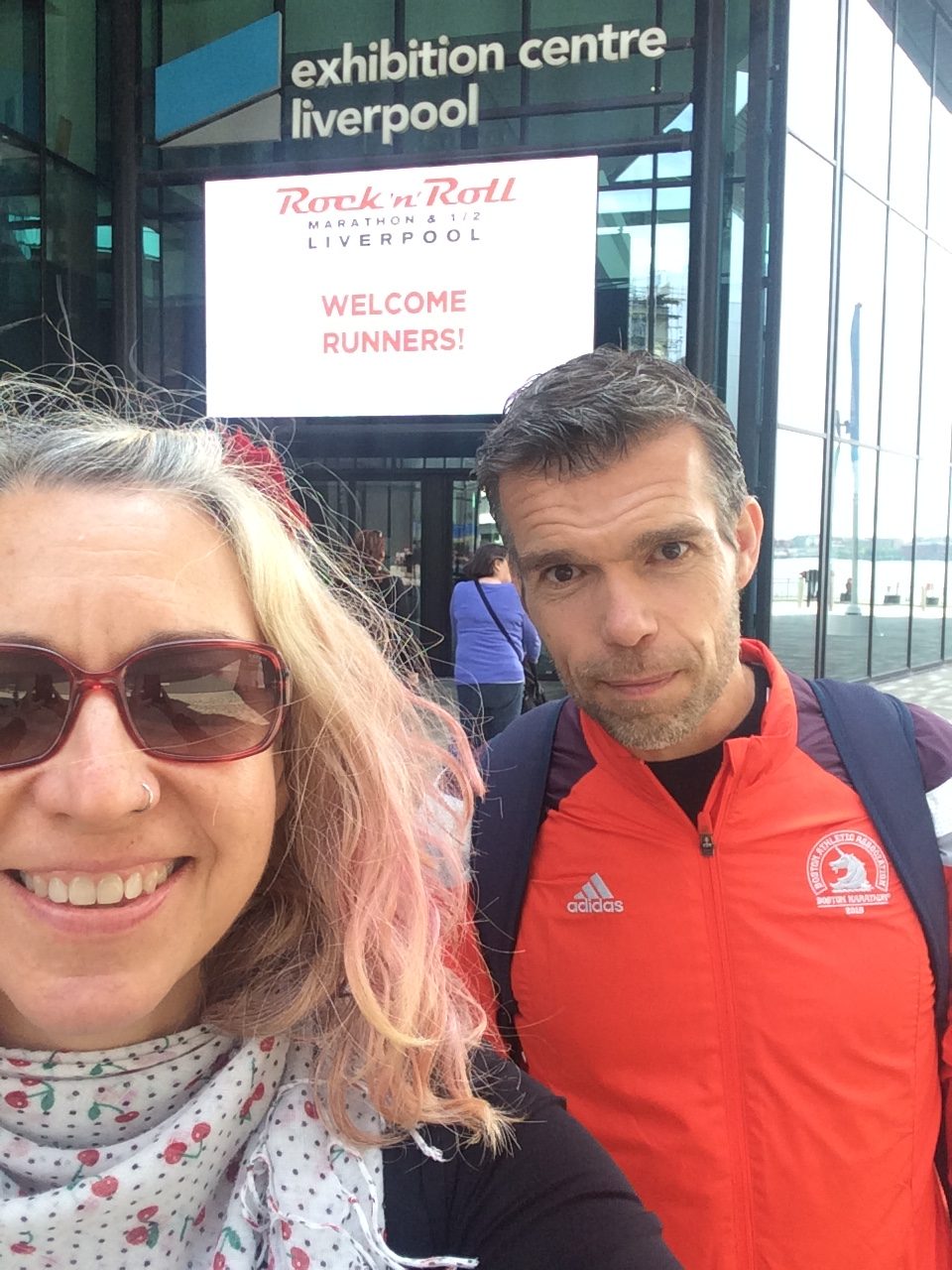 Location – the location was a tiny bit different this year than the years past.  I'm not sure why, but it could be because the weekend itself was already pushed up a week due to a conflicting event, so maybe they just couldn't secure the same space again.  I am only guessing here, I have no idea actually.   So usually it's inside the Echo Arena, and this year it was just next door at the Exhibition Center.  I kind of liked this location even more – a little bit smaller and more organised in my opinion.
Registration and Packet Pick-up  – to be honest it hasn't always been smooth sailing in this department.  Long lines and volunteers unfortunately not knowing exactly what needs to happen.  Also participants not being fully prepared, for example, by standing in the wrong lines or not having their ID"s ready.  There were quite a few long lines this year too, especially for the mile race (I gave up) but all in all I found it better organised.  I had my packets very quickly (Jennifer gave me her mile bib, since she decided to run the full marathon instead of the Half) in any case!
Tee-Shirts – as usual tee-shirt pickup was at a separate stand and this year they were really, really strict with the size.  Whatever you ordered is what you got, even if a Medium was the size of a tent on you.  The reason, "we have to make sure that all participants get the shirts they ordered.  After the marathon you can swap." (note:  they changed their story 3 times by the time I actually got a shirt that fit me – THAT was very annoying, but again I get it!  Just get your story straight one time and give clear instructions to people, not 3 different stories!)  I get the reasoning, but i was annoyed.  If I order an M, I hope it is an M and not and XXL.  They have always swapped out immediately but not anymore.  Lesson learned:  order a small tee from now on. At least for Liverpool.
Shopping – In general it seemed like the expo was nicely filled up with different stands to attract all sorts of runners.  From fuel to clothing to massage, it was all there.  If I'm honest I have to say I did not spend too much time there.  I went straight for RnR merchandise and then we left to go back to the hotel.  We wanted a little rest before our next stop on our Liverpool Weekend Tour.
The rest of the day
I booked Ron a massage appointment so we app'd an uber and headed over to the clinic around 3:45pm.  The therapist had a grand time with his back, bum and legs (while he lay on the table sweating through the pain).  Funnily enough, afterwards he was fine.  We headed over to The Bombed Out Church (Church of St Luke) the LightNight festival was kicking off with a food fest.  We arranged to meet with our friends Glyn and Jan (I met Glyn two years earlier when we both were on medal duty; Jan is his wife.  We also then met up in Chicago where I had the pleasure of running with them in the 5K during marathon weekend), had some dinner and a cold beverage and then later Jennifer came by so we got to meet each other in person (she's also a Rock'n'Blogger!).   It was a great evening, but we didn't want to stay out too late so we headed back to the hotel (about 10 min walk) to finally get some rest.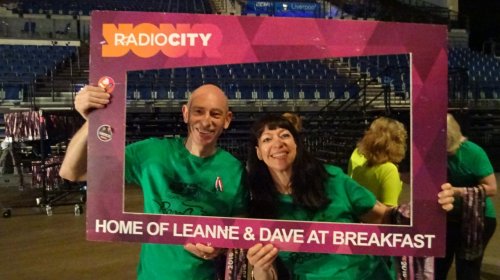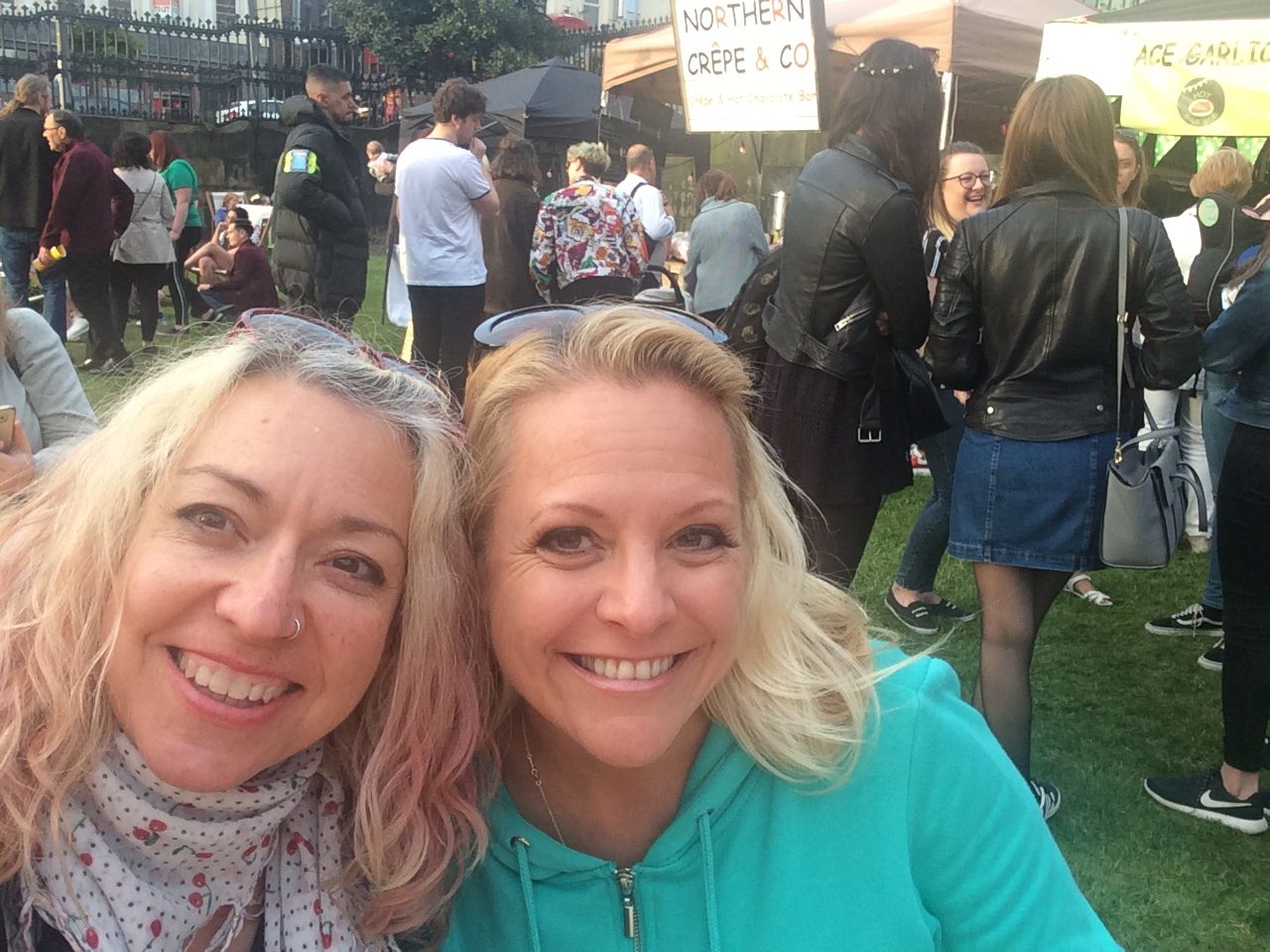 Saturday
Let the Fun Begin – 5K Day!
I had already planned  months in advance with my Facebook running group Running The World to dress up for the 5K (The English call this "fancy dress") – something I never, EVER do – and we didn't really have a theme except, well, to dress up.  My idea was to be as Rock 'n' Roll as possible (which is why I chose Joan Jett but ended up looking like Joan Jett and Siouxsie Sioux if you would squint your eyes and look at me in a dimly lit room) but with the Royal Wedding on the same day in London, a lot of people dressed up as Harry and Meghan or a variation thereof.
I have to say I was nervous and skeptical about doing this, don't ask me why, it was just a feeling.  I guess I didn't want to be the one person from the group to actually do it and have people decide at the last minute not to, you know?  But when we met up at the designated place at 8:30 in the morning my worries vanished!  So many great costumes and so much fun!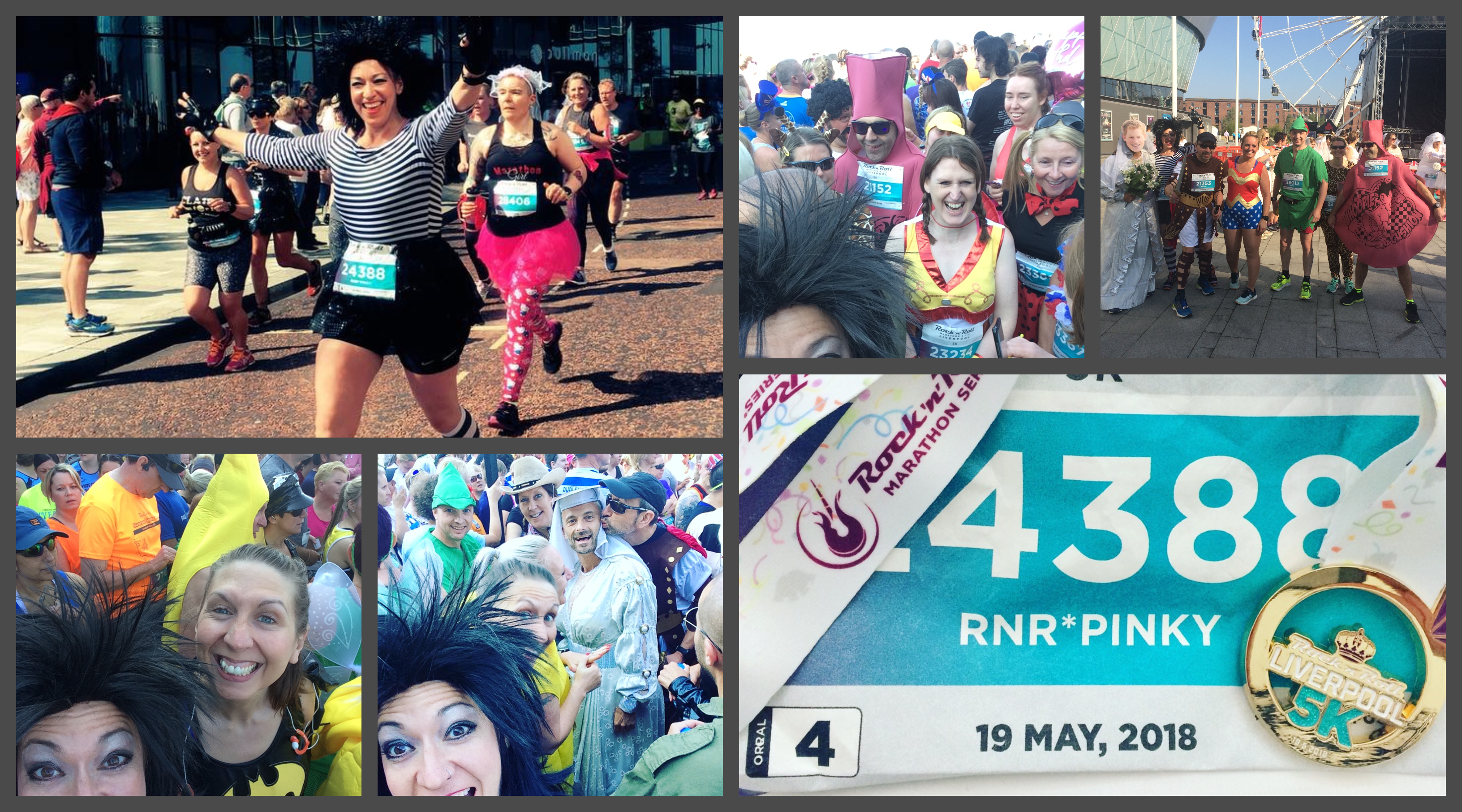 We had two bananas, Robin Hood, a whoopee cushion, two batgirls, Peter Pan, Wonder Woman, Mrs Potato Head, Mario, Woody and Annie, A bride with Harry's face, Lt. Maverick and more.  SO. MUCH. FUN.
The 5K route was a tiny bit different this year, again not sure why but there was some construction going on and that could have been the reason.  I clocked a tiny bit more than 5K on my Garmin.
Unfortunately the finish was NOT in the Echo Arena this year but they tried to replicate the finish in the exhibition center, which I think worked out well.  Getting OUT of the finish area was a bit more difficult… we were routed through the expo and it was SUPER CROWDED inside – not just from finishers but from people visiting the expo for the first time to pick up their packets.   Apparently I got out right on time – a child had gotten separated from his parents and they locked the whole building down for about a half hour until they found the wee lad.
We met up again outside the arena to do a photo for RTW and then went our separate ways again –  though Ron and I stayed on with friends Ali and Lee to have a coffee and a chat.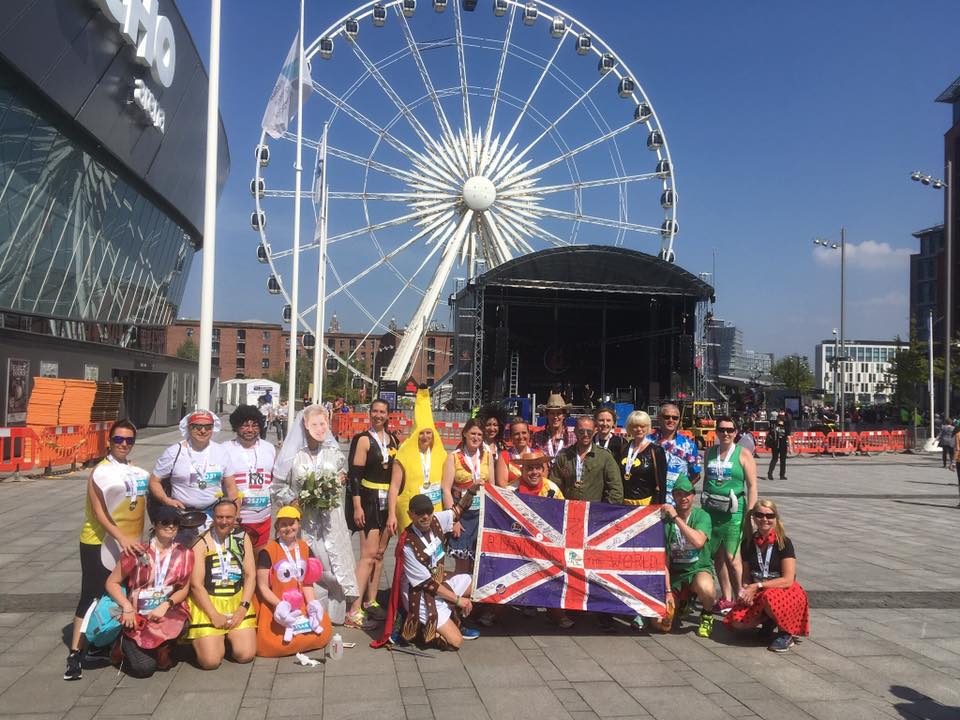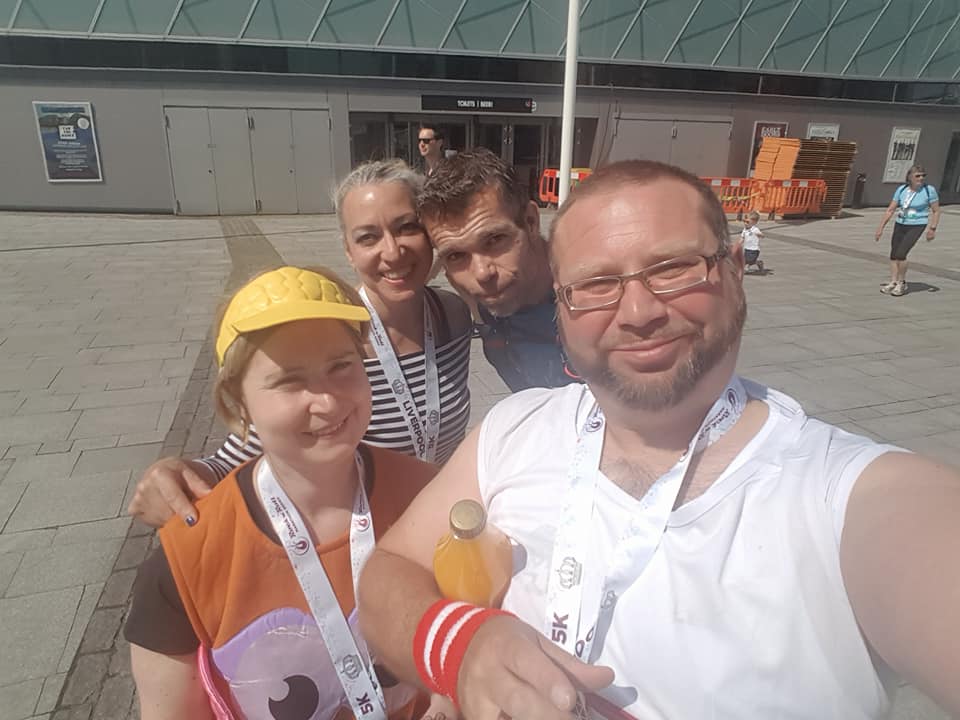 After coffee we went back to the hotel, got cleaned up, did a bit of shopping in town then ended up back at the expo where we ran into Jayne and her husband Martin (I met Jayne from RTW first, then in person at my first Paris Marathon.  We've been friends ever since – saw them again in Chicago last year as well).  After buying even more things I didn't need another hat and an ear warmer (because in the summer that's sooooo necessary) and a tank for Ron we went over to the Jury's Inn bar (right across from the Arena) to have a drink and a chat.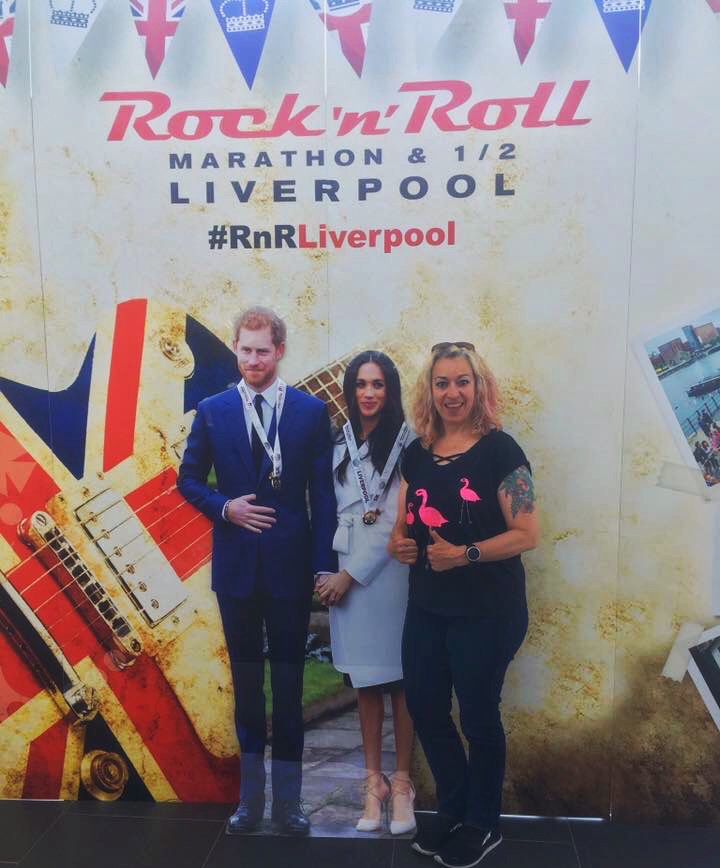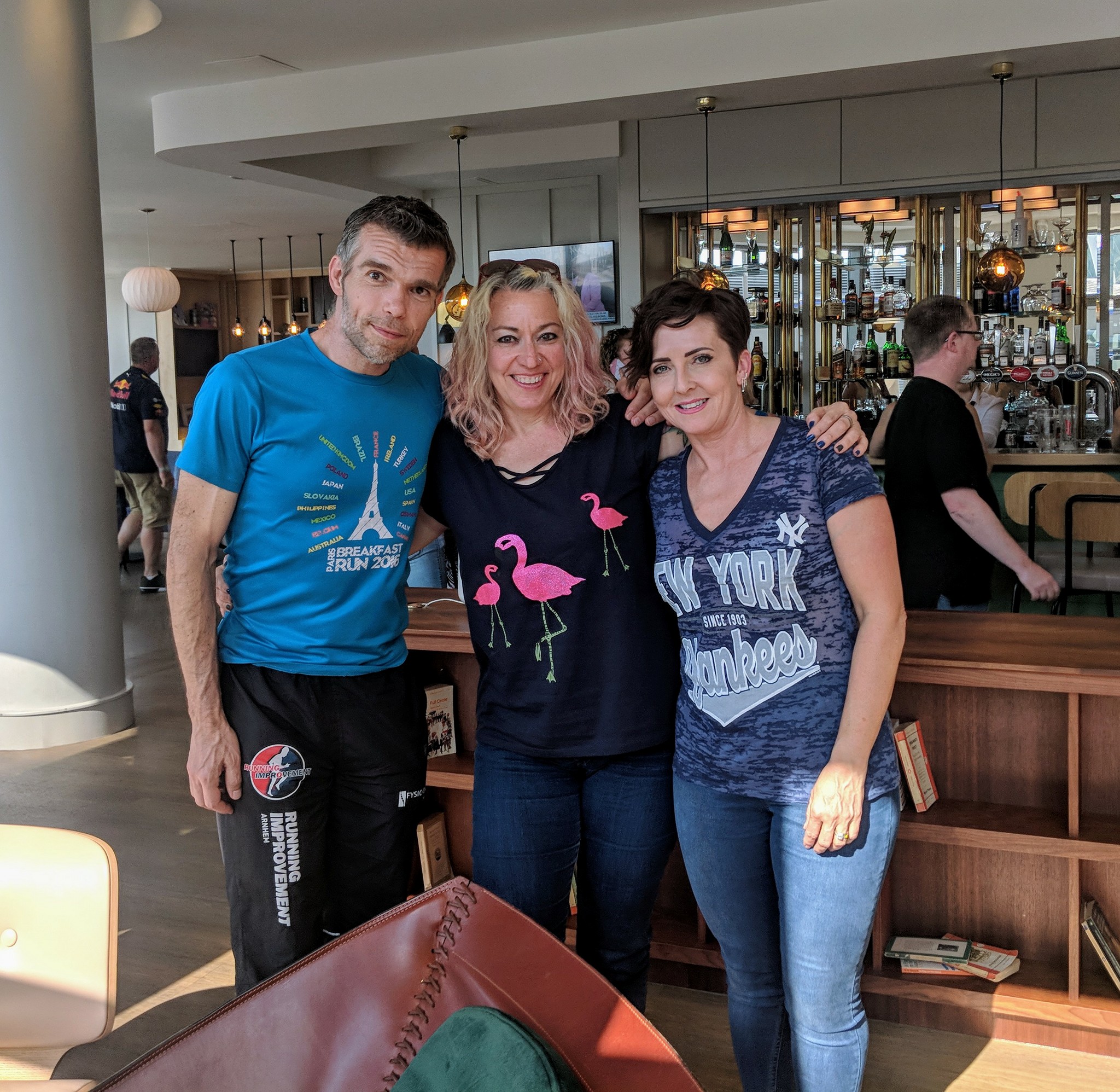 We went back to the hotel again for a powernap, because at 6:30pm we were meeting the group again for dinner.  Our friend Steve managed to book us a table for 35 people at Bella Italia and all we had to do was pre-order our food so that the kitchen could manage the group (turned out we were not the only group).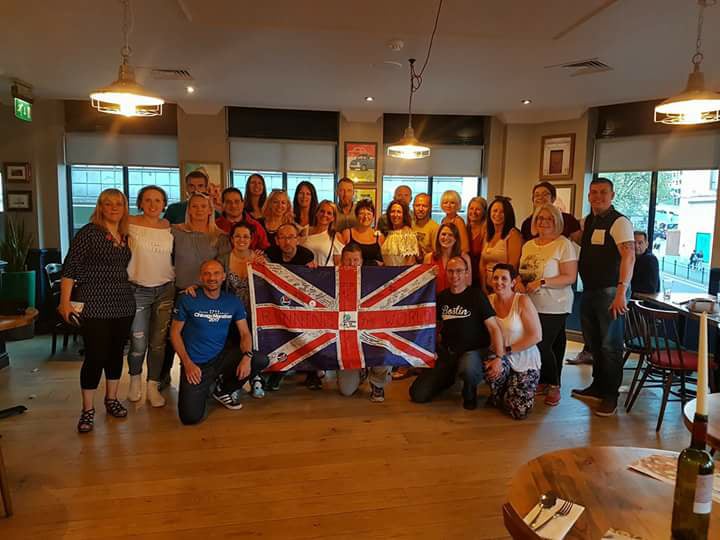 I ran into my friend Lesley there on the way out – she was there with her running group! Lesley and I met each other in person,  literally on the run, during the first Liverpool event I ran in (the marathon, my PR).  Maybe you recognize her from this post?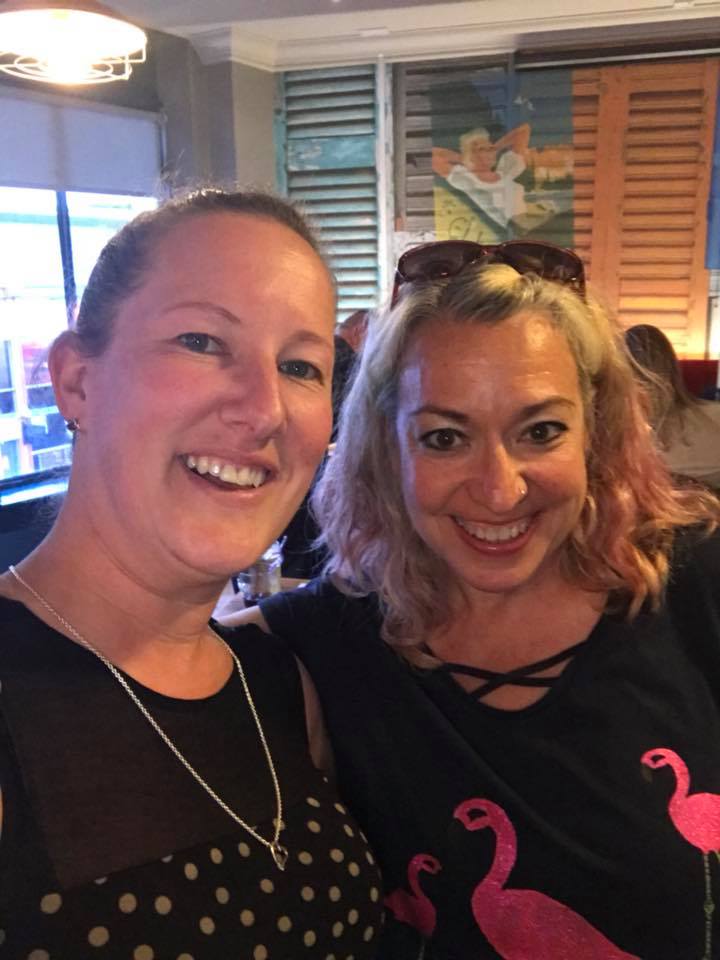 Some of the group wanted to go out afterwards but we decided to play it safe and go back to the hotel to get a decent night's sleep.   Sunday was the big day!
Sunday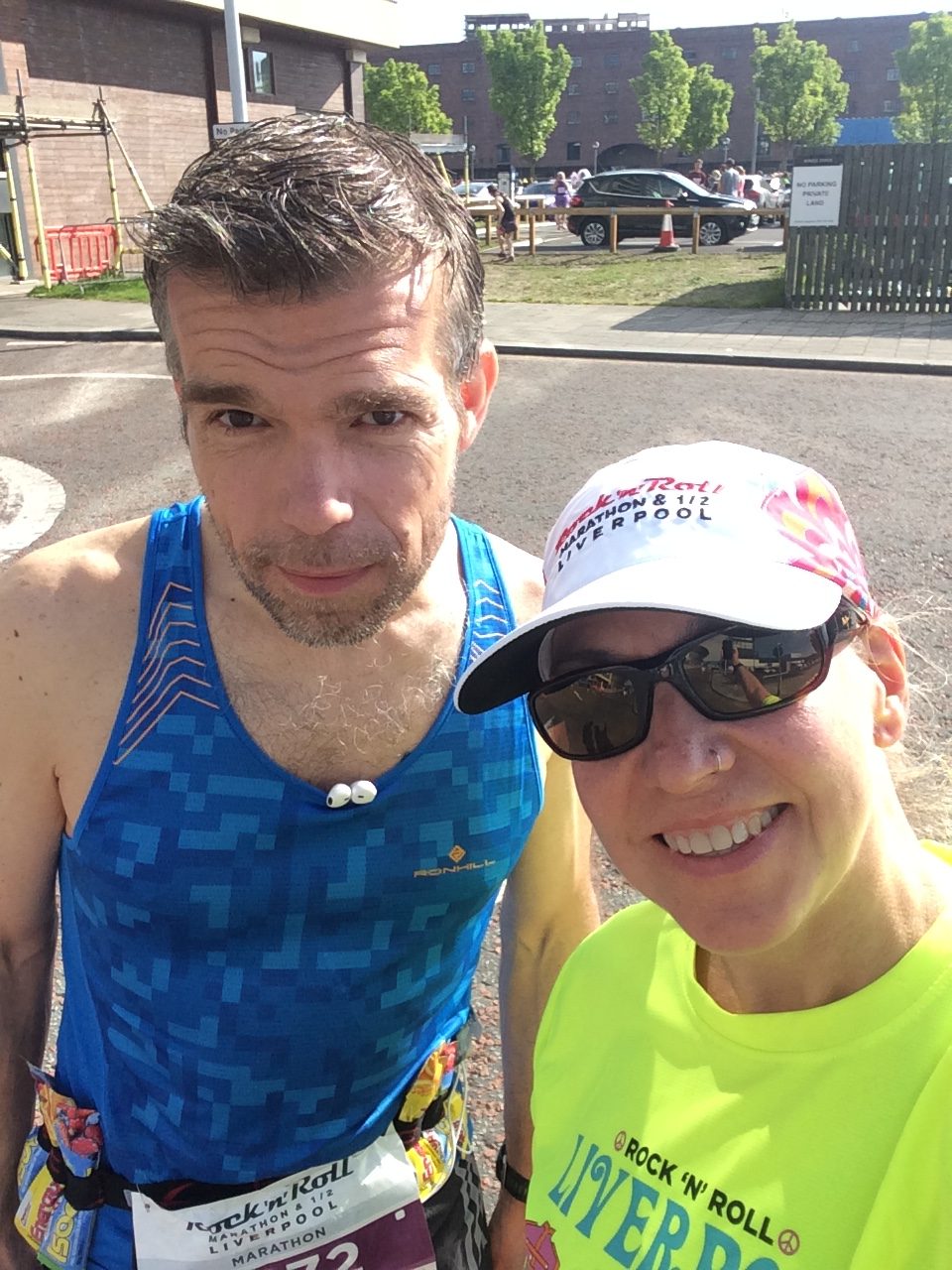 The hotel luckily had (cold) breakfast available for us at 7am, which was perfect timing.  The Half Marathon started at 9 and the Full at 10.  We didn't go too early as we knew that my start would be around 20 min later, but not too late as we had to check bags.  This year security was also WAY BETTER ORGANISED than last year for bag check (last year everything started late because of extra security – the Manchester bombing was only the week before and they had to scramble to get something together).
My starting corral was really busy so I had to wait bit on the side.  By the time we finally started moving it was fine and then we were off just a few minutes later!
It was very warm.  I normally don't get a lot of photos either anymore along the way as I generally am trying to focus on the running.  I don't seem be able to do both very well!   If you recall I had mentioned Week 19 that I would have a shot in my foot the Tuesday before the race and it was working but I wouldn't say I was 100% pain free (right afterwards I was, for a short time).   It kind of went like this:
KM 1 – 6 good pace, feeling good
KM 7 hit a massive hill, walked up it, took a gel
KM 8 -10 getting my tempo back up again
KM 11 OMG I am warm
KM 12 come on, let's pick this back up
KM 13 – 14 another gel then picked up the pace again
KM 15 – 21 whelp. pretty much walk/running the rest of this thing (along the Mersey is a real beyotch)
FINISH – I'm sprinting! Let's make it look like I ran this whole thing strong!
Not my best Half by far, not my worst either  – frankly don't really care!  was just happy to participate again! Also, I clocked a bit more than a half marathon on my Garmin.
After the race I hung out for a bit, ate some of the food we were given at the finish (crisps/ chips I think it was) and had some vitamin water and then I headed over to the MILE FUN RUN start.   Somehow I managed to run the whole thing and not walk it, even though I was broken.  Hey, it was only another mile, right?  Well, according to my Garmin it was a tiny bit more (1.7KM).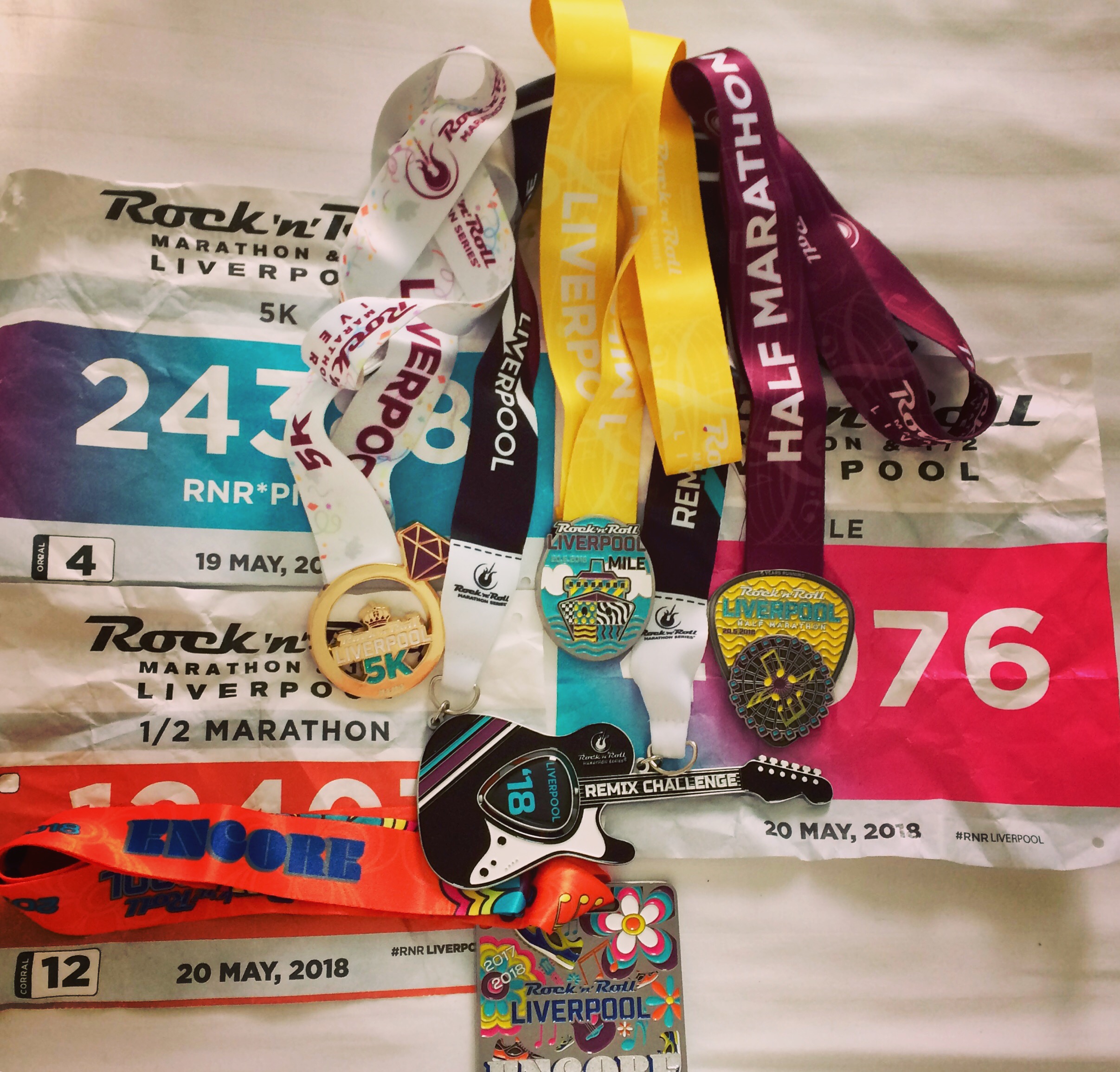 After the Mile I went over to get my bag to change clothes and then had a few minutes before Ron ran through the finish!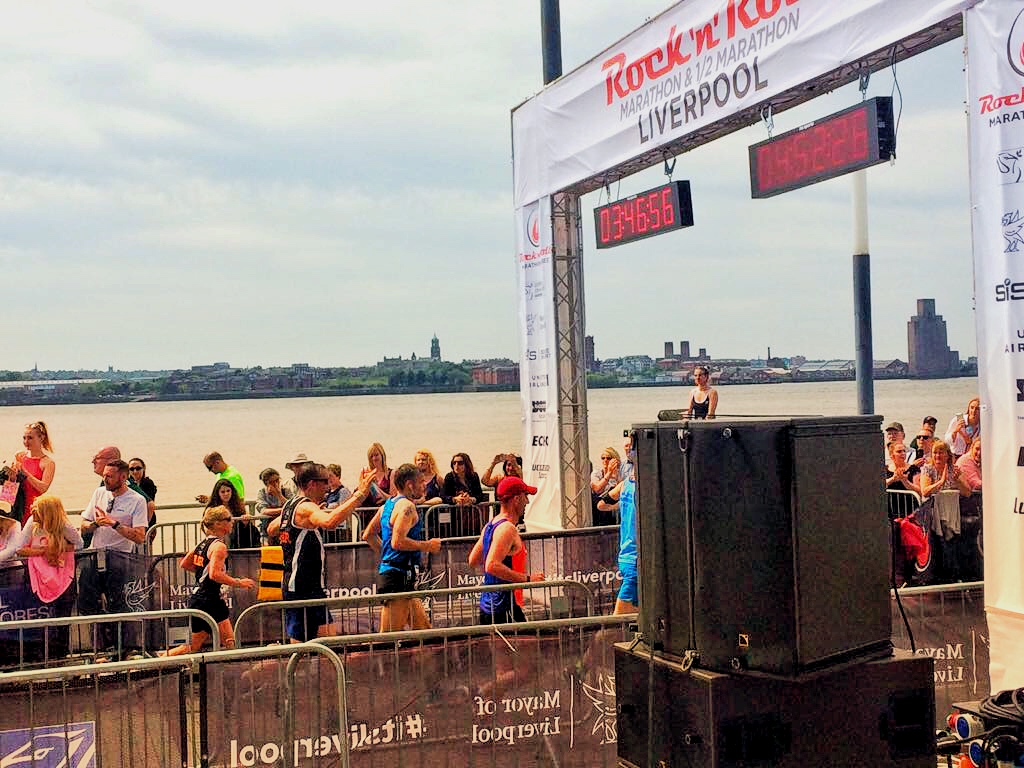 Ron wasn't feeling that great so after the race, we collected all our medals and then we just sat down for a bit, I drank my free beer and when he was finally ready (or his stomach in any case) we went to have something to eat.  Then we were off to Revolution to meet the RTW crew (including Nicky who is on the Rock'n'Blog team this year as well)!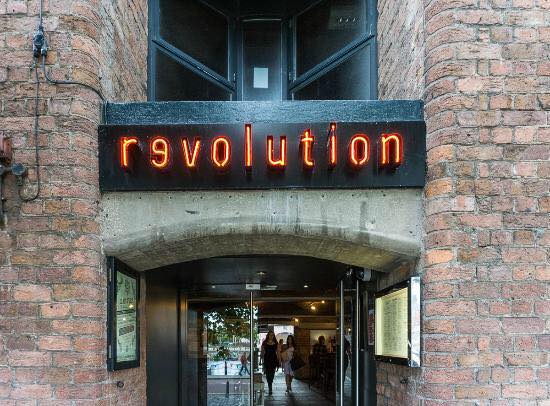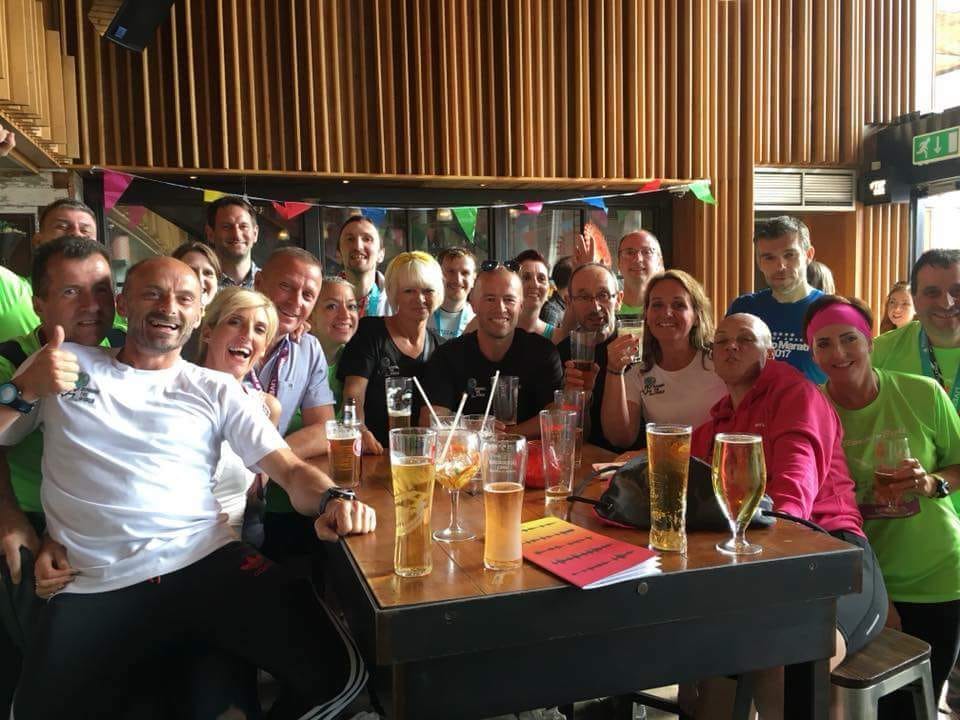 Another brilliant weekend in Liverpool – and all signed up for next year too!  At some point I would love to break my marathon PR  but I'm not sure it will be in Liverpool again – the course is NOT easy, the full nor the half!  Liverpool is hilly,  in some places the streets need some work so you do need to be a bit careful with potholes, AND to get up to the Penny Lane Turn Around is a tortuous few miles / couple of kilometers!  And on the tortuous subject, the last several kilometers along the Mersey are mentally tough (but it's the River Mersey!!)  Still, this is truly one of my favorite races and that's for a combination of reasons – Location (coolest city in England, but I'm biased), people (where would I be without my RTW friends) and *usually* the weather is amazing.   You can't go wrong doing this race, it's just a ton of fun!
What's your favorite race that you feel like you will do until you either can't run anymore or the race no longer exists?  Would you ever consider Rock'n'Roll Liverpool?