After another week where I thought I might maintain, the scale threw me again for another loop this morning: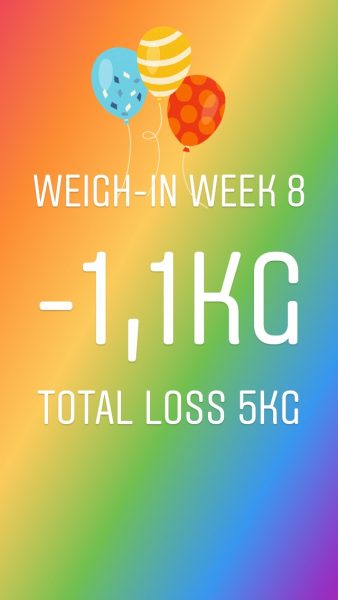 Honestly I have no idea how this happened and I'm actually wondering if it's a fluke!  Yesterday I ran and I didn't drink enough water afterwards so it could be an exaggerated loss.  So now I have to be careful / be focused this next week so that I don't gain it back.  Maintaining is fine, in fact, I didn't expect to be here until August maybe!!
I was thinking about the numbers and how friends and others always say "don't get caught up in the numbers". But isn't everything kind of based on numbers?  We run a certain amount of weeks to achieve a Half or Full marathon goal (even training for 5 or 10K!).  We drink a certain amount of fluids to be sure we are hydrated.  We run specific KM's and tempos and all of that and we don't say " don't get caught up in the numbers" regarding training.   Athletes get caught up in the numbers when they are going for competitions.  I know many of you do not weigh yourselves, so then I wonder, how do you make sure you are at the level you want to be?  Or are you already there and you've been blessed with a slim body type, good genes and a kind metabolism (I missed that bunch of handouts for sure)? Just random thoughts.   What do you think about the numbers game? 
What I did do this week:
I ate a ton of veg.
I ate more potatoes (based on feedback of others)
I had a beer on Friday and Saturday (ooh and Sunday now that I think about it!) *cue the shock*
I switched to Atkins low-carb bread (2 slices for 4 points instead of 7 with regular bread)
What I didn't do
I did not have a lot of

carbs*.

  In fact without knowing it was carb cycling, that's kind of what I"m doing right now.
I did not really log my food well.  Either I'm getting lazy or I have an idea what I'm eating now.
I did not pass up on ice cream after dinner Sunday (I had one scoop and it really was enough)
*as in bread, pasta, rice.  obviously vegetables and even fruit have carbs
I am curious how this is going to go the coming weeks.  I signed up for Weight Watchers for 3 months, that means I have approximately 4 weeks left.  I did find my old Lifetime member card which would "prove" that I don't have to pay for registration again if I go to actual meetings, I would only have to pay per meeting over 72KG (my "lifetime" weight is 70 and you don't have to pay if you are less than 2KG over your goal weight).   It could be cheaper to continue doing it online.  It could be even cheaper if I do it on my own.
I wanted to reach 74KG by the time my birthday rolled around (just a bit more than 2 months) but now that I'm there what to do?  Maintain it?  Try to go for 2 more KG?  Will that even be possible with marathon training?  I do NOT want to jeopardise my training to be a specific number on the scale.  Perhaps it will still be possible to lose if I continue to carb-cycle, run and go to the gym.
Has anyone actually lost weight training for a marathon??