I guess that's the one thing I always try to remember… no matter what, I keep moving forward.  No matter how "hard" it is, whatever "it" may be, I keep moving forward.
The reason I say this is because I feel a dark cloud above me again.  It's not always there but it's there often enough to be bothersome.  Some days are good.  Some days are crap.  As I was just explaining to a friend, I even feel bad about complaining about anything because I always think I don't really have anything to complain about compared to others.  But my pain is still my pain.  And as she reminded me, I have a right to my pain as much as others do.  Not that we WANT to be in pain, mind you.
So I'm not going to use this platform to spew out all of the the things that build up to actually create this dark cloud, at least, not right now.  For one, I don't really know how to put it all into words.  And secondly, I often am afraid of what will come out if I let it all out.  Yes, Pinky needs some help.  Let's start by just talking about some stuff.  One step at a time.
Most of my stuff comes from anger.  Long-brewing, long kept down anger.  Often I am ok and I feel like I am rid of the negative energy.  It comes back though, and then I start feeling angry about everything.  Like, everything!  And last week was no exception – my anger came out at work because I let irritation build up over time without expressing my feelings or thoughts.   I had quite the explosion at work and I'm not proud of it.  Then there are tears.  God how I hate the tears-at-work thing.   And really, my anger, directed at my colleague, really had NOTHING to do with him (ok maybe a tiny bit).  And exploding at work on someone who doesn't deserve it doesn't actually lead to feeling great about going to work the next day.   Anyway conversations were had, hopefully everything is ok now, but still I feel a bit shaky.
Anger perpetuates stress which can affect our bodies.  And anger and stress lead to feeling bad about myself – just a general feeling like I'm a shit person (which I'm not).  Which then leads to emotional eating (in my case).  I am trying to keep that part in check and trying to talk about things.  Baby steps.  But there are so many triggering things in this world that remind me why I'm angry.  Perhaps I need to unplug for a while.
All of that said, it wasn't the best week ever but it wasn't the worst either.
Monday – I had training and even though I had a tough hill training Sunday (and my calves were killing me), and I had hardly slept at all – something that is also completely doing my head in – for some reason my interval training went really, really well.  We did 4x 1000 meters with 3 x 130m hill sprint in between.  I was supposed to shoot for around 6:15 min per km and averaged around 5:50!  So that gave me a boost after not feeling that great during the day (another colleague who is not feeling great yelled at me about doing something wrong and that didn't help me).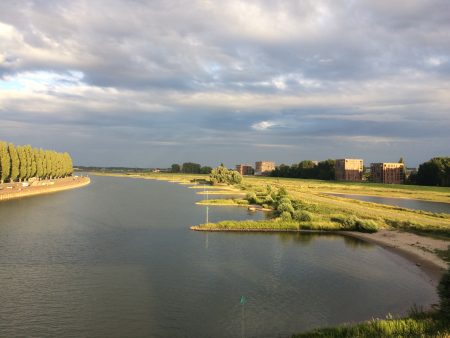 Tuesday – despite great training and being exhausted I still didn't sleep well.  Tuesday was my first officially working day as a sports massage therapist and after my regular job I went to check out the place where I would be handling clients and meet my new colleague (and see my own massage therapist who hired me), but… I didn't have any appointments!  So, I didn't work.  Still it was good to meet up, sign my contract, and check out where I would be once I actually have a client or two (or three? haha!).  Didn't do anything afterwards, was tired and just wanted to go home.
Wednesday – explosion day at work.  absolute crap day.  went to SocialMile to feel better and felt worse.  Was topped by someone I just met at running group who was giving me "tips" on how to run.  *Sigh*  Thing is, under normal circumstances I would have let it roll off my back, but I was already angry and didn't appreciate the commentary.
Thursday –  tried to go to work with a fresh attitude  – I do know that positivity helps a lot – basically to just get through the day but in the afternoon I had to have a conversation with my manager and the person I exploded on and it just made me angry and sad again.  And while I didn't explode again, there were more ugly tears.  In the end it will be fine, but I have to say I was so glad to get out of there.
Friday –  It was again a sports massage day but I had no appointments so I stayed home and tried to do some things at home – basically clearing some stuff out, finally tackling the giant pile of laundry and spending some time looking for a summer holiday for the hubs and I.   That's one thing I really feel like I need – to get away from everything for just a short period of time and do NOTHING except lay in the sun, swim, go to the beach and read a good book.
Friday night was training again;  Fridays are for technique so nothing hugely intense.   Afterwards Kim (who is also a hairdresser) asked if she could mermaid/unicorn colour my hair and I said yes.  So we ended on a good note (bonus: Chantor – my trainer – made homemade tiramisu for us which was absolutely divine).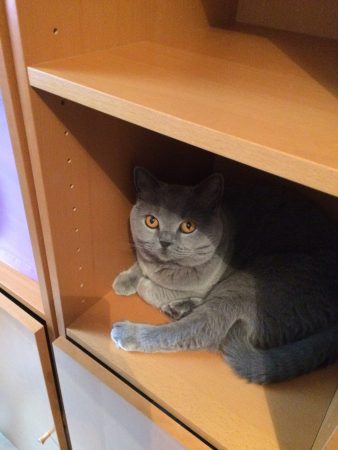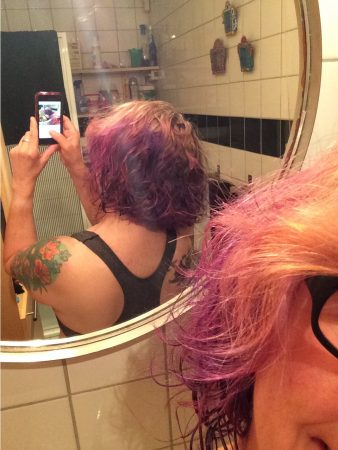 Saturday – while I got home late due to the hair coloring, I was up early again for the field test.  Normally we would have Primal Movement training, but this Saturday was for testing what our max HR is and what our training zones should be.   Ron actually brought me there (I left my bike there the evening before) and came with us, then I biked home while he took care of a few things.   A few hours later I went with him in the park to do some strength training.   So it was an active day.  For the rest we just hung out, had dinner and watched more episodes of Orphan Black (we are probably the last people on earth watching it, but currently on season three).   Managed to stay awake until 10:45pm, when I crawled into my bed and slept a little bit better than the rest of the week.
Sunday – up early(ish).  I was afraid it was going to be hot and I had a 10K on the training plan and Ron had 25K so we decided to go together – first Ron on the bike for my 10K and then switch.  Unfortunately we still only really started at 10am and it was already hot.  I was basically sweating like a mofo.  The goal was to run it consistently at 6:30 min per KM and admittedly I stopped twice to get the stinging sweat out of my eyes and once because I was overheating, but I didn't stop for long and my average pace ended up at 6:27 min per KM.  This should tell you how I'm feeling lately:  as soon as I saw that I managed it under 6:30 on average, I burst into tears. Not a happy little celebratory cry, no, an ugly, sobbing cry.  Seriously.  I need to get a grip!  I was not sad!  I was just relieved.  Why the sob???   Ron's 25KM was tough for him but I'm also very proud that we did it.  I also could not be more happy that we can do this together.  I absolutely love that we do this together.   After we got home I soaked my feet and later showered and got ready – we had a BBQ to get to at a friend's bar in town!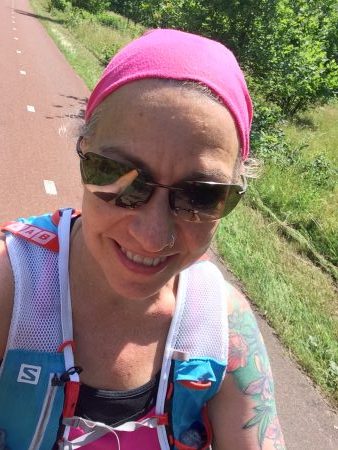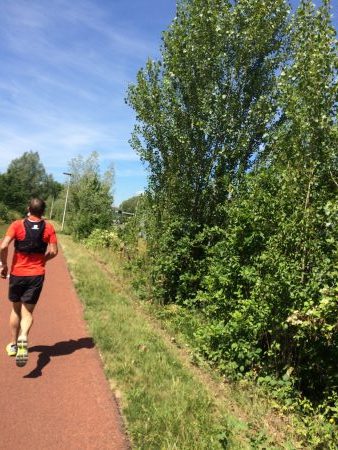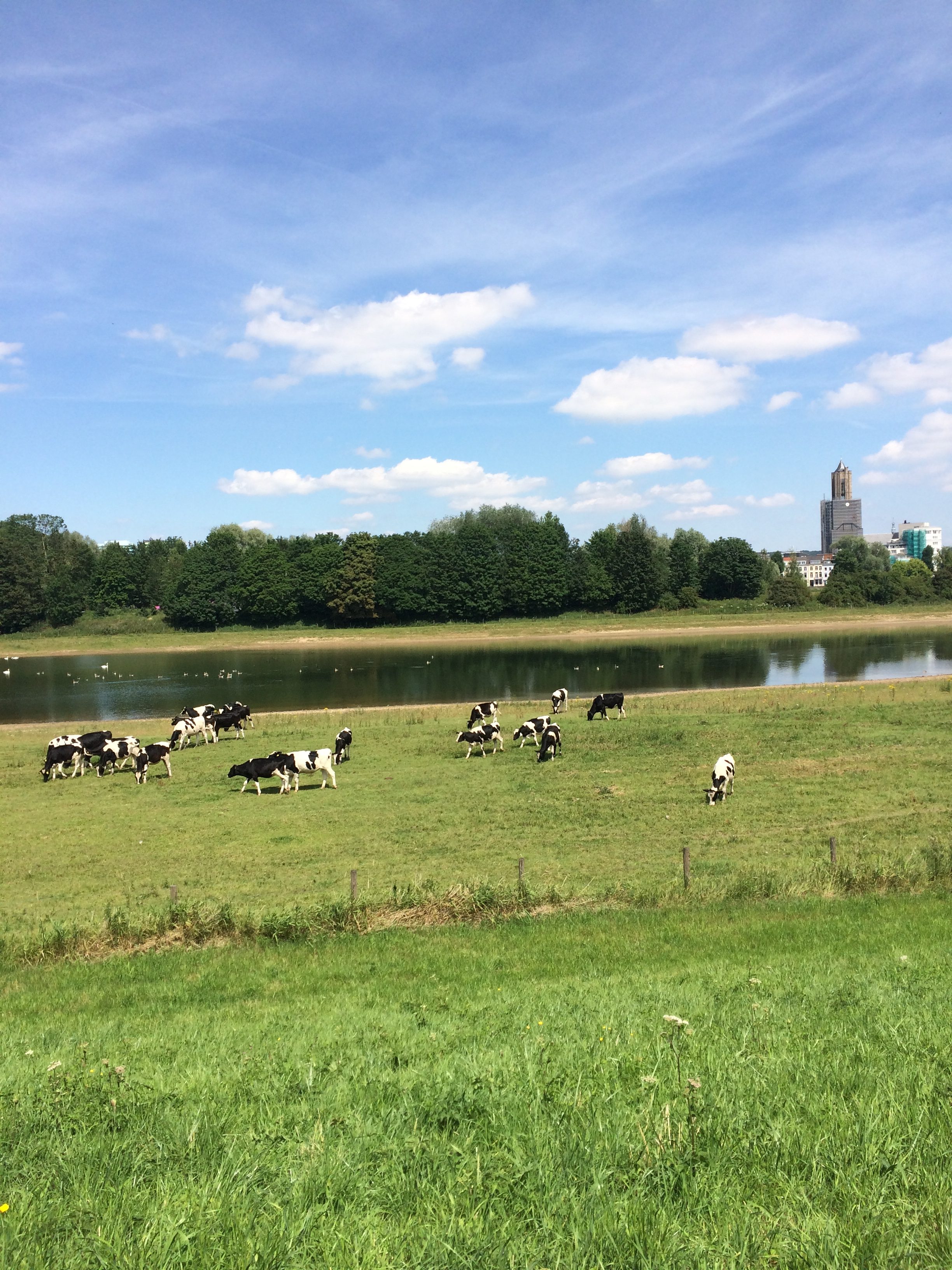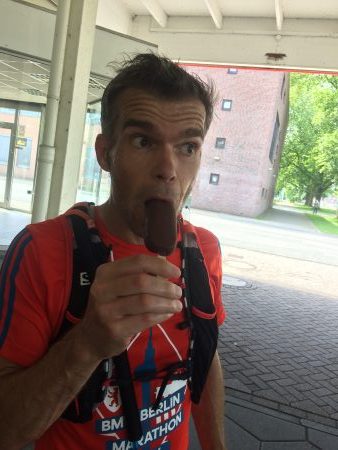 I think that next week can only get better and I'm going to keep trying and keep working on finding joy again.  That 's all I can do.  Keep moving forward, the black cloud does not have to be a permanent fixture in my life.
How was your week?  Do you struggle with bad feelings?  Do you feel like you have a black cloud sometimes?   What makes you feel better?