What up my friends?
Deborah and Kim are the amazing hosts for the Weekly Run Down! Feel free to join in as well to wrap up your week in fitness!
WEEK 31
Plan vs. Actual
Monday – 3.25KM walk, GLI gym 1 hr intake – no workout (appt w/different PT), 3.5KM biking
Tuesday – 3KM walk (office day) to and from train station
Wednesday – 3KM walk, W6R1 run, 6KM, GLI 1 hour, gym 55 min
Thursday – 2.22KM walk, gym
Friday – 2.75KM walk, W6R2 run , gym 55 min
Saturday – 2.5KM walk, parkrun in Alkmaar 5KM, 17/17 Dutch parkruns done!
Sunday – 2KM walk, long run W6R3, 1.4KM w/u walk, 10KM run (!!!)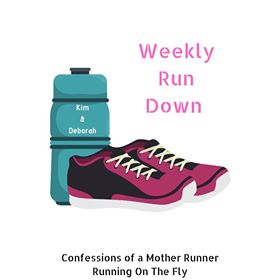 Week 14 of 2019 is basically history and we are on to the next. It's curious how so many of us can't believe the speed at which our lives pass through each week and month and year, no? It seems to me that this speed means we are making the most of the time we have.
When you are not ABLE to make the most of your time, by doing the things you love (even the things we don't love, because, let's face it, the laundry doesn't fold itself as we established here and the cats refuse to do dishes or take out the trash) and when you are a bit like ME… having the time pass more slowly leads me down a path I don't like to be on.
I'm just going to be honest and say, yes, I do have issues with depression. When I discovered that running gave me a real sense of accomplishment and was a great way to clear my head, or help me reframe things that were going on in my life that I was perhaps looking at in a negative light, it was such a relief. I could feel GOOD. I could feel HAPPY. All that without self-medicating or even prescription drugs. Score!
I went into the surgery with a focus and plan of being positive about recovery, doing all I could to recover well, doing *anything* I could to recover well and moreover not feeling bad about not being able to run. I mean, come on, it's been a hot minute since I ran. What's the problem right? Well if you've ever been injured, you know exactly what I'm talking about.
This week was, however, not the week I thought I was going to have, the week I imagined it to be, before I actually had the surgery. But it turned out ok. Remember, folks, I'm a realist. That means my glass is neither half empty or half full. But don't worry, I'm grateful I have a glass.
This Week In Fitness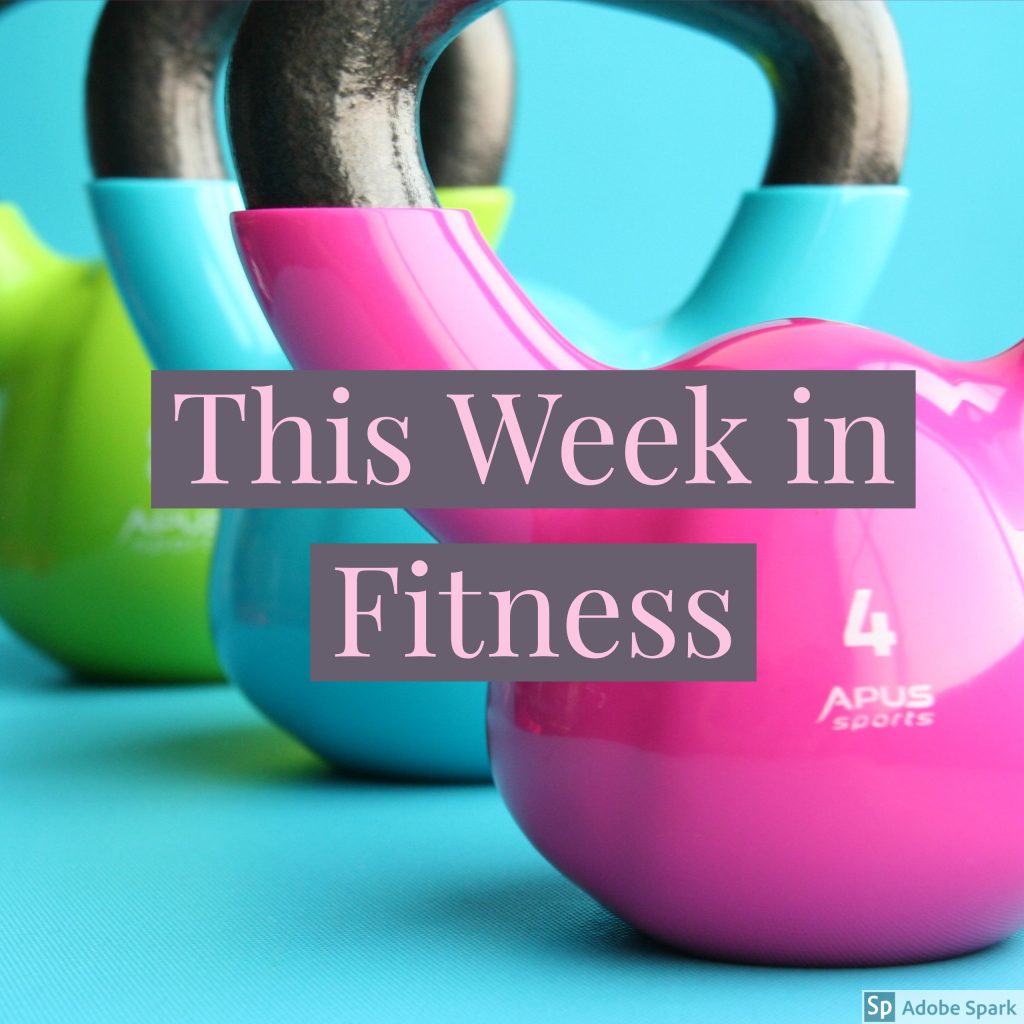 There was no plan, since I didn't even get my bandage removed until Tuesday. I was also feeling slightly sorry for myself. I think my menopause hormones also did not help.
Monday – Grace & Frankie Marathon, approx 0 calories burned (still on the couch)
Tuesday – Bandage removed, little hobble outside, feeling hopeful
Wednesday – Back to work. Physio in the afternoon. Exercise homework assigned
Thursday – Bit more hobbling today than yesterday. Went into town to have drinks and a chat with Gerrit.
Friday – woke up with a headache (no I didn't drink too much), felt crap all day and then decided to try to ride the bike. Then I did a couple of workouts from Fitness Blender and Josie's Arm & Back workout.
Saturday – Bike Support for Ron
Sunday – Drutenloop for Ron (fast 5KM race), club BBQ
Monday – still nothing, but I actually even got sick of watching G&F – I was actually loving it the first couple of days. In a very cranky mood. The bandage was driving me nutso.
Tuesday – Back to the clinic for bandage removal. Confirmed NO RUNNING UNTIL date is my final check-up: May 20th. That seems so far away. After the appointment we drove to an area close to where I used to live to have Dutch pancakes (pannenkoeken). This was also the place that I had my very first Dutch pancake 24 years ago. Slight hobbling, total steps – 1,531.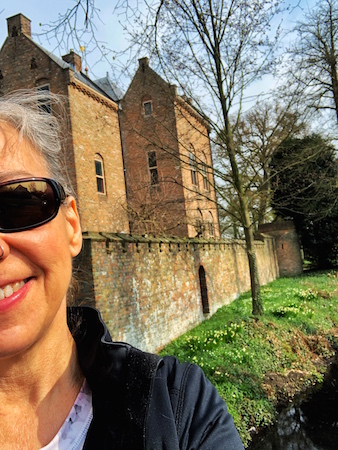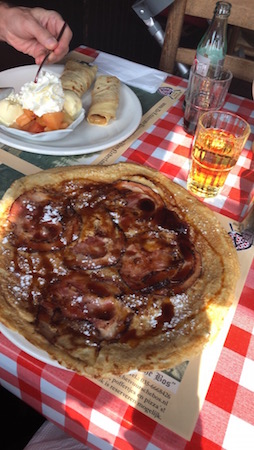 Wednesday – first day back at work. Ron dropped me off and picked me up. Basically just moving slowly throughout the office as needed. Went to the physio and he found that my wound had opened up just a tiny bit so he suggested that I get some stitch bandages to cover that area. Total steps – 4,176
Thursday was the first day that I hobbled a bit more than the days before. I am genuinely trying to take it easy. I'm walking slow and, while I wore "normal shoes" (well, Merrell's which have a wide toe box and are a half size too big) at work, I put on my fashionable surgery shoe to go into town. I also took the bus, so the most walking I did was to the bus stop, cafe, bus stop and home. I ended up with 9,320 steps.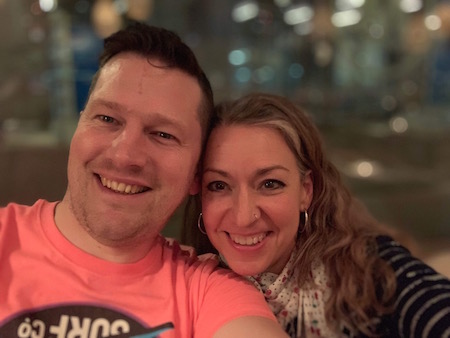 Friday – FINALLY I decided enough was enough and I very carefully got on the bike to go to the bank – walking there would have been too much and getting a bus (like I did Thursday evening) was not direct so I'd still be walking. It was FINE! In fact no impact at all, just being mindful of pedalling and stepping on and off the bike. It was a lovely day for it as well. So then I biked into town, stopped for a coffee (and carrot cake) , then biked along the Rhein and home. 14KM Biking, steps: 5,264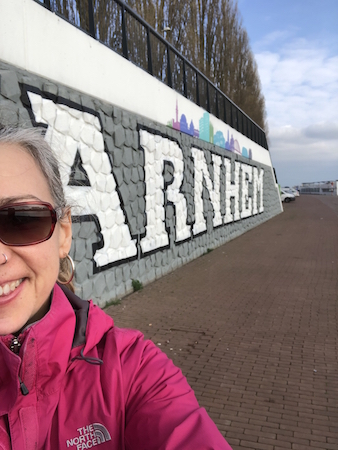 Ron had training in the evening so I did three workout videos at home, total time 55min. No foot impact – mostly mat and pilates ball with some weights in the end for arms and back.
I didn't really sweat but I felt like I did something so really happy about that!
Saturday – Ron had a long run on the books (32KM / 20 miles) and while usually he'd go on Sunday, we have something else in store for Sunday. Tough for him, since he just did 15 x 100's Friday night, but this is how it goes sometimes right? I tried to help him by massaging his hammies and calves Friday night, AND waking up the muscles with a quick stimulating massage before the run, but he just really had dead legs. Poor thing. He did it though, which means I also biked 32 KM. Not a lot of steps though (see? I'm taking it easy); total 2,028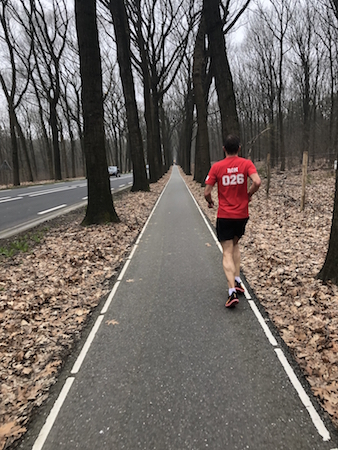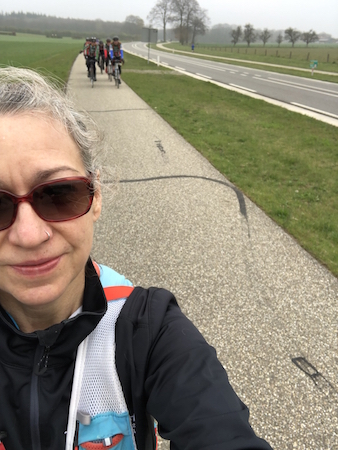 Sunday – My training group had a 5KM race in Druten, which is conveniently where my trainer's parents live, right on the route, so I went along to cheer (also with Martine, who is slightly injured). The weather was so much better than Saturday, nice and sunny but not too warm. Everyone did really well, though the "other" Renée had a few issues with it being so warm and going out too fast. Super proud of my team! Afterwards we had a BBQ with the group – super nice to just hang out and chat with each other (though still mostly about running, ha!) and have some good food. Total steps as of this moment: 6,006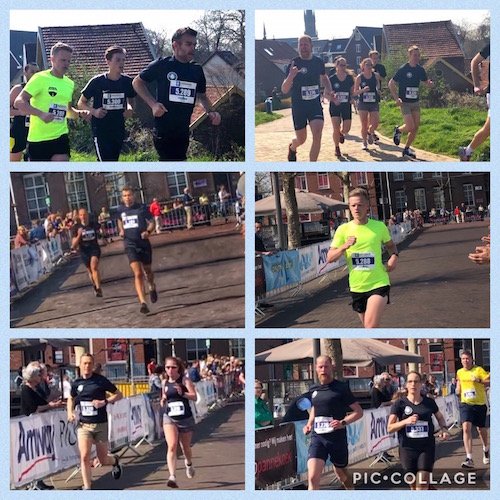 Coming up Next Week
Monday – Fitness Blender Abs & Kettlebell Workout
Tuesday – Fitness blender Abs (a different one) and Arms Workout
Wednesday – Pilates
Thursday – Fitness Blender Butt & Thigh + Quick Chest and Back
Friday – Abs & Kettlebell repeat
Saturday – Rest? Going to see the Girl and her Guy in den Bosch
Sunday – 10KM race for Ron in Enschede (most likely)
These Fitness Blender workouts are 30 minutes or less, except on Thursday it's a total of 45 minutes. I may throw Josie's workout in with the other workouts, it's only an extra 10 minutes. All of these workouts have no foot impact at all. Of course I'll do my physio exercises daily as well.
I'm also going to be testing the waters on walking, but if it doesn't feel right, then I won't push it. I'm curious how Pilates will go since we aren't always on the mat.
That's a wrap!
So tell me, do you run also to keep the blues away? Do you find it clears your head and makes you feel "normal" (whatever your normal is)? Have you heard of Fitness Blender? Do you know Josie, previously of YumYucky? (we met each other in 2012 at Fitbloggin in Baltimore – I just love her humour and energy!) Did you race this weekend? Are you training for an upcoming race?