Deborah and Kim are the amazing hosts for the Weekly Run Down! Feel free to join in as well to wrap up your week in fitness!
WEEK 31
Plan vs. Actual
Monday – 3.25KM walk, GLI gym 1 hr intake – no workout (appt w/different PT), 3.5KM biking
Tuesday – 3KM walk (office day) to and from train station
Wednesday – 3KM walk, W6R1 run, 6KM, GLI 1 hour, gym 55 min
Thursday – 2.22KM walk, gym
Friday – 2.75KM walk, W6R2 run , gym 55 min
Saturday – 2.5KM walk, parkrun in Alkmaar 5KM, 17/17 Dutch parkruns done!
Sunday – 2KM walk, long run W6R3, 1.4KM w/u walk, 10KM run (!!!)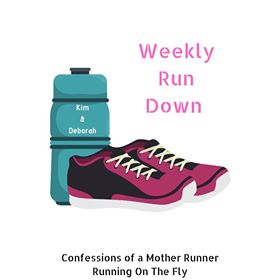 This week was finally a bit "normal" – I wasn't sick, I worked four days, and I got a lot of activity in.
Little Love Note to the Commenters: I'm so sorry I haven't replied on comments the last few posts. Life and Work has been busy; I'm hopefully going to catch up this week.
This Week In Fitness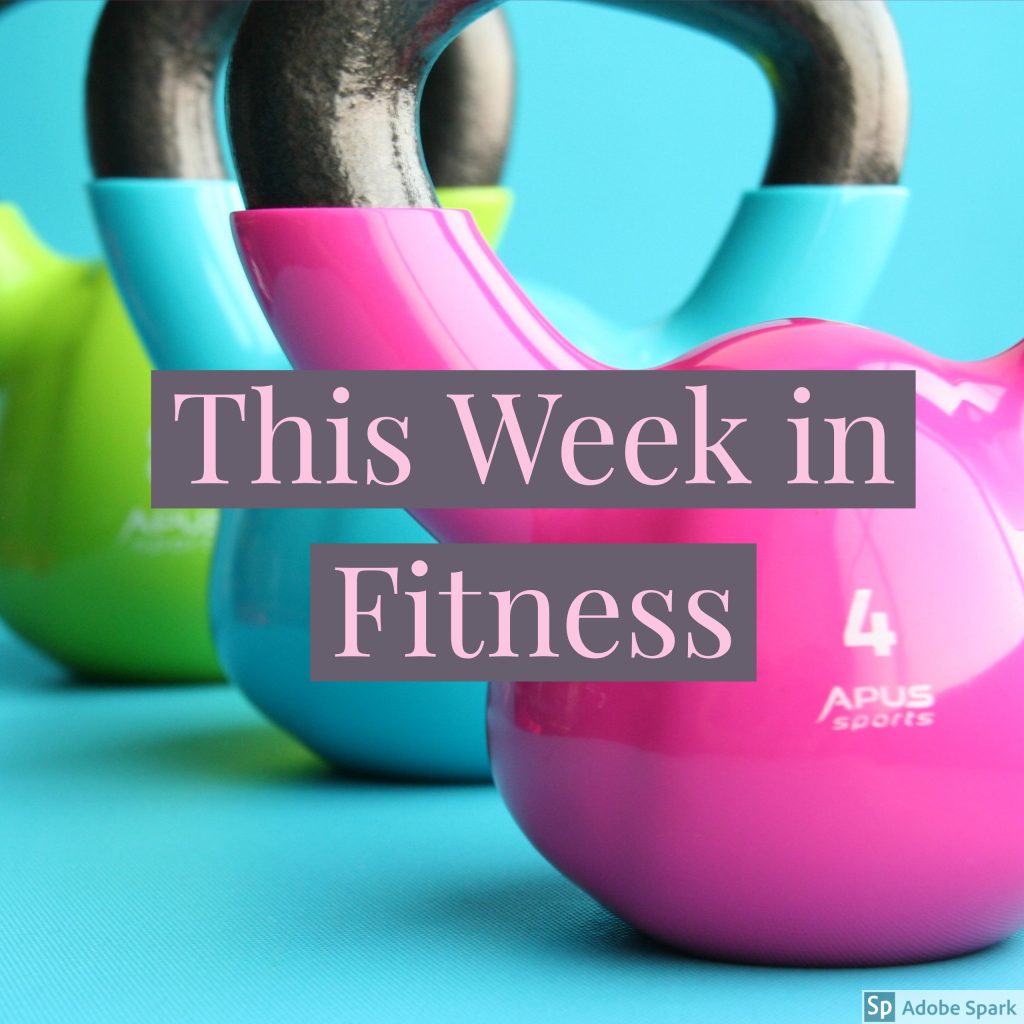 What I had planned vs. what I did:
Monday – National Holiday; if feeling well enough, bike ride + strength @home beforehand 50KM Bike Ride, no strength workout
Tuesday – AM run/walk (3 – 4 KM), RPM
Wednesday – AM workout (20 – 30 min), PT, Pilates
Thursday – Bodypump or XCO @ gym 5KM Run
Friday – AM workout (20 -30 min), run after work (4 – 5KM) 6.5KM intervals
Saturday – Gym (not sure yet if class or just cardio/strength)
Sunday – RPM, run 8KM "run" + Spinning Class
Details below, feel free to skip and just look at the pretty pictures if you like.
Monday – Day off for Pentacost Monday. Ron wanted to do some other things (including running) and I wanted to get out for a bike ride, so that's what I did! 50KM in total (approx 31 miles). Lovely day out – stopped for a refreshing adult beverage once I hit my destination (Bronkhorst) and then had to get that apple pie again that I had on Ascension Day holiday.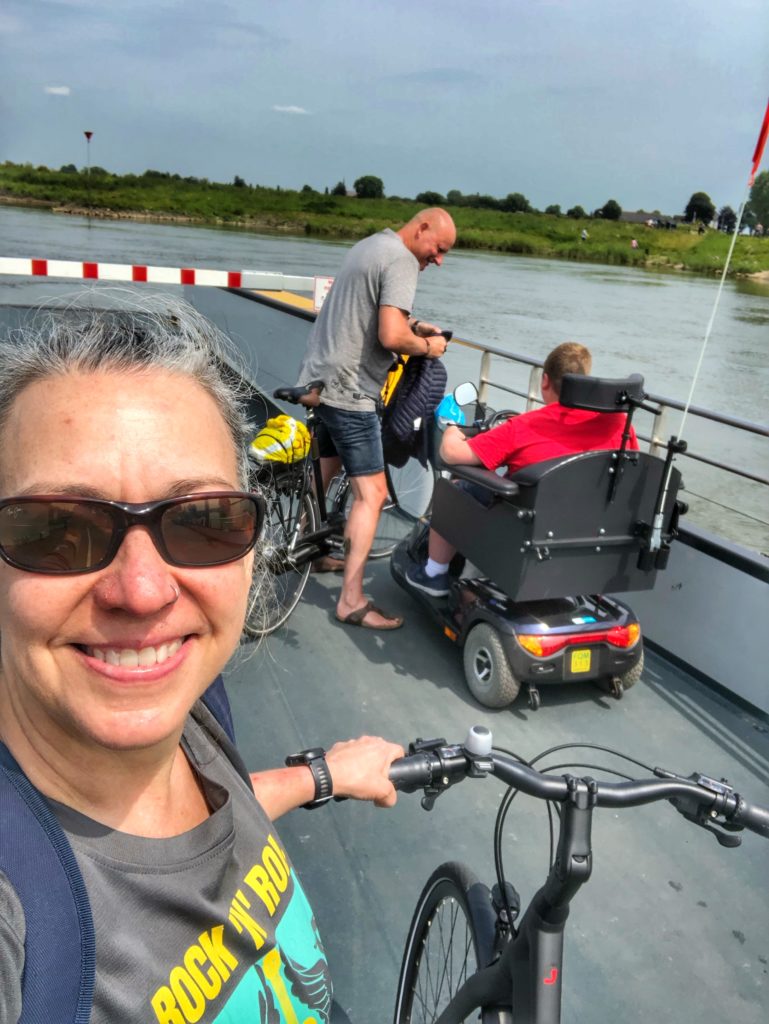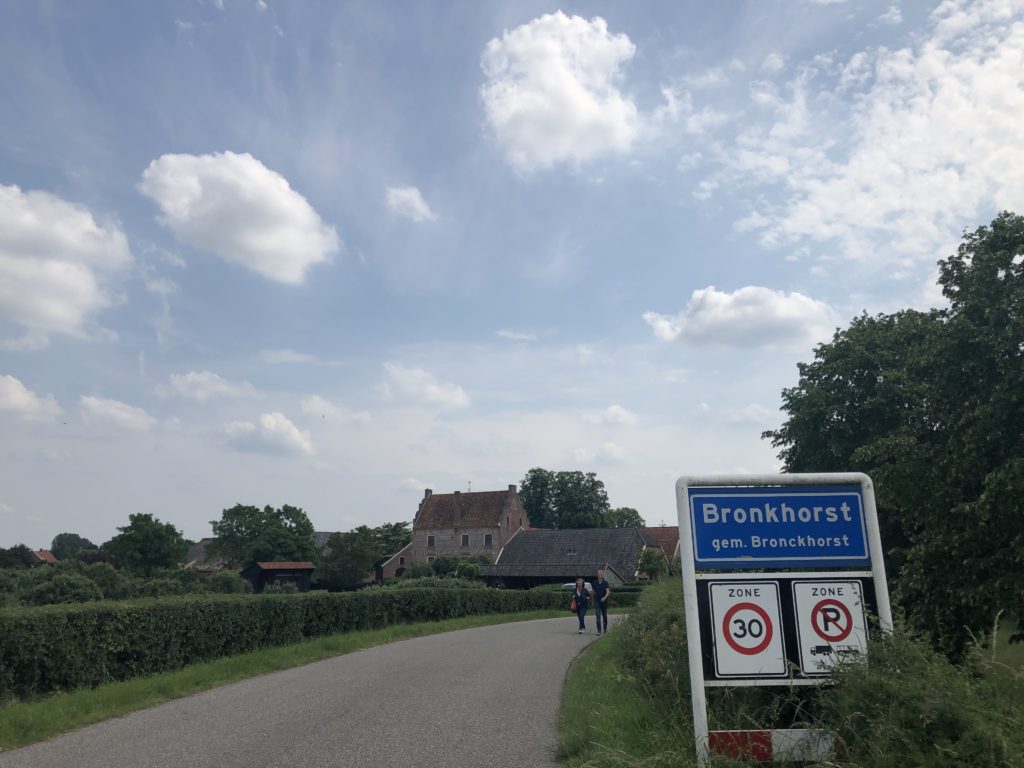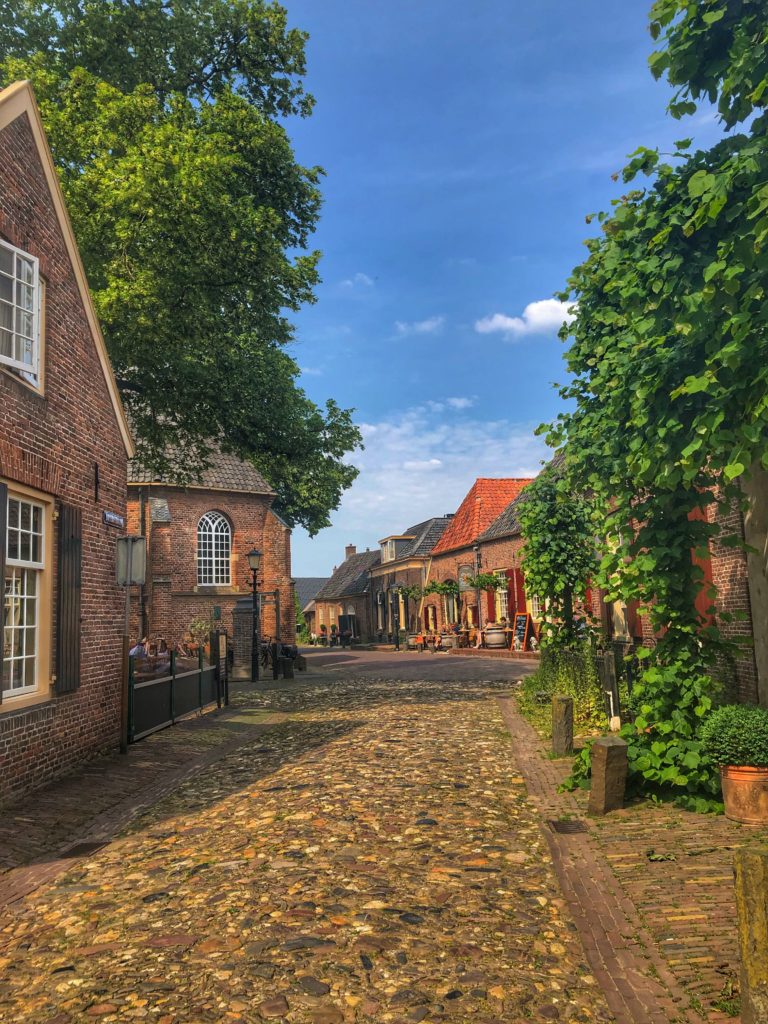 Tuesday – RPM; I swear my classes at my old gym must have been toned down for the audience. This was my second time at RPM at my new gym where my heart rate climbed up much higher than normal AND there was a small lake of sweat under the bike when I finished. Usually I burn about 100 calories less than the guys, but this time my burn was over what Ron and Vincent had!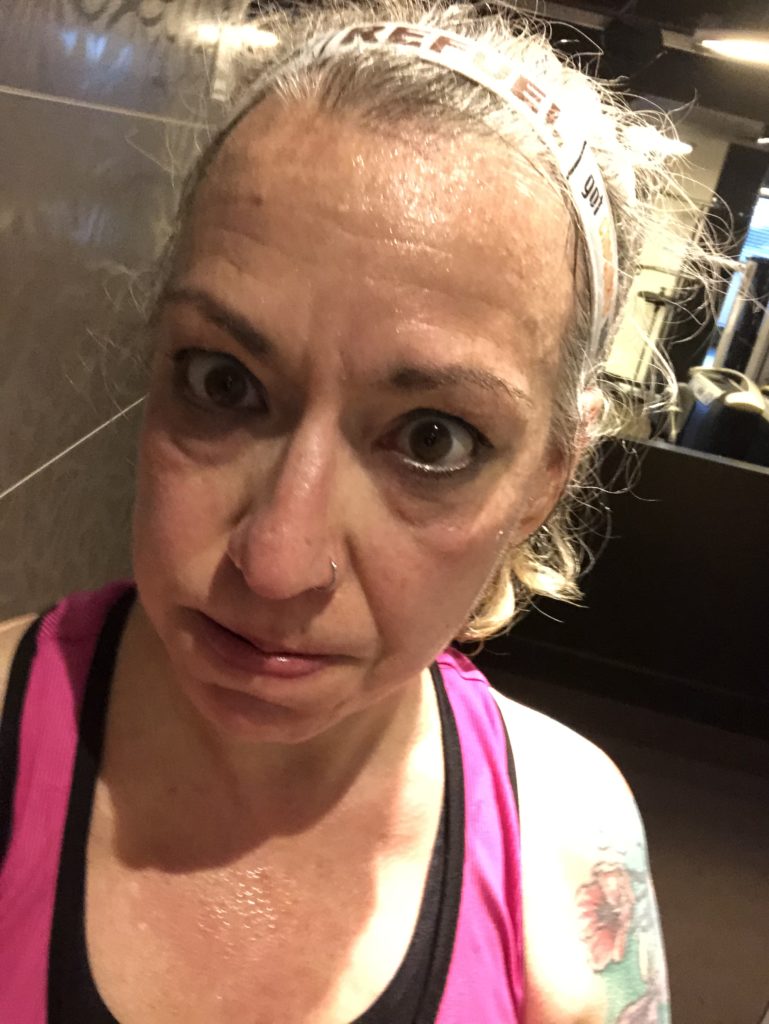 Wednesday – Last PT and Pilates; I didn't know it, but it was my last PT session. I spoke to my physio about how we were going to go further, now that marathon training was about to start and he said that we were done for now, and to just go ahead and run and see how things go in the first couple of weeks of training. If I have any issues I'm supposed to go back and see him. Pilates was also REALLY hard. So apparently I moved from beginner level 1 to level 3 on Mondays, but because of the holiday I asked if I could come to the 7pm class instead of my previous 8:30 class. This class is level 4. And I can tell you, I had level 4 pain in my abs and shoulders afterwards.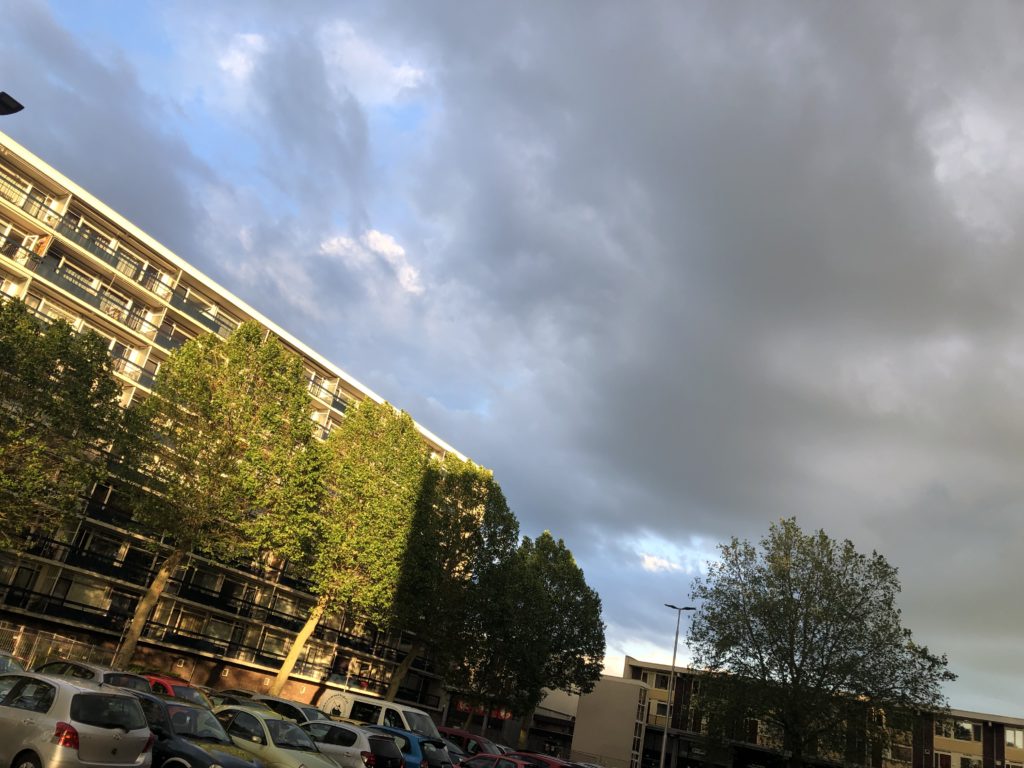 Thursday – 5KM run; I decided i just wanted to go run after work and do 5KM in one go. That's my 2nd 5K since Liverpool and, indeed I did it in without any walking intervals. I was boiling though; right before I left Ron told me it was raining. I was overdressed anyway and then I put on a jacket. Of course it stopped raining 20 seconds after I started! Extra calorie burn? haha!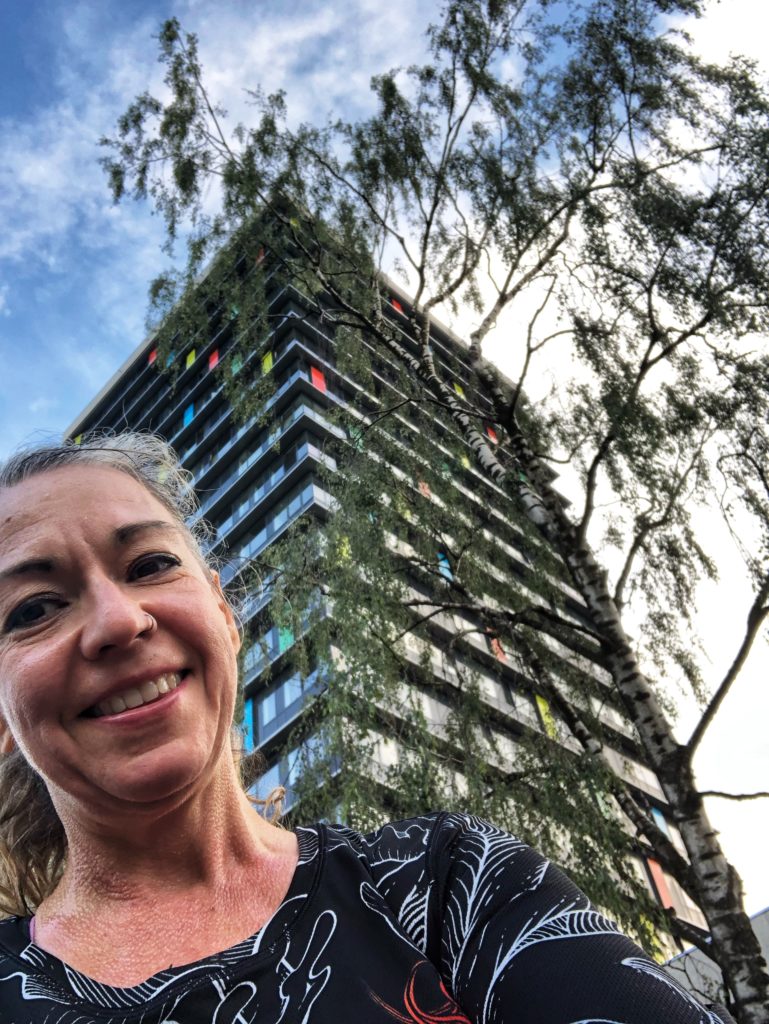 Friday – running at Runiversity; Ron suggested that I go to training since they were doing 200's, so I asked my trainer if he could put a workout in TrainingPeaks for me and I would also join in. This was much tougher than my run on Thursday, even though my tempo was pretty decent (based on the fact that I haven't run much; I wasn't expecting to already be in the 6:15 – 6:20 minutes per kilometer range). Our assignment was 200's at 100% (which, based on the Cooper Test I did is 5:27) and then 100 just a bit slower (so around 5:47). I honestly didn't think that was going to happen at all. I went all out of course, and nearly killed myself in the first round. Had a wee chat with my trainer who told me to not worry about the time as much as my running form and it would all work out. So I straightened up and picked up my knees and feet more deliberately and I'd ultimately give the effort a B-. The 100's I ended up walking 50 and then jogging 50 before starting the next interval. 6.5KM completed.
Saturday – gym time! Ugh. I was not feeling it at all. BUT, I kept my appointment with myself and Ron decided to join me. He did a run and some strength and I did cardio and strength/ balance. I need to burn a bit more calories right now if I'm going to lose a bit of weight but it's tough finding the balance. I also don't want to work out for 4 hours like a Biggest Loser contestant.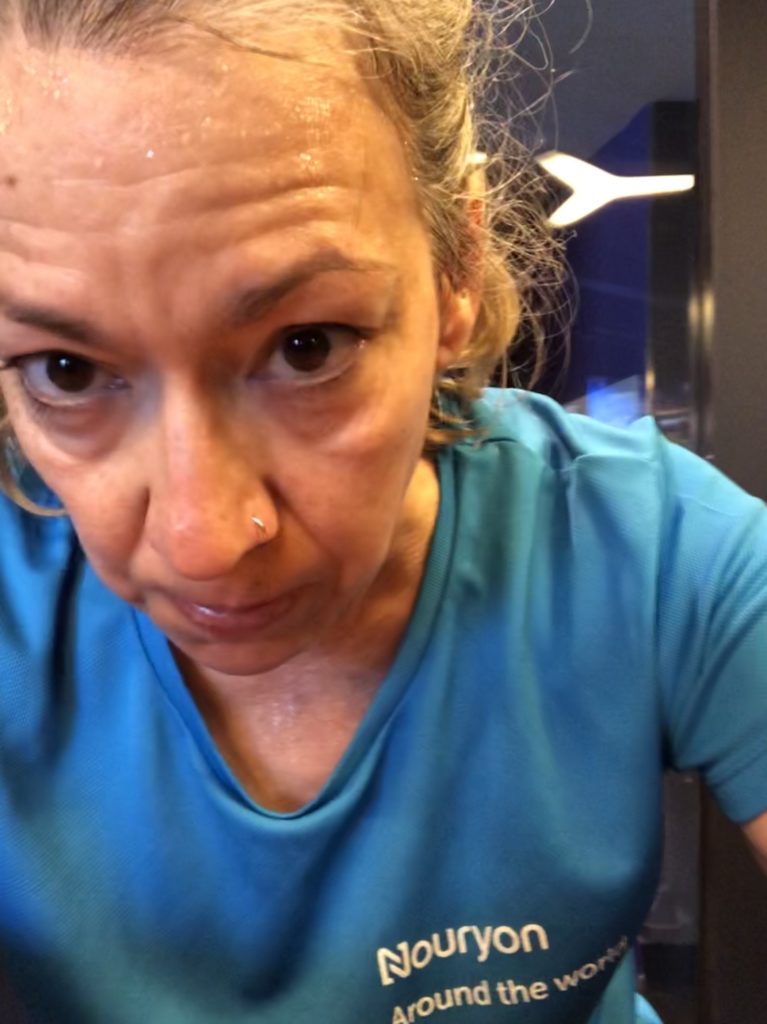 Sunday – decided already Saturday that I wanted to build up to my first long run in 2 weeks time, which will be around 12KM. That meant today's goal was 8KM, preferably in one go. BUT… I already told M-J that I would go to RPM with her at 10am. I figured running would be harder after RPM so I got up early and headed out around 7:15. I do not know how you guys do it. Kim, I'm looking at you specifically. 5 miles at 5am??? O. M. G. My legs never, ever warmed up. I didn't FEEL tired but obviously my legs were not happy with the situation at all. Knowing I'm not accustomed to running in the morning, I did give myself and hour to do the distance. And it took me that whole hour plus a few minutes. Good thing was, I got up and did the distance. It was also a glorious morning. Perfect temperature, no one really out so no traffic and tiny little breeze here at there. I ran down to the river and it was just beautiful.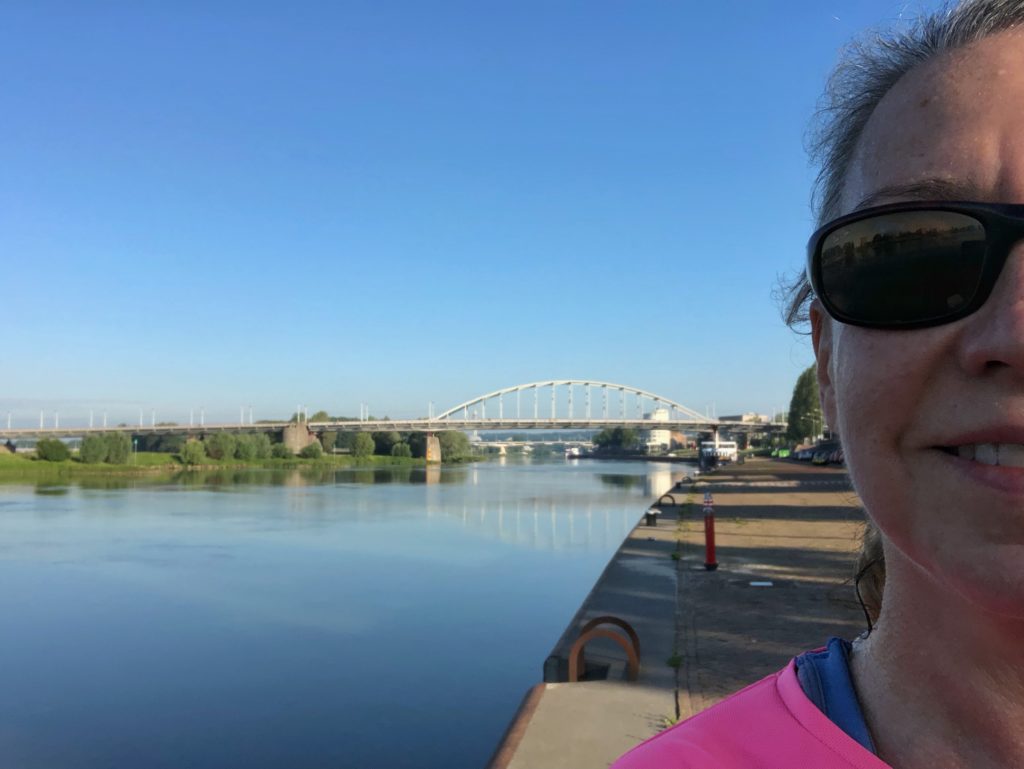 Afterwards, I got home, ate something and got ready for RPM. And… it was a spinning class. Which meant it was 15 minutes longer than usual and also unchartered territory for me. Basically put Tuesday's class to shame. We all (Ron went too) were completely shattered when it was over. Once I got home I had lunch (I was starving) and then had to lay down for about an hour!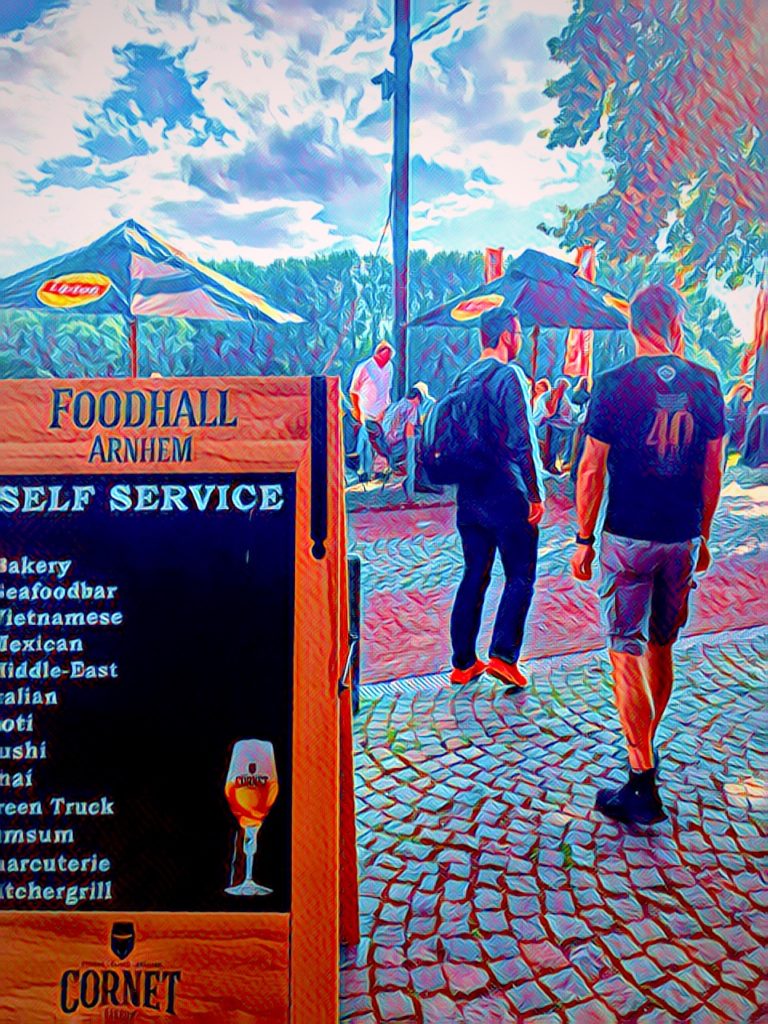 This Week In Numbers
Biking 78.7 KM (49 miles)
Running 3 x total 19.5KMS
Gym RPM 1x, Spinning 1x, Cardio + Strength
AM Workout nada
Steps *89,907 or around 12.8K steps average per day
A few side notes:
Clearly I am still struggling with AM workouts. Obviously it's not that I don't want to do the work, because I am clearly active. I just don't sleep well so getting up early is really hard. Sometimes I also have to choose between that and preparing all my food for the day. Both things are important, but honestly, keeping my food in check is kind of priority. I do want to learn how to be an AM runner; it's going to help me in the end. So even just small workouts in the morning would be a start. Let's see how that goes in the upcoming couple of weeks.
Food and weight: This week I've logged everything in My Fitness Pal and I mean everything. I didn't weigh myself last Sunday, I only weighed in on Tuesday this week when I decided I was just going to do it. So this week, with all my activity and keeping my calorie intake at +/- 1950 or less (my base amount is 1580 but then if I have a lot of activity I may need more food) I did lose 800 grams which is 1 3/4 lbs. I also tried a little experiment; allowing myself to have things I like, only learning how to control myself. Sounds silly but I cannot just have a piece of chocolate or a handful of chips (WHO DOES THAT!??). This is one of the reasons that I have now the "no junk at work" rule and that has worked out mostly well this year (slight blip about a month ago; it's fine, I've moved on). So anyway, I bought myself a 200g dark chocolate and almond bar which has exactly 10 squares of 20g each. I told myself that if I have the calories to spend and I wait until I have my tea in the evening, one square is mine. And so far… it's working! I still have 2 squares over (Ron had a couple of squares, otherwise it should have lasted me 10 days). This is definitely a habit I want to have! No denying myself anything, but MODERATION. I can easily moderate alcohol. Why not chocolate?
Pilates – you guys aren't going to believe it, but I'm pretty sure I'm going to sign up for the next "school year" of classes, as long as I am in a more challenging class. There's a Monday level 2/3 class at 5:30PM; this one costs a little bit less and it would be so amazing to not be home at 10PM on Pilates night! I'm so surprised that I'm thinking differently about it now!
Coming up Next Week
Don't hate; I work 3 days this week and then I'm on vacation until the 15th of July… you read that right! I've got a lot going on though so this is pretty much the plan for next week:
Monday – Pilates
Tuesday – RPM
Wednesday – Run and maybe XC0 at the gym
Thursday REST (concert in Amsterdam)
Friday – Run
Saturday – Gym; Cardio and Strength
Sunday – 10KM Run, New Release RPM
That's a wrap!
How was your week? Did you get a lot of activity in? Did you race? When is your summer holiday (if you have one)?