So what could I mean by that? Well I can elaborate slightly on the failing part:
I am failing at being online, blogging consistently, responding to comments, keeping up with everyone, and that is simply because I do not know how to do "all the things". That is work, work out, eat, sleep and repeat. Throw in social media for myself (which, by the way no idea why I bother except for the 1 or 2 people who are interested) and social media for Sonsbeek, I just don't have a lot of time anymore. And those of you doing all those things I am certain you know what I am talking about, but you are probably better at managing it all.
With that, I'm going to do the WRD and mention the "succeeding" bits, talk about a few plans and give you the scoop on July. And then I'm going to focus on the rest of this months activities before my holiday.
First of All: JULY STATS
Normally I would talk about this and other topics in the Coffee Date, but I missed that this time around.
All in all I'm not unhappy with my stats; running went up slightly, definitely cycled a lot, walking was down but still well over 1KM per day and gym was 1 less time, but I was also on a short holiday last month and missed a couple times due to feeling quite unwell last week.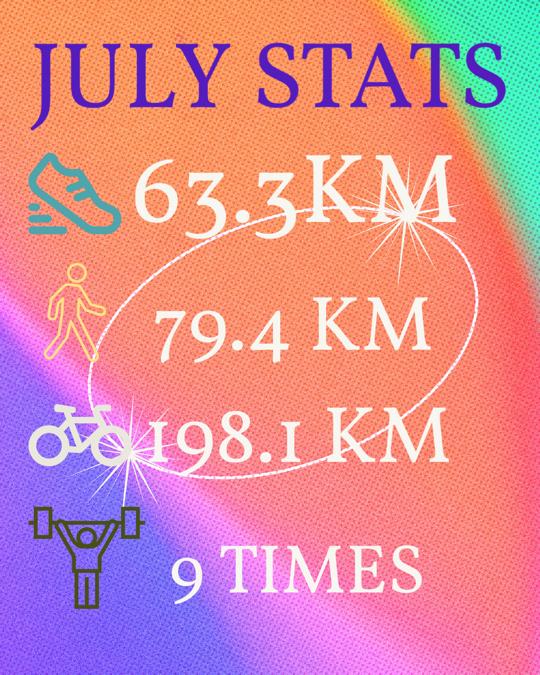 Shall we get into the WRD?
Deborah and Kim are the amazing hosts for the Weekly Run Down! Feel free to join in as well to wrap up your week in fitness!
WEEK 31
Plan vs. Actual
Monday – 3.25KM walk, GLI gym 1 hr intake – no workout (appt w/different PT), 3.5KM biking
Tuesday – 3KM walk (office day) to and from train station
Wednesday – 3KM walk, W6R1 run, 6KM, GLI 1 hour, gym 55 min
Thursday – 2.22KM walk, gym
Friday – 2.75KM walk, W6R2 run , gym 55 min
Saturday – 2.5KM walk, parkrun in Alkmaar 5KM, 17/17 Dutch parkruns done!
Sunday – 2KM walk, long run W6R3, 1.4KM w/u walk, 10KM run (!!!)
OK so just quickly to explain:
GLI is gecombineerde leefstijlinterventie or in English this is a program which includes multiple professionals to help people who are overweight or obese to change lifestyle habits to lose weight, get fit and give them the tools to sustain weight loss in the future. It's a 2 year program. Most people participating don't already have a fit lifestyle, but I am eligible because I'm overweight based on the archaic BMI system that never took anyone into account except for white men, but here we are – HA! Since it's covered by insurance and my GP recommended it for me, why shouldn't I participate? Anyway, there will be an overlap with the GLI gym and my normal gym until October. From here on you'll see either GLI or Gym and then you know what is what.
RUNNING
Somehow the stars aligned this week and even though I feel slightly nauseous I decided that the only thing I could do was get out there and try to run relaxed rather than worry about tempo.
And voila! 6KM on Wednesday (5.5 I think it was running and then a 500m cool down), my fastest parkrun since August 2021 in Alkmaar and a Sunday long run that I'm shocked went the way it did – the running portion was 75 min; I ran 60 min and then stopped to take a photo and do a quick check on where my husband was. 75 min I almost had 10KM so I ran another 700m in the cool down (already programmed in the watch) to make it so. 1 hour and 20 min. I feel quite emotional about it because I actually felt like the old me running today – how I missed that!!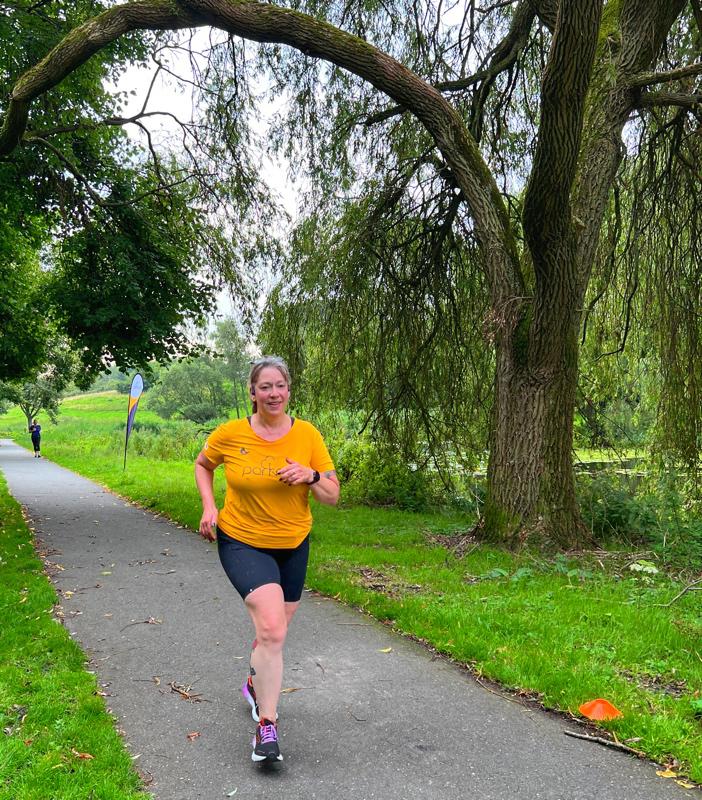 GYM
GLI is a bit of a circuit – there is cardio, body weight, mobility and 1 weighted exercise on the program. I went once this week, goal is two times, but I just couldn't fit another session in this week.
I made it twice to the gym this week and have now planned in both GLI and Gym up until I go on vacation. Nothing exciting except on Friday evening I was really pissed that someone left 200KG on the leg press. In total I had to remove 275KG from machines. I took a photo and sent it to them via Facebook (since no one was really around to complain to when I left) and told them I'd had it and why wasn't ANYONE walking around checking, monitoring that things were going well in that area of the gym? They wrote me back and profusely apologised and claimed they will do better. We shall see.
CYCLING
No major cycling going on. Only to feed the cat last Monday. Getting out and cycling is definitely something I want to do but WHEN??
WALKING
Still walking and still committed to not only the walk streak (today is day 218) but to walking in the morning (before starting work) on work days.
Coming up Next Week
WEEK 32
Monday – walk, gym
Tuesday – walk W7R1, GLI — day off switched to Tues for 3 weeks
Wednesday – walk, gym
Thursday – walk, W7R2 intervals, GLI
Friday – walk, gym
Saturday – walk, parkrun in Den Haag (not sure yet if running or volunteering)
Sunday – walk, long run W7R3 (or 4)
Basically this will be the schedule with a few exceptions until the end of the month. On the 16th is the last SocialMile run (I will join on the bike) and on the 18th is Expat Cafe Quiz Night (that I help organise). On the 19th I'm going to a "We love the 90's" Festival with some friends so I don't even know how I will do that with parkrun in the morning as well … On the 26th I probably will switch out my long run (on the 27th) because on the Sunday, Arnhem Together is collaborating with Indigo Volunteers for a charity 5KM and I am also helping with that!
I may or may not be able to do WRD's, but in any case if you are (or aren't, please do) following me on Instagram or Facebook (or even TikTok), I do post daily because that helps me be accountable – I would love the support there in the meantime.
That's a wrap!
I still need to get to comments and I'm sure I sound like a broken record, but I read all and really appreciate everyone taking the time to read and comment!