This weekend was amazing and dynamic on so many levels. It was physically and mentally challenging and there were highs and lows.
I had an incredibly busy week but did my best to think clearly about my trip ; what did I need to bring? Could I fit it all in one case? Was I going to be able to have time to check in or get my train ticket arranged ? Passport? Race pack? Food?
Each time I do something new I learn that I still need to have a little more patience with myself and to learn to be less controlling. Roll with life a bit , you know? So this trip was just another chance to not only enjoy life but learn something too.
My flight was at nearly 4 pm Friday, it was tricky checking in online and I took half a day off anyway so I left work and was headed to the airport already at 1pm. Checking in there was smooth and I just had carry on luggage for once in my life so I had plenty of time to kill before boarding.
Eventually we boarded and after a quick flight we landed in Exeter. I thought I would get the bus quickly "downtown" and then the train to Penzance and how hard could that be, right? Well…
I landed around 16:15 and I made a reservation for the train at 17:45. Plenty of time. I went inside the main hall at Exeter International Airport, and checked at information where to find the bus and when it would be departing. Seems I just missed a bus, and the next one was at 17:00 arriving at the train station at 17:35. Hmmmm. What to do? The kind woman at the desk told me it was probably around 20 quid to get a taxi. All right, I'll be cheap and wait.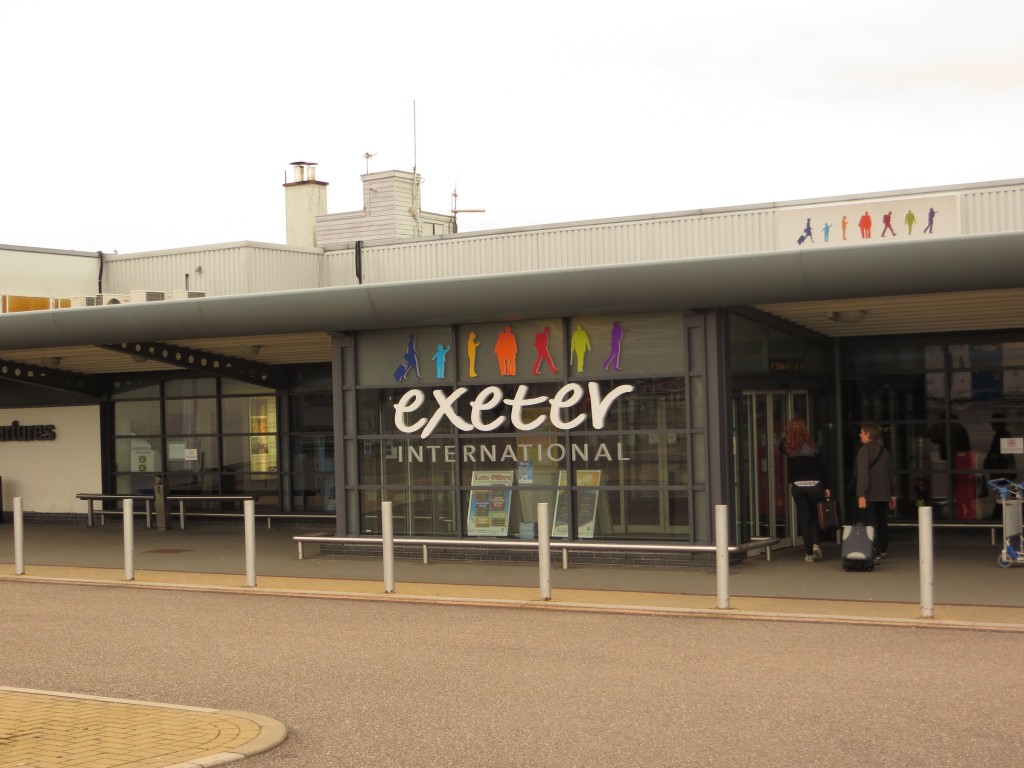 As I was waiting I kept thinking about it. What if we run late? What if I can't find out where to get my ticket? What if I miss my train? I'll take take a taxi, it will be worth not having the stress. So I go outside and… No taxis.
I wait. And I wait. And there another couple there, and they are waiting. They ring for a taxi. Yet still no one arrives. Finally I can see my coach arriving. It's 5 o'clock.
I walk back and get on the bus. We arrive just in time. I pick up my ticket at 17:42. I run up and over the footbridge to the platform. The train is absolutely packed. Here I thought it would just be little old ladies drinking tea in rural England on the train, going to some cottage in the south. I was so very wrong. It was FULL of people. I found a seat and asked if I could sit since a woman's bag was on the empty chair. Others were trying to get past me. I sat down on the woman's bag and she gave me a dirty look. "I thought since I asked you if I could sit there you'd have moved the bag." Sheesh, woman. She proceeded to play Pink Floyd's "Dark Side of the Moon" on full-tinny headphone volume. This wasn't at all what I imagined. This was even worse than home!
At some point I just decided to have a giggle on the inside and get over it. We arrived on time at Plymouth and I texted my friend that I'd be in at 20:45. And then we sat there. And waited. And waited. After about 25 minutes they finally came on and said they were just "waiting for the police" to clear us to leave again. Uh, what? Apparently there had been some aggressive passengers in Coach B that were removed from the train. I texted her again that we were late, but she thought we were late but our arrival was at 20:45 and ordered up our curries for dinner. Nope. That food will have to go in the oven my dear!
FINALLY I arrived in Penzance. There were just a few of us left on the train, it was the last stop. 3 (and a half) hours to get to the end of the world, but it was so great to see her! Big hugs and laughter about the whole situation. We drove back to her house, said hello to the husband and sat down to a proper English, uh I mean Indian Curry.
Her husband went off to the pub (as they do) and we started getting read for the race which was starting at 8 am the next morning. Did I mention I was tired? Didn't matter it was exciting getting it all together!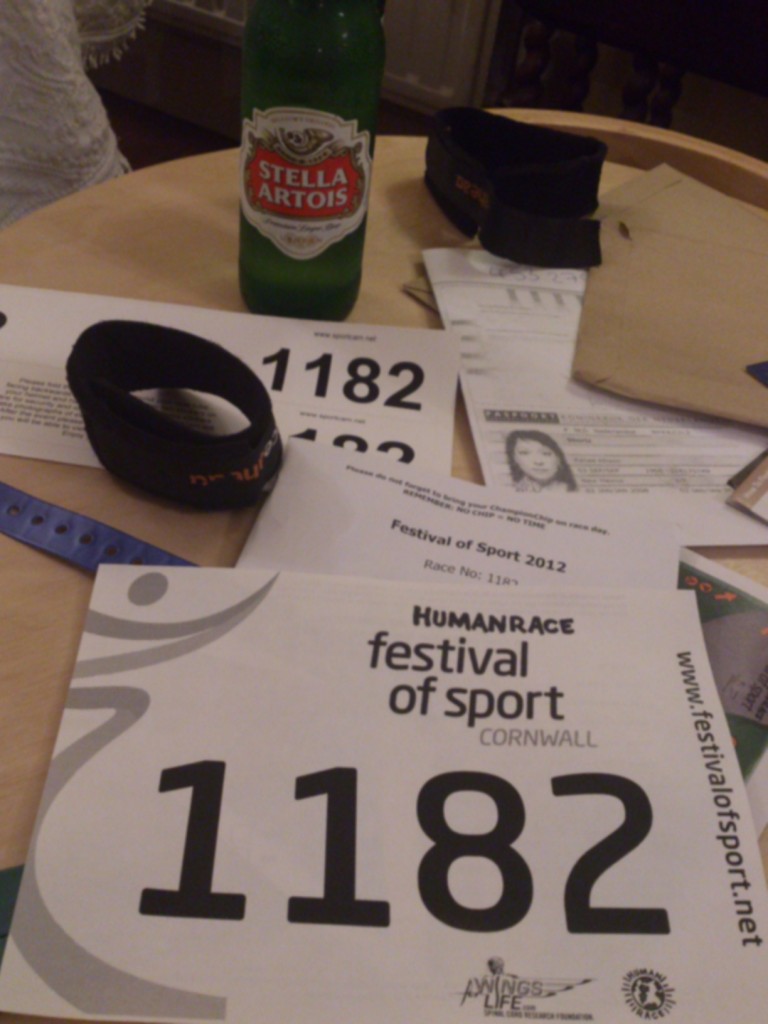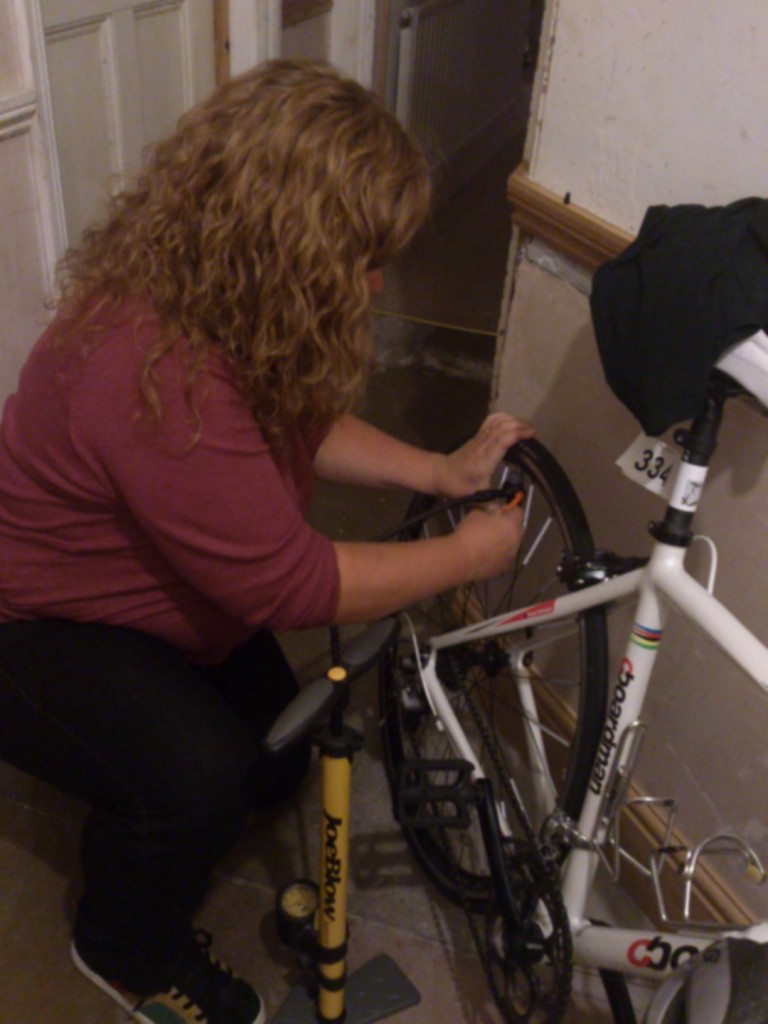 Up early Saturday, we got ready, had some breakfast and much to my controlling-ways dismay, left later than planned for the starting line. Oh, wait, she only lives 2 minutes from the starting line, no need to panic! There were around 175 ladies doing the Cycletta so it was not a huge group, but they split us into staggered groups of 10-12 so we wouldn't all run over each other in town. Did I mention I've never driven a car or ridden a bicycle on the wrong side of the road? Oh dear, I was a little nervous. Especially for the roundabouts. We were off though and this was it time to make our way through Cornwall!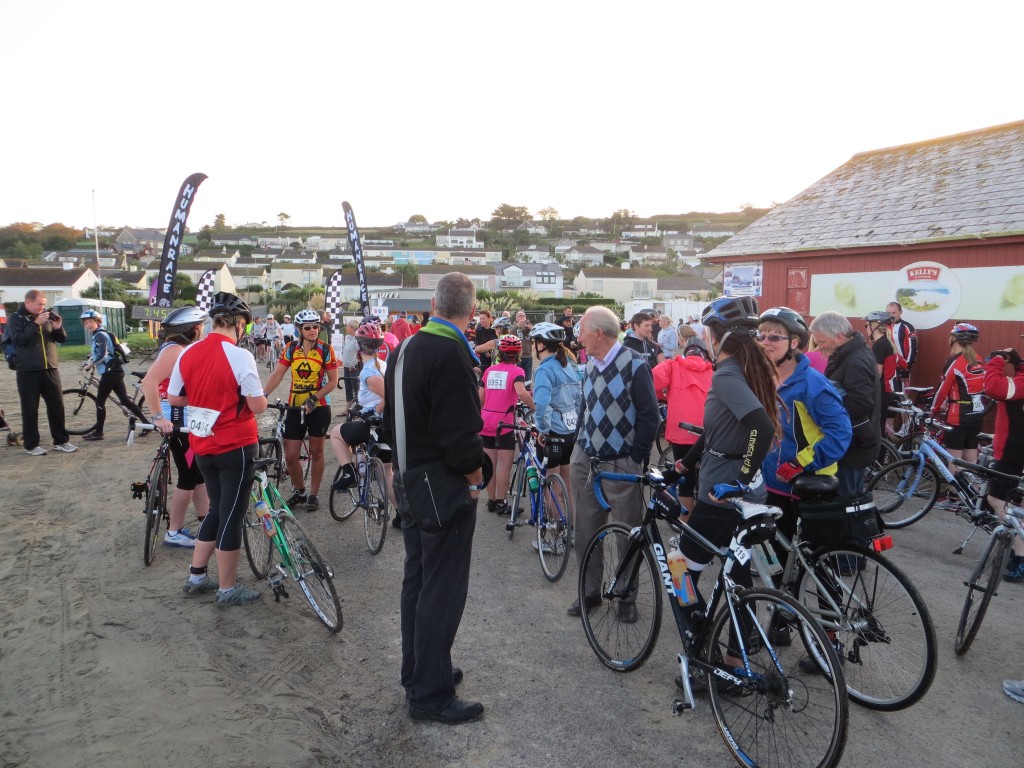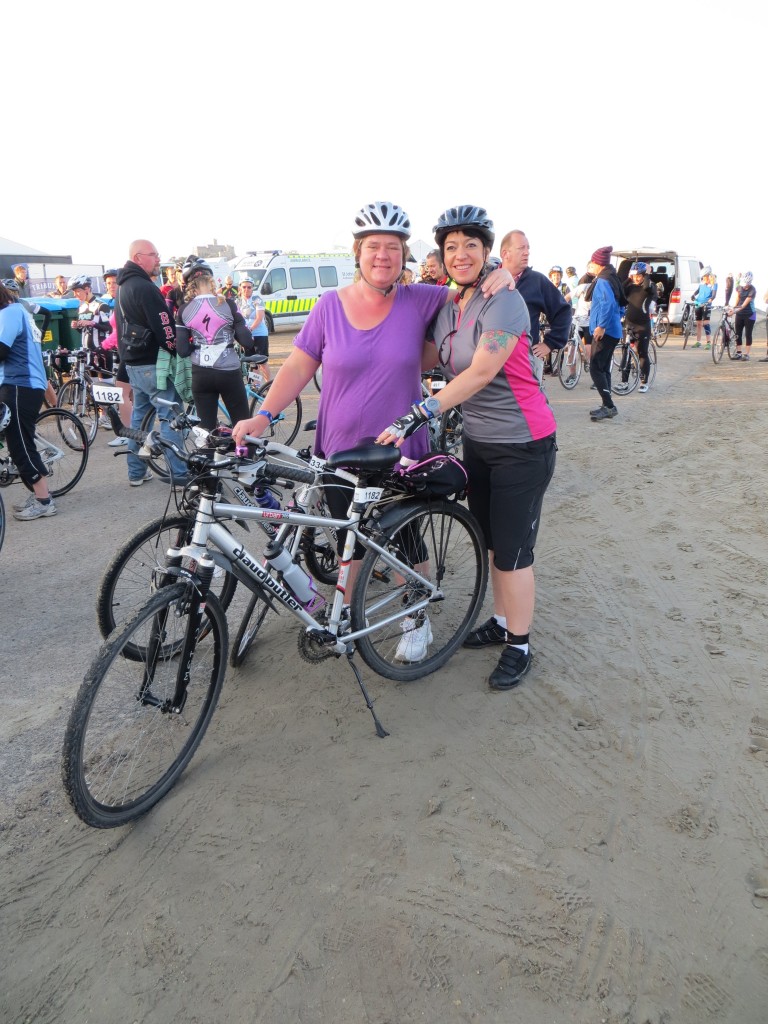 It was really beautiful once we made our way out of town, but it was hilly! In fact, I cycle hills here in Gelderland, but nothing compares to what I did this weekend. UP and down. UP and down. Lots of constant climbing and braking. I was getting used to the bike and the left side though and we were both feeling good. We hit the first feeding station at 11KM around 50 minutes into the ride. It was a gorgeous day with a bit of mist coming off the sea – like a fairy tale really when we came up to where we could see the coast and the cliffs. Heaven!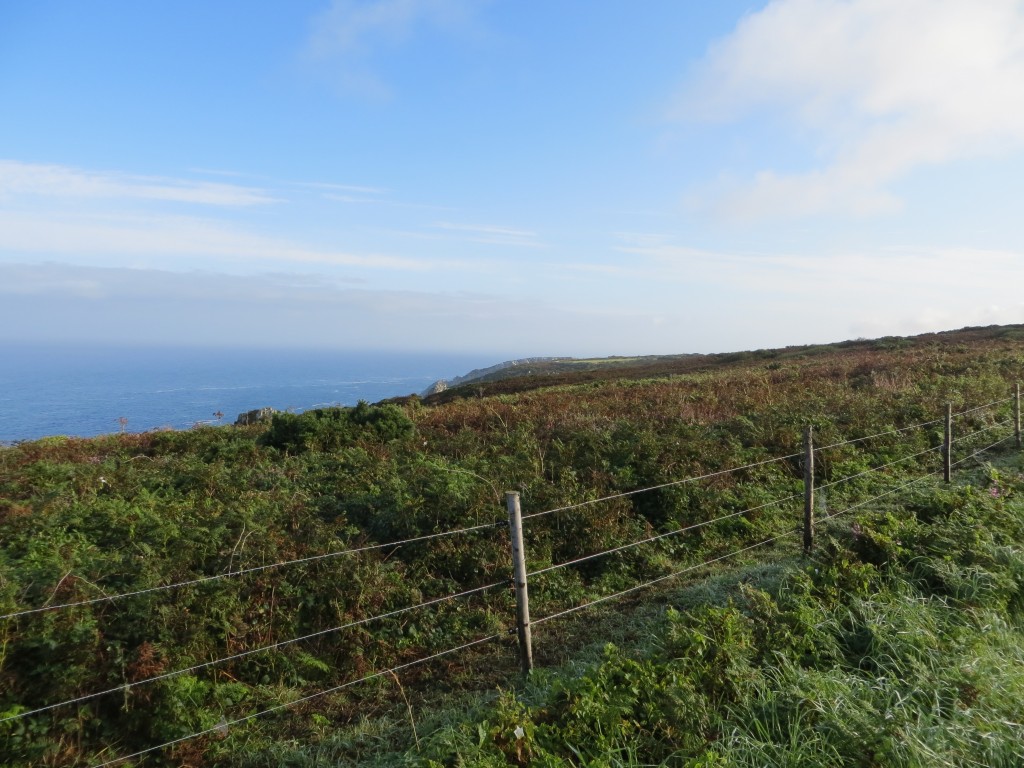 Then it happened. About 4KM later we were cycling along. UP and down. I saw a woman in the distance jogging with her dog. A big dog. A very long lead. Didn't think much of it, I know people do this often. He went a bit close to Elsje but the owner pulled him back. We were on a down so I had a bit of speed going. Suddenly he bolted for me! I had to stop, I couldn't hit the dog! Unfortunately I pulled too hard on the brakes and I went flying over the front of the bike. It happened so fast yet so slow. I remember thinking "don't hit your head" so I pulled my head up and my neck back and stopped myself with my hands and arms. I hit my chin. I thought "Oh my God did I knock out a tooth?" Because that's what I needed, to lose a tooth, right? Elsje heard what happened, dropped her bike and came running up. The lady came running up. The dog was there licking my face. She asked me "are you ok?" Yes. I'm ok. Can you get this bike off me please?
They pulled the bike up. They pulled me up. I'm ok. I didn't hit my head. Is anything broken? No. Is there any blood on my face? No. Everything is fine. I checked my knees. My right one was banged up. Oh. My left thigh was banged up. Everything else ok. The woman felt very bad. She blamed her dog. I didn't blame her dog! It happened, he's a DOG. She wanted to take me to her house but I was fine and I needed to finish. We checked my hands. Left one is fine. Right one? Oh, my glove is ripped. Crap, my hand is ripped. Several people stopped at that point "are you ok?" I'm fine. Elsje asked if one of the ladies had a bandaid – they didn't but they had a compeed. That will work! All in all both knees, left thigh, both elbows, both wrists, chin, hand and nose were banged up. Sunglasses were scratched. Don't ask me how I didn't break anything or hurt my head. I'm just lucky. After everyone left I cried a bit on Elsje's shoulder. A Bike guy came up and helped us when she was putting the chain back on. I had to go on. We had to finish this.
It was really ok starting up again, I was just a little bit nervous and my palms really hurt so braking wasn't so much fun. The hills were incredibly steep but the scenery was amazing. We had to walk up a few hills as well, even towards the end; the elevation was relentless. We talked to many people later and they all said the same thing – there is NO FLAT in Cornwall – it's either up or down.
Just over 3 hours we crossed the finish line. I really loved the ride and I'd do it again in a heartbeat but boy was I so glad to be back as well! I went off to the medics just so they could double check that everything was ok and they sent me home with an ice pack. We went back to the house and I took a lovely hot bubble bath. I was still processing what happened and thinking about how lucky I was that I didn't hit my head or even break anything (not even a nail!). The first time in my life I wear a helmet and I have an accident like that. I shudder to think about if I hadn't reacted the way I did.
We are already planning on participating next year. Maybe even with a 1.5KM swim. Maybe I'll even do a little run on the beach. It was such an amazing setting for a sports festival – lots going on, great atmosphere, nice people. Later we (obviously) had to go back and have a few beers and listen to some music.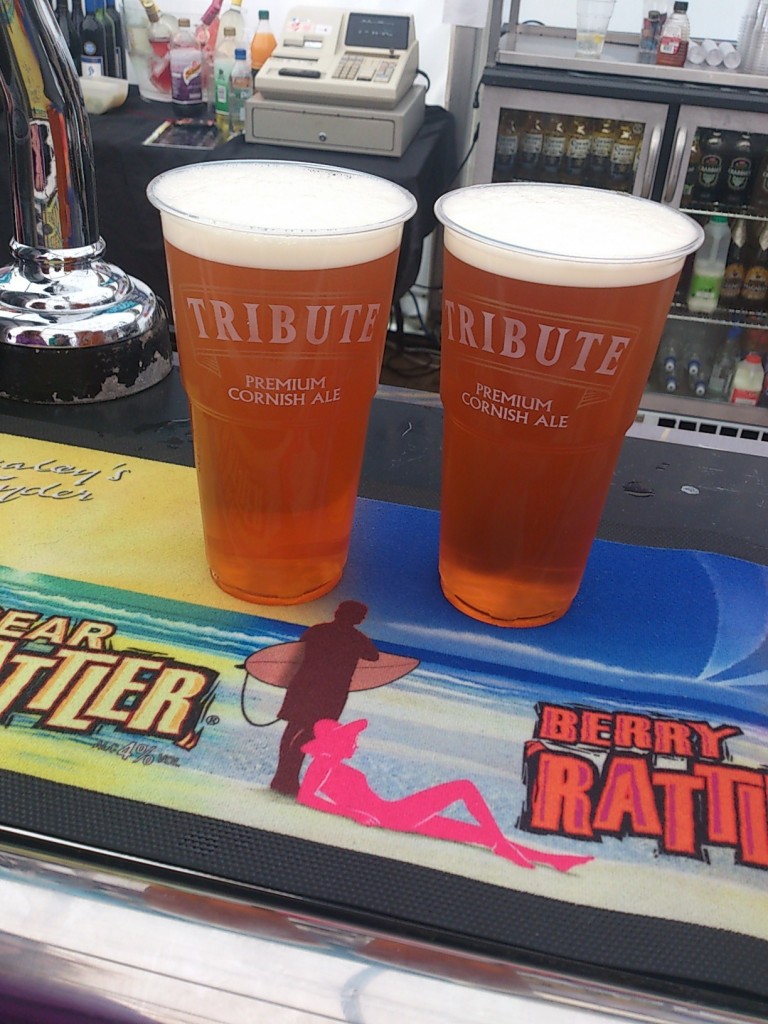 Sunday morning and already up and having to head back. It was sad to leave as it would have been great to watch the triathlon on the beach, though if I'm honest I was also glad to be heading back home to the Hubs. Elsje drove me back to the incredibly huge international airport of Exeter, we had some lunch and soon it was time for me to board my flight. I was back in the Netherlands at 5pm and back home at 7pm.
Incredible how exciting, dynamic and fast a weekend can go. A weekend I definitely will never forget for so many reasons!
Have you done a long(ish) distance organised bike ride? Would you like to if you haven't?