Oh Boy.
I don't know how else to describe the last week. 
Remember I said this:
Improvement areas are:  gym, and my 100 pushups and 200 sit-ups programs.  I did not get to Day 3 of Week 1/ Week 3 yet and I'm not sure when I will.  So I think I will restart that this week.  Better to restart than give up.

Plans for the new week:

This week will be tricky for several reasons.

 1)      Concert tonight in Amsterdam, means eating out for dinner

2)      Queens' Night/ Queens' Day Thursday and Friday – this is a major national holiday for us.  There will be booze and food involved.  One good thing though – we have the kids this weekend which means I won't be totally wankered on Friday, since I kind of need to be sober to be a decent parent, right? But Thursday night we will most definitely go out

3)      That certain 12-year old I mentioned earlier?  I promised to make cupcakes with her this weekend. 

What I'm going to do

1)      Running – Tuesday

2)      Gym – Wednesday

3)      Running – Friday midday or Saturday morning

4)      Gym – Sunday
I did NOT go to the gym.
I did NOT do pushups and situps.
I did NOT track the whole week (I did track some but by Wednesday my hunger got the best of me and I just ate too much and didn't bother to track it).
I DID run on Tuesday and that was actually a very good run. I used our new heart rate monitor and kept myself at/under 149 so I was able to run continously for almost an hour (it was 56 minutes in total). 
Thursday night I went out for Sushi with two friends and hubs – I was really struggling with hunger on Thursday.  I ate too much but moreover I drank WAY too much.  Let's just say the end result was not pretty.  It involved me crashing my bike (which, by the way I'm totally against drinking and driving and I have no idea what made me think that drinking and bicycling was ok!  Lesson learned!) and wrecking my arm (though Thank God nothing is broken, including my bike) on the way home.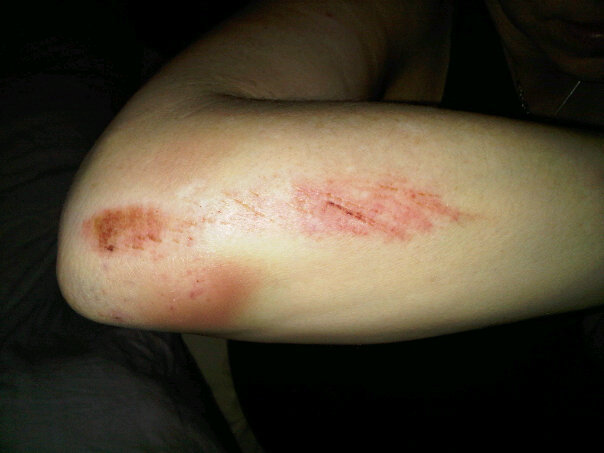 I'm not proud and it took me ALL of Friday to recover.  Which of course means I didn't eat well on Friday either… 
Plans for the new week:
1) Track Saturday to Friday
2) 29 points per day + up to 4 extra to make sure I get good fats and that I'm not starving
3) Be aware of emotional and stress eating
4) RUNNING
5) Gym if I'm able (more holidays this week, gym may be closed when I can go).
Few things going on this week:
Some pressure at work
Visiting my friend Michael's Grave Tuesday (anniversary of his funeral)
Holiday on Wednesday
Thurs/Fri/Sat – last minute planning and preparation for a friend's baby shower I'm co-hosting
All I can do is the best I can do. I know if I track I'll be OK, because I'll be more aware of what I'm choosing to put in my mouth and WHY I'm putting it in my mouth.
And in case you are wondering, I did NOT get on the scale at all this week. I didn't even think about it. So it's getting better!
Something totally unrelated: I meant to take a photo a while ago for DietGirl's Photo Gallery, just me and my DietGirl Book, and here it is: